Nearly 15 percent of UW-Madison students said they thought about suicide and nearly 2 percent attempted suicide this year, up from about 8 percent who considered it and less than 1 percent who tried it three years ago.
"This issue is trending in a direction that is a little bit scary for us," Valerie Donovan, the university's suicide prevention and mental health promotion coordinator, said Wednesday at a Capitol briefing on suicide among youth and young adults.
Wisconsin had a record 915 suicides last year, according to the state Department of Health Services. Among residents ages 10-24, there were 124 suicides last year, down from a record of 143 the previous year.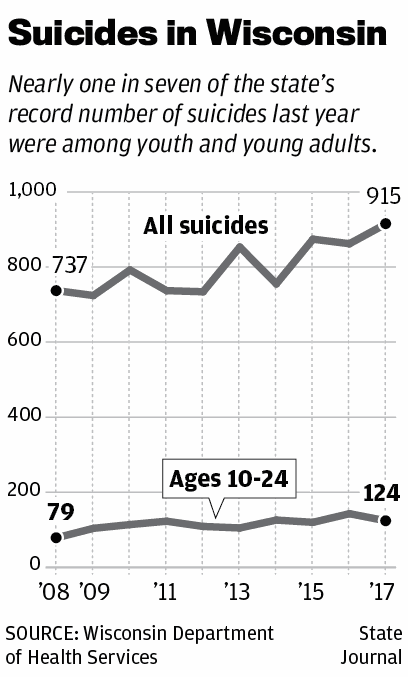 UW-Madison's Suicide Prevention Council, started in 2013, tries to assist students who need help and improve well-being on campus, Donovan said. Overall, college is considered to be "protective" against suicide, but "there are significant stressors," she said.
In a survey of UW-Madison students this year, 14.5 percent of those who responded — which translates to about 6,000 students overall — said they thought about suicide in the past 12 months, up from 7.7 percent in 2015. This year, 1.8 percent of respondents — representing about 800 students overall — said they attempted suicide, up from 0.5 percent in 2015.
Many campuses in Wisconsin don't have staff dedicated to preventing suicide and improving mental health, and need funding to hire them, Donovan told lawmakers. "I have few counterparts in the state," she said.
Among high school students, those reporting suicidal thoughts declined from 1993 to 2013 before going up in recent years, mostly among girls, said Kate McCoy, Youth Risk Behavior Survey coordinator for the Wisconsin Department of Public Instruction.
You have free articles remaining.
Increased use of digital devices may be linked to a lack of sleep and higher rates of anxiety and depression, McCoy said.
"We're hearing that kids can never get away from the social pressures and just the constancy of having to respond to their phones," she said. "This might be exacerbating some of the vulnerabilities that adolescents have always had."
Whether to screen young elementary students for exposure to trauma at home, which can increase the risk of suicide, and intervene early, "is a very live debate," McCoy said.
"I don't know that labeling somebody is a good strategy for promoting resilience," said Gregg Curtis, a suicide prevention consultant with the Department of Public Instruction.
Lanette Walker, youth services division director for the Ho-Chunk Nation, said addressing suicide in her community is a challenge because the tribe's traditional people are "not allowed to talk about death."
But a suicide prevention project that started in 2011 has led people to open up about related topics, Walker said. When Ho-Chunk youth identified five factors related to suicide, the one they highlighted most was domestic abuse, she said.
To address a high suicide rate among males ages 18-24 in Jackson County, which surrounds Black River Falls, high schools have implemented mindfulness-based stress reduction, said Sara Kohlbeck, assistant director of the Medical College of Wisconsin's Comprehensive Injury Center.
Rep. Joan Ballweg, R-Marksen, said a plan to adopt a school mindfulness program in her area became controversial. Kohlbeck said people in Jackson County initially resisted the idea, too, calling it "hippy-dippy."
"We just called it something different," Kohlbeck said. Instead, it became "taking a moment to breathe."