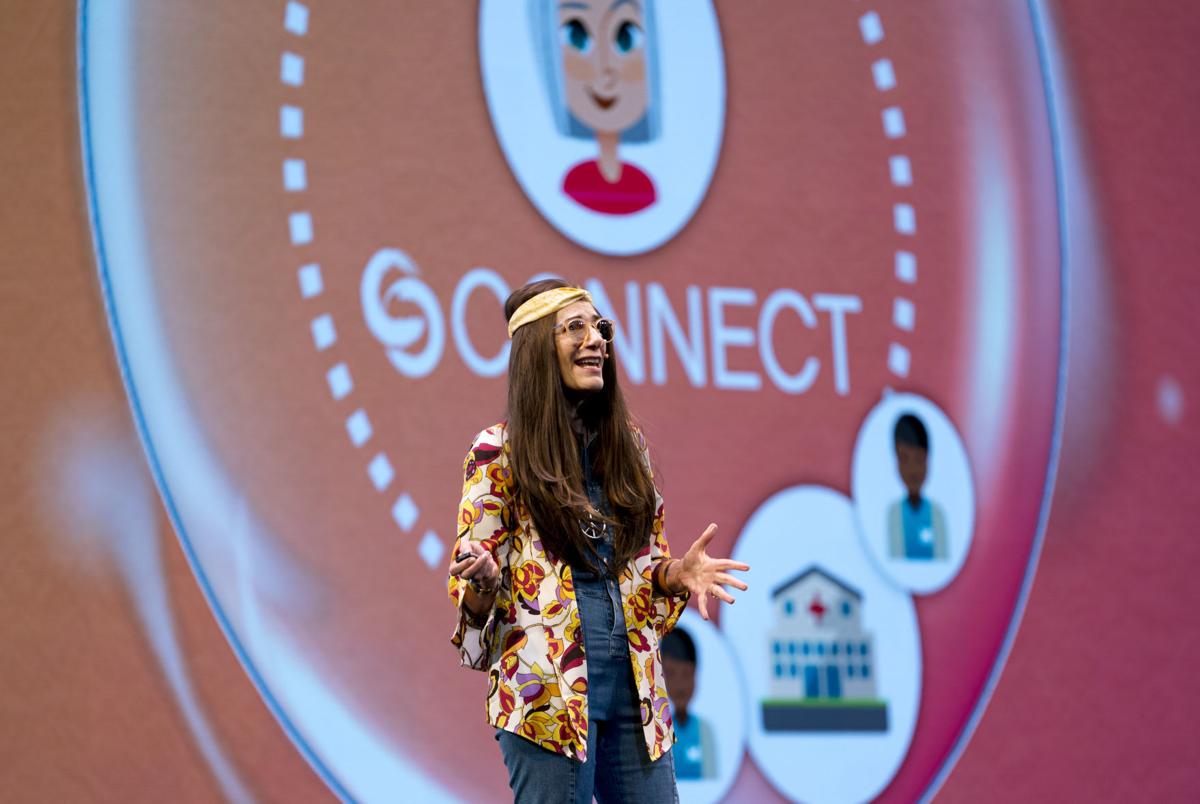 An Epic Systems Corp. program called Cosmos, which can mine data from millions of patient medical records at numerous health systems to research how well treatments work, has the potential to transform medicine, Epic CEO Judy Faulkner said Tuesday.
"This will revolutionize health care, when the doctor has evidence-based medicine from 230 million people," Faulkner said during Epic's annual User Group Meeting at the company's headquarters in Verona. "It will be a cosmic … leap forward."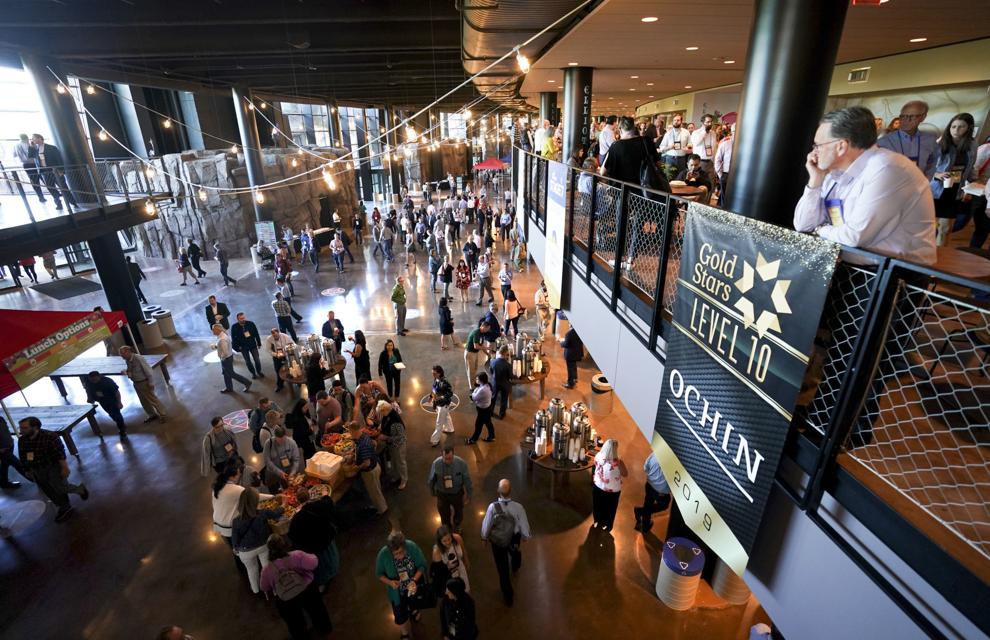 Cosmos' anticipated boon to doctor decision-making was among many developments company leaders shared with an estimated 7,000 Epic users from around the country and nearly 10,000 employees attending the meeting this week.
As is customary, Faulkner delivered her keynote address in a costume reflecting this year's theme, "Summer of '79," which recognizes the 40th anniversary of the company she founded in Madison.
Sporting long hair, a headband and a peace-sign necklace, Faulkner wore bell-bottom jeans and an over-sized top adorned with red, purple and mustard-yellow flowers.
"People often think I was a hippie, but I have no idea what marijuana smells like," she said. "I was a '60s nerd much more than a hippie."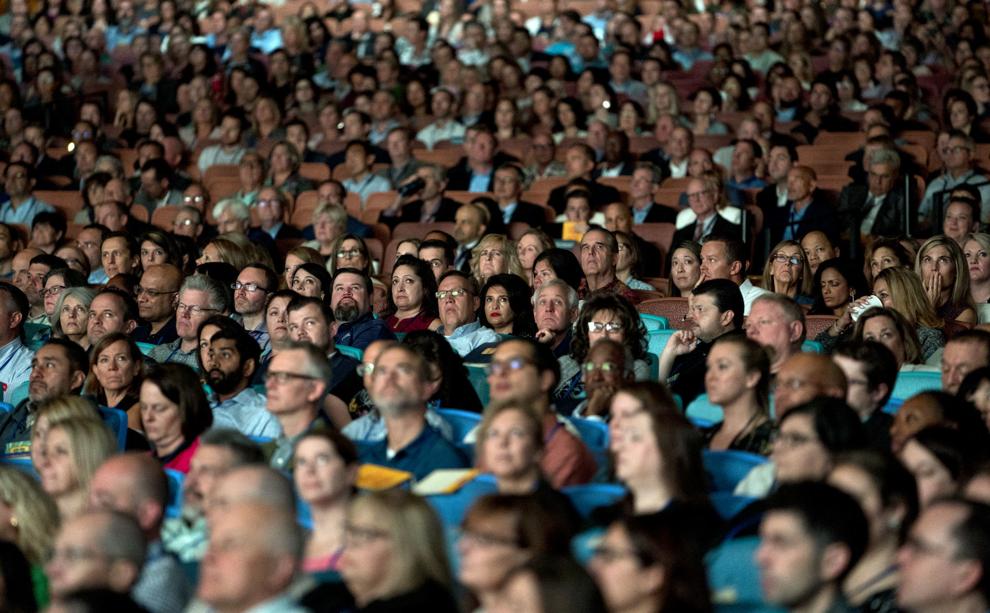 She interspersed photos of her youngest daughter, Shana, born three months after Epic was founded, in a presentation about the company's history.
Epic, a privately owned company with $2.9 billion in annual revenue, was initially valued at $70,000, Faulkner said. Investors, she noted, "got good returns."
Today, Epic's 400-plus customers include 20 of the 21 highest-ranked hospitals by U.S. News & World Report, she said.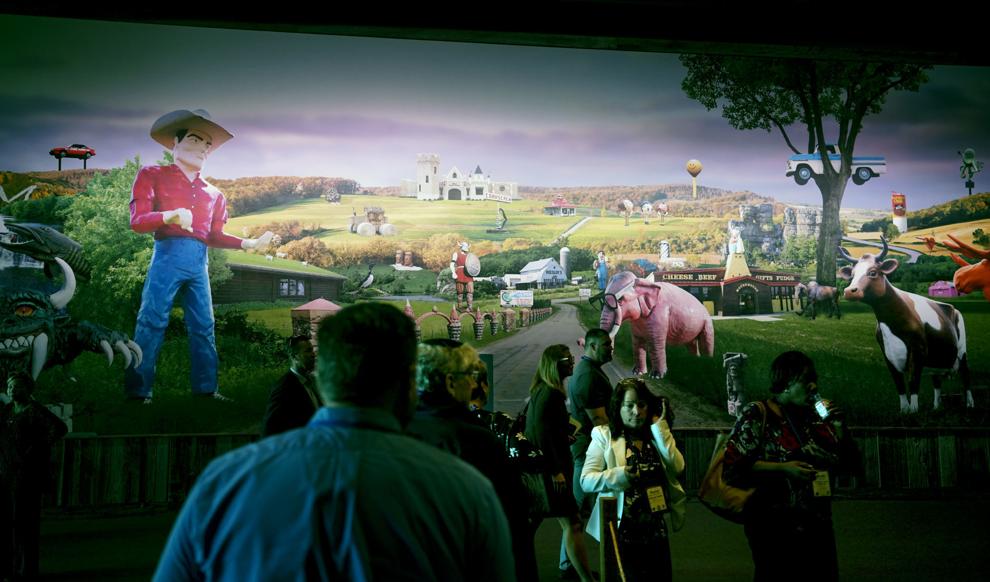 Cosmos was among several programs Faulkner and others highlighted. The data warehouse currently collects anonymous records from 8 million patients at nine health systems, none of them in Wisconsin, and can look for trends.
Another 31 organizations are signed up, and within months 25 million records are expected to be included, enough for robust research findings on drug side effects and other topics, Epic leaders said. More than 200 million records from Epic clients could eventually be involved.
From short-term side effects to long-term problems such as drugs potentially increasing the risk of dementia, Cosmos "will be able to be searching through and finding those associations before they're noticed by a human," said Dr. Sam Butler, Epic's chief medical officer.
New products
Other new offerings include software that should allow doctors to write shorter notes summarizing clinic visits, giving them "more time to spend with patients," said Sumit Rana, Epic's senior vice president — a claim met with significant audience applause.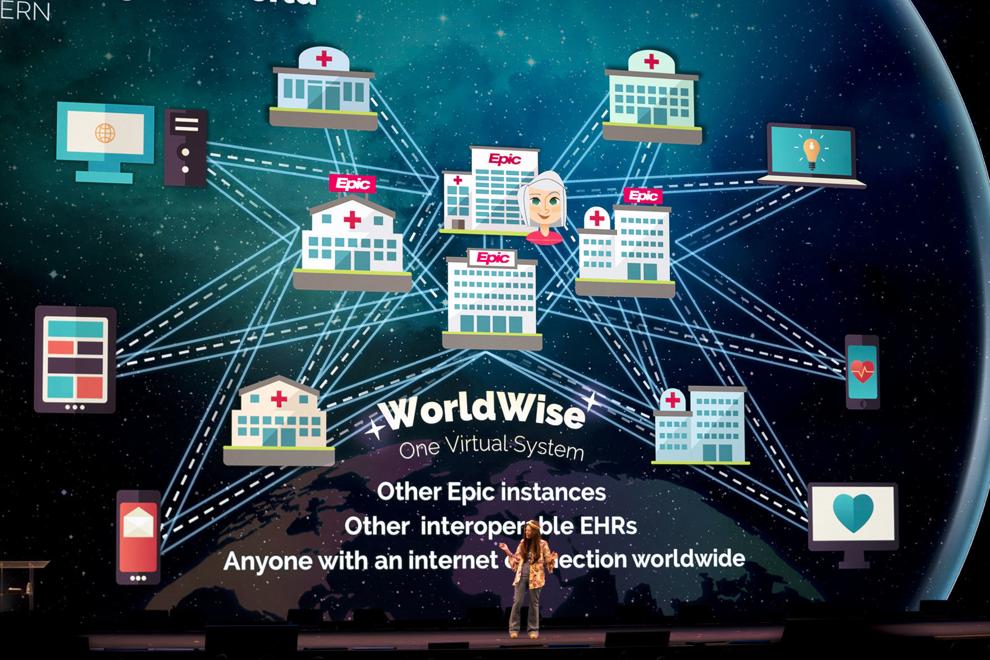 A new program for nurses allows them to scan four bar codes on a bag of blood at once and assign Spanish-speaking nurses to Spanish-speaking patients, among other features. A hospital tool analyzes patient vital signs to assess when intensive care beds will be needed and can check bed capacity at neighboring hospitals.
Patients can now use "embedded intelligence" to search their family's MyChart records for missed immunizations or get out-of-pocket cost estimates for surgeries.
Perhaps the biggest "wow" moment of the day, based on audience reaction, was the demonstration of an "Alexa meets Epic" technology of sorts — voice-recognition software designed to let doctors conduct patient visits without using a keyboard.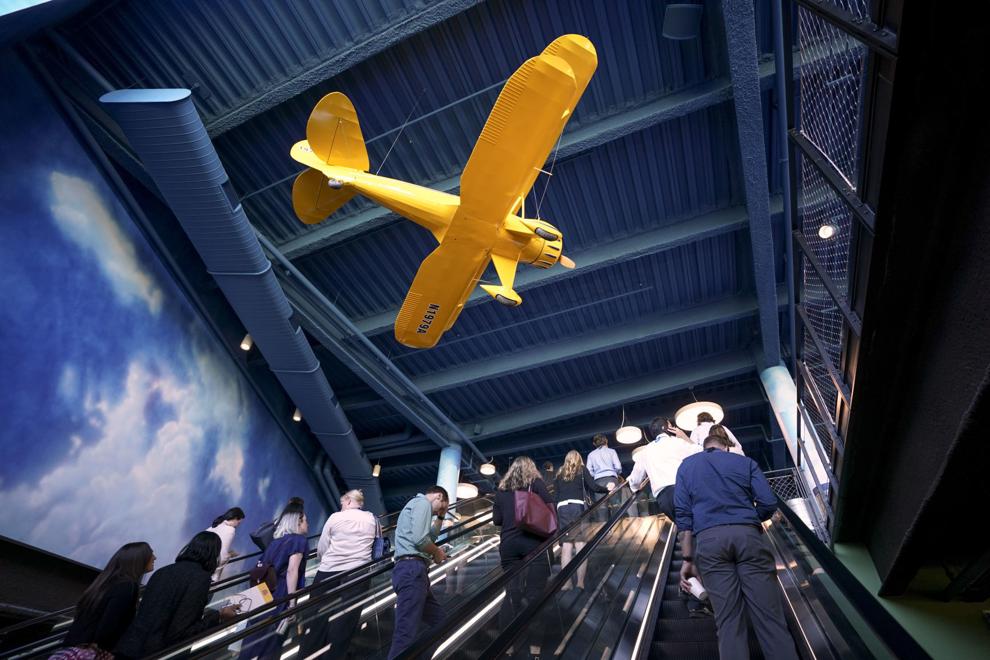 "Hey, Epic, complete Charlie's care gaps," Dr. Jackie Gerhart, a clinical informatics physician at Epic, said during a mock visit with a mock patient.
After learning the patient wasn't properly taking all of his medications, Gerhart said: "Hey Epic, sign Charlie up for Care Companion," an app that reminds patients when to take prescriptions.
"That visit took zero clicks and zero key strokes," Gerhart said to audience cheers.
The technology, now a prototype in early development stages, could be available in three to five years.
'Save some lives'
From 8-track tape references to roller skates, the day was dedicated to the disco era.
"More than a record, you are comprehensive to me," the loudspeaker blared as three presenters, dressed as the Bee Gees, touted software they said better equips health systems for new government payment methods for medical care. The tune followed the Bee Gees' 1977 hit song, "More Than a Woman."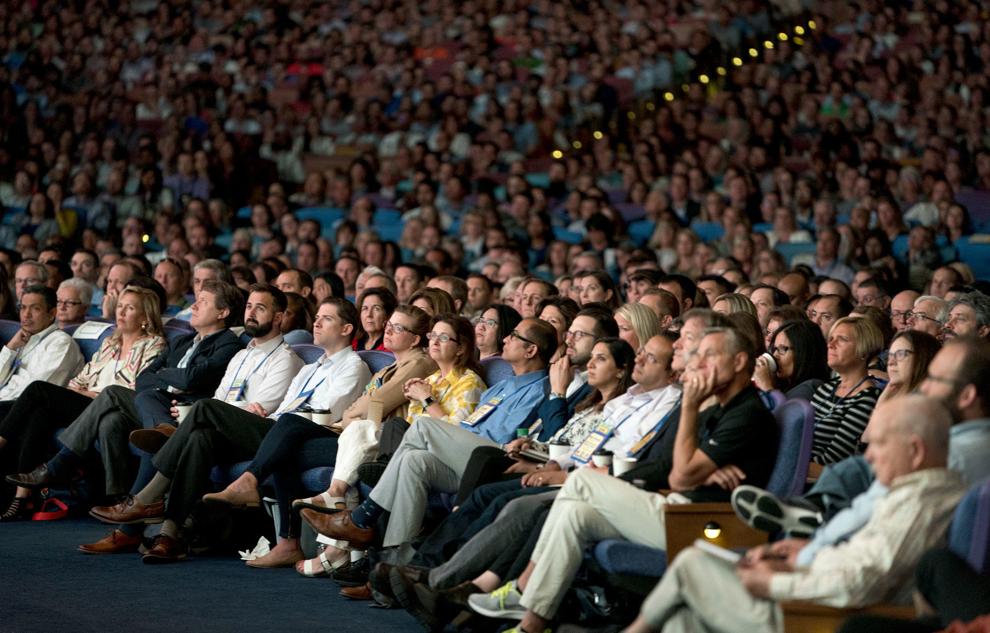 Epic users discussed topics including opioid addiction and rural health care.
Dr. Jonathan Siff, with MetroHealth in Cleveland, said Epic software helped the organization increase its share of patients on high levels of opioids who also receive naloxone, an overdose reversing drug. Before MetroHealth started using an Epic alert to remind doctors to prescribe naloxone, also known as Narcan, to such patients, 17% of them got the drug. Afterward, it went up to 71%.
"We have that much more naloxone in our community," Siff said. "That's an opportunity to save some lives."
Dr. Tabitha Danley, with St. Anthony Hospital in Oklahoma City, said Epic software has helped the hospital provide telehealth consultations in rural Oklahoma. St. Anthony is owned by St. Louis-based SSM Health, which also owns St. Mary's Hospital in Madison.
Telehealth allows doctors in Oklahoma City to assess patients in rural hospitals more than three hours away, Danley said. It has helped keep emergency rooms open and saved nearly $30,000 a year in driving costs, she said.
"All of the charting is done through Epic," she said.