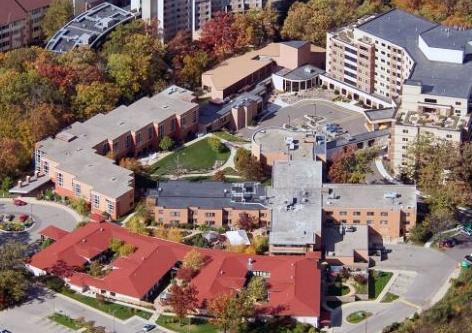 Skaalen Retirement Services in Stoughton locked its doors Thursday morning and limited visitors to end-of-life or emergency situations, in an effort to protect residents from the growing COVID-19 coronavirus outbreak.
The complex — which includes a nursing home, assisted living and independent living — also blocked volunteers, canceled outside entertainers and may limit medical appointments for residents, said CEO Kris Krentz.
"Is the annual eye exam something that could be put off for a while until things calm down?" Krentz said. "A clinic setting is going to be a high-risk area. If it's not now, it will be."
As the global pandemic appears to be hitting Wisconsin harder — with eight cases confirmed as of Thursday, including new two ones in Dane County — nursing homes are taking steps to prevent vulnerable residents from getting sick. Many of the U.S. deaths from COVID-19 so far occurred at a nursing home near Seattle.
Nursing homes and assisted-living facilities are locking all doors except one central entrance and screening visitors for cough and fever or potential exposure to others with COVID-19, said John Sauer, CEO of LeadingAge Wisconsin, which represents nursing home and assisted-living operators.
If visitors present a risk, they are not allowed in except in emergencies, Sauer said. If they have no known risk, they are asked to wash their hands and wear a mask. The moves follow guidance this week from the Centers for Medicare and Medicaid Services, which regulates nursing homes.
"There's far more concern now about making sure people from the outside are not bringing in viruses — the flu, COVID-19 — to residents in nursing homes who by and large have far more compromised immune systems than the general public," Sauer said.
If the virus becomes more widespread, visitor bans might be implemented, he said.
Capitol Lakes, which includes a nursing home and assisted-living facility in Downtown Madison, is screening visitors and employees, halting buffet-style dining and instructing residents not to enter eating areas if they have respiratory symptoms.
"We are making every effort to keep our residents and staff safe," spokesman Tom Ersepke said.
Oakwood Village, with campuses on Madison's West and East Sides, posted signs on entrances discouraging visitors and increased the frequency and intensity of cleaning common areas, according to a letter sent to residents Thursday.
"Action steps are in place to cancel or significantly reduce campus events and limit guest access to a single entrance, where guests will be screened prior to visiting campus," the letter said.
At Skaalen, a letter to family members Wednesday encouraged them to use Skype, Facebook, email or phone to connect with residents.
For now, Krentz said, communal dining and worship services are continuing for residents, even though such gatherings can increase close contact with others. That could change, too, as state health officials Thursday discouraged congregated dining for older adults.
But Krentz said socialization is important, too. "We're already taking a lot away from them," he said.
Election implications
Local elections officials will now have the flexibility to move polling places located at nursing homes and other similar facilities to other locations where public health is a concern to prevent the spread of the novel coronavirus among elderly populations.
It's unclear how many polling sites are currently located at nursing homes in Wisconsin.
Under another unanimous action taken Thursday by members of the Wisconsin Elections Commission, residents of nursing homes won't receive help from special voting assistants who could spread the virus.
The actions on Thursday underscore how the spread of the COVID-19 coronavirus is having an impact on the upcoming April 7 presidential primary and Supreme Court election.
The commission voted to halt plans for teams of special voting deputies who conduct polling in nursing homes. Under the commission's action, local elections officials will be required to mail absentee ballots to residents of nursing homes.
Elections Commission chair Dean Knudson emphasized the importance of absentee voting in light of the virus and that there should be a push by the state to encourage it.
Madison schools may reject polling sites
The Madison School District is considering rejecting all city polling sites on school property, a move that could significantly affect the April 7 election.
District spokesman Tim LeMonds said the district committee responsible for addressing COVID-19 is considering taking such action to protect students and staff but that the discussions are preliminary.
A number of the city's polling locations are in schools.