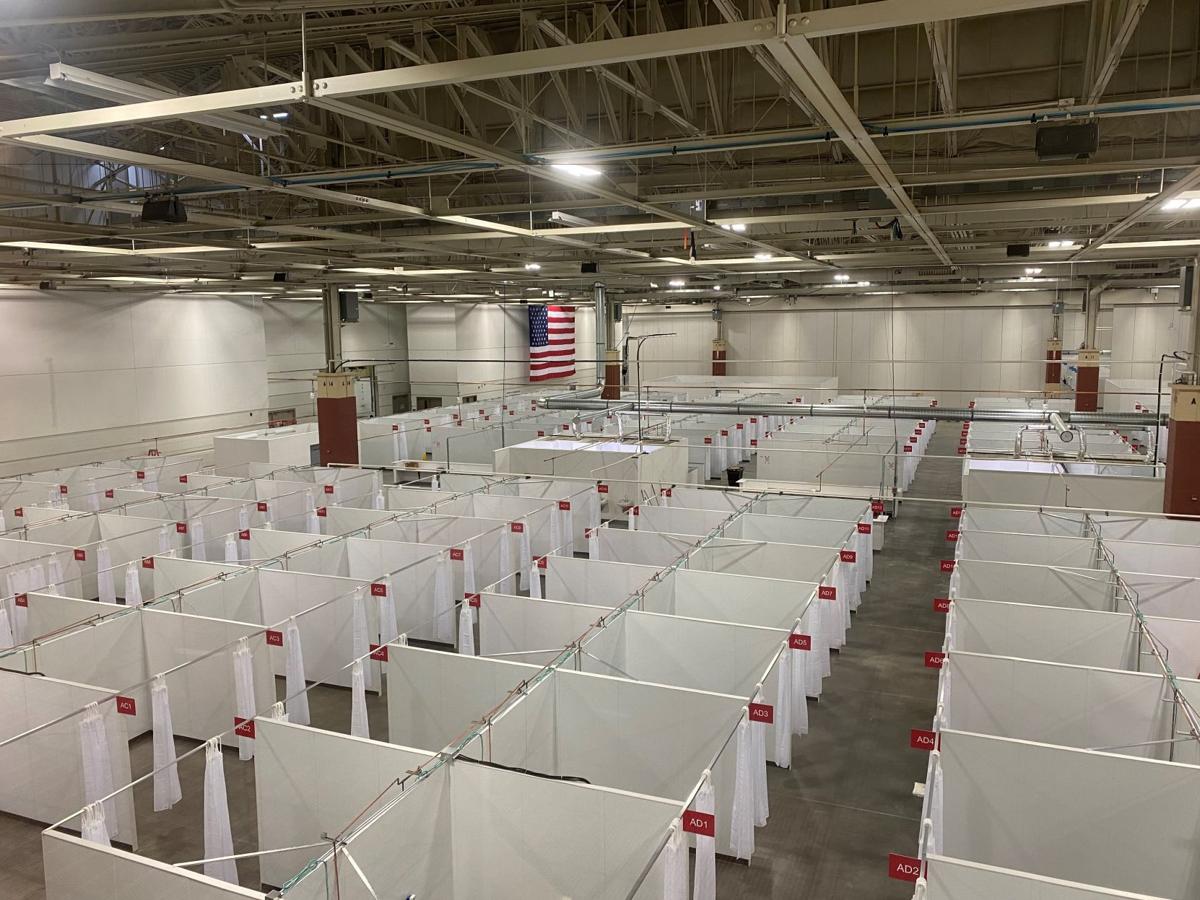 Wisconsin reported a record 3,132 new confirmed cases of COVID-19 Thursday, surpassing 3,000 daily cases for the first time amid a weeks-long surge in cases and hospitalizations.
The state also had a record 907 patients hospitalized with COVID-19, with a record 228 of them in intensive care.
The records came after case tallies had been slightly lower in recent days, affirming that despite that temporary decline a surge that started in early September continues.
Andrea Palm, secretary of the Wisconsin Department of Health Services, said the state is "in crisis," and the facility "will free up beds in our hospitals to better care for more severely ill COVID and non-COVID patients."
Hospitalizations for COVID-19 have soared in Wisconsin in recent weeks, with the tally of 907 patients Thursday more than triple the 297 patients hospitalized a month ago. Northeast Wisconsin had a record 153 patients in the hospital with the coronavirus Thursday, nearly triple its previous peak in April. The Fox Valley had 139 after having had no more than 25 at any time before September.
Southeast Wisconsin on Thursday had 306 patients in the hospital with COVID-19, up from 135 on Sept. 19 but below its peak of 350 in mid-April.
The surge has hit every part of the state, including Dane County, where a record 60 patients were hospitalized with COVID-19 Wednesday. That's up from 54 patients hospitalized in the county for the condition Tuesday and the county's previous peak of 46 patients in early April.
All of the state's seven health care emergency readiness coalition regions have high or very high activity, and COVID-19 case activity is at very high levels in 55 of the state's 72 counties and at high levels everywhere else.
The state on Thursday reported nine more COVID-19 deaths, for a daily average of 11, down from a daily average of 14 last week. So far, 1,424 people have died from the coronavirus in the state, among more than 212,000 deaths nationwide.
On Wednesday, Assembly Speaker Robin Vos, R-Rochester, requested a meeting with Evers "as soon as possible" to discuss ways to deal with COVID-19, saying "cooperation and collaboration are essential to fight this pandemic."
Evers' office did not respond Thursday to a request for an update on the proposed meeting.
Vos' request came a day after Evers announced a new statewide order to limit the size of crowds at indoor establishments including bars and restaurants. The order went into effect at 8 a.m. Thursday.
Vos and Senate Majority Leader Scott Fitzgerald, R-Juneau, joined a lawsuit seeking to strike down Evers' latest public health emergency and accompanying mask mandate.
State Republicans successfully sued to strike down Evers' stay-at-home order in May, though with a different composition of the Wisconsin Supreme Court. While Evers' attorney has said the order limiting large indoor gatherings falls under a state statute not addressed in that Wisconsin Supreme Court ruling, Vos said he was confident that, if challenged, the order would be found invalid.
The GOP-led Legislature has met only once, in April, to take up legislation in response to COVID-19.
State Journal reporter Mitchell Schmidt contributed to this report.
Concerned about COVID-19?
Sign up now to get the most recent coronavirus headlines and other important local and national news sent to your email inbox daily.