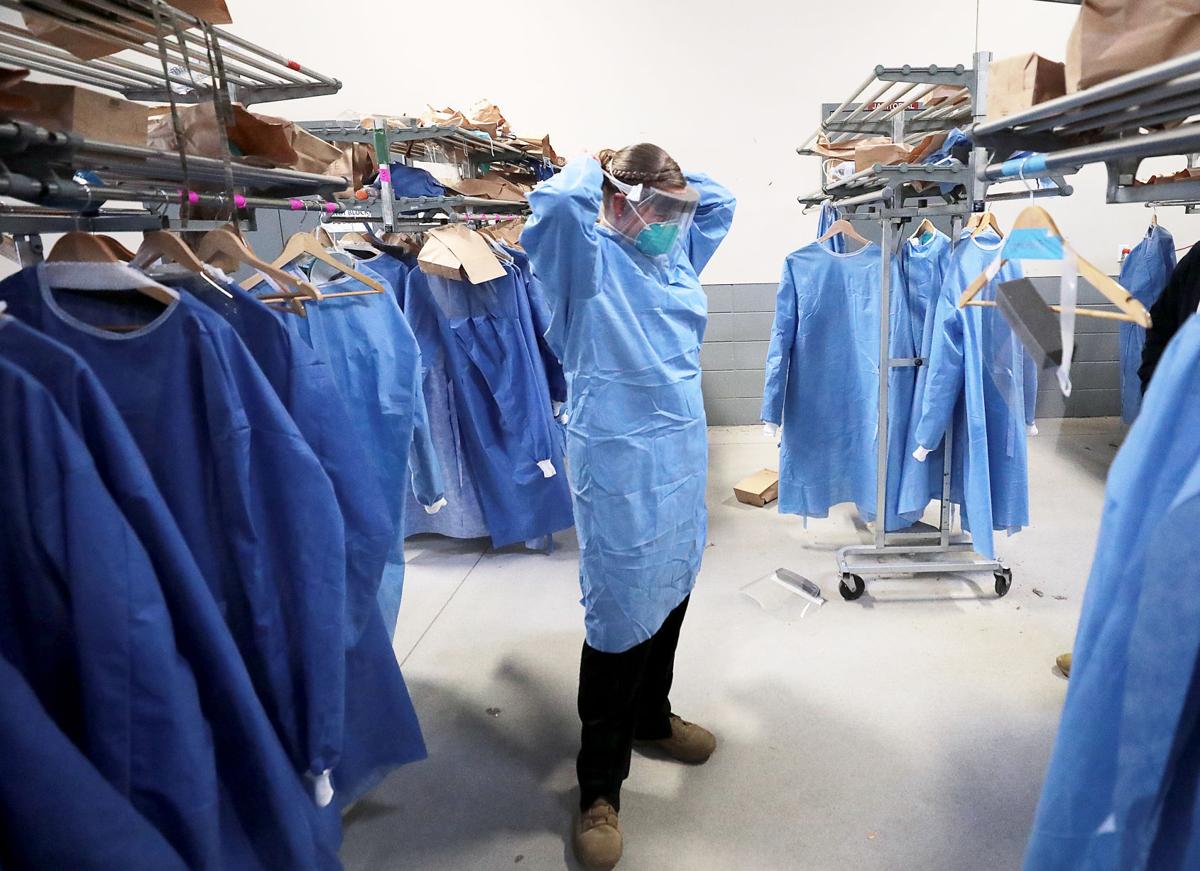 Wisconsin reported a record 27 COVID-19 deaths Wednesday amid a continuing surge in cases, as state health officials urged local governments to curb spread of the virus and said everyone should stay home as many people did in the spring.
"Our message here is: Rewind and think like we were in March and April, that if you go out you could be exposed," said Julie Willems Van Dijk, deputy secretary of the state Department of Health Services.
The record deaths come as a White House Coronavirus Task Force report this week says the state and 12 metro areas — including Green Bay and La Crosse, where President Donald Trump plans to hold campaign rallies Saturday — are "red zones," indicating the highest level of community spread.
The task force report says the state has the country's third-highest rate of COVID-19 and calls for increased social distancing "to the maximal degree possible."
"Wisconsin has continued to see a rapid worsening of the epidemic in the last week with the governor declaring a health emergency," the report says.
Other areas listed as "red zones" are Appleton, Oshkosh-Neenah, Fond du Lac, Stevens Point, Wausau-Weston, Manitowoc, Shawano, Watertown-Fort Atkinson, Menomonie and Marinette.
The state's previous daily record for deaths was 22 on May 27, and total deaths have reached 1,327. The new record comes after 17 deaths from the coronavirus were reported Tuesday, which was the highest number since May 30.
The state reported 2,319 new confirmed cases of COVID-19 Wednesday, with average daily cases more than tripling in September, from 674 on Sept. 3 to 2,334 Wednesday — one of the biggest surges in the country.
A record 683 patients were hospitalized with COVID-19 Wednesday, a day after state officials called the situation a crisis and said deaths likely will go up in coming days.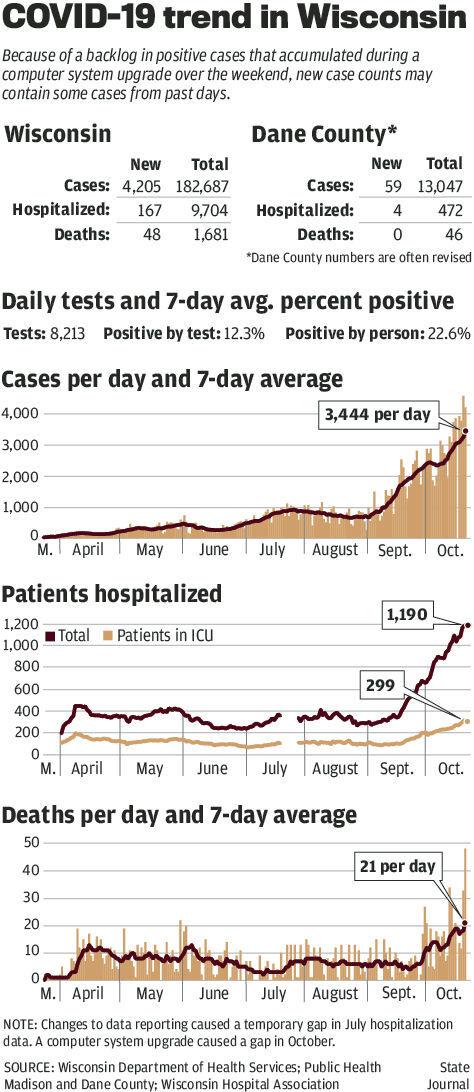 Beds filling up
Willems Van Dijk on Wednesday called the increasing deaths the "lagging result of the surge (in cases) that we are seeing" and asked residents to take the outbreak seriously. "Let's nip this in the bud now so we don't get to a point where our hospitals are overrun," she said.
Hospital capacity has been most strained in the Fox Valley and northeastern Wisconsin, and some hospitals have transferred patients to other facilities, as they sometimes do during busy flu seasons, she said.
DHS released a 12-page guide to help local health departments and local leaders assess COVID-19 activity in their area and take appropriate steps — such as banning indoor gatherings, limiting outdoor gatherings, reducing capacity and services at restaurants and bars, and curbing capacity at other types of businesses.
At the local level
Democratic Gov. Tony Evers' stay-at-home order in the spring took such steps statewide, but the state Supreme Court struck it down in May and the Republican-led Legislature has declined to discuss other possibilities. Some municipalities — such as Dane County, the cities of Milwaukee and Racine and to some extent Eau Claire and La Crosse — have issued similar local orders, but most have not.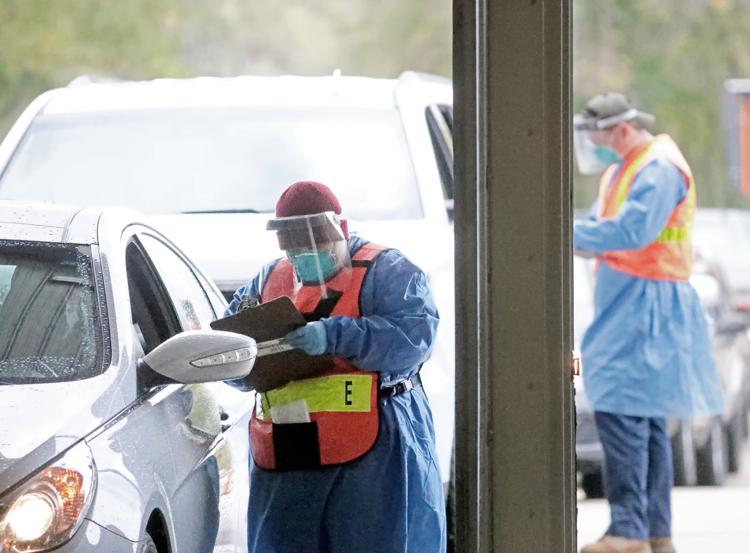 "Because the power to make those kinds of decisions for a community now lie at the local level, we are asking our local decision makers to take this current state of the disease very seriously," Willems Van Dijk said.
The guidance document says, in bold on the first page: "The information in this guide may help inform local decisions, but does not represent a mandated approach."
Dane County
Dane County has seen a decline in COVID-19 cases the past two weeks since having record levels early this month, with many cases coming from UW-Madison students returning to campus.
Despite the recent decrease, the county's daily average of about 120 cases is still higher than the average of just over 100 cases during the county's previous peak in late June and early July.
The county reported one new death Wednesday, for a total of 43.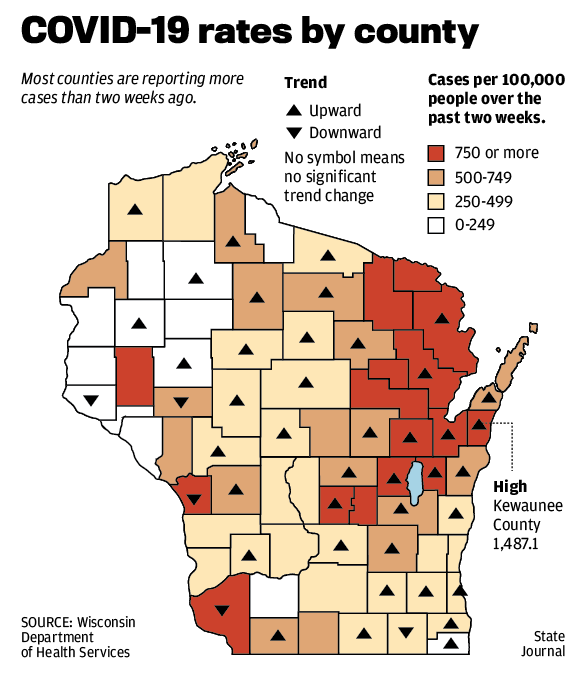 New data offered
DHS on Wednesday also released some new data on its website and new ways to display other data.
COVID-19 activity levels by county, which last week were listed as high for all 72 counties, now have a "very high" category, which this week includes 45 counties, including Dane. High is more than 100 cases per 100,000 people, and very high is more than 350 cases per 100,000.
Case rates by age groups, which had previously included under 18, are now broken down by 0-3, 4-8, 9-13 and 14-17, to help school districts and other services that deal with children make decisions on when to open or close or teach online.
The rates for all of those groups, which went up in early September, stabilized or went down in the second half of the month except for ages 0-3, according to preliminary data.
The rate for ages 18-24, which increased more than five-fold from mid-August to early September, has since declined. The rate for every older age group has gone up.
Concerned about COVID-19?
Sign up now to get the most recent coronavirus headlines and other important local and national news sent to your email inbox daily.