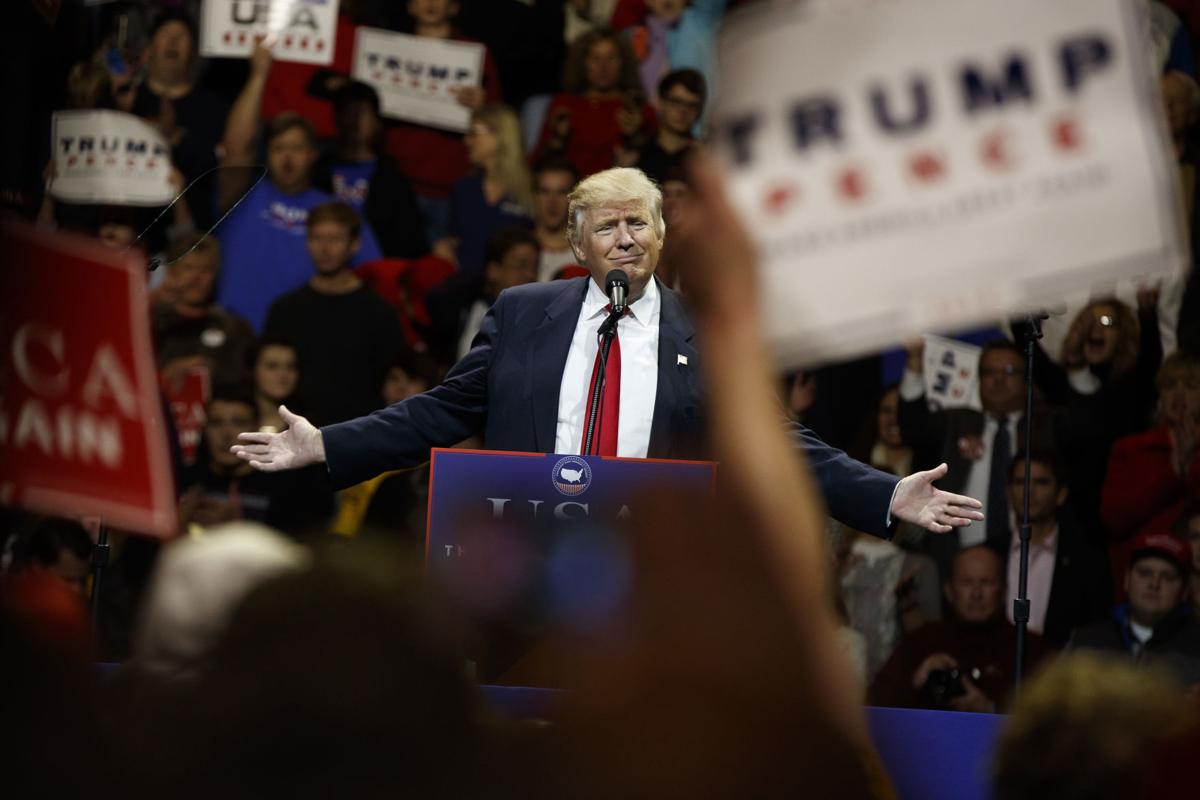 Plans by President-elect Donald Trump and Congress to get rid of the Affordable Care Act and substantially alter Medicaid could have a big impact in Wisconsin, where 224,000 people get insurance on the health law's exchange and another 1.2 million receive some form of Medicaid, the state-federal health plan mostly for the poor.
"It's a quarter of our population," said Donna Friedsam, health policy programs director at the UW Population Health Institute. "It's our neighbors, our family, our friends who are closely affected by the changes ahead."
Trump, who vowed during the campaign to repeal the Affordable Care Act, or "Obamacare," said after the election he wants to keep certain parts of the law, such as requiring insurers to cover pre-existing medical conditions and letting children stay on their parents' health plan until age 26.
But by nominating Georgia Congressman Tom Price to be health secretary last week and Indiana consultant Seema Verma to oversee Medicaid and Medicare, Trump signaled he is serious about largely gutting "Obamacare" and dramatically changing Medicaid.
Price, an orthopedic surgeon, introduced a bill last year to replace "Obamacare" with an individual market system that would eliminate the exchange, reallocate government subsidies for private insurance and encourage the use of health savings accounts.
Verma helped Indiana Gov. Mike Pence, who will become vice president in January, transform that state's Medicaid program. They required many enrollees to pay monthly premiums to get full coverage, shut off coverage for six months to some who fail to pay and charged fees for inappropriate visits to the emergency room.
House Speaker Paul Ryan, R-Janesville, proposed an "Obamacare" replacement plan in June that would ban insurers from charging people more for pre-existing conditions if the patients maintain continuous coverage.
Ryan's plan, like others by Republicans, would provide tax credits based on age instead of income, encourage the sale of health insurance across state lines and reestablish high-risk pools for people with complex medical conditions.
"Obamacare" "drives up premiums and deductible costs for individuals, families, and businesses. It forces people off plans they like," the authors of the GOP blueprint wrote at the time. "Our plan recognizes that people deserve more patient-centered care, not more bureaucracy. That means more choices, not more mandates."
In Wisconsin, the big question is whether such proposals would allow the 224,000 people insured through the exchange, or marketplace, to remain covered, said Eric Borgerding, president of the Wisconsin Hospital Association.
Largely because of the exchange and its tax credits, which 85 percent of state enrollees use to buy private insurance, Wisconsin's number of uninsured residents dropped from 518,000 in 2013 to 323,000 last year, or 5.7 percent, sixth lowest among states.
"How do you sustain what we have achieved?" Borgerding said. "We have achieved something, regardless of what anybody thinks about 'Obamacare.'"
Concern about
uninsured
In negotiations leading to the Affordable Care Act in 2010, hospitals agreed to receive lower Medicare payments in order to fund the tax credits for exchange coverage and pay for Medicaid expansion by states.
If uninsured people gain either type of insurance, hospitals get less bad debt when the patients seek care.
If the post-ACA system leads more people to become uninsured, the Medicare cuts "are something we're going to be talking about very loud and clear," Borgerding said.
Health savings accounts, which accompany high-deductible health plans, and tax credits based on age instead of income could make it more difficult for lower-income people to afford medical care, said Jon Peacock, research director of the Wisconsin Council on Children & Families.
"People are not going to be able to afford high-quality coverage," Peacock said.
You have free articles remaining.
Some states already allow insurance to be sold across state lines, but it's generally not done because state regulations differ and it can be difficult for insurers to establish provider networks in other states.
Phil Dougherty, senior executive officer for the Wisconsin Association of Health Plans, said the idea mostly applies to states that have one or two dominant insurers — unlike Wisconsin, which has many health insurance companies.
"For a competitive state like Wisconsin, any efforts to create more competition must require all insurers to play by the same regulatory rules, not provide advantages to insurers from states with the lowest standards," Dougherty said.
Medicaid block grants
While the push to replace the ACA with Republican-driven ideas is getting the most attention, Medicaid reform could have a larger impact, Peacock said.
"I'm far more worried about what could happen to Medicaid," he said. "It's such a fundamental building block of our health care system. It's critical for low-income families, the elderly and people with disabilities."
Trump, Ryan and others have proposed converting federal Medicaid funding into block grants. Instead of tying federal amounts to how much states spend, as is the case now, states would get a lump sum and be free of many federal rules on how to run the program.
"States will have the incentives to seek out and eliminate fraud, waste and abuse to preserve our precious resources," Trump's website says.
Block grants could mean Medicaid would no longer be an entitlement, Friedsam said.
"States could say, 'Sorry, we're not enrolling any more people this year," she said.
Under the current program, when more people sign up for Medicaid, federal funding increases along with state spending. Under block grants, that wouldn't be the case.
"When a recession or economic setback occurs, states would not get more federal money to handle those people," Friedsam said.
States could also "game" Medicaid block grants by shifting the spending to other programs, Peacock said.
Borgerding said he's concerned about how block grant amounts would be determined.
If they're based on federal funding for Medicaid in recent years, Wisconsin could get a relatively low amount because it didn't accept federal funding for Medicaid expansion under the Affordable Care Act.
"I hope states like Wisconsin are not penalized," he said.
Paying for Medicaid
Whether or not Medicaid funding shifts to block grants, states likely will be given more freedom to make Medicaid coverage more like private insurance by requiring enrollees to pay premiums and cost-sharing, and possibly limiting benefits to people who work, Friedsam said.
In an article in the journal Health Affairs in August, Verma wrote that Indiana's reforms, similar to some Gov. Scott Walker has implemented in Wisconsin, "serve as an example for states having similar interest in re-aligning Medicaid with the broader objective of individual empowerment."
But requiring people below the poverty level to pay premiums, deductibles or cost-sharing could be difficult, Friedsam said. They make $11,880 a year for an individual or $24,300 for a family of four, and include many people with low literacy and high medical needs, she said.
"Many of them don't even have bank accounts," she said.