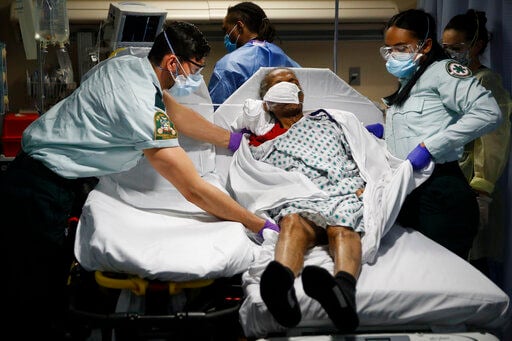 Sixty-two nursing homes in Wisconsin — none of them in Dane County — have reported a total of 271 COVID-19 deaths, according to new federal data this week.
Meanwhile, Wisconsin reported 2,504 new COVID-19 cases Friday, its second-highest daily total after a record 2,533 cases on Sept. 18, and nine more deaths, for a total of 1,274.
"People 85 years of age can't go seven months being isolated from loved ones," said John Sauer, CEO of LeadingAge Wisconsin, which represents nursing homes and assisted living facilities.
"We have to open up our facilities to visitation," Sauer said. "We have to get ready for indoor visitation as the weather changes."
The state Department of Health Services said last week nursing homes could have "essential visitors," family members or others actively engaged with residents for support.
While average daily cases of COVID-19 in Wisconsin have soared this month from 674 on Sept. 3 to 1,935 as of Friday, average daily deaths have dropped to five from seven earlier in the month and a peak of 13 in early April and early June.
Lutheran Home in Wauwatosa and Bethany Home in Waupaca each reported 15 COVID-19 deaths in residents, the most of any facility, and Lutheran Home also had two staff deaths, CMS said.
Orchard Manor in Lancaster, which the Wisconsin State Journal reported in June had 12 deaths, now has had 14, as has Pavilion at Glacier Valley in Slinger. The Bay at Sheridan Health and Rehabilitation in Kenosha has had 13 deaths, Virginia Highlands Health and Rehabilitation in Germantown has had 12 and Geneva Lake Manor in Lake Geneva and Sunrise Health Services in Milwaukee each have had 11.
Each of the seven nursing homes listed as being in Madison reported COVID-19 cases among staff, but only two reported cases among residents.
Belmont Nursing and Rehabilitation Center said it has had 25 cases among residents and 24 cases among staff, which the State Journal reported on in June. Oak Park Place Nakoma said it has had one resident case and two staff cases.
But according to the CMS data, Oakwood has had no resident cases and six among staff. CMS said in June, when it first released the information, that some facilities were including cases and deaths since the coronavirus outbreak began and others only since early May.
Six are in Dane County: Belmont, Oakwood, the Villa, Badger Prairie Health Care Center, St. Mary's Care Center and Crossroads Care Center in Sun Prairie.