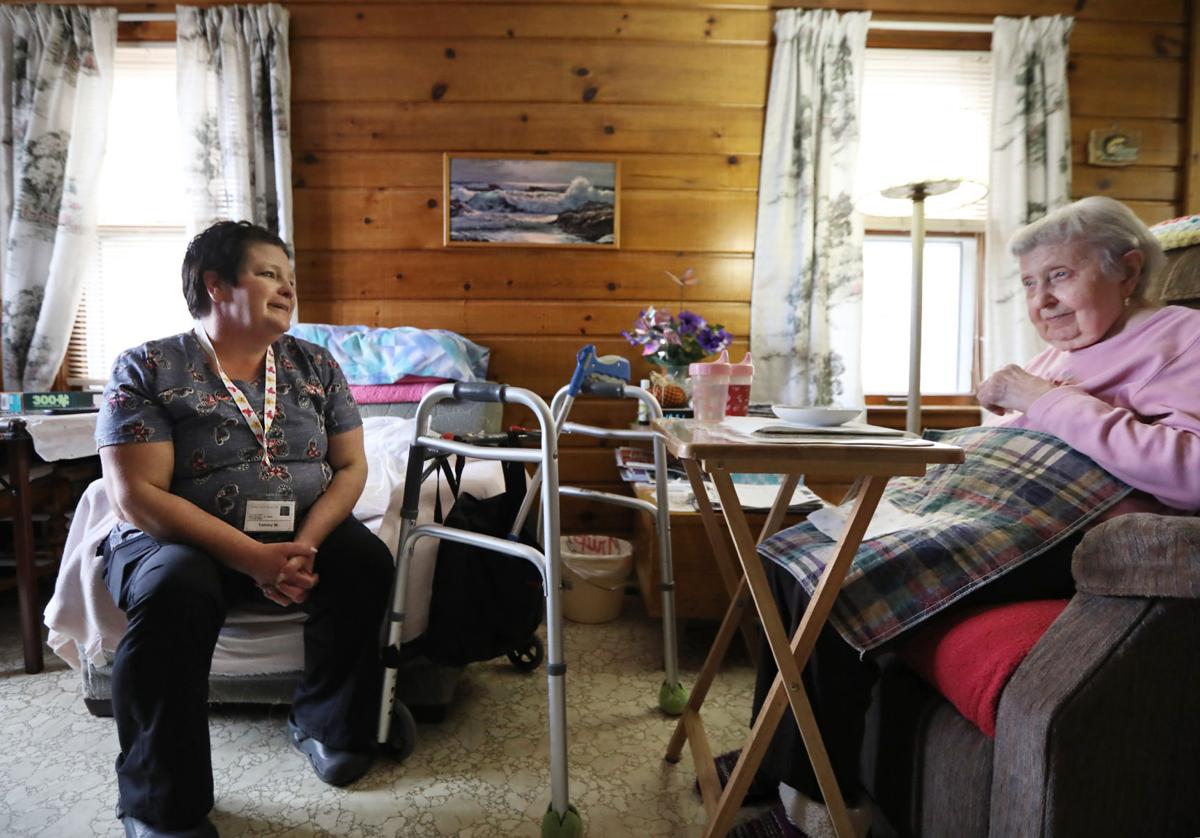 Boosting wages, benefits and recruitment of paid caregivers and expanding supports for unpaid family caregivers are goals of proposals to be voted on this week by a state task force.
With Wisconsin facing a shortage of direct care workers in nursing homes, assisted-living facilities and home care agencies, and loved ones often stressed by providing care, Gov. Tony Evers created the Task Force on Caregiving last year. The group, which has met since last September, on Thursday will decide which of 16 proposals to include in a final report to be released by the end of the month.
"We know there's going to be more demand for care in the coming years, and we need to make sure that we have the workforce to do that," said Lisa Pugh, co-chair of the task force and executive director of The Arc Wisconsin, which advocates for people with intellectual and developmental disabilities.
"We've been riddled with high turnover," said Todd Costello, the other task force co-chair, who is executive director of the Community Living Alliance, a Madison-based nonprofit that provides personal care for older adults and people with disabilities. "Being able to be a competitive employer is essential."
The need for personal care aides and home care aides is expected to grow 30 percent in the next decade, Dennis Winters, chief economist for the state Department of Workforce Development, told the task force at its inaugural meeting, as the Wisconsin State Journal reported in a series on dementia and caregivers in November.
One proposal calls for 8% rate increases the next two years to direct care agencies in order to increase worker wages to $15 an hour and possibly provide benefits such as paid time off and health insurance.
The estimated cost, of $137 million over two years, could be a tough sell with the state budget impacted by COVID-19. But Costello said many agencies can afford to pay only $12 an hour, with few or no benefits, which makes it hard to compete with employers such as Kwik Trip and Walmart.
Increases are also sought for nursing homes, and a three-tier training system would help direct care workers become certified nursing assistants, if desired, in part by giving them credit for hours worked.
One proposal would make managed care companies in the state's Family Care program spend at least 85% of their payments on direct care, a "medical loss ratio" that currently must be reported but has no specific requirement.
A policy that makes people with certain convictions ineligible to work as caregivers through a state program known as IRIS would be changed in one proposal, allowing such people to work through "risk agreements" with patients and increased monitoring. That could result in 7,000 more workers, Costello said.
Family caregivers
For unpaid family caregivers, a screening tool is proposed to assess skills and well-being, which might prevent people from giving up and placing loved ones in nursing homes or other facilities. "The goal is to prevent the use of more expensive services that are correlated to caregiver burnout," Pugh said.
Three proposals are similar to measures in previous legislation.
One would create a $1,000 tax credit for expenses of unpaid family caregivers, which has faced opposition in the Legislature because it would reduce state revenue by some $125 million a year.
Another would require hospitals to make sure family caregivers understand the medical tasks they need to perform once patients are discharged, which the Wisconsin Hospital Association has opposed.
The state's Family Medical Leave Act would also be expanded to include chronic conditions and caregiving responsibilities, and apply to grandparents, grandchildren and siblings of those needing care.
Pandemic impact
Pugh and Costello said all of the proposals appear to have majority support on the task force and likely will be included in the final report. Though COVID-19 might make it more difficult to find money to pay for some of them, the pandemic has also highlighted caregiving strains, they said.
Nursing homes, assisted living centers and some community settings have been significantly impacted by the coronavirus, making the workforce shortage even more of a challenge, Costello said.
"COVID has really highlighted the role of our essential workers," he said.