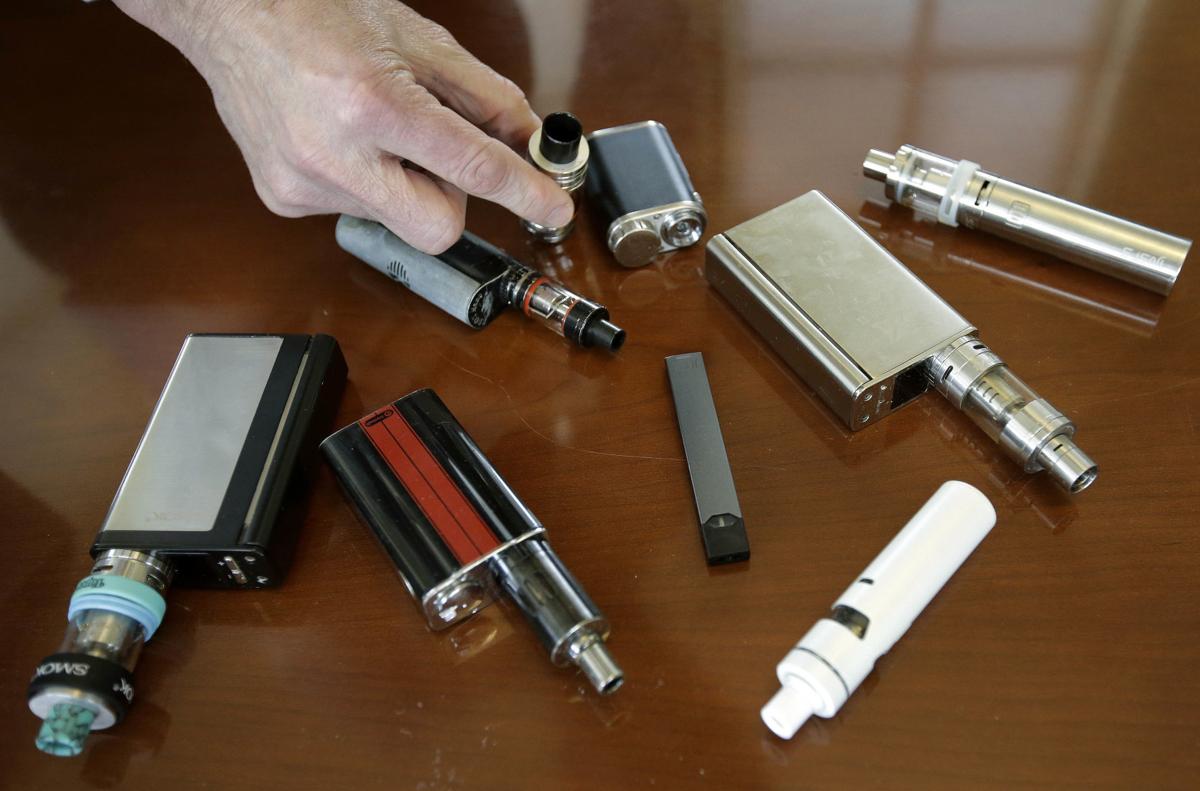 Many of the teenagers who developed serious lung injuries from vaping this summer in southeast Wisconsin, among the first known cases in a national outbreak, still have health problems, a doctor said Tuesday.
"A lot of them are still continuing to have lung-function issues," said Dr. Michael Gutzeit, chief medical officer at Children's Hospital of Wisconsin near Milwaukee. "Their lung functions have not returned to normal. We don't know if they will ever return to normal."
The rate of new cases in the state and the country has dropped in recent weeks, but e-cigarettes appear to remain popular among youth, said Dr. Jonathan Meiman, chief medical officer for the state Department of Health Services.
"We've really helped set the stage for normalizing this behavior in a very young and vulnerable age group," Meiman said. "It really opens the door to harm."
More than 2,100 serious lung injuries have been associated with vaping this year, including at least 92 cases in Wisconsin, the Centers for Disease Control and Prevention said last week. Nationwide, there have been 42 related deaths.
The CDC says the main culprit is e-cigarettes containing THC, the ingredient in marijuana that produces a high, along with vitamin E acetate, used as a thickening agent.
The state Legislature is debating a bill to join 18 states, including Illinois, in establishing 21 as the age to buy tobacco and vaping products. Currently, you must be 18 to buy tobacco and nicotine products in Wisconsin, and there is no minimum age for buying vaping products without nicotine.
Another way to deter youth from vaping is to increase the price, said Megan Piper, associate director of research at UW-Madison's Center for Tobacco Research and Intervention.
You have free articles remaining.
"Price has a huge role in youth access" to regular cigarettes, Piper said.
Minnesota taxes e-cigarettes at 95% of wholesale price, and the tax in Illinois is 15%, said Amy Johnson, program director at the Wisconsin Comprehensive Cancer Control Program.
Wisconsin's tax, of 5 cents per milliliter of vaping fluid, started Oct. 1 after being adopted in the state budget in July. As of July, the tax was tied for lowest among at least 20 states in which vaping taxes had been passed, according to the Wisconsin Policy Forum.
Gov. Tony Evers called for a tax of 71% of wholesale price. On a 30-milliliter bottle of e-cigarette fluid costing $19.99, that would have yielded a tax of $14.19, compared to the existing tax of $1.50.
Banning vaping flavors
Banning flavored vaping products, a plan President Donald Trump dropped this month after announcing it in September, could also impact youth vaping rates, Piper said. The Food and Drug Administration has been moving to regulate e-cigarettes since 2016.
Piper said many teenagers think candy-flavored e-cigarettes don't contain nicotine, even though most do. "They think it's just a flavor," she said. "They think it's like licking a lollipop."
Still, e-cigarettes may help some adults stop smoking combustible cigarettes, which are more harmful, Piper said.
"To the degree to which policy can balance encouraging adult combustible users to quit that and possibly use a less-harmful product, while limiting access or appeal of products to youth ... would be the best situation," she said.
At Children's Hospital of Wisconsin, about 20 patients have been hospitalized for vaping-related lung injuries, Gutzeit said. UW Health has had at least 10 cases, doctors said last month.
Gutzeit said that despite the well-publicized lung injuries, it's difficult to convince some teenagers that vaping isn't safe.
"I've had youth tell me in my clinic, 'What's wrong with vaping? It's just steam-cleaning your lungs,'" he said.
Nicotine in e-cigarettes can create a "feedback loop of addiction" that "is unbelievably strong in youth," Gutzeit said. "It goes right to the pleasure sensations in the brain and creates the desire and the intense need to have these products."