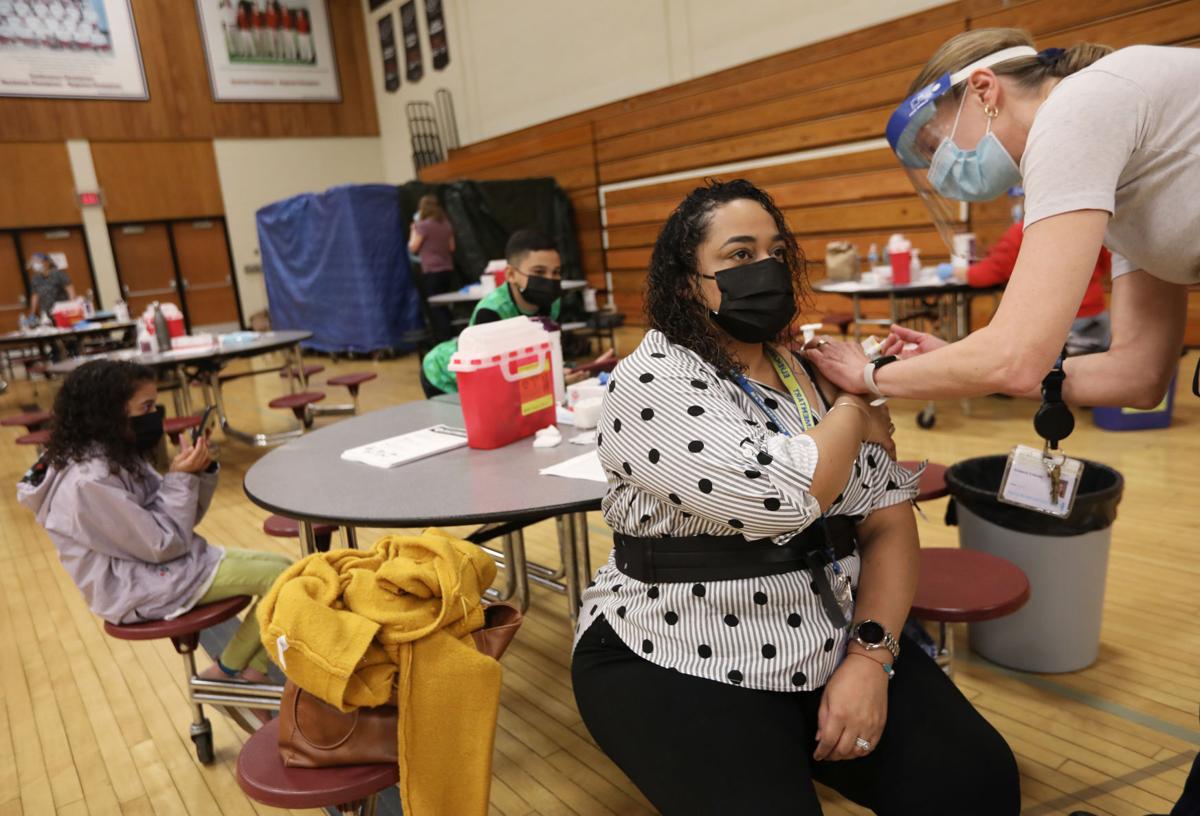 Health officials said they don't know the vaccination status of all adults involved in an outbreak of a more contagious variant of COVID-19 at a Dane County child care center, and they aren't releasing the partial information they have to protect the people's confidentiality.
A state questionnaire used to investigate outbreaks like the one involving at least 35 children and adults associated with the unidentified child care center doesn't include a question about whether people have been vaccinated, said Sarah Mattes, spokeswoman for Public Health Madison and Dane County.
The state Department of Health Services is working to connect its immunization registry with its disease surveillance system so the vaccination status of people who test positive routinely would be known, spokesperson Jennifer Miller said.
That would allow officials to track "breakthrough" cases — when people are infected after vaccination, which can occur since no vaccine is 100% effective. Samples from such people undergo the whole-genome sequencing required to identify the more contagious variants, which is done on less than 1% of samples overall. That can help officials better understand how effective the vaccines are against the variants, which appear to be driving an uptick in cases in some states.
"Our team is working hard to make sure that people are matched correctly in the systems, plus we also want any potential vaccine breakthrough cases to be sequenced," Miller said.
None of the vaccine breakthrough cases in Wisconsin so far have involved the variants, she said. She declined to say how many breakthrough cases have been reported.
Sixteen children and five workers at the child care center, along with 14 family members of the children or workers, tested positive for COVID-19, according to the city-county health department, which announced the outbreak Monday.
Child care workers joined educators in Wisconsin in becoming eligible for COVID-19 vaccination March 1, and some of the family members may have been in groups that could get shots before this week when all residents 16 and older became eligible. None of the vaccines has been approved for children under 16.
One of the cases diagnosed early in the child care center outbreak was found to be of the more contagious B117 variant, first identified in the United Kingdom. Most or all of the other cases are presumed to be of the same strain, based on how quickly infections spread in the outbreak, Mattes said.
Even though the state questionnaire doesn't ask about vaccination, contact tracers can ask about it, Mattes said. The vaccination status of some adults involved in the outbreak is known, but the agency isn't releasing the information because it could identify the people involved, she said.
Local health departments can't alter the state questionnaire's list of routine questions, Mattes said.
The agency did not name the child care center or the municipality where it's located, or say how many students and staff the facility has.
"We know the variants are more infectious, and younger children can't be vaccinated yet, so this is an important reminder that we must all continue to take precautions," Public Health director Janel Heinrich said Monday in a statement.
Most of the children associated with the outbreak had very mild symptoms, public health officials said. Symptoms of COVID-19 that are common in children can include fever, cough, fatigue, headache, muscle pain and nasal congestion.
COVID-19 vaccines are considered effective against coronavirus variants. A list and map of vaccinators is available at go.madison.com/vaccinators. A registry for appointments and a waiting list is at vaccinate.wi.gov. A hotline for questions about vaccines and assistance with registration is at 844-684-1064.
As of last week, of the 9,124 coronavirus cases whose genomes have been fully sequenced in Wisconsin, 139 have been the B117 variant; eight have been the B1351 variant, first identified in South Africa; and one has been the P1 variant, first identified in Brazil, according to DHS.