In his UW-Madison lab, Adel Talaat developed an experimental vaccine to protect chickens from coronavirus. When the pandemic of a different strain arose in people late last year, Talaat used his technique to create a vaccine candidate for humans.
Talaat's human vaccine, for which tests began last month in mice, is a long way from approval. Even a different vaccine for which a federally funded clinical trial in people started last week in Seattle won't be available for at least a year, health officials say.
Talaat is one of several scientists at the university studying the new coronavirus to better understand how it harms people and to try to control it with treatments or vaccines. As the outbreak continues to grow in the U.S. and elsewhere, dramatically curbing daily activity and threatening hospital capacity, researchers around the world are racing to come up with medical measures to stop it.
As of Saturday, Wisconsin reported 281 cases, including 49 in Dane County, and four deaths. Nationally, the Centers for Disease Control and Prevention on Friday reported more than 15,000 cases, including 201 deaths.
Unlike the Seattle clinical trial's injection vaccine, Talaat's version would be a nasal spray, like FluMist for flu.
"It would be easier to administer," said Talaat, a microbiology professor whose Madison start-up, Pan Genome Systems, aims to commercialize his vaccines.
A federal trial of an experimental antiviral drug, Gilead Science's remdesivir, started last month. President Donald Trump said last week his administration would try to help make that drug and some others approved for other conditions available to coronavirus patients, but that might not happen quickly. The World Health Organization said it will start a study in 10 countries of four drugs or drug combinations already licensed for other illnesses.
At UW-Madison, some research has been halted or scaled back because the campus is nearly shut down to help stop the spread of the disease, known as COVID-19. But other studies continue, some involving a sample from the first person in Wisconsin to test positive, a Dane County resident who has recovered.
Studies in monkeys
Pathology professors David O'Connor and Thomas Friedrich are working with a coalition of scientists around the country to study macaque monkeys as an animal model for the new coronavirus. They did similar work in 2016 when Zika virus emerged as a widespread threat.
Monkeys will be injected with a sample of the new coronavirus from a patient obtained through a federal repository. The injections will occur under strict biosafety conditions at another, unidentified institution.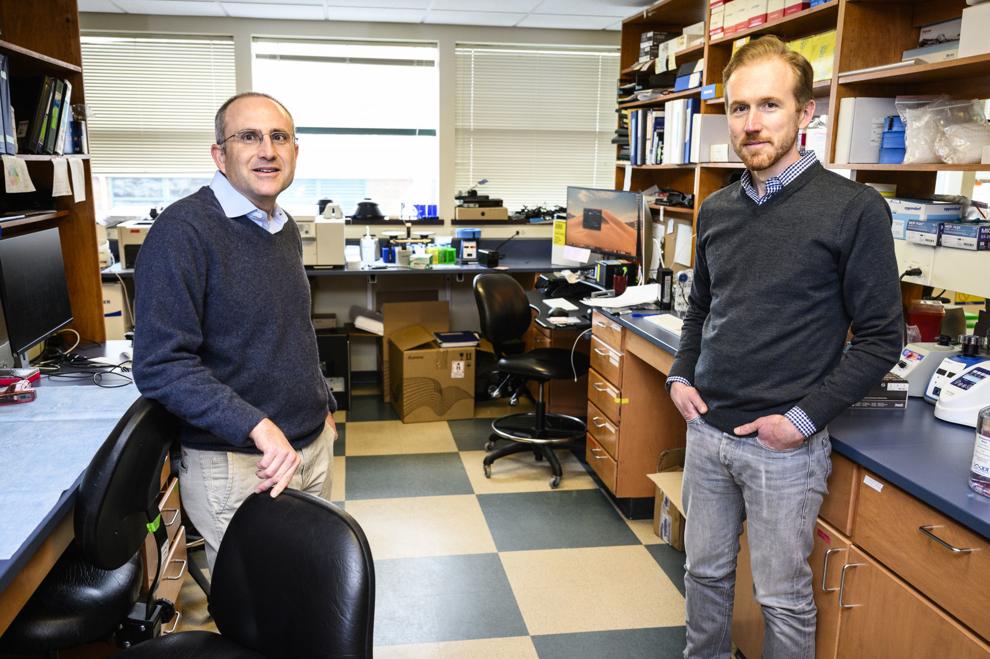 A goal of the initial studies is to assess how long infections last and which types of tissue most harbor the virus. One question, O'Connor said, is whether some people who test negative for the new coronavirus might have virus evading detection in parts of their body.
Future studies will look at immune response and could help gauge the safety and effectiveness of experimental treatments or vaccines. Human patients can also be studied, but the animal models allow scientists to control the circumstances surrounding infection, Friedrich said.
"When animals are infected in the lab, we know the timing and dose of virus that established infection, and we can compare how different doses and routes affect the virus' ability to grow and cause disease," he said.
Friedrich said his lab is also working to sequence viruses from infected people in Wisconsin to understand how the epidemic is developing here. Patterns of viral evolution could show how many different introductions there have been and allow estimates of how many people are currently infected, he said.
His lab is also working to develop alternate ways of testing for COVID-19, which could help overcome supply shortages.
Dane County sample
Yoshihiro Kawaoka, a UW-Madison virologist known for studies of influenza, is studying a sample from the Dane County patient whose positive test for the new coronavirus was announced Feb 5. The person was released from isolation late last month.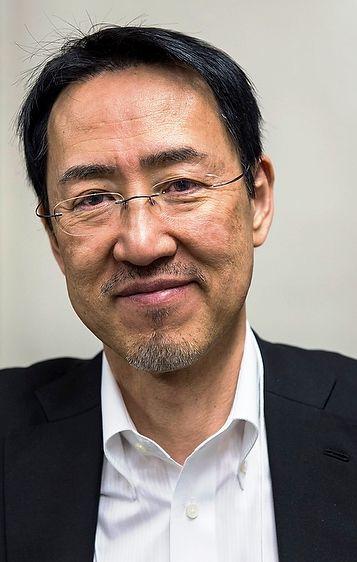 Kawaoka is doing experiments with that sample and other samples of the new coronavirus at the Influenza Research Institute at University Research Park on Madison's West Side. The work is done in labs classified as Biosafety Level 3 or Biosafety Level 3-Agriculture, which is the highest biosafety level at the university and half a notch below the top level anywhere of BSL4, said Rebecca Moritz, who oversees such research on campus.
Kawaoka is studying how efficiently the virus, which is thought to have originated in bats, transmits among animal models, the university said.
SARS and MERS, other coronaviruses known to cause significant illness in people, also started in bats. They are thought to have jumped to humans through intermediate species — for SARS, civet cats; for MERS, dromedary camels.
Kawaoka is also studying how the virus causes illness and what cells the virus is capable of infecting. The results could help in developing treatments and vaccines.
Lab work stopped
The ultimate goal is to help identify treatments, but the immediate goal is to figure out how the virus infects cells. "If you know how something works, you can know how to break it better," Kirchdoerfer said.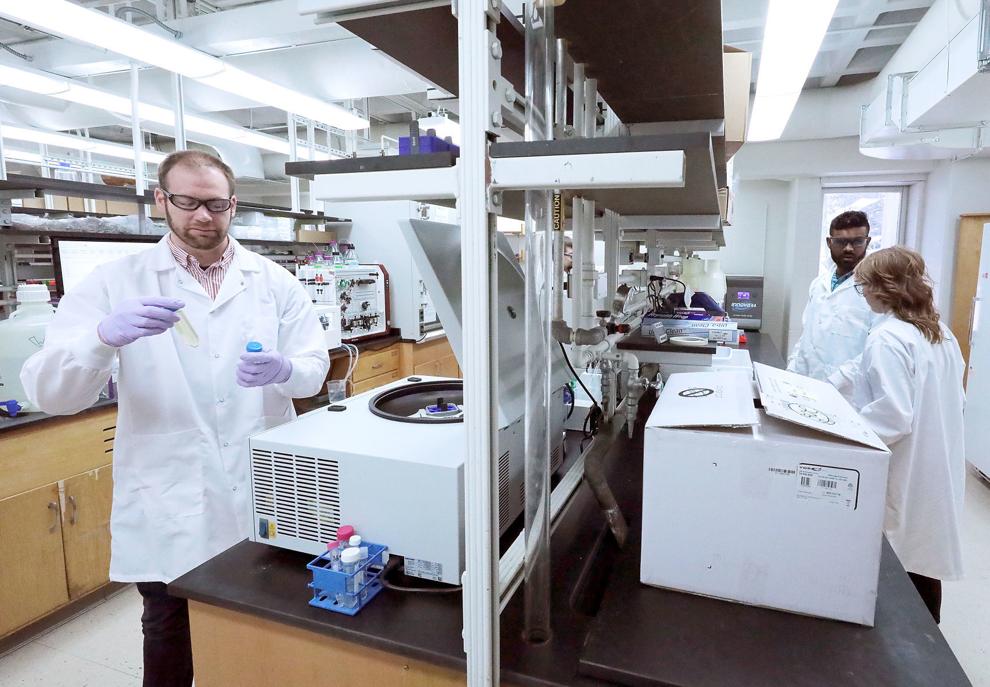 But for now, his lab is mostly shut down. He closed it Monday after officials said only essential workers should remain on campus. He's going in every few days to feed his cell lines and check his freezers, but otherwise studies have stopped.
"Having to grind everything to a halt is quite the setback," Kirchdoerfer said. "There is a limit on what can be done on a computer in a lab that primarily does wet lab biology."
Talaat, too, had to put some of his research on hold. But the studies of his human vaccine in mice had already started, so they can continue, he said.
Vaccine research
Talaat has been working on the chicken coronavirus vaccine for a few years and hopes to publish study results soon. The next step would be to seek licensing and commercialization.
There are hundreds of different coronaviruses that infect various species, from mammals to birds and reptiles, scientists say. With the emergence of the new coronavirus in people, seven coronaviruses are known to infect humans, some of which cause the common cold.
When genetic sequences of the new human coronavirus became available, Talaat used the information to create a vaccine with the DNA-based design he used for the chicken vaccine.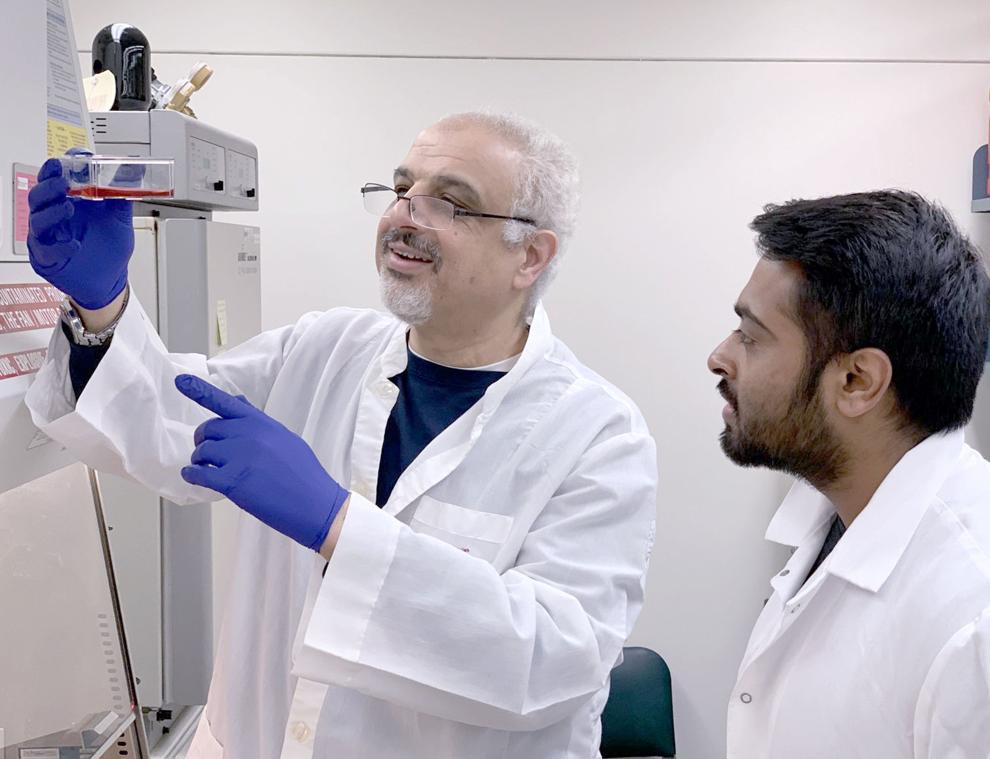 The model uses nanotechnology that in humans should allow mucosal cells in the nose to mount an immune response, instead of needing to inject the vaccine into muscle tissue, Talaat said.
Several types of studies would be needed to get approval, and many vaccine candidates don't make it. But Talaat is optimistic his approach might help with the COVID-19 pandemic, which health officials say could continue for quite a while.
"Hopefully, we'll be able to get a good vaccine so we can help with this outbreak," he said.