Preterm births — which can lead to infant death or disability — are on the rise, accounting for nearly 400,000 of the country's 4 million annual births.
But doctors have a hard time figuring out which pregnant women are likely to deliver early.
"We are really, really poor at trying to predict timing of deliveries," said Dr. Helen Feltovich, an obstetrician who is on the UW-Madison faculty.
The university's Morgridge Institute for Research is studying placentas from births at UnityPoint Health-Meriter to identify structural changes in fetal membranes that could be associated with preterm births.
Scientists on campus also hope to develop fiber-optic cameras and new applications of ultrasound technology to help doctors see subtle changes in fetal membranes or the cervix that might indicate an early delivery.
"We want to learn the different ways things can go wrong," said Kayvan Samimi, a postdoctoral researcher who is leading the project. "The long-term goal is … to make a catheter, a small probe that a clinician could use to study the integrity of the membranes, the health of the pregnancy."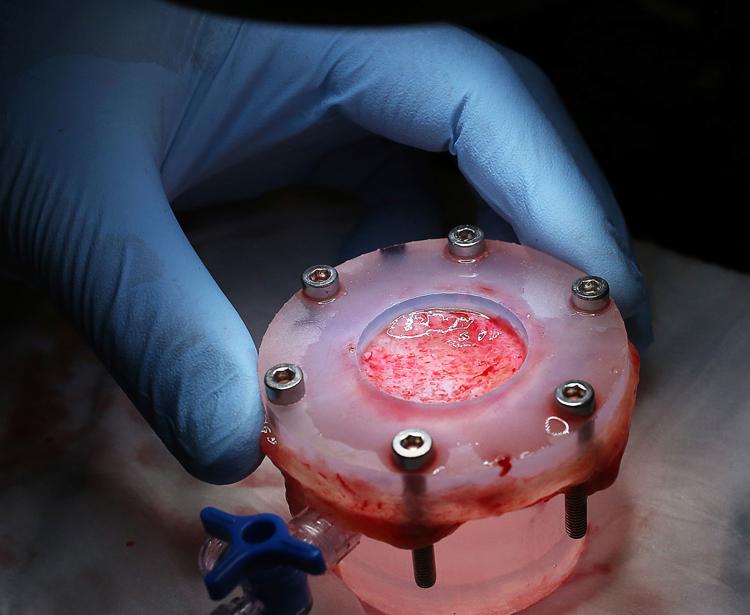 Research began this month on the first four of up to 70 placentas, from preterm and full-term deliveries, expected to be provided by Meriter over six months. The tissue is normally discarded.
The work comes as the national preterm birth rate rose in 2015 and 2016, with a preliminary increase in 2017, after declining from 2007 to 2014, according to the Centers for Disease Control and Prevention.
In 2016, 9.85 percent of the country's nearly 4 million births were preterm, coming before 37 weeks of gestation. In Wisconsin, the rate was 9.6 percent.
Babies born early, especially before 32 weeks, may not feed well, be developmentally delayed and have problems with breathing, seeing and hearing, the CDC says.
Pregnant women who are black, of low socioeconomic status or younger or older than typical maternal age are at increased risk for preterm birth, according to the CDC. Other risk factors include infection, high blood pressure, prior preterm birth, tobacco and alcohol use, substance abuse and stress.
But it's nearly impossible to tell if or when a particular woman might deliver early, said Feltovich, who is on the medical physics faculty at UW-Madison but practices as an obstetrician at Intermountain Healthcare in Utah.
A second trimester ultrasound to see if the cervix is shortened is currently used to forecast preterm labor, but it is unreliable, Feltovich said.
Another pathway to preterm birth is the "water breaking" early, or premature rupture of membranes that surround the fetus.
Samimi plans to use microscopes, lasers and other optical imaging tools to compare fetal membranes from preterm and full-term deliveries, and from different stages of rupturing, at the cellular level. He will also manipulate the membranes to see how they respond to forces like those in the womb.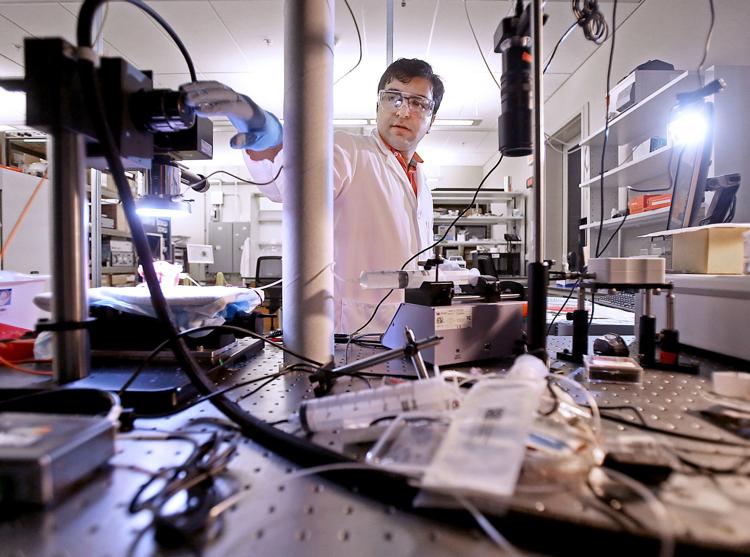 The goal is to use light to identify small changes in the membranes that make them likely to rupture early — changes ultrasound can't detect.
"You can see smaller things with light than you can with sound," said Melissa Skala, a mechanical engineering investigator at Morgridge who is overseeing the project.
Meanwhile, Tim Hall, a UW-Madison medical physics professor also involved in the effort, is looking at using ultrasound in a new way: to measure the stiffness of the cervix. Currently doctors gauge the stiffness by touch.
By adapting new ultrasound technology that measures the stiffness of livers, Hall hopes to help doctors better pinpoint when the cervix becomes soft. The cervix softens before birth to ease passage through the birth canal, but in preterm delivery the process can occur abruptly.
If new techniques can better identify which women are likely to deliver early, more interventions might be developed to prolong pregnancies, Feltovich said. Today doctors typically use progesterone hormone therapy or cerclage, a stitch around the cervix.
Feltovich, who specializes in high-risk births, recounted the story of a woman she cared for recently who was pregnant with twins. The woman seemed fine, with a normal cervix. But 18 hours later, the woman complained of minor discomfort and was hospitalized.
Both of her fetal membranes ruptured suddenly. Despite an emergency Cesarean section, the babies died.
"That's why we're doing this work," Feltovich said. "It happens all the time, and it's really sad, and we don't know why."