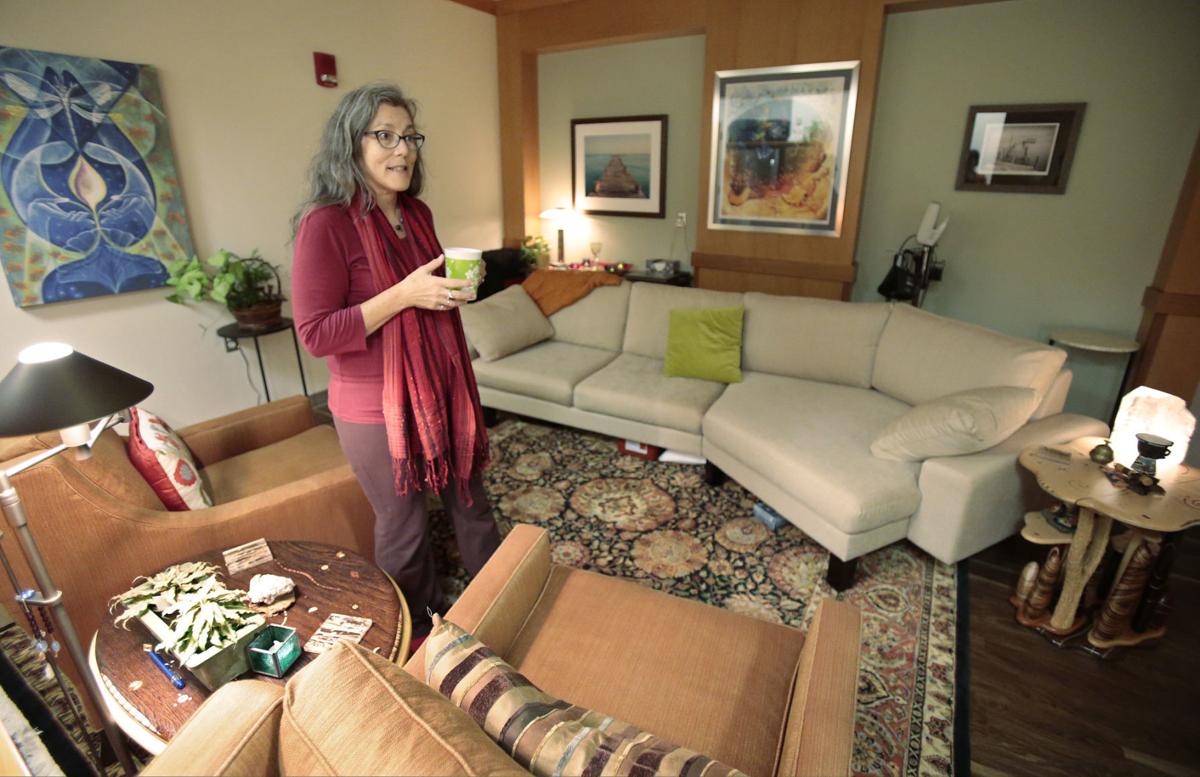 Amid the institutional labs, offices and classrooms of Rennebohm Hall, home to UW-Madison's School of Pharmacy, lies a room with an oversized sofa, nature scenes on the walls, a chime and a drum on an inlay table and meditative music floating from overhead speakers.
Inside, people are taking psilocybin, the hallucinogenic ingredient found in "magic mushrooms."
They're not only hoping for a good "trip." They're helping scientists study the potential of psilocybin to ease the minds of patients with cancer and other conditions.
Nearly 50 years after the late Harvard psychologist Timothy Leary told people to "turn on, tune in, drop out" with psilocybin, LSD and other psychedelic drugs — which became illegal in 1970 — researchers around the country are testing the substances' ability to reduce anxiety and depression in people with terminal cancer.
They're also studying other medical uses, including for addiction and post-traumatic stress disorder.
Psilocybin, known as an "entheogen" for its centuries-old use in religious ceremonies, acts on specific brain receptors to change perception and cognition, scientists say.
Some cancer patients facing death are able to define their personal legacy and reconcile with estranged loved ones, but for many the process is difficult, even with counseling, said Dr. Toby Campbell, an oncologist at UW Hospital who specializes in end-of-life care.
"Psilocybin seems to help significantly more people get to that magic place where they find peace," Campbell said. "There's a remarkable amount of living that can happen while dying that is frankly impeded by anxiety, depression and sadness."
In the UW-Madison study, a dozen healthy volunteers are taking psilocybin in escalating doses over several months. Scientists are measuring the electrical activity of their hearts and examining their blood and urine to see how they metabolize the drug.
The research, combined with two recent studies of psilocybin in cancer patients at Johns Hopkins University in Baltimore and New York University, could pave the way for a large trial in cancer patients at those institutions, UW-Madison and elsewhere.
Eventually, proponents seek to make psilocybin a less tightly controlled drug and add a bit of mysticism to certain medical settings.
"Psilocybin can occasion ... mystical-type experiences that appear virtually identical to naturally occurring mystical experiences reported by mystics throughout the ages," Roland Griffiths, leader of the Johns Hopkins study, said during a public talk about his research.
A controlled 'trip'
The UW-Madison study, which started last year and is nearly finished, overlapped with the death of Tony Robinson, who was fatally shot March 6 by Madison Police Officer Matt Kenny after taking hallucinogenic mushrooms earlier that day.
Robinson, 19, was seen running in and out of traffic and had battered at least one person before Kenny shot him in self defense, Dane County District Attorney Ismael Ozanne concluded.
While Robinson's behavior and death could serve as a warning against psilocybin use, the UW-Madison study is carefully controlled and designed to prevent such problems, said Paul Hutson, the pharmacy professor overseeing the research.
The volunteers, mostly men in their 20s to 60s, were screened not only for physical health problems but also mental health disorders, since psilocybin can be harmful in people with underlying psychiatric disturbances, Hutson said.
Participants had to have had a prior positive experience with a hallucinogenic drug. That is because the restrictive study environment could agitate the uninitiated, said Michele Gassman, study manager.
"Most people don't take psychedelics with an IV in their arm, and with ECG pads and blood pressure cuffs," Gassman said.
Before taking the drug, each person is assigned two guides, people experienced in yoga, meditation or mindfulness. The participant meets with the guides for eight hours to develop trust.
On dosing days, volunteers and their guides go to Rennebohm Hall, where a simulation lab has been transformed into a tranquil treatment room.
Two rust-colored parlor chairs, for the guides, sit near an extra-long beige sofa, for the participant. A Persian-style rug covers much of a wood laminate floor. On the walls hang pictures of docks, a banyan tree, a Roman ruin, a tattered window atop moss-coated stairs — along with colorful, abstract prints of musicians and a dragonfly that could easily morph into kaleidoscopic swirls, one imagines.
Before taking psilocybin, many participants meditate, read a poem or play an instrument. Then they swallow the white pill with a glass of water and begin their mental journey.
Most put on eye shades and headphones. Some wear an anti-anxiety blanket. Music ranges from contemplative, chanting and classical to Beatles arrangements with no lyrics.
In about 20 minutes, the drug kicks in. The experience typically peaks in two to three hours, when some volunteers move around or verbalize as they "get things out," Gassman said.
Later, participants typically grab juice or a snack. The big hit: string cheese. "They find it very fun because it's very stringy," Gassman said.
By the sixth hour, the altered state is generally gone. But each session lasts eight hours, with the guides staying the whole time and offering comfort as needed. Participants spend the night at the hospital, undergoing more blood and urine tests.
Geoff Gilpin, 62, a freelance writer from DeForest who is in the study, said he used psilocybin recreationally in the 1960s and 1970s. His three sessions in the study had a much more profound impact on his life, he said.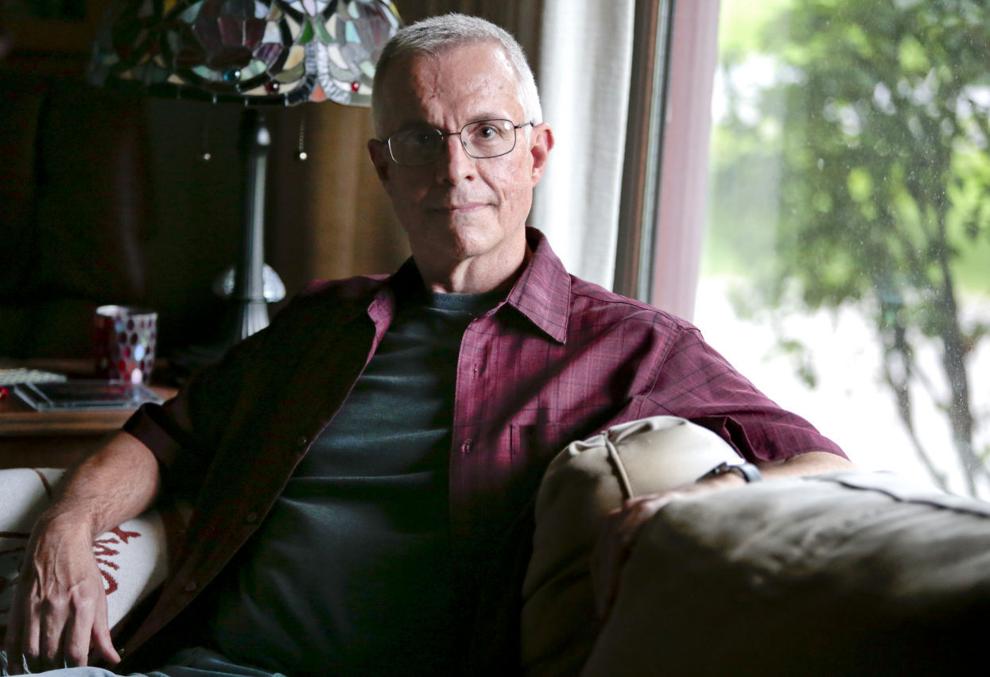 In the first session, while listening to Bach and Brahms, Gilpin pictured his mother, who has Alzheimer's disease, alone in her living room. He realized he needed to reconnect her with such music. Two days later, he did.
"Our relationship has evolved to a level of love and intimacy that it's never been on before," Gilpin said.
During his third session, he said he learned to trust people more and become less of a "control freak."
"I went down the DNA spiral and encountered my ancestry, my family, then the whole human race," he said.
Later, he saw himself and all humankind standing on a cliff. "We joined hands and jumped off. At that point consciousness ended, reality ended, ego ended," he said.
Participants fill out a questionnaire to determine if they have had a mystical experience, but the study doesn't measure spiritual outcome.
"We're mainly interested in their blood and urine," Gassman said. "This is a pharmacokinetics study."
Cancer patients could be next
The study's estimated $500,000 cost is being paid by a donor through the UW Foundation, Hutson said. He would not name the donor, but the website of the Madison-based Usona Institute — founded by Bill Linton, the founder and CEO of biotech company Promega Corp. — says it is funding a pharmacokinetics study of psilocybin at the pharmacy school.
Other research on psychedelics at UW-Madison includes work by Nicholas Cozzi, a pharmacologist in the School of Medicine and Public Health. Cozzi has studied the effects of the psychedelic drug DMT and of mephedrone and methylone, banned substances known as "bath salts," and found potential for therapeutic use.
Hutson said he and other campus researchers are talking about studying psilocybin in people with PTSD. Other centers around the country are testing psilocybin for addiction and ecstasy, or MDMA, for PTSD. In addition, scientists are evaluating psychedelics for obsessive-compulsive disorder.
Hutson and Campbell, the oncologist, hope that results of the UW-Madison psilocybin study, coupled with yet-to-be-published data from the cancer research at John Hopkins and NYU, will persuade the Food and Drug Administration to authorize a large trial in cancer patients within a year or two.
Campbell, who anticipates enrolling some of his cancer patients in the large trial, acknowledged that the public could have a mixed response to the notion of bringing back the psychedelic 1960s.
But that is not what researchers are doing, he said. They aren't giving people pills to take or share as they please. They deliver one dose at a time, in a controlled setting, with careful preparation, counseling and follow-up.
"It's pharmacologically-aided psychotherapy," Campbell said. "You are using a medication to assist in the process of therapy. There is nothing about this that is scandalous."