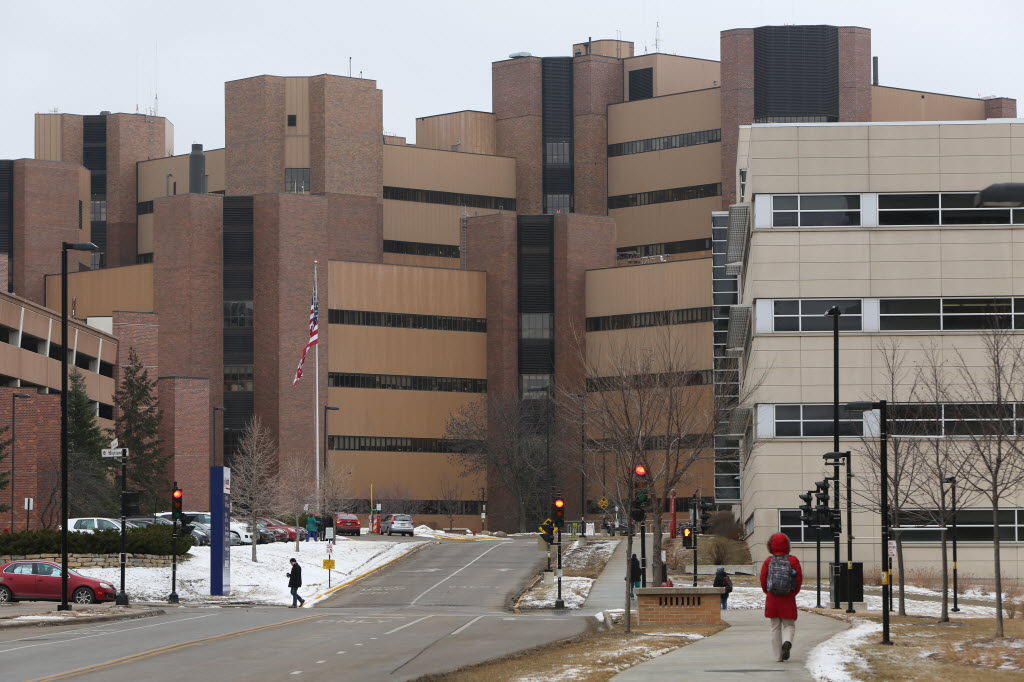 UW Hospital nurses, who lost their union five years ago after a 2011 state law ended collective bargaining for state employees, are trying to revive the union and asking the hospital board to voluntarily recognize it.
Leaders of the effort, who announced the move Thursday, said some general medical unit nurses must care for up to eight patients at a time, when the maximum should be four. Crowding is forcing some patients "to spend the nights in the emergency room hallways instead of a dedicated bed in the correct department," and nurses fear retaliation if they advocate for patients, they said.
"Our movement is essentially an uprising by UW nurses facing unacceptable changes to staffing levels and nurse/patient ratios," said Chuck Linsenmeyer, a nurse who works in the hospital's cardiac catheterization lab. "There is a widespread sense among nurses in our hospital system of being unsupported by the hospital administration to provide the kind of nursing care that our patients expect and deserve."
Mariah Clark, an emergency room nurse and another leader of the union effort, said a critical care float nurse pool was dissolved and some units have been shut as less acute patients have been sent to other hospitals, putting some nurses out of work.
"By joining together in a strong union, we can raise standards and make sure that UW Hospital stays the best place to work and receive care," she said.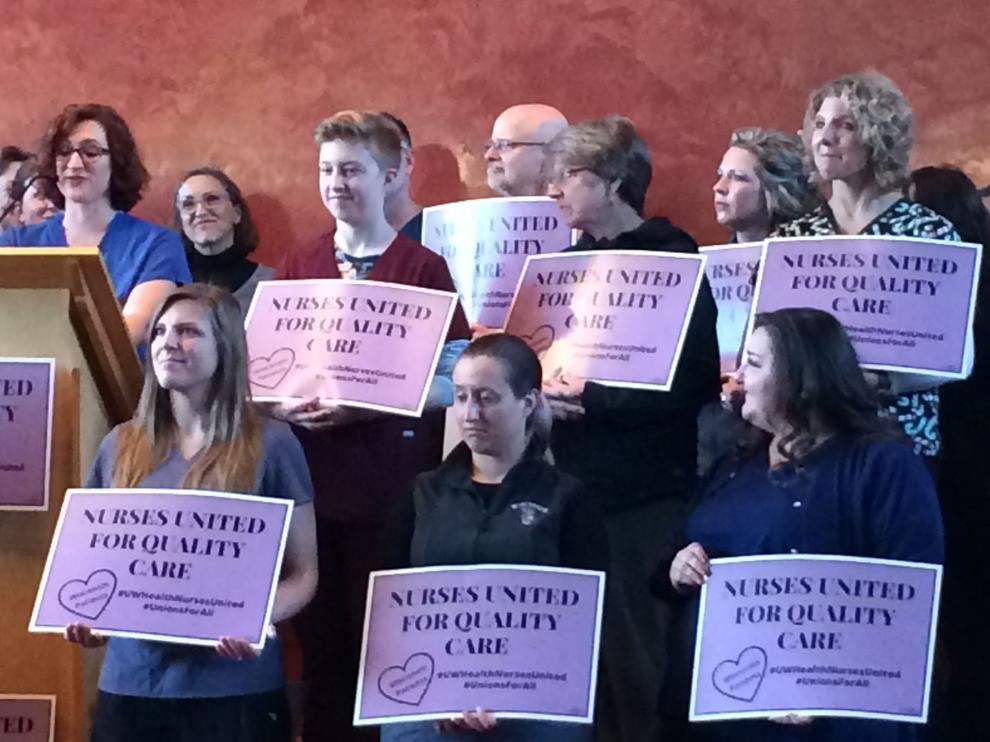 UW Hospital spokesman Tom Russell said the hospital offers nurses competitive wages, has a tuition reimbursement program and has expanded a nurse residency program. Nurse staffing shortages have been a problem nationwide, though not as much in the Madison area, he said.
"We recognize that our nurses and staff are vital to our ability to provide the highest quality of care to our patients; and that is why we continue to develop aggressive and innovative programs to recruit, retain and train the nurses and staff that drive our remarkable care," Russell said in a statement.
When asked if the hospital board would recognize or deal with the union, Russell said the hospital has "implemented many processes to obtain direct employee feedback, such as forums, the Employee Advisory Council and employee surveys. These avenues have provided valuable feedback that has helped shape the decisions and direction of the organization, enabling us to provide remarkable healthcare to our patients."
The 2011 state law known as Act 10, promoted by former Republican Gov. Scott Walker, banned most collective bargaining for most public employees. At UW Hospital — which became a public authority, separate from the university, in 1996 — the law prohibited the continuation of union contracts or bargaining with unions at all, hospital administrators said at the time.
SEIU Healthcare Wisconsin continues to represent nurses at UnityPoint Health-Meriter. Nurses at SSM Health St. Mary's Hospital don't have a union.
UW Hospital nurses said Thursday they gave the hospital board a letter saying they are reforming a union with SEIU Healthcare Wisconsin. The board "has the authority to voluntarily recognize and enter into a meet-and-confer process with our union ... with the goal of reaching an agreement regarding terms and conditions of employment," the letter said.
The nurses said they want to discuss staffing best practices, nurse/patient ratios and two rights: a just-cause standard, as opposed to at-will employment; and the right to a union representative, advocate or witness during potential disciplinary conversations. Those rights were eliminated by current hospital leadership after the dissolution of the previous union, the nurses said.
"In recent years we have become increasingly concerned about a shift that we have experienced at (UW Hospital), a shift away from a core value of fully supporting top quality nursing care, and towards a value of prioritizing maximum corporate profits," the letter said. "Unacceptable changes to staffing levels, nurse/patient ratios and the dissolution of key nursing departments have left thousands of professional nurses without the tools they need to provide the level of care we are capable of providing, and that our patients expect and deserve."
Nurse turnover has increased and hospital leadership has not hired permanent replacements, exacerbating a staffing crisis, the nurses said.
Amy Lebowitz, a spokeswoman for the nurses, said the group has collected cards supporting the union from a "strong majority" of the 2,000 nurses the union represents, but she declined to provide a specific number.
When Walker proposed Act 10, Donna Katen-Bahensky, then CEO of UW Hospital, told hospital employees she "did not anticipate and certainly did not request" the law's action regarding hospital unions. Three other unions were also dissolved; the four unions covered about 60% of the hospital's 8,400 employees.
In a letter to Walker at the time, Katen-Bahensky said eliminating the hospital unions would have "no fiscal effect" on the state budget because the hospital gets no general purpose revenue.
Hospital administrators agreed in 2014 to boost pay temporarily, partly to counter increases in pension and health insurance costs the employees faced under Act 10.
Photos: Wisconsin Senate's surprise Act 10 vote on March 9, 2011
Photos: Looking back at the night Act 10 passed in the Wisconsin Senate
Barca, Fitzgerald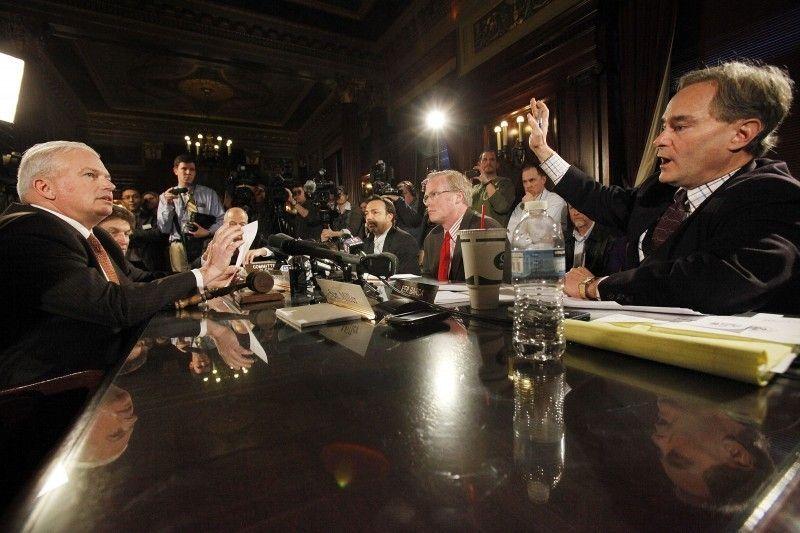 Conference committee Fitzgerald bangs the gavel while Barca protests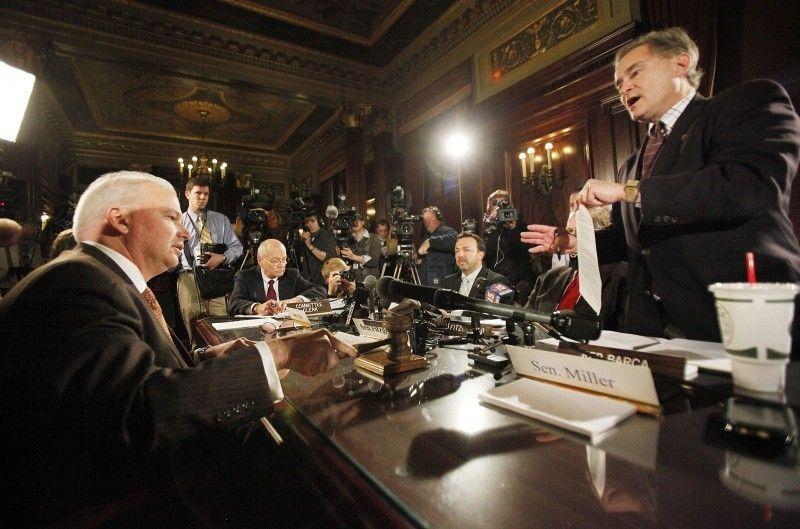 Scott Fitzgerald, Jeff Fitzgerald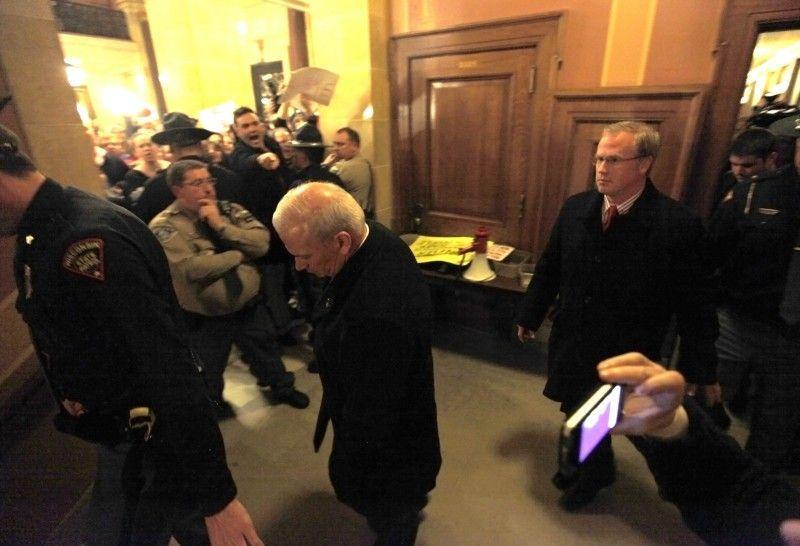 Legislators, protesters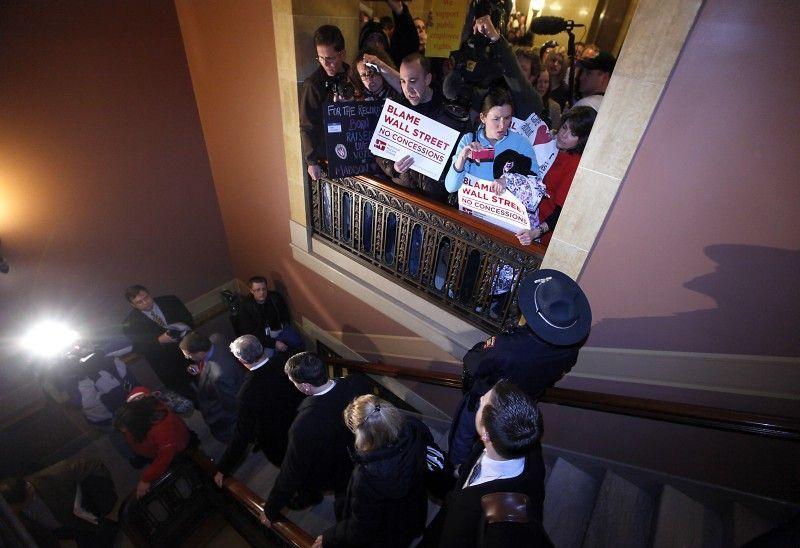 C.J. Terrell, Jason Kempen, protesters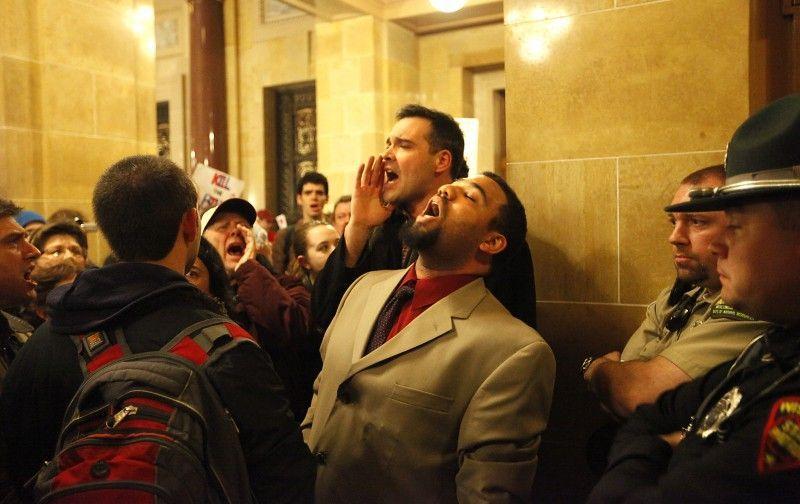 State senate prepares to vote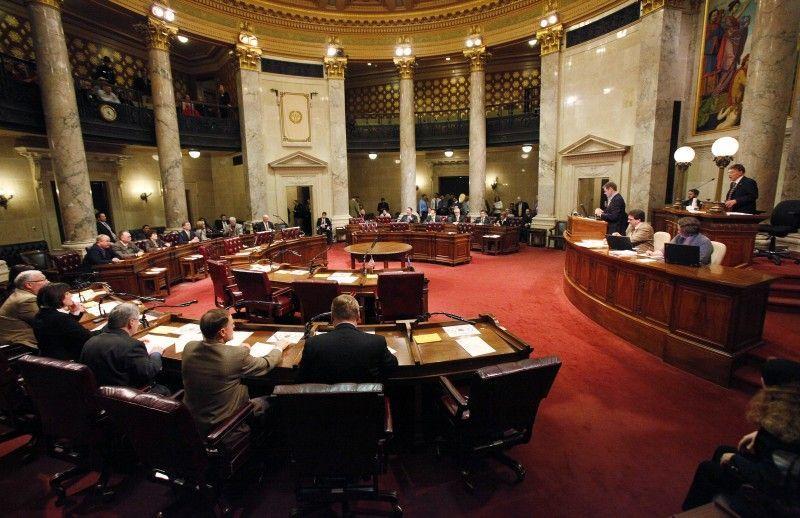 Protesters chanting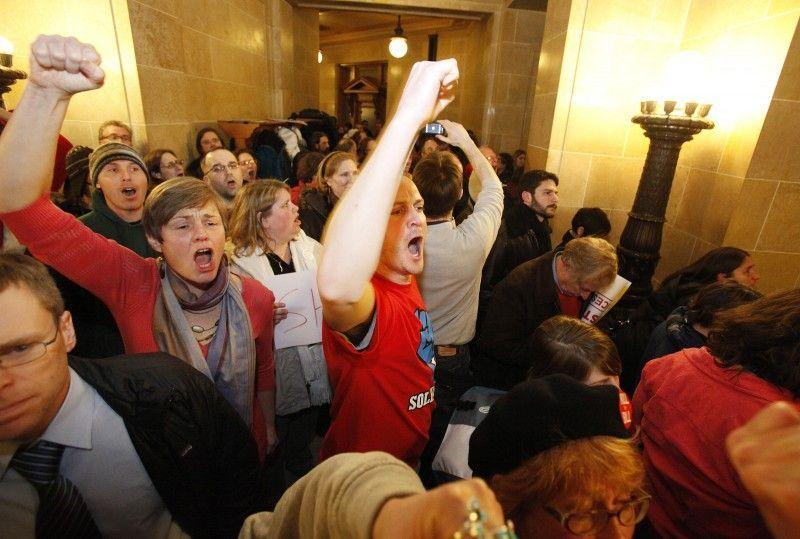 Dale Schultz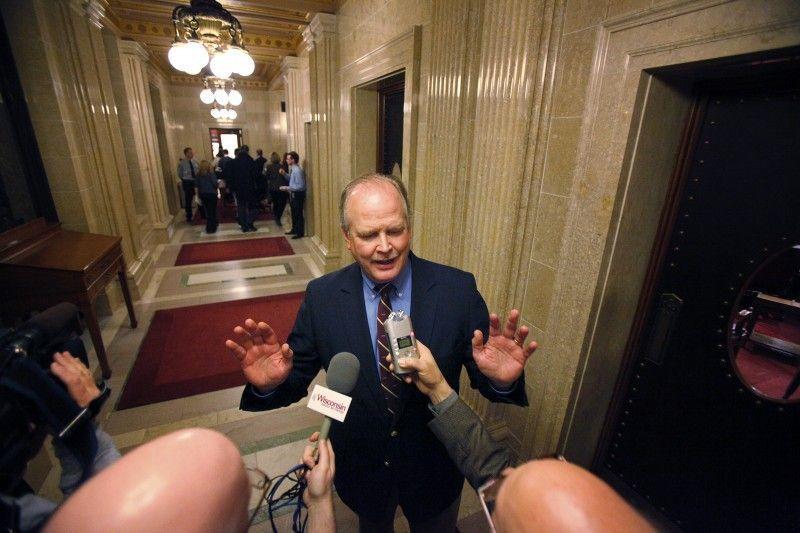 Amy Sue Vruwink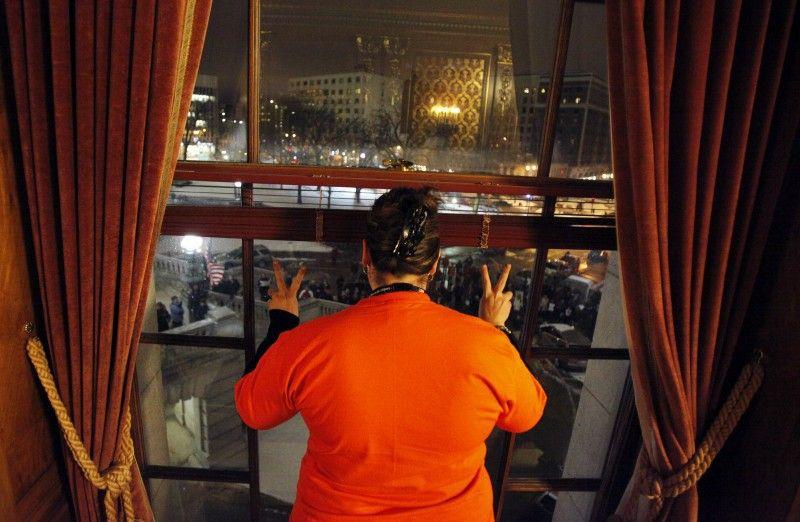 Voting no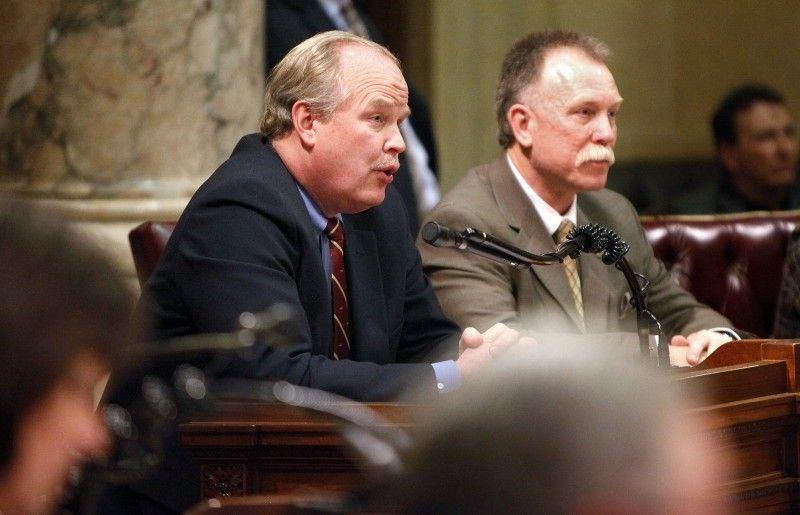 Peter Barca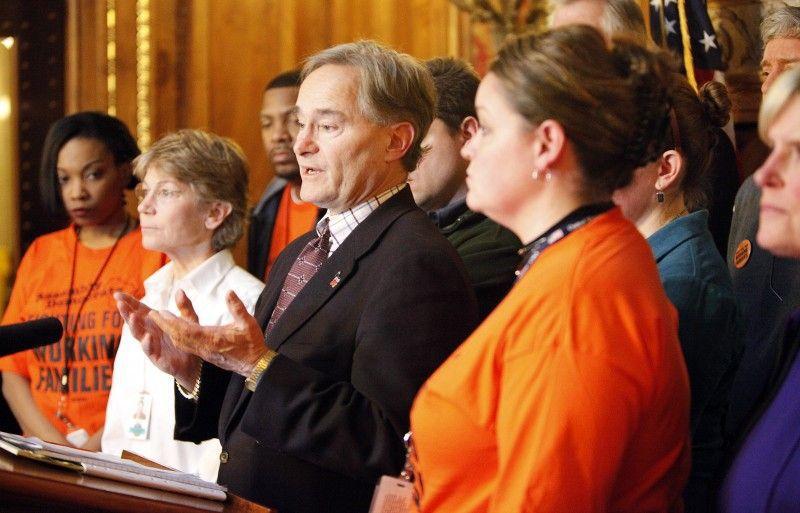 Tears after vote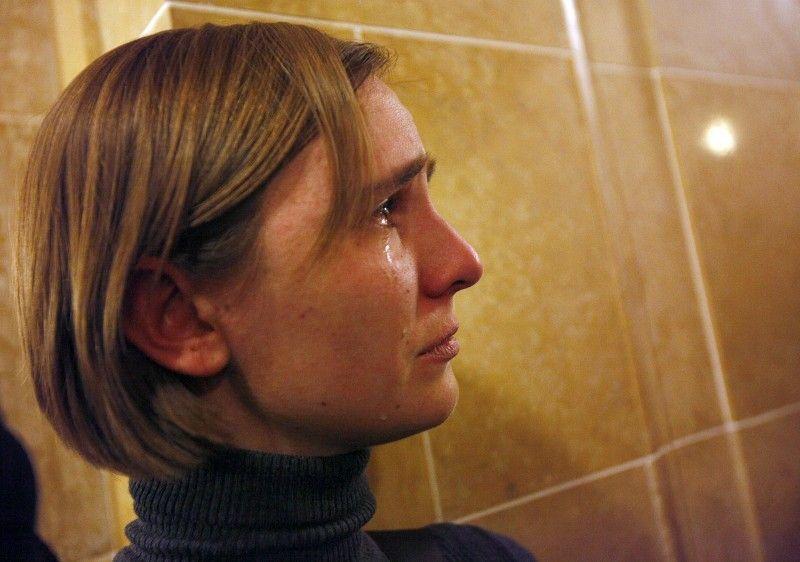 Troopers in stairwell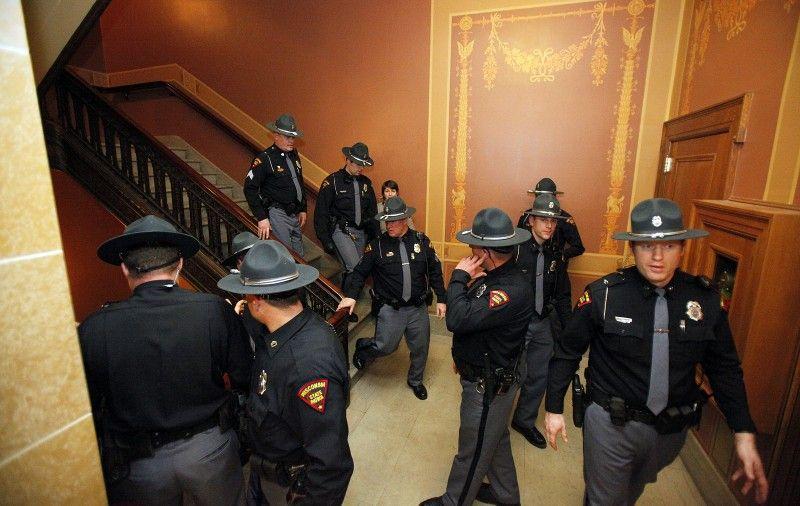 Capitol interior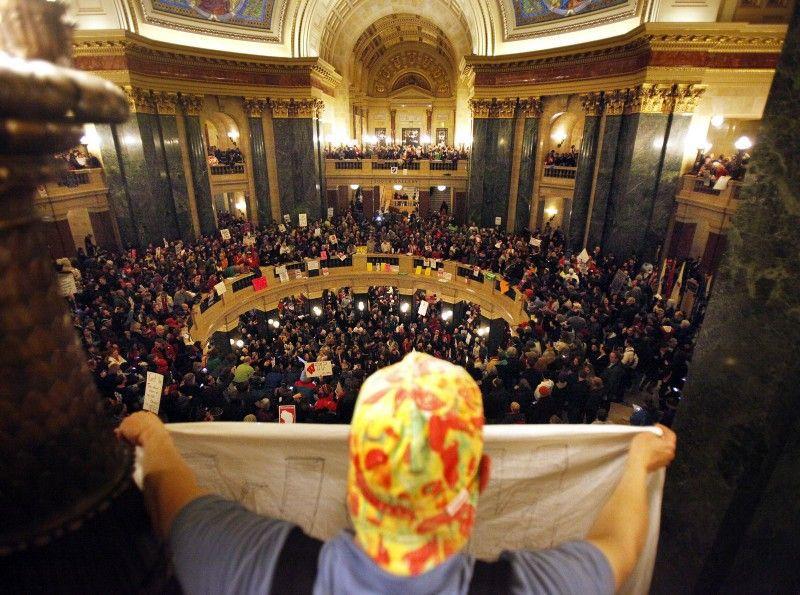 Troopers confer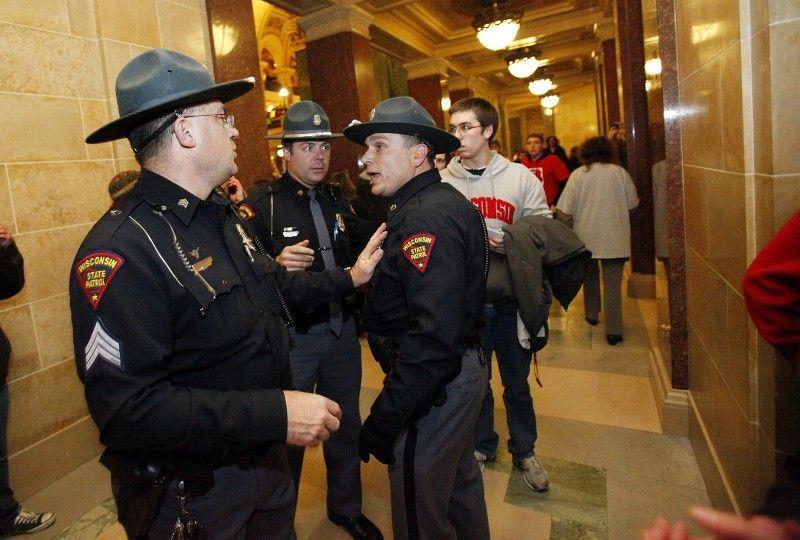 Watching protesters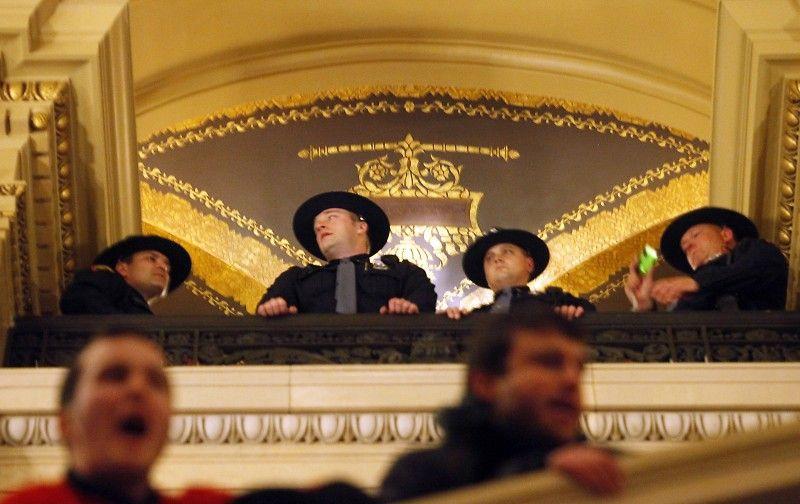 Protesters