In a conference room overlooking Lake Mendota, pictures of tumors and lists of gene names flash on a screen.
Doctors discuss treatments, not based on where in the body a patient's cancer started but on genetic mutations in their tumors.
For a man with kidney cancer, the doctors recommend a thyroid cancer drug because the drug targets a mutation in the man's tumor.
For a woman with lung cancer, they suggest a drug approved for skin cancer. A patient with cancer in her muscles should consider a drug for breast cancer, they say.
The doctors are working as a "molecular tumor board," a new service by UW Carbone Cancer Center in Madison to help doctors and patients at UW Health and around Wisconsin benefit from a hot topic in cancer: precision medicine.
UW Health is also part of a new national study of precision medicine for cancer, which could give hard-to-treat patients in Wisconsin access to novel treatments.
Precision medicine involves targeted therapies, or drugs designed to home in on particular changes in cancer cells that help cancer spread, instead of standard chemotherapy drugs that broadly kill cancer cells but also healthy cells.
Targeted therapies, which can have fewer side effects than regular chemo, generally are chosen based on genetic testing of a patient's tumor. That is different from genetic testing of someone's blood to assess his or her risk of getting cancer.
"There's increasing recognition that genomic profiling of cancer is important to find the right treatment for the right patients," said Dr. Mark Burkard, a UW Health breast cancer specialist who heads up the molecular tumor board.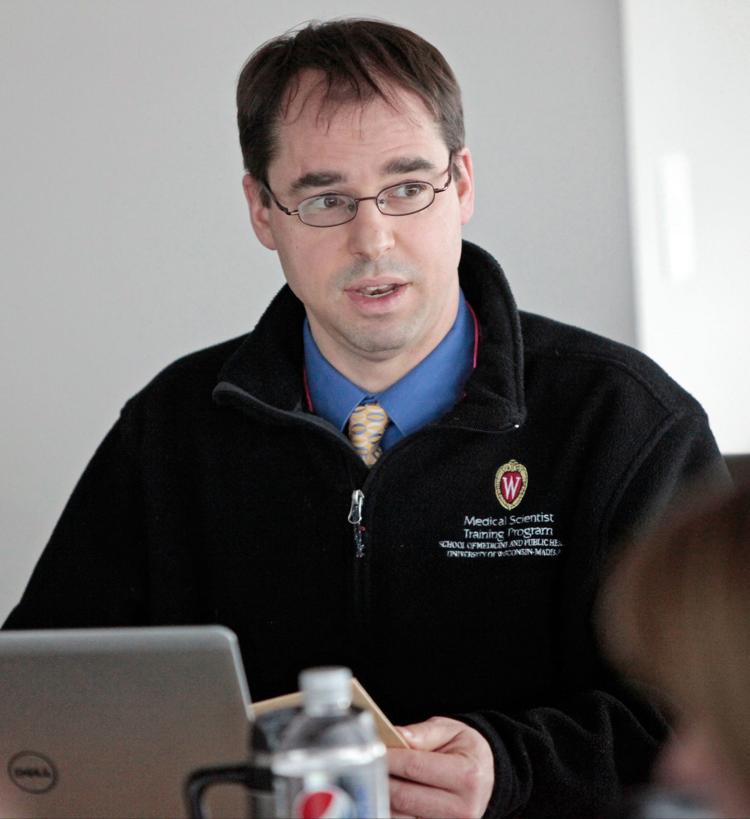 "As we get more and more targeted drugs, it's getting more and more important to do that," Burkard said.
Dr. Ben Parsons, an oncologist at Gundersen Health System in La Crosse, said the molecular tumor board helps doctors sort through the dizzying array of genetic information becoming available about tumors.
The board's endorsement of an experimental treatment can persuade insurance companies to cover it, said Parsons, who has brought cases before the board.
"Our science is moving at such an amazingly brisk pace that clinical medicine is struggling to keep up," Parsons said. "We're identifying people with treatment options they otherwise wouldn't have."
Trying to beat lung cancer
Julie Roberts' lung cancer is one of more than 30 cases the molecular tumor board has discussed since it started meeting biweekly in September.
Roberts, 61, of Roscoe, Illinois, just across the border from Beloit, learned she had lung cancer in September, after not smoking for more than 30 years. The cancer had spread to her brain, giving her an estimated four to six months to live.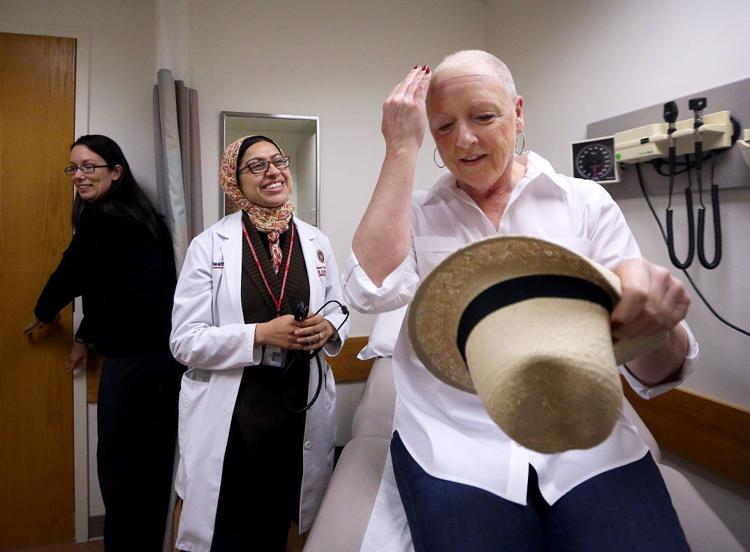 Genetic testing of her tumor found a mutation in a gene called BRAF, which is rare in lung cancer but common in melanoma, or skin cancer.
Her UW Health oncologist, Dr. Anwaar Saeed, asked the molecular tumor board for advice. The group recommended enrolling Roberts in a clinical trial of two targeted therapies approved for melanoma. Roberts has been taking the drugs since November.
You have free articles remaining.
Register for more free articles
Stay logged in to skip the surveys
Roberts said she is glad she didn't have to try standard chemotherapy. Her mother died from breast cancer several years ago, and "the chemo just ate her up," she said.
Roberts' tumor had pressed against a nerve in her voice box and reduced her voice to a whisper. But since she started the targeted therapies, her full voice is back.
Radiation treatments to Roberts' brain caused her to lose her thick red hair, however, and the targeted therapies make her somewhat tired and nauseous. But it's not as bad as regular chemo, she said.
She can clean the house or go grocery shopping, but the activities wear her out. "All of a sudden the tiredness overwhelms me," she said.
But, she said, "I don't know what I would do if it weren't for this trial."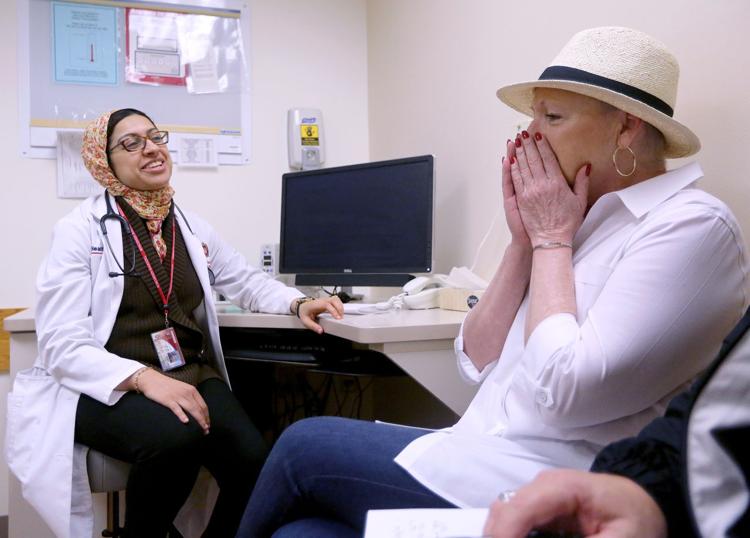 MATCH trial
In April or May, UW Health is expected to join the National Cancer Institute's Molecular Analysis for Therapy Choice, or MATCH, trial.
Patients with rare tumors or cancers not responding to standard treatments will have their tumors sequenced genetically to see if they qualify to take one of more than 20 targeted therapies. The tests will look for mutations in 143 genes.
Dr. Kari Wisinski, a UW Health breast cancer specialist, is overseeing two arms of the trial, involving targeted therapies approved for lung cancer and melanoma and potentially useful for patients with other cancers.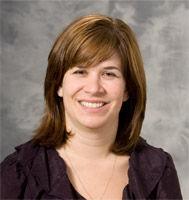 "Is it possible that other tumors have similar alterations, but maybe not as frequently, and that maybe the same medications would work?" Wisinski said.
About 50 patients are expected to enroll at UW and more than 3,000 total nationally.
In another effort, Burkard plans to analyze genetic profiles of tumors from patients who have lived a long time with advanced cancer, to see if they might present genetic clues to beating cancer.
Peg Geisler, 80, of Madison, is interested in participating, she said. A retired UW-Madison administrator, she was diagnosed in 1978 with breast cancer. It has recurred four times, most recently in 2013.
"Something has kept this from getting an upper hand," Geisler said. "If there are things that can be learned from bodies like me, I'm all in favor of it."
While cancer doctors are enthusiastic about precision medicine, tumors have developed resistance to some targeted therapies and much of the promise remains unproven, said Dr. Howard Bailey, director of UW Carbone Cancer Center.
"There is great potential there, but it exists mainly as great potential today," Bailey said.