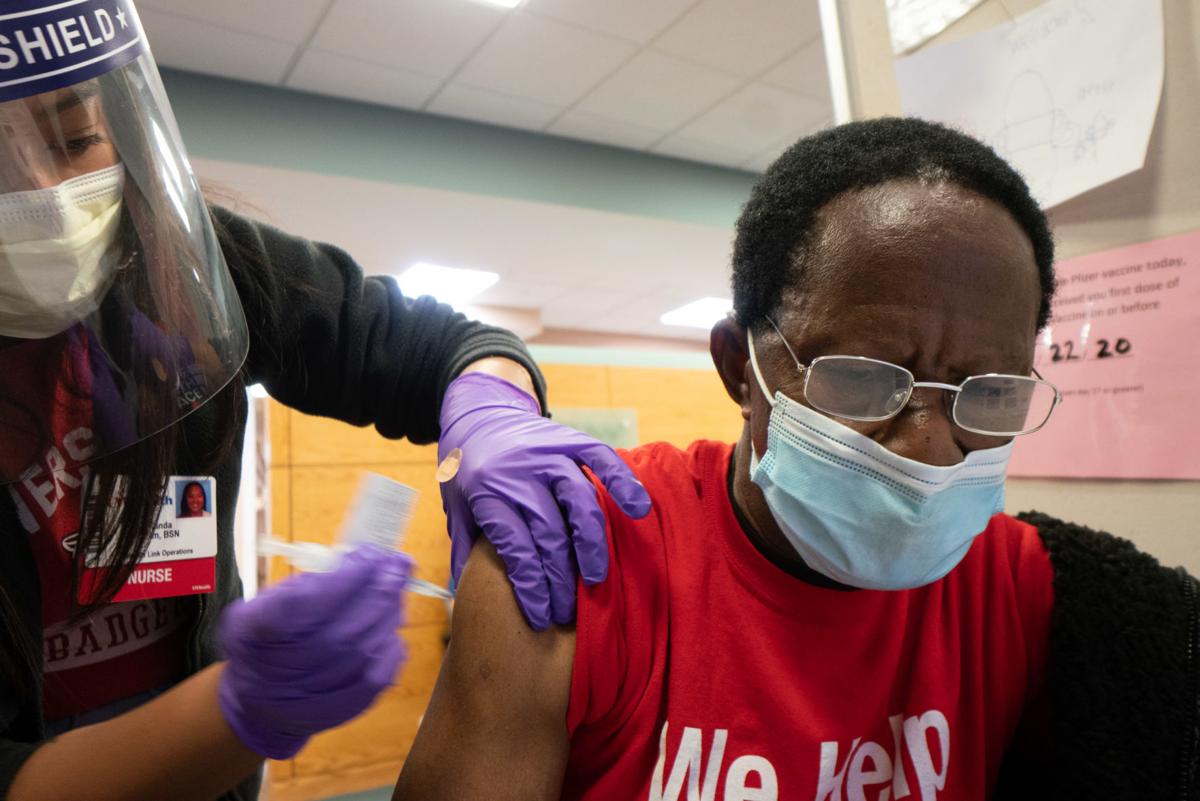 Police officers and firefighters in Wisconsin will be able to get COVID-19 vaccine starting next week, state officials said Monday, as Gov. Tony Evers again asked the federal government to provide more doses and pharmacists called for an "immediate" expansion of immunization to more priority groups.
Wisconsin has administered 151,502 doses of COVID-19 vaccine, including 11,586 booster shots, mostly to health care workers and nursing home residents with top priority, according to the Department of Health Services. Those groups make up about 550,000 people, in what is known as phase 1a of the state's vaccination plan.
The health department said police officers and firefighters, about 30,000 people, will be among the first in the next group to be vaccinated, or phase 1b, said deputy director Julie Willems Van Dijk.
Others in that group include teachers, corrections workers, people 70 and older and possibly a few others, in a plan to be finalized by a state committee Tuesday, adding 750,000 or more people to those who qualify. It's not known when those people will begin receiving shots. 
Expanding now to more groups in phase 1b or to the general population — as some have called for — would "create mass chaos" as has been seen in Florida because Wisconsin isn't receiving enough vaccine, Willems Van Dijk said.
The state needs 10,000 additional doses this week to fulfill requests from nearly 1,110 providers who have registered to provide vaccine, Evers said in a statement calling on the federal government to provide more doses. Wisconsin currently gets about 70,000 doses a week and would need about 55,000 a week more to meet President-elect Biden's goal of giving 1 millions shots a day nationwide, officials have said.
"Our vaccine team is working across the state on vaccine distribution, and so many Wisconsinites are ready to get vaccinated and get back to our Wisconsin way of life," said Evers said. "In a state where our statewide mitigation strategies have been struck down and challenged time and time again, it is absolutely critical that Wisconsin get additional doses of vaccine to meet demand and box in the virus."
Evers said demand in Wisconsin for the two available COVID-19 vaccines, by Pfizer and Moderna, will exceed supply for the first time this week. Many hospital systems have worked through a portion of their staff and have begun vaccinating unaffiliated health care providers such as dentists, medics and public health workers who are eligible in phase 1a. They include SSM Health St. Mary's Hospital in Madison.
The governor has repeatedly asked the federal government for additional vaccine, joining other Democratic governors Friday in sending a letter. The same day, Biden said he would stop holding back booster doses for people who have received one, as the Trump administration has done.
"We are eager to open up eligibility to more Wisconsinites but need the federal government in order to do that," state Secretary of Health Services Andrea Palm said. "We stand ready to vaccinate more and more folks every week, but we need more vaccine."
The Pharmacy Society of Wisconsin called for shifting fully to phase 1b and allowing more pharmacies to provide shots. 
Wisconsin should follow Alaska, Arizona, Colorado, Michigan, New Jersey and North Carolina in immediately activating phase 1b, the pharmacy group said. "Our members are ready and able to provide rapid vaccination to this priority group, greatly increasing both the overall vaccination coverage and coverage for high-risk individuals," the group said in a statement.
The state has designated 56,900 doses for nursing home residents and staff, and expects to complete vaccinating them by the end of the month. As of Saturday, CVS and Walgreens had given 18,536 doses at 193 of the state's 360 nursing homes, said Stephanie Schauer, immunization program manager for the state health department.
Another 50,000 doses have been reserved to begin vaccination at assisted living facilities the week of Jan. 25. An additional 90,000 doses will be set aside for assisted living facilities in coming weeks, as required by federal rules before such vaccination can begin, Palm said.
Wisconsin has a relatively large number of people in assisted living, but federal vaccine allocations are based on overall population, so it has taken longer for the state to shore up enough doses to initiate shots in assisted living, Palm said.