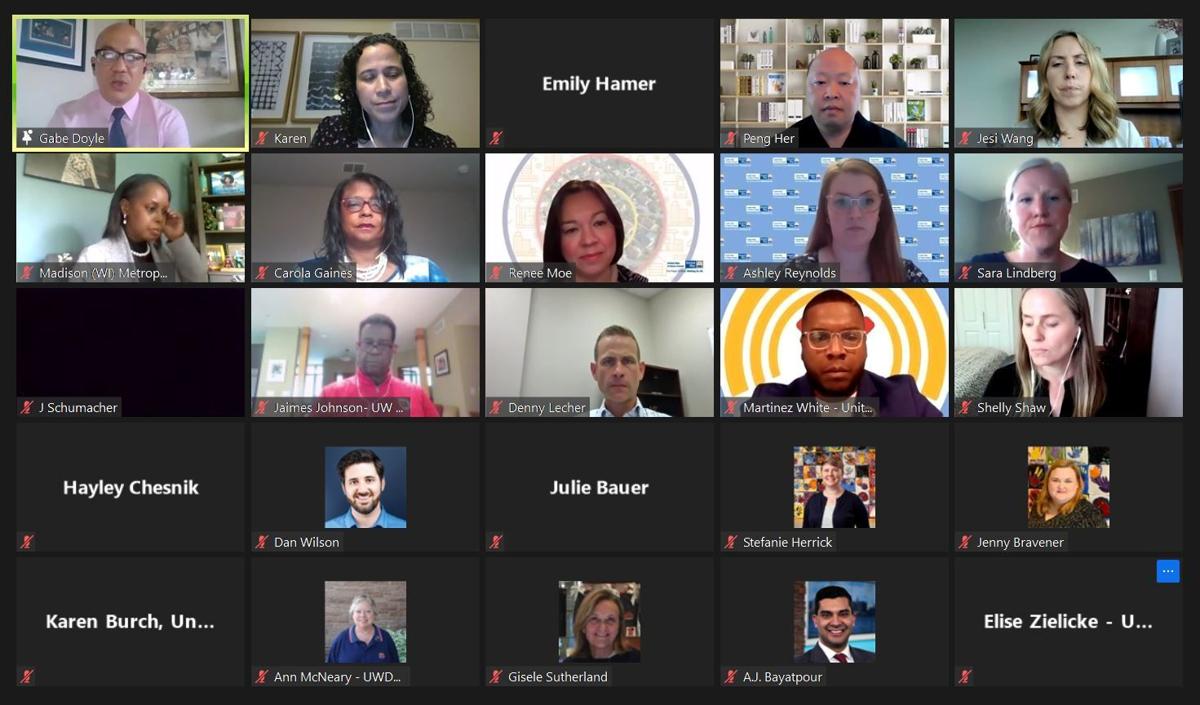 The United Way of Dane County announced Wednesday plans to focus on addressing racial disparities in health across the county, a new direction that will shape the organization's priorities and how it helps residents over the next several years.
United Way President and CEO Renee Moe said the organization has been working on "uprooting racial disparities" for more than three decades, but that it was important to make a formal commitment to that target, with a plan and strategies to effect change. Moe noted that United Way is the largest private funder of health and human services in the county and has the ability to transform the system.
"We believe it is imperative that we incorporate a racial equity lens and bring a commitment to make sure that we are able to create these changes," Moe said during a Zoom news conference Wednesday.
She was joined by health and nonprofit leaders who support United Way's selection of equity as the focus of its new "mobilization plan" in the area of health.
United Way selects new mobilization plans for its focus areas — others areas include education and income — about every five years as the needs of the community change. Other mobilization plans have focused on health care access, housing, healthy food for children, academic success and volunteer engagement.
The two goals of the new plan are to reduce racial health disparities and to expand resiliency and trauma supports to more specifically meet the needs of Black, Indigenous, Latinx, Southeast Asian and other people of color in the county.
The plan was approved by United Way's board of directors April 29 after a year of planning and analysis from the organization's Health Community Solutions Team, which was tasked with developing a new plan.
"We could not find a single measure — a single measure — of health outcomes in Dane County that did not display a racial disparity of some kind," said Jesi Wang, chair of the team and CEO of MetaStar.
The Health Community Solutions Team found that people of color in Dane County are more likely to experience obesity, asthma, low birth-weight births, death because of a stroke, death due to diabetes, infant mortality and mental illness.
Communities of color are also more likely to lack access to high-quality health care and experience higher amounts of stress, which has a detrimental impact on health, according to research by United Way. Stress can contribute to high blood pressure, heart disease, stroke and eye disease.
Gabe Doyle, United Way's director of healthy community impact, said the Community Solutions Team felt that the organization needed to "start investing today" to begin the process of "counteracting the negative impacts that racism and oppressive stress have caused on many communities within our county."
Strategies will include forming better connections between the clinics and the community, increasing the capacity of existing health programs in the community, expanding community-based health programs for people of color and helping health care providers to be more culturally reflective.
Peng Her, CEO of the Hmong Institute, said the problem isn't that quality health care doesn't exist, but that there isn't enough understanding of different cultures to make health care spaces welcoming and effective for everyone. For example, he said, even excellent doctors won't be able to provide the best care if there's a language barrier between them and patients.
"Being culturally competent means you meet them where they're at," Her said.
Wang said the initiative will be more about expanding and improving existing health infrastructure rather than creating new programs. She said racial equity in health won't be achieved overnight.
"This is a big complex problem that has been systemically embedded into our infrastructure for hundreds of years," Doyle said. "We need to be bold and go after the racial health disparities, and end racism in our communities. And we can do it."
'Every aspect of our lives has been turned on its head': The COVID-19 pandemic one year on
A year into a once-in-a-century pandemic, Madison and Wisconsin continue to grapple with a virus that's killed thousands, destroyed businesses, upended school and changed nearly all aspects of everyday life.
It's been 12 months of grief, shutdowns, reopenings, protective measures, partisan fighting, lawsuits and loss. And now, hope.