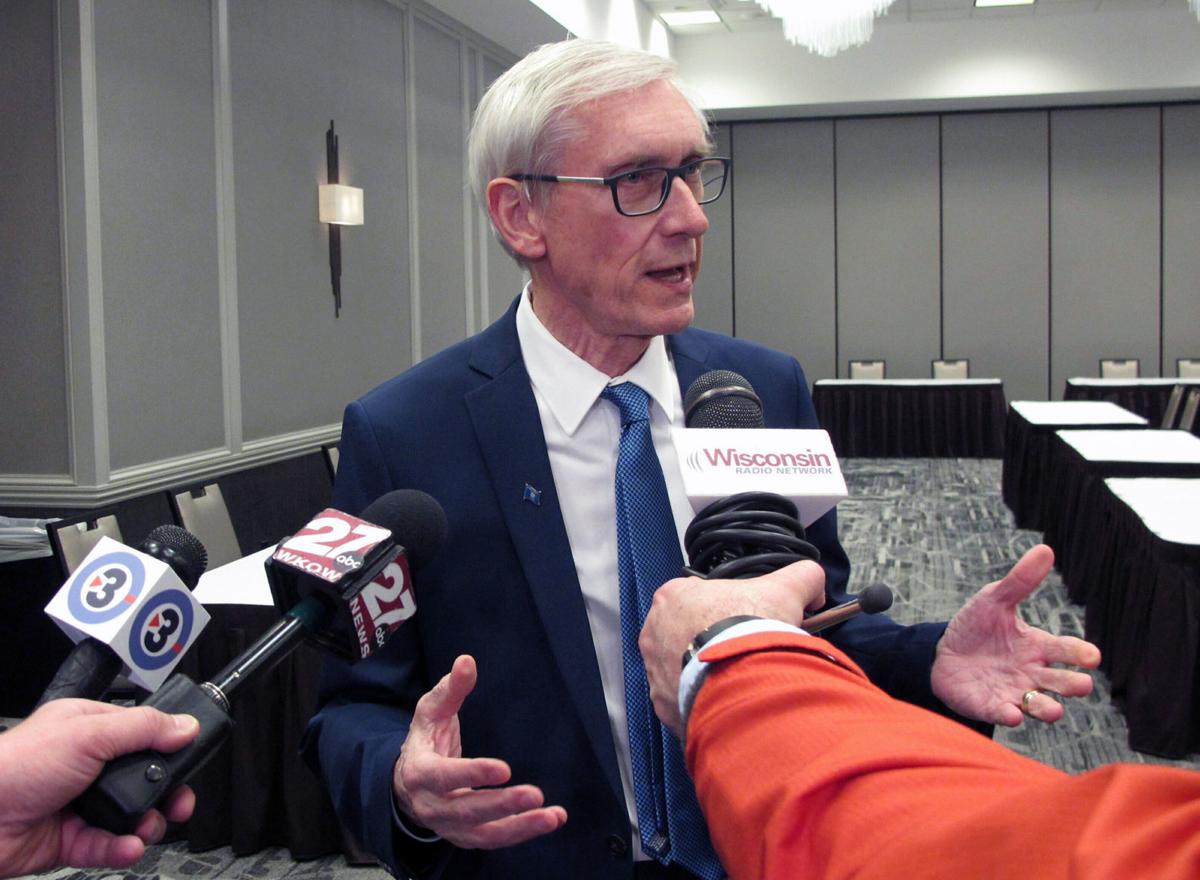 Gov. Tony Evers will include nearly $28 million in his first budget to expand women's access to health care, reduce infant mortality and restore Planned Parenthood funding blocked by former Gov. Scott Walker.
Evers' "Healthy Women, Healthy Babies" proposal, announced Thursday, will be in the two-year budget the Democratic governor is expected to release next week.
The initiative would extend postpartum coverage for mothers insured by Medicaid and increase funding for cancer screenings and testing for sexually transmitted infections.
It would create an Infant Mortality Prevention Program and increase grants for programs that address health disparities, including infant mortality rates among black children.
The plan would renew state and federal funding for Planned Parenthood, which closed five clinics after Walker made the organization ineligible for some funding.
"We can't have healthy communities without healthy women and babies," Evers said in a statement. "That is why my budget will connect the dots and increase access and coverage, as well as create innovative programs to ensure quality health care for women, and healthy beginnings for our children."
Sara Finger, executive director of the Wisconsin Alliance for Women's Health, said, "It is high time that the health and well-being of women, children and families are again Wisconsin's priority."
Senate Majority Leader Scott Fitzgerald, R-Juneau, said in a statement that he looks forward to seeing details of Evers' plan to address infant mortality and applauds the effort to increase cancer screenings.
"However, I am adamantly opposed to his plans to increase government funding for abortion providers in the upcoming budget," Fitzgerald said.
Kit Beyer, spokeswoman for Assembly Speaker Robin Vos, R-Rochester, said Republicans won't support giving Planned Parenthood any additional money.
Wisconsin Right to Life executive director Heather Weininger said in a statement "it is impossible to have healthy babies when Planned Parenthood is the largest abortion provider in our country and state."
"For children to have healthy beginnings, we must allow them to be born," she said.
The proposal includes nearly $23 million to extend post-birth coverage for women on Medicaid from 60 days to a year. To make the change, Evers would need a waiver from the federal Children's Health Insurance Program.
You have free articles remaining.
The move would improve the health of mothers and children, and give families time to find affordable private insurance, Evers said.
Funding for the Women's Health Block Grant and the Well Woman Program would be boosted by a total of nearly $600,000. The programs provide cancer screenings, such as mammograms and Pap smears, along with testing for and education about sexually transmitted infections.
Healthier babies
Several efforts in Evers' plan address infant mortality, for which Wisconsin has long had one of the nation's largest gaps between whites and blacks. In 2014-16, the rate was 14.2 deaths per 1,000 births for blacks, compared to 4.8 deaths per 1,000 births for whites.
The Infant Mortality Prevention Program would reallocate five full-time positions in the state Department of Health Services. It would help remove barriers to healthy pregnancies, such as unstable housing, lack of nutrition and unemployment, Evers said.
Some $3.2 million would be added to the Family Foundations Home Visiting Program, managed by the state Department of Children and Families. It provides home visits to mothers at risk for poor birth outcomes in 16 counties.
Nearly $800,000 would go to the Minority Health Grant, awarded to groups that address racial disparities, including in maternal and child health.
More than $600,000 would cover doula services through Medicaid, and train doulas, who offer physical and emotional support to pregnant women before, during and after birth.
'Back into the fold'
The proposal would "bring Planned Parenthood back into the fold as a trusted provider of health care services," according to Evers' statement.
Walker made Planned Parenthood ineligible for key state and federal funding because it provides abortions at some sites. That led the organization to close clinics in Beaver Dam, Chippewa Falls, Johnson Creek, Shawano and Fond du Lac, none of which offered abortions.
Evers plans to repeal bans on giving money to Planned Parenthood from the Women's Health Block Grant and federal Title V and X funds.
The money would go to health screenings, pregnancy testing, contraceptive services and related services, not abortions, he said.
"We all can agree that we want healthier communities and families, and that starts with making sure all women, regardless of their race, income or ZIP code, can get the care they need," said Tanya Atkinson, president of Planned Parenthood Advocates of Wisconsin. "We're proud to support these measures and partner with the Evers administration to ensure healthier outcomes for women and babies in our state."