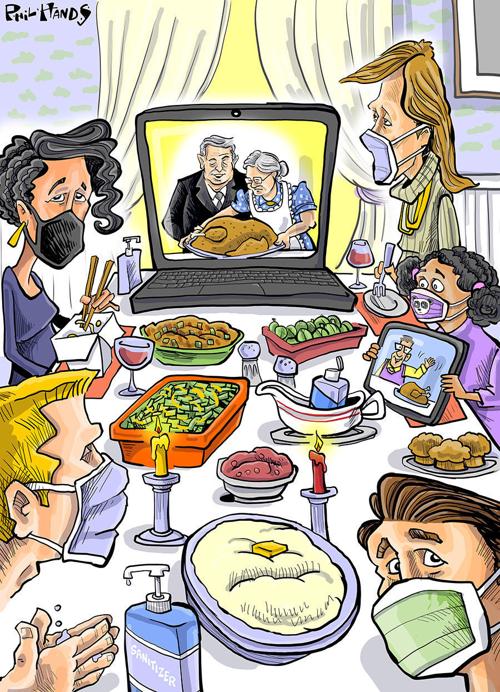 If there was ever a year for holiday cheer, this would be it.
However, the COVID-19 pandemic is forcing people to cancel and rethink their traditional Thanksgiving, Christmas and other holiday plans, likely replacing anticipated travel and gatherings with scaled-down versions of the usual festive fare.
"The holidays, Thanksgiving, Christmas, Hanukkah … are really moments that we look forward to during the dull, gray winter months ahead," said Dr. Shilagh Mirgain, a psychologist at UW Health.
This year "it's going to look a lot different," she said. "We want to think about how we are going to approach it and who we feel comfortable being around."
If gathering with extended family or friends, Mirgain suggests asking guests to wear masks or have the gathering outside or a location with "really good airflow if possible," she said.
Some families already are deciding to have a virtual Thanksgiving meal, including activities such as virtual scavenger hunts, she said. If gathering as a group, have people bring their own food and utensils, Mirgain said, adding she knows of one friend who plans to enjoy Thanksgiving dinner with his family from the garage with a space heater.
Dr. Julia Shah, a psychologist with SSM Health, said "pandemic fatigue" — a concept of being tired of taking strict precautions especially if you haven't yet personally dealt with COVID-19, or starting to get lax on social circles because we trust others are taking precautions — is a condition that she's been hearing about most.
"People are honestly having a hard time seeing through to the end of their week, not to mention the end of the year," Shah said, citing the crush families are experiencing as they manage many roles of parent, spouse, employee and educator. "Our department is really busy. I definitely sense the erosion on the mood."
"Many are craving that sense of normalcy that holidays provide, (through) faith, community, family and friends," Shah said. "For many, the very antidote for how we are feeling is to want to gather," she said, however "the cure for the pandemic is to remain physically apart."
When preparing to make a change in tradition, Shah said communication is the most important piece.
"First, really having the conversation with your own family about values and expectations … and the risks they are willing to take, (for example), to see grandma," Shah said.
In this instance: "text message probably isn't the best route," she said, suggesting to opt instead for a phone call or Zoom session.
"Really try to approach these conversations with kindness and acknowledgement that this is a hard and clunky (situation) to navigate through," she said.
"There can be a tremendous amount of disappointment," when it comes to changing traditional holiday routines, Mirgain said. "I think having the conversation verbally is important. On a virtual call you just pick up so much more and it's easier to connect when you can see the person face-to-face."
Then, once a plan is in place "I recommend following up with it in writing … just to make sure everyone is on the same page," she said.
Maximize the fun
Janelle Poehnelt, of Sun Prairie, said her family of four has "completely changed its lifestyle" during the pandemic, and has tried to follow strict social distancing measures. She runs an in-home day care and closed her business for three months this spring when COVID-19 hit.
Poehnelt reopened in June with strict rules for her day care families. Her family has been finding alternative ways to have fun while social distancing, including camping, where "we even bring our own portable camp toilet," Poehnelt said.
"I'm doing my darndest to maximize the fun that we can have without doing a whole lot," Poehnelt said. "I'm very lucky to have my husband be such a huge supporter. We function very well as a family."
The Poehnelts' No. 1 rule is "no shared indoor space," which means "we won't go inside people's homes," she said.
That will have a direct effect on her family's plans for the holidays. She said she has endured some criticism from family and friends.
"It's hard because I'm just trying to do what's best for our whole family," she said. "We should be supporting each other and not tearing each other down."
"But mom, everybody else is," and "we are the only ones doing this," are phrases Poehnelt has heard from her children, ages 5 and 7. She knows the holidays will present challenges.
Poehnelt started talking to her kids about how the holidays were going to be different early in the fall. "My husband's family is in the Milwaukee area, and we typically go out there three or four times a year, more often during the holidays. My mom and dad are 20 minutes away, and we usually hang out with them a lot, too. My family is close, so it's hard."
The kids were worried that Christmas was going to be canceled, but Poehnelt assured them "that Santa would still come." For Thanksgiving, she said they plan to make a traditional Thanksgiving dinner and will deliver some to her parents.
Get creative
"The sooner that we can accept that this is the normal … (the sooner) the creativity will start," Shah said of adjusting to changes in holiday traditions.
If a family is not gathering for the holidays, perhaps they can send around family recipes for everyone to try, Shah suggests. Everyone makes that recipe, posts pictures and the family decides who made the one that looks closest to Aunt Mary's original, she said.
"It's not the same, but it's something," Shah said. "It reconnects us to past (family) members who are so important."
Mirgain agrees that preparing children that the holidays will be a little different is key to ensuring a smooth transition.
"We don't want kids to feel like they are missing out," Mirgain said, suggesting instead families focus on new opportunities the changes offer.
Families might consider planning something they've never done before, she said, suggesting the children brainstorm with adults for ideas.
Get back to basics
While the holidays can be filled with a kind of chaotic cheer, they can also be overwhelming and stressful.
This year may give more people the chance to focus on rest and quiet, Shah said. "Being able to just have time together … could be such a welcome treat."
"I think there might be less bickering over the holiday table," Mirgain said. "I think there's an opportunity to make the holidays even more meaningful and get back to the core of what they are all about."
Even if people are celebrating alone, they should still schedule a time to connect with friends and family virtually.
"Because the pandemic has struck at our ability to be together in the way we always have, it really highlights how valuable and important to our well-being social connection is," Mirgain said. "Holidays are an opportunity to savor and cherish the people in our lives."
Phil Hands: Thanksgiving cartoons through the years
A collection of cartoons celebrating Thanksgiving from the desk of Wisconsin State Journal editorial cartoonist Phil Hands.
Concerned about COVID-19?
Sign up now to get the most recent coronavirus headlines and other important local and national news sent to your email inbox daily.