Arturo Bonomie described his sixth-grade football team as "playing in the mud."
Bonomie coaches for the Madison West Regents' program of the Dane County Area Youth Football League, preparing to lead his son, Zeke, through his second season of tackle football.
This isn't the NFL or major college football, where some of the country's fastest and strongest athletes are competing in a high-stakes, year-round physical battle.
"These kids are not out there running at high velocity, hitting each other in the head," Bonomie said. "Having been through a season and reading information (about concussions and head trauma), we know that the game our son is playing in our league here in Madison, it's not a game in which he's seeing multiple repeated hits to his head throughout games."
Concerns over football's ability to protect athletes have magnified in recent years. Research now suggests repetitive sub-concussive hits, not just concussions, may be a key culprit in the development of chronic traumatic encephalopathy (CTE), a degenerative brain disease associated with depression, poor impulse control, suicidal behavior, dementia and other symptoms.
The flurry of concussion and head trauma research throughout the past 15 years only more recently began trickling down to youth football, and those involved in the entry level of the game continue to hold hope that children aren't being directly exposed to long-term health issues.
A 2017 article published in "Translational Psychiatry," which studied a 214-person cohort of football players without history of other contact sports, found that a younger age of first exposure to football, before age 12 in particular, "was associated with increased odds for impairment in self-reported neuropsychiatric and executive function."
But even that study concluded with non-definitive language about the consequences of youth football, stating additional research is needed "to better understand the potential long-term clinical implications of youth American football to inform policy and safety decision-making."
Evidence against tackle football for youth does exist, however, and many believe there's cause for change. Former University of Wisconsin and NFL linebacker Chris Borland, who retired due to the potential long-term effects of head trauma, is among those who feel strongly that tackle football is not appropriate as a youth sport because of the risks it might present.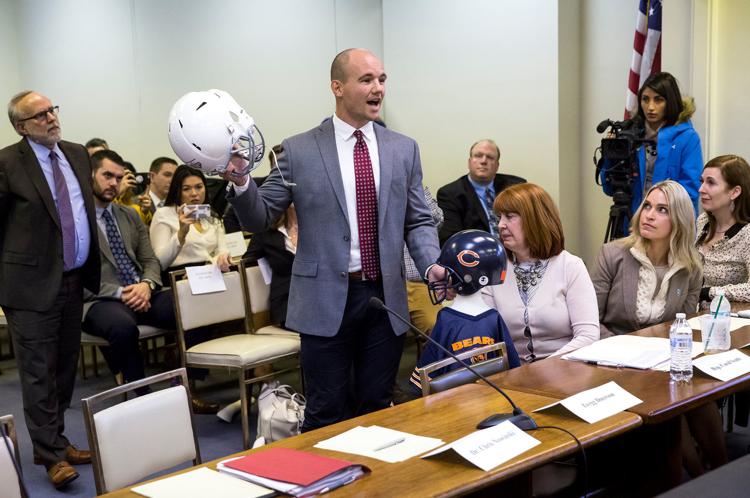 "I think it's senseless," he said. "I think flag (football) is a great game. There's so many alternatives through sports and other activities where you can bring the same lessons that you do in youth tackle without incurring all of that damage."
Borland testified at an Illinois House Mental Health Committee hearing earlier this year, arguing in favor of a bill that would ban tackle football in Illinois for children under the age of 12. Other states have developed similar proposals, although Wisconsin is not among them.
Emphasis on safety
The Dane County Area Youth Football League currently offers participation for grades 4-8. Like many youth football organizations, the Dane County league is doing what it can to make the sport safer without abandoning it altogether. The league does not allow blitzing or blindside hits, Madison youth tackle football official Jeff Horvath said, and kickoffs are eliminated for younger age groups.
The league also is part of Heads Up Football, an organization that teaches safer on-field techniques and provides concussion educational materials. Beginning this fall, teams will be required to have an emergency medical responder or certified athletic trainer present for all home games.
The league also implemented a new players' health app to help parents and coaches better communicate about injuries that occur on and off the field.
"You read about (head trauma) all the time," said Karly Frey, the youth development director of sports at the West Madison YMCA. "It is scary, but we are taking measures in order to limit that. With any kind of sport, there's a possibility of head trauma. Football right now is actually on the decrease, while some sports like ice hockey, lacrosse, rugby, wrestling, girls soccer are on the rise.
"We are taking extensive measures in order to become a safer sport for our participants and our athletes."
You have free articles remaining.
Register for more free articles
Stay logged in to skip the surveys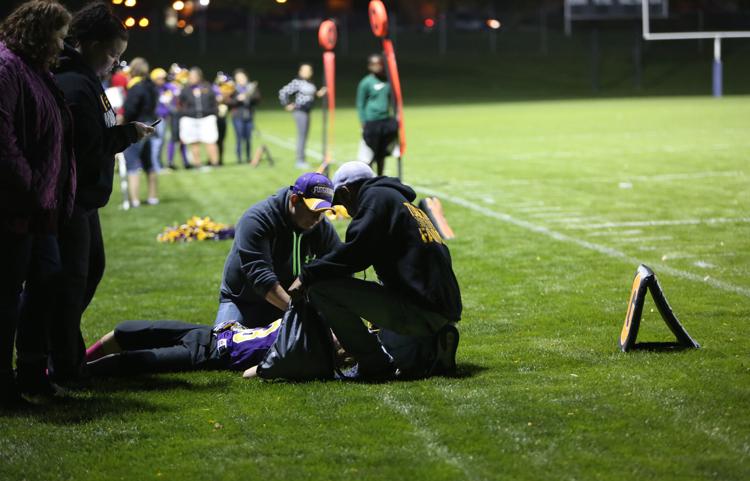 Frey said participation in the West Regents youth football program increased last year, unlike the national norm of declining interest, and children in the program suffered just two football-related concussions combined over the past two years.
Still, the idea of repetitive sub-concussive hits — increasingly seen in research circles as an important indicator of head trauma issues — could be what separates football from most other sports. It also could be why football continues to be viewed as a more immediate danger.
A study from Boston University in 2015 stated that "the number of years of exposure (to head trauma), not the number of concussions, was significantly associated with worse tau pathology in CTE." Youth football may open the door for a longer period of sustaining damaging hits — but only if that door remains open through continued play.
WIAA ahead of curve
Many of the same issues facing youth football can be applied to high school football.
When it comes to concussions, the Wisconsin Interscholastic Athletic Association has attempted to remain more ahead of the curve than most similar organizations in the past decade, last year becoming just the fourth state athletic group to provide concussion insurance for its athletes. WIAA deputy director Wade Labecki said the program covers up to $25,000 for concussion-related injuries in a WIAA-recognized sport and last year covered 384 claims totaling about $350,000.
The association also implemented practice contact rules in 2014 that were among the most strict in the country — no contact during the first week of preseason, 75 minutes the next week and 60 minutes each week thereafter throughout the season. A study led by Tim McGuine, a Ph.D. and the research coordinator for UW Health Sports Medicine Center, showed those new limitations cut the WIAA's football concussion rate by more than half during the 2014 season.
But messaging on the topic doesn't always stick — an issue at all levels of football. Even Labecki admits the WIAA needs to continue striving for better education on concussions and head trauma.
"Occasionally, we'll get a request to override a doctor's note so a kid can play," Labecki said. "We don't want that."
Transitioning to tackle football last year wasn't necessarily a life choice — or even a long-term choice — for Bonomie and his son Zeke. Bonomie grew up with tackle football and believes the game, when done right, can help develop character and discipline in a way that can't be found in other sports. He and his wife are allowing Zeke, set to enter sixth grade this fall, to benefit from that despite the accompanying risks, Bonomie said.
However, he added, that doesn't mean they've made a decision regarding higher levels of football.
"Every time we're asked that question, my wife and I, our boiler-plate answer is, we don't know," Bonomie said. "Let us cross that bridge when we get there. Right now, it is unreasonable to expect my son to play football in high school or college or in the NFL. Right now, we want to focus entirely on what we can do to give him an opportunity to be successful in what he's doing now.
"I want to make sure that people don't walk away (because they're) pretending or thinking that this will lead to larger aspirations. The benefits of the game go beyond that of playing high school football."
Many parents still involved in youth tackle football are approaching with caution. Horvath opted to sit his son out an entire year after a concussion to be safe. Madison resident Dominique Taylor said one concussion from football could be enough to pull her fifth-grade son out of the sport. He has previously had two concussions unrelated to football.
Decisions to participate in youth football may become less murky as more age-specific research on repetitive sub-concussive hits shows definitive results. In the meantime, Bonomie hopes the youth football community won't stop searching for answers on its own.
"I'll be the first one to tell you — I played football, I've seen my son play football — I will never do a good job at selling this sport as the safest sport in the world," Bonomie said. "It's impossible.
"Are we sharing information? Are we asking the right questions? Let's work hard to make sure that we continue to make the game as safe as we possibly can."