Even Chris Borland views football's "tough-guy" culture as a necessary, unavoidable staple of the game.
Borland, who played linebacker at the University of Wisconsin from 2009 to '13, retired from a promising career after just one year in the NFL due to the long-term health risks associated with football. Since then, he's become one of the country's leading voices on awareness of head trauma in football players.
Borland recalls how Colin Kaepernick, his former teammate with the San Francisco 49ers, earned the starting quarterback job two seasons before Borland entered the league. Incumbent starter Alex Smith suffered a concussion in November 2012 and Kaepernick, the backup, stepped in. The 49ers stuck with Kaepernick after doctors cleared Smith less than three weeks later.
Kaepernick went on to lead the 49ers to Super Bowl XLVII, foreshadowing the end of Smith's eight-year tenure in San Francisco.
"(Kaepernick) got his start because Alex Smith did the right thing and reported his concussion," Borland said. "The reality is in a hyper-competitive field, if you miss time for any reason, the next guy might not do the same thing."
That often leads to players battling through injuries, including head injuries, to stay on the field, Borland said.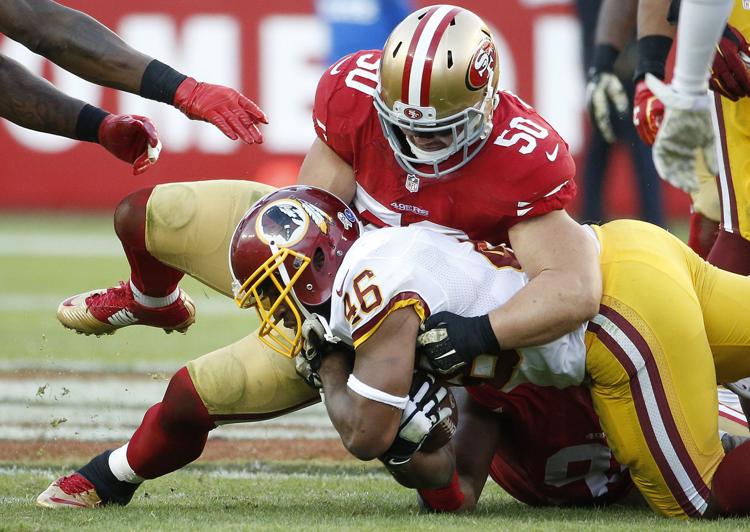 "I hate to pass the buck to players and say, 'Raise your hand if you're hurt,' because it's really the game's fault. You're going to get hurt in football, it's just a matter of time and to what degree," he said. "I just think it's an inherent flaw in the game. I understand. I was one of the guys that played through a lot of injuries — you have to. It's a skill set in football, the same as having good hands or good footwork."
That presents a massive challenge for the NCAA and other athletic associations: How to convey newly discovered information on concussions and head trauma in a way that ultimately changes the ingrained behavior of players and teams.
'You should not play through it'
Some players still see benefits in gutting out a brain injury the same way they would a sprained ankle. The consequences of doing so, however, are more discernibly severe than ever as research continues into the correlation between football and chronic traumatic encephalopathy (CTE), a degenerative brain disease associated with depression, poor impulse control, suicidal behavior, dementia and other symptoms.
"You have to educate the player that concussions are different," said UW defensive coordinator Jim Leonhard, who played 10 seasons in the NFL from 2005 to '14. "You can play through it. You should not play through it. It's not a toughness issue like it was in the past."
Leonhard understands that educating players on the dangers of concussions and head trauma remains a difficult task.
"Our head is always going to be connected to our shoulders," he said, and eliminating all contact within the structure of football isn't feasible. The only way to make the game as safe as possible involves a cohort of players who fully understand the risks they're taking.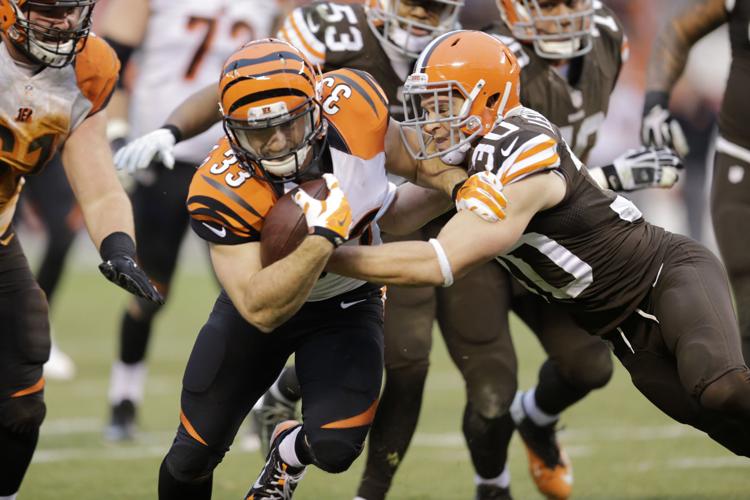 Accomplishing that can be a constant battle for UW's medical staff, too.
"They kind of turn themselves off to it," UW assistant athletic director of sports medicine Mike Moll told the Wisconsin Center for Investigative Journalism last year. "They've already heard it. I think that's a little bit of a challenge."
UW declined a request by the State Journal to interview Moll, and the NCAA did not respond to multiple requests for an interview to discuss their guidelines for educating its football players on the dangers of head trauma.
Based on some of the NCAA's recent research investment, it appears the association acknowledges the information it presents to athletes may be failing in some aspects.
UW is involved in an ongoing NCAA-funded study that examines alternate methods of presenting information on concussions — its intended purpose being to alter how athletes approach the injury.
"From an education standpoint of what is a concussion, what are the symptoms of a concussion, I think that the NCAA's fact sheet has served its purpose," said Dee Warmath, an assistant professor in UW's Department of Consumer Science and one of the lead researchers for the study. "I think, though, that what they discovered is that, even though it served its educational purpose, it didn't really have the intended or desired effects of changing the behaviors."
According to NCAA.org, reasons athletes may not report a concussion include the possibility of lost playing time, peer pressure, fear of letting the team down and unspoken dynamics set by coaches or other stakeholders. Warmath and other researchers involved in the study began developing a consequence-based marketing strategy of concussion reporting — highlighting the consequences of playing through a concussion vs. reporting the injury.
"What we learned was, both those decisions were black boxes for young adults," Warmath said of the study, which used club sport athletes without extensive knowledge of NCAA concussion education materials. "They didn't really know what would happen next if they told someone. So therefore, they tended to feel that if I don't tell someone, then I can manage this in my control."
The hope is to make the decision to report a concussion resonate in a more effective way and become favorable over non-reporting.
"That's what we tried to do ... to help them understand that the consequences of reporting are minimal to the consequences of not reporting," Warmath said.
You have free articles remaining.
The research remains in the data-analysis phase, and findings have yet to be implemented by the NCAA. The study is associated with the Mind Matters Challenge, part of a larger $46 million initiative funded by the NCAA and U.S. Department of Defense with the purpose of enhancing the safety of student-athletes and service members. UW stands as one of seven universities or service academies in the study's advanced research core.
Onus on the players
Some remain dubious of any research funded by the NCAA. Borland is among them, and even Dr. Bennet Omalu, who discovered CTE in former UW offensive lineman Mike Webster in 2002, has previously told media outlets he would not trust results from the study, which began in 2014.
At least certain aspects of the research are objectively positive, however, such as information released in March that further demonstrated delayed reporting of a concussion leads to more severe symptoms and a longer recovery time. That could be another tool to help convince athletes to report symptoms immediately.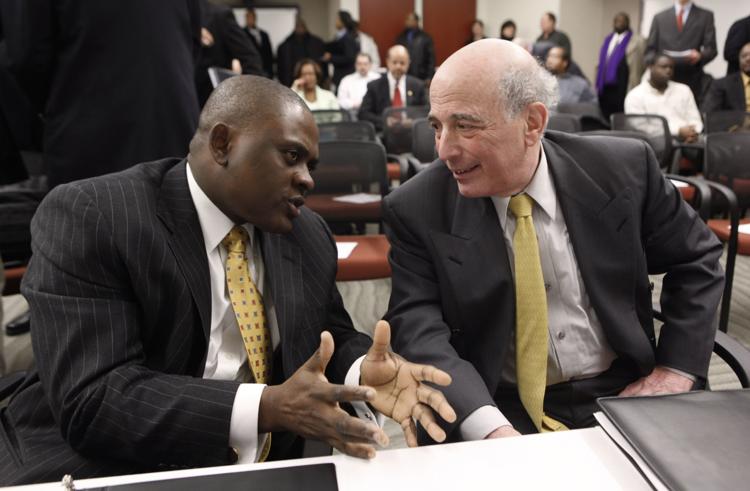 Collecting head impact data on such a large scale also could lead to important findings, and Dr. Alison Brooks, M.D., said there are plans for test subjects to be re-examined periodically throughout the remainder of their lives to develop further understanding of long-term effects.
Like many others who study sports-related concussions and head trauma, NCAA/DOD researchers hope the efforts will eventually lead to a blood test or scan that can definitively detect a concussion.
"I'm most excited to see what we find with some of the biomarkers," said Brooks, an assistant professor in the UW School of Medicine and Public Health. "I think everyone would love to have some really objective test. ... Right now, we still essentially go by athletes' symptoms."
Until that test exists, much of the onus falls on players themselves to honestly and swiftly report those symptoms, making the NCAA's educational materials one of the most important factors in the safety of its athletes.
But it isn't just concussions that are a concern. According to a Boston University-led study published in January's issue of "Brain: a Journal of Neurology," postmortem studies have confirmed that approximately 20 percent of former athletes with verified CTE did not have a history of concussion.
Research continues to develop new information every year, but it now appears the accumulation of repetitive sub-concussive hits — those that occur with every snap of the football — are sufficient enough to trigger the disease.
'Everybody knows the risk'
This is the message Borland has continued to push since his retirement, and one he believes the NCAA, NFL and others still aren't relaying properly to players.
"I think there's this misconception that players have a special insight into the risks," Borland said. "I actually view active players as a really vulnerable population. I think often times they're getting their information from administration and doctors that stand to benefit to the tune of tens of millions of dollars by the game.
"I think that's where we see euphemisms like, 'Safer than ever,' and vague notions of safer tackling, whatever that means. I made 400-something tackles at Wisconsin and never discovered how to do it safely. Those are company lines. It's PR."
The NCAA and other organizations have sought legitimate ways to reduce hitting, particularly by limiting the amount of contact allowed during practices, but Borland and others are skeptical that football in its current form can ever be safe.
Borland at least wants the sport's participants to be fully aware of the consequences, something a number of Badgers players claim to understand.
"You know what you're signing up for, and honestly, anybody that says they don't, it would be hard for me to believe them," UW inside linebacker Chris Orr said. "Everybody knows the risk. I don't think there's any way to just make it all bulletproof or whatever. You can't. ... The repetitive head trauma is more the nature of the game, something that you can't really control.
"Yes, the game has become safer and safer every year — different equipment, different rules — but at the same time, you still know what you sign up for."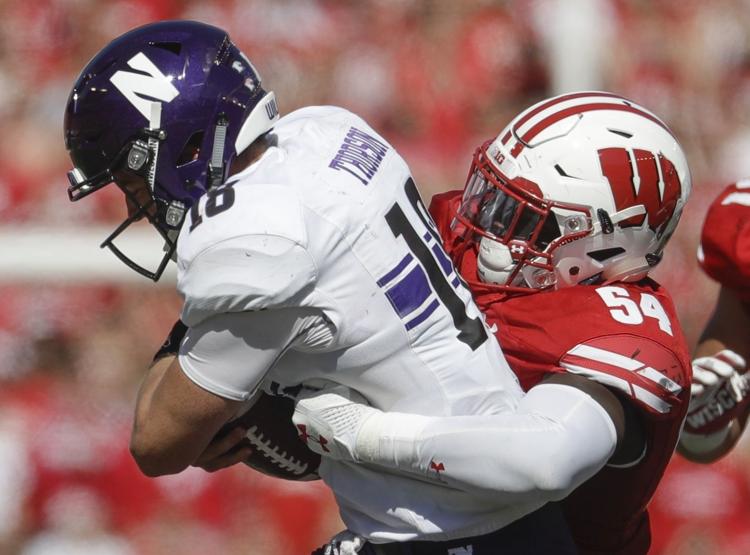 Orr also said he avoids reading about repetitive head trauma because it's "just feeding negative energy into your head."
Even if Orr or others do have a comprehensive grasp of football's risks, evidence suggests many players still don't. The NCAA found its concussion fact sheet didn't adequately change athlete behaviors about concussions, and the two-page version from 2017 included just a single sentence on the potential effects of repetitive head trauma.
Borland's suggested path to avoid trauma would be not to play football at all. He said those who do, however, desperately need to become more effectively informed about the decision they're making.
"I hear that a lot and I read that a lot, where players will be quoted as saying, 'We know what we're getting ourselves into,'" Borland said. "Very rarely do I see a follow-up question of, 'Well, can you tell me what you're getting yourself into?'
"Knowing some of the players who have voiced that sentiment publicly and knowing the medical professionals that have shared information with them and omitted a lot, I understand that they don't know what they're getting themselves into. That's not their fault.
"I don't think you should ask an 18-year-old to be a world-class athlete and a neuroscientist."
Be the first to know
Get local news delivered to your inbox!