Montee Ball can't fully explain the change in his behavior that began during his junior year at the University of Wisconsin in 2011 and continued through his arrest for domestic violence five years later.
Ball left the Badgers as one of the program's most prolific players ever. While he departed as a Heisman Trophy finalist and NCAA career touchdown record holder, it didn't take long for newfound off-the-field issues to sink his career and reputation. By the time he watched his former team, the Denver Broncos, win Super Bowl 50 in February of 2016 — while Ball sat in a jail cell — becoming an NFL draft bust was the least of his worries.
Alcohol addiction, anger and depression forced Ball out of a successful professional football career. But in the few years since leaving the NFL behind, Ball, who said he's now nearly two years sober, can't help but wonder if the game itself contributed to his downfall.
"I believe there is a correlation between the amount of hits that I took and my anger issues that I had, absolutely," Ball said. "I don't sit there and blame it all on that. I'm in full control of my emotions and my actions. I'm a grown man. But after everything happened ... I'm like, 'Where did that come from?'"
While his problems became more publicized than most, Ball is far from the only former Badgers player to struggle adapting to life after football upon leaving Madison.
Concussions and head trauma have affected multiple generations of UW players. Many of them joined lawsuits against the NFL over this issue, and at least half a dozen cut their UW careers short due to head injuries this decade. Linebacker Chris Borland surrendered millions of dollars and a promising NFL career to retire at age 24 after researching the dangers of head trauma.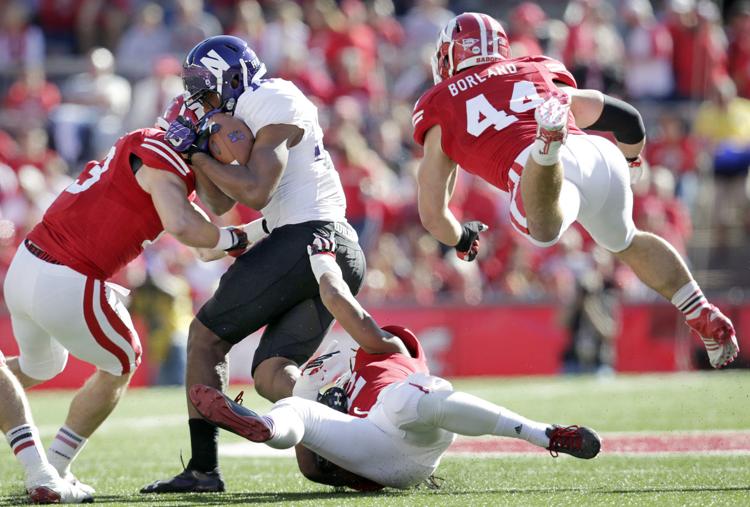 Even those who have yet to experience long-term symptoms have no assurances for the future.
"You always have that fear," said Neil Graff, who played quarterback for UW in the early 1970s before a six-year NFL career. "Every time you forget something, you go, 'Oh, gosh, is it old age or is there something more going on?'
"It's always hanging over your head."
'Bigger than just Mike'
Graff experienced a first-hand look at one of the most tragic stories of head trauma in football players — the one that eventually would modernize concussion awareness in the sport.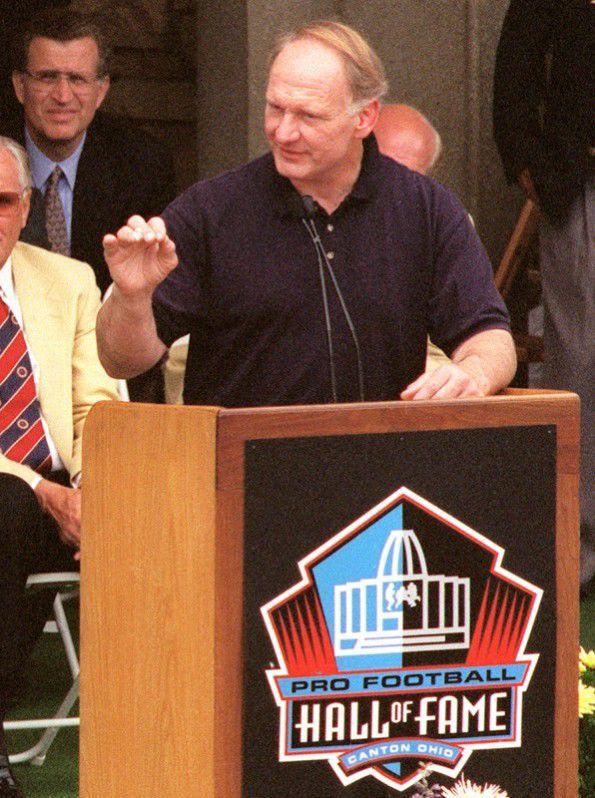 Graff played for both UW and the Pittsburgh Steelers with center Mike Webster, a Pro Football Hall of Famer who struggled with severe memory loss and other mental health issues attributed to head trauma suffered during his 17-year career. Webster, who played high school football at Rhinelander, fell into deteriorating mental health upon his retirement from the NFL in 1991, leading him reportedly to do things such as using a Taser gun on himself to combat back pain or squirting super glue on his rotting teeth.
Webster lost his NFL fortune, couldn't hold a job and spent a portion of his retirement homeless before dying from a heart attack in 2002 at age 50.
Dr. Bennet Omalu, a forensic pathologist who at the time was working in the Allegheny County Coroner's Office in Pittsburgh and performed the autopsy on Webster, gained permission from Webster's family to study his brain further. That led to the first discovery of chronic traumatic encephalopathy in a former football player. CTE is a degenerative brain disease that can cause depression, poor impulse control, suicidal behavior, dementia and other symptoms.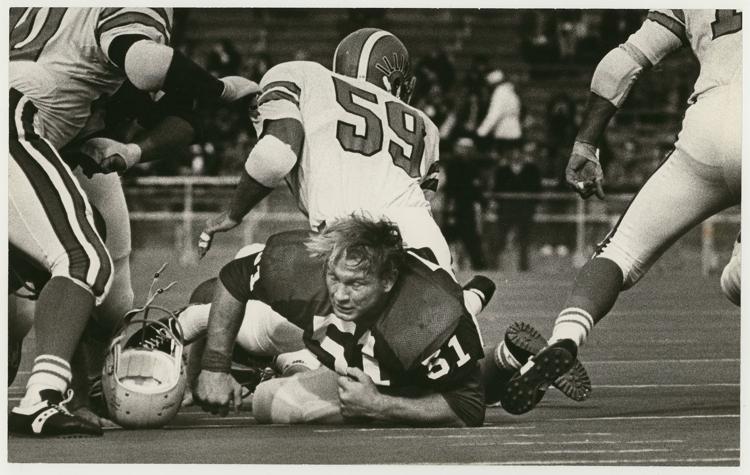 Omalu's finding and subsequent battle with the NFL about its validity became the makings for the 2015 movie "Concussion." It also influenced further research and safety changes throughout all levels of football.
"We thought (Webster) might be an isolated incident," Graff said. "When Mike had those issues, it started to raise some red flags, but we still didn't know what the long-term implications were. ... As the years went by, we started to realize that it was bigger than just Mike Webster.
"I go to a lot of NFL golf tournaments and I get to see a lot of my old peers, and a lot of them are having issues, more and more it seems like."
Megna's mission
You have free articles remaining.
Register for more free articles
Stay logged in to skip the surveys
Even as CTE awareness continued to develop in 2009, numerous doctors failed to associate then-UW linebacker Tony Megna's headaches, dizziness, vertigo and short-term memory loss with hits sustained from playing football.
Megna said he'd start getting dizzy in the first 20 or 30 minutes of every practice that season, which often would lead to vomiting. His schoolwork suffered as well. He struggled to concentrate or calculate math and battled anxiety and depression.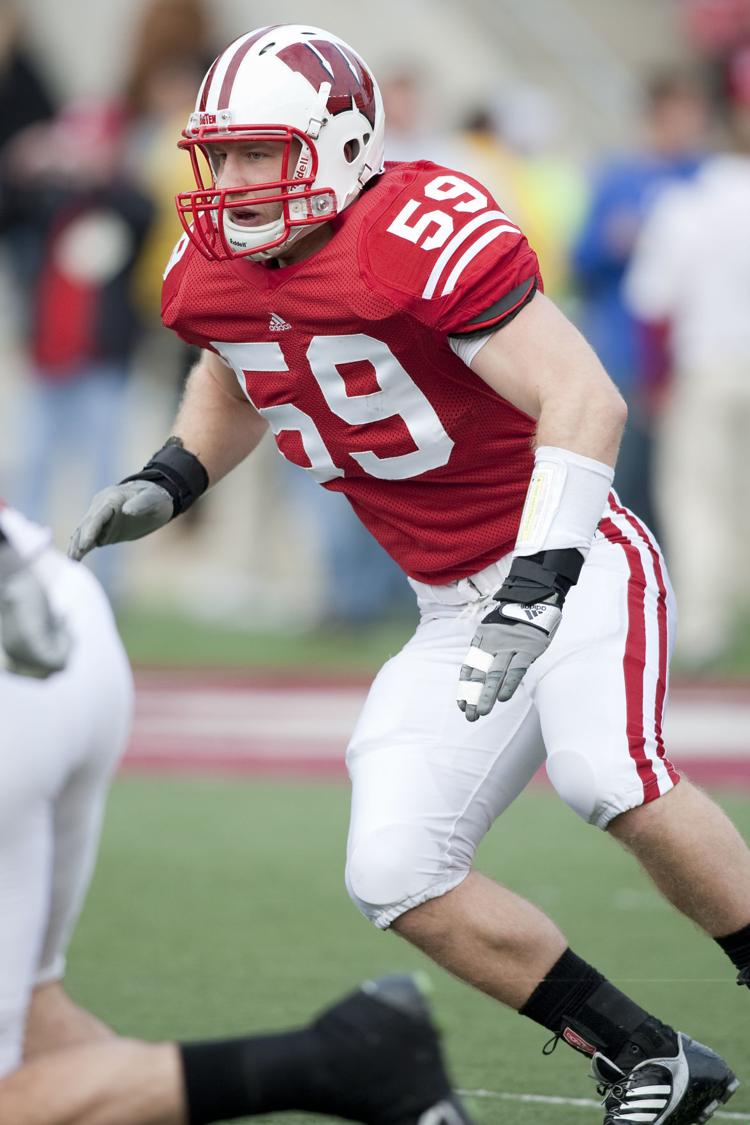 It wasn't just UW's medical staff left stumped by Megna's situation. The walk-on said he saw 10 to 15 doctors who primarily searched for genetic abnormalities or nerve impingements. None of them suggested he stop playing football.
"They were looking at it from a completely different angle," Megna said. "I think they missed a lot of it going forward. These are doctors across the entire country that don't view the body as an organism. It's more of a machine, and I think they're missing a lot about the diagnostics of the whole thing."
Megna left the team after the 2009 season but still graduated in 2011. He went on to earn a master's degree in traditional East Asian medicine from the Midwest College of Oriental Medicine in Racine and now owns Integrated Heights, a wellness and healing center in Mount Pleasant.
After learning more about head trauma in the years since leaving UW, Megna is now planning to join a group of former college football players who are taking legal action against the NCAA. He said he's "not arguing for millions of dollars" but rather for recognition that players need more financial support for injuries that continue beyond their playing careers. It wasn't until earlier this year that the NCAA's autonomy conferences voted to provide athletes with medical care for at least two years after graduating or leaving school.
"When these athletes retire, a lot of times they're just sent on their way, and they don't have a direction to go," Megna said. "They don't know what's happening to them. ... I'm not the only one with head trauma, and I'm not the only one dealing with a lot of these symptoms.
"Your body is in a state of survival, and all these football players who are leaving the game, many of them have difficulties navigating their lives after they're done playing. So the discussion needs to be had because this is happening across the country. There's millions of football players."
Vanden Boom's story
As polarizing as Borland's retirement became in 2015, he actually wasn't the first former UW player to walk away from the game as an NFL rookie due to head injuries. Two terrifying incidents within the span of 11 months forced safety Matt Vanden Boom to make the same decision in 1983.
Vanden Boom suffered a concussion during the Badgers' 1982 season opener against Michigan that left him hospitalized and temporarily without the ability to speak.
"I literally can remember the nurse holding up a pen and asking me to identify it," Vanden Boom said. "I knew in my mind what it was but I couldn't articulate it. I couldn't speak it."
Badgers freshman Jay Seiler had died just three years earlier after sustaining a head injury during a spring practice, and Vanden Boom said an injury like his wasn't one anyone at UW took lightly.
Still, Vanden Boom returned after three weeks and later told the State Journal he struggled with regular drowsiness and blurred vision throughout the season. A nearly identical situation affected Vanden Boom again during a rookie scrimmage with the Buffalo Bills the following July, leading him to retire before playing a down in the NFL.
Playing catch-up
Knowledge of head injuries has grown significantly in the 35 years since Vanden Boom left the game and even more since Omalu first found CTE in Webster's brain in 2002. The NFL, NCAA and youth and high school football associations have tried to make the game safer with rule changes, equipment upgrades, less physical practices and other methods.
Football is still football, though, and recent research from Boston University's CTE Center — where UW alum Dr. Ann McKee, M.D., is the director — suggests that repetitive sub-concussive hits, not concussions, are the main cause of CTE. According to one of the center's studies published in January, approximately 20 percent of CTE subjects to date did not even have a history of concussion.
There's currently no way to detect the disease in a living person. Researchers remain in an information-gathering phase as the country continues to play catch-up on a long-ignored issue. No one can yet explain why some suffer dire consequences from playing football and others don't, yet there's always that chance.
"It's alarming," Ball said. "At times I kind of ask myself, is there a clock out there ticking away as my time goes down? I don't know."