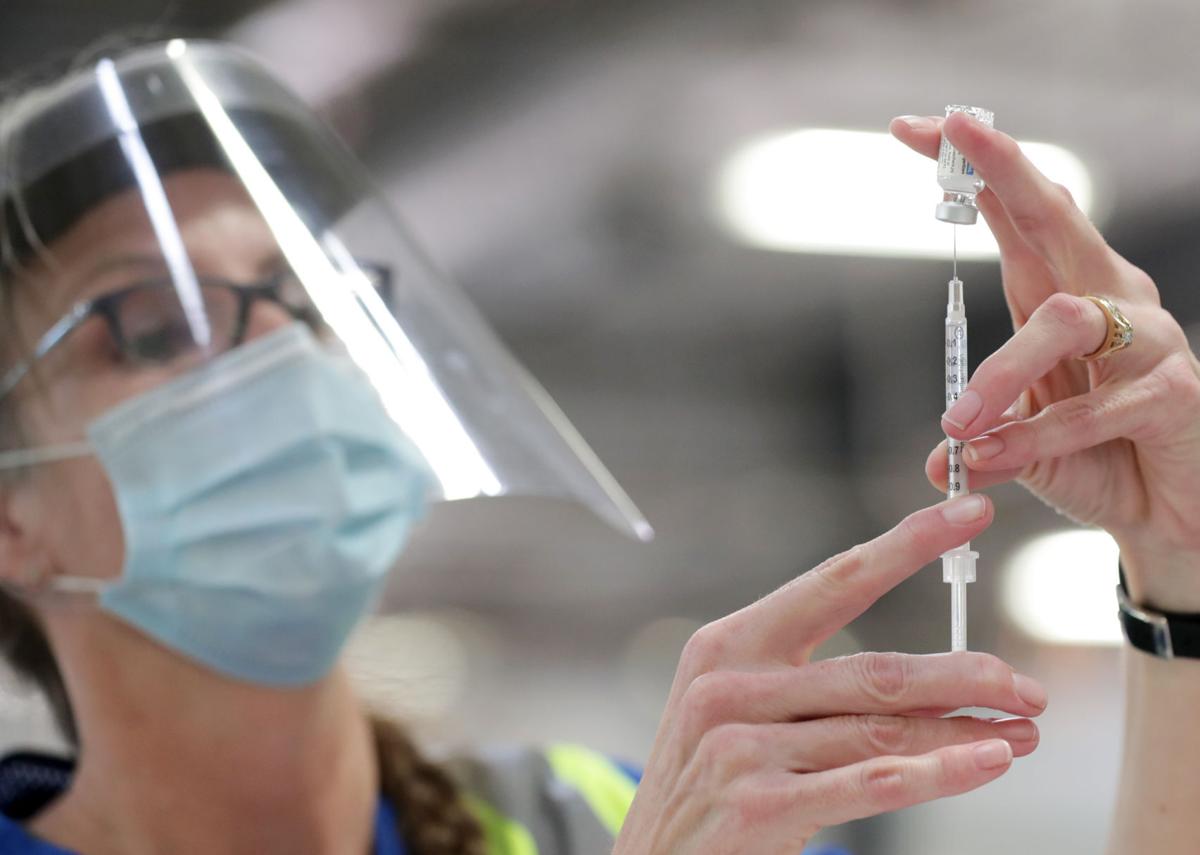 A temporary COVID-19 booster vaccination clinic will open Tuesday at the Alliant Energy Center, Public Health Madison and Dane County said Thursday.
The clinic at the Arena building at the Alliant Center will offer booster doses for those who are eligible, as well as first and second vaccine doses for anyone 12 and older.
The booster clinic will start with five active vaccination booths capable of accommodating about 220 booster vaccinations per day. Health officials strongly encourage residents to make an appointment, but drop-ins will be accepted.
To make an appointment at the Alliant Center clinic, or one of the other Public Health clinic locations visit publichealthmdc.com/vax. COVID-19 vaccines are also available throughout the county through health care providers and pharmacies.
"This clinic will differ from the previous clinic we had set up on the grounds of the Alliant Energy Center for a couple of reasons," Sarah Hughes, COVID-19 vaccine deputy for the city-county health department, said in a statement. "First, it is in a different part of the facility and second, people will park and walk-in, as opposed to the previous drive-through approach."
Hughes said the department is ready to expand vaccination capacity as soon as children under 12 are eligible. Pfizer made its formal application for children between the ages of 5 and 11 on Thursday.
People 18 and older with underlying conditions and those 18 to 64 in higher risk occupations — such as first responders, teachers and grocery store workers — may get boosters, officials said.
Boosters should be given at least six months after the second dose. Boosters are not yet recommended for people whose initial doses were of the Moderna or Johnson & Johnson vaccines, but such approval and guidance is expected in the coming weeks.
Meanwhile, the Wisconsin Department of Health Services on Thursday said it was relaunching a Community Testing Support Program to help local health departments and providers offer more COVID-19 testing. The announcement came as the delta variant surge continued in the state even as it has ebbed in some parts of the country, with 2,770 new COVID-19 cases and 17 more deaths reported in Wisconsin.
State Journal reporter David Wahlberg contributed to this report.
6 lives disrupted: How COVID-19 changed Madison
The torrent of disruption to daily life over the past year has been inescapable.
Calendar squares filled with weddings and events cleared. Vacations vanished. Schools shuttered and hand sanitizer was in short supply. We learned new words, like social distancing, herd immunity and doomscrolling. 
COVID-19 affected every person, every family. It's taken nearly 6,500 Wisconsinites from us, including 278 in Dane County.
Here are six stories from people whose lives and jobs changed over the past year.