Teachers are emphasized among essential workers eligible next for COVID-19 vaccine in a plan before state officials that would make nearly half of Wisconsin adults cleared for shots amid limited supply — including older adults beginning next week.
The state Department of Health Services expects to publish a final plan early next week after reviewing recommendations approved Thursday by the State Disaster Medical Advisory Committee, said deputy secretary Julie Willems Van Dijk.
She said prioritizing teachers "makes sense to us," in part because the available vaccines aren't approved for children younger than 16 so many students will continue to pose some risk. "We know this is a system that has been deeply disrupted during the past year," Willems Van Dijk said of schools.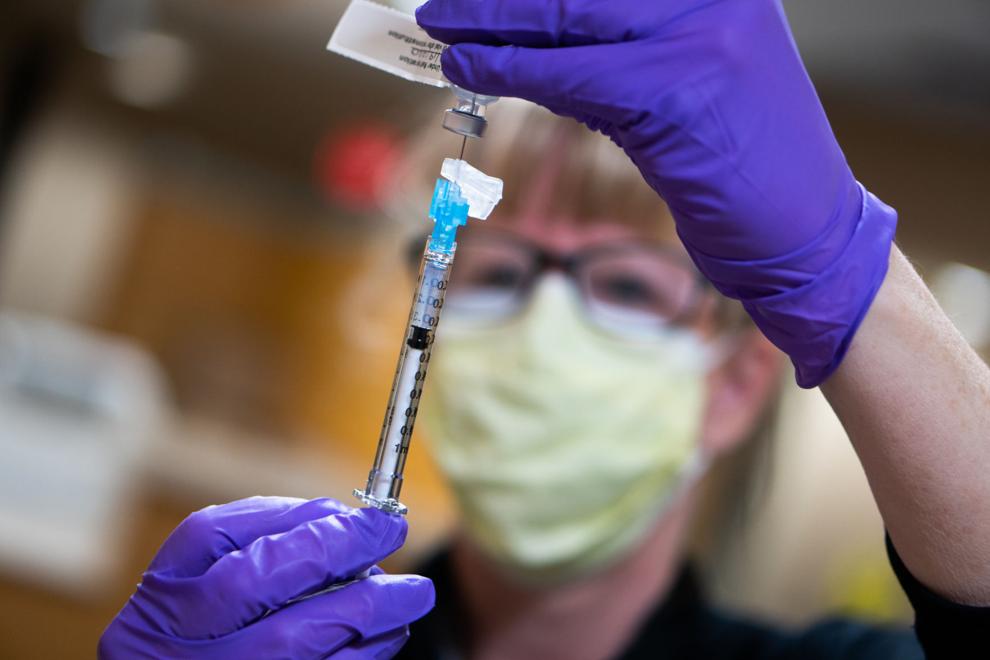 Along with those essential workers, people with disabilities in state programs and those in congregate settings — such as prisons, group homes and shelters — would be in phase 1b.
The committee discussed putting teachers ahead of the other essential workers in phase 1b, with chairwoman Dr. Azita Hamedani noting mental health problems among students linked to remote learning. But the group decided instead to list teachers — along with ethnic minorities, people with social vulnerability and those having medical conditions such as cancer and diabetes — for "sub-prioritization" of vaccine when necessary within various phases.
It's not clear how much that might favor teachers over the other essential worker groups in phase 1b. The committee's broad category of educators includes K-12 teachers and staff, child care workers and post-secondary instructors who have direct contact with students.
Willems Van Dijk said teachers, once eligible, could be vaccinated in several ways: by pharmacies, hospitals or health departments going to schools or by having staff visit their doctors or other locations.
People with high-risk medical conditions are expected to be in phase 1c, along with groups such as manufacturing workers, librarians and veterinarians. The general public will be in phase 2, expected to start in late spring or early summer, depending on vaccine supply.
Frontline health care workers, along with residents of nursing homes and assisted living facilities, have been in phase 1a, which started last month. The state has already approved police officers, firefighters and corrections workers for phase 1b, and this week made people 65 and older eligible starting Monday.
Nearly half of adults
The new groups would make up 1.6 million people, or a third of the state's adult population, committee leaders said. Combined with those in phase 1a, the total would be 45% of Wisconsin adults.
With Wisconsin getting just 70,000 first doses of vaccine each week, the committee acknowledged the challenge in making so many people eligible but didn't address how to manage the expected large demand for a small supply.
"To achieve that group is nearly an impossible task in short order," said Dr. Jonathan Temte, associate dean of the UW School of Medicine and Public Health. "We're looking at months."
Hamedani, chair of emergency medicine at UW Health, said deciding which groups should get vaccine first is a separate task from getting more shots into people's arms. "The heavy lifting remains in the distribution channels," she said.
Willems Van Dijk said eligible people, soon including older adults, should contact their medical provider, local pharmacy or local health department to see when they can get shots, or wait to hear from their doctor office.
"We encourage them to wait a week or two and call again," she said. "And I think they may very well get a different response."
A centralized platform to register eligible people for shots could be available by mid-February, and the state is working on a website to list community clinics dispensing vaccine, Willems Van Dijk said.
In Madison, UnityPoint Health-Meriter said it gave its first injections Thursday to older adult patients and will reach out to others to schedule appointments.
More doses given
As of Thursday, 285,358 doses of COVID-19 vaccine had been given in the state, including 51,801 booster shots. More than 1,300 hospitals, clinics, pharmacies, health departments and other entities are now registered to provide injections.
Walgreens and CVS are nearly done giving first doses to nursing home residents and are shifting to those in assisted living, Willems Van Dijk said. To speed up the effort, the state may let independent pharmacies give shots at smaller assisted living facilities, she said.
Meanwhile, Wisconsin has not detected more cases of a more contagious variant of the COVID-19 coronavirus, first found in an Eau Claire County resident last week, according to Dr. Ryan Westergaard, a chief medical officer with the state health department. But less than 1% of samples undergo the whole genome sequencing necessary to identify the worrisome strain, known as B117, and it's likely more cases are here but not detected, Westergaard said.
"We could have another heating up of community-level transmission," he said. "Now is not the time to take our foot off the gas pedal in any way with regard to physical distancing and mask wearing and avoiding gatherings. It's even more important than ever."