State health officials on Friday added unconfirmed negative COVID-19 test results to part of their daily summary, following concerns that a backlog of negative tests was skewing data to make it look like a higher percentage of people was testing positive.
For months, the state Department of Health Services has provided a daily count of positive and negative tests based on when the results are confirmed, along with a daily percentage of people testing positive and a seven-day average for the percent positive.
As positive case counts grew in recent weeks, some health officials weren't confirming negative results as quickly as positive ones while they worked to curb the outbreak by contacting people close to those testing positive. The backlog of negative results — including some 17,000 negative tests in Dane County — led some Republicans to say the administration of Democratic Gov. Tony Evers was making it look like the positive test rate was higher than it was.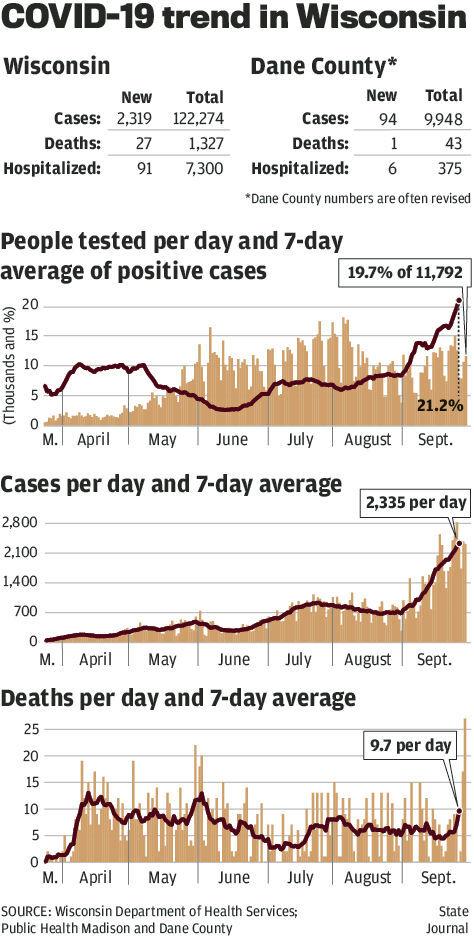 DHS added a chart that includes unverified negative results and calculates a separate seven-day average of the positive test percentage. The new chart indicates that some recent days' results are preliminary and could change once confirmed.
"We are trying to give everyone the most accurate picture possible of COVID-19," said Julie Willems Van Dijk, deputy secretary of DHS.
"There was really no need to have that chart a number of weeks ago because we were keeping up relatively well," Willems Van Dijk said. Amid the recent rise in cases and testing, "it was more important for our staff to do the contact tracing than spending time on this more data-cleaning effort," she said.
Wisconsin reported 989 new cases of COVID-19 Friday, along with 12 more deaths, for a total of 990 deaths. Willems Van Dijk said the death toll likely will surpass 1,000 over the weekend.
"Even though we all have COVID fatigue, we have quarantine fatigue, we have mask fatigue … we have to keep doing this," she said.
A slight increase in daily COVID-9 deaths statewide recently likely stems from the increase in cases last month, said Dr. Ryan Westergaard, a DHS medical director.
On Friday, 7% of confirmed tests were positive, with a seven-day average of 5.9%. The new chart, including the unprocessed negative test results, shows a gradually increasing positive rate since early June, with a rate in the past week of nearly 8%, up from about 3% the first week of June but less than about 10% in April, when much less testing was conducted.
DHS also added a chart showing the number of specimens tested daily, compared to the in-state testing capacity, which is about 24,000 tests per day. Total tests completed can exceed state capacity because some samples are sent to labs in other states.
Meanwhile, DHS said Friday that some 220,000 residents who receive FoodShare benefits will be able to get additional money for July and August because of a new public health emergency Evers declared July 30. Families got emergency benefits in March through May but not in June because the state was no longer under a public health emergency, officials said.
Public Health Madison and Dane County updated its data dashboard two weeks ago to include its 17,000 unprocessed tests. The county's most recent data snapshot, as of Monday, shows a 1.9% positive rate.
Some Republicans, including Sen. Steve Nass, R-Whitewater, said last month the delays with negative test results had not been properly acknowledged by DHS officials and resulted in misleading information.
"DHS and local public health officials have been telling us that the increases in COVID-19 positives are not simply because of more testing," Nass said in a statement. "We now know those statements were inaccurate and misleading due to the significant backlog in processing negative results."
State Republicans have regularly criticized Palm and DHS over the department's handling of COVID-19 data since the pandemic began earlier this year. Lawmakers in May filed a lawsuit against Democratic Gov. Tony Evers' extension of a stay-at-home order. The Wisconsin Supreme Court ultimately struck down the order.