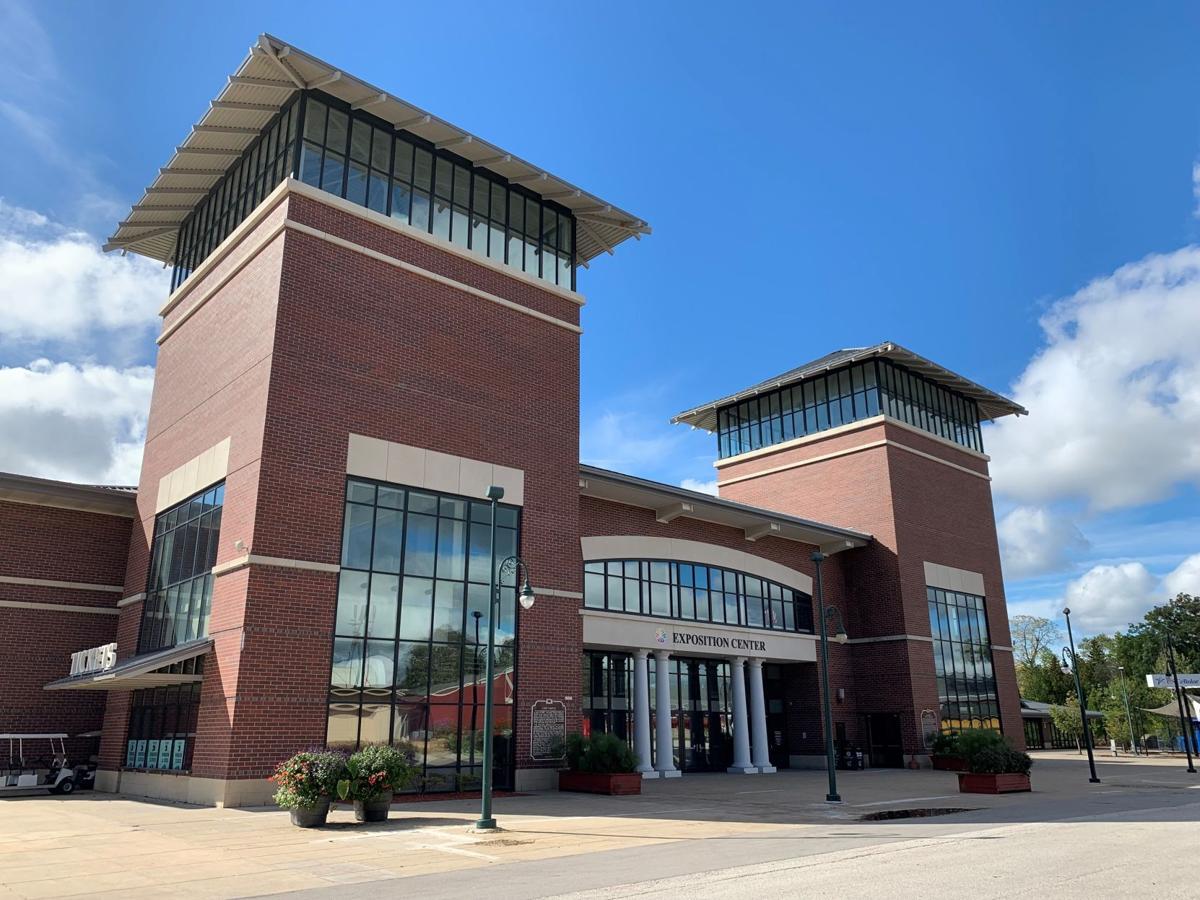 Wisconsin plans to open an overflow facility for COVID-19 patients next week at State Fair Park in West Allis, to help treat a continuing surge of patients requiring medical care, Gov. Tony Evers said Wednesday.
"We obviously hoped this day wouldn't come, but unfortunately Wisconsin is in a much different and more dire place today, and our health care systems are being overwhelmed," Evers said. "This alternative care facility ... will take some of the pressure off the system by providing 530 additional patient spaces, while expanding the continuum of care for folks who have COVID-19."
Andrea Palm, secretary of the Wisconsin Department of Health Services, said the state is "in crisis," and the facility "will free up beds in our hospitals to better care for more severely ill COVID and non-COVID patients."
Hospitalizations for COVID-19 have soared in Wisconsin in recent weeks, with 873 patients in the hospital with the coronavirus Wednesday, more than triple the tally of 289 patients a month ago.
Hospitals in the Fox Valley and northeastern Wisconsin have been hit hard, with some canceling elective procedures and transferring patients to other facilities. At hospitals in those two regions and in southeastern Wisconsin, at least 90% of intensive care beds are in use, Palm said.
But the surge has hit every part of the state, including Dane County, where a record 60 patients were hospitalized with COVID-19 Wednesday, said Sarah Mattes, spokeswoman for Public Health Madison and Dane County.
That's up from 54 patients hospitalized in the county for the condition Tuesday and the county's previous peak of 46 patients in early April.
A higher proportion of patients in the hospital with COVID-19 in Dane County today are from other parts of the state than in early April, CEOs from Madison's three main hospitals said this week.
All of the state's seven health care emergency readiness coalition regions have high or very high activity, Evers said. COVID-19 case activity is at very high levels in 55 of the state's 72 counties and at high levels everywhere else, Palm said.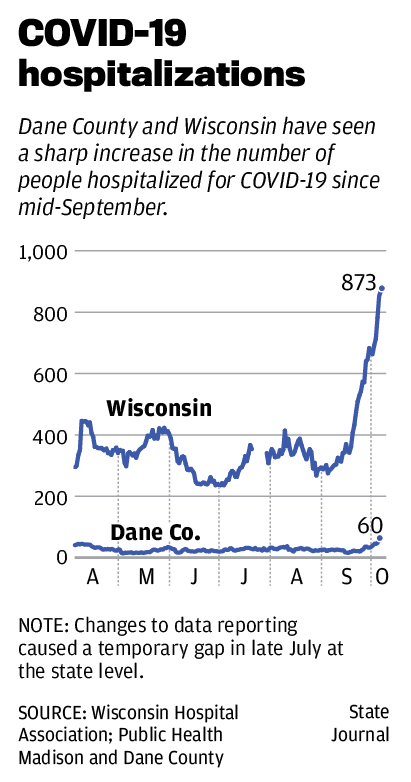 Ann Zenk, a senior vice president with the Wisconsin Hospital Association, told the State Journal last week that hospitals were in "contingency mode," using staff from other areas to provide intensive care. "In the next two to three weeks, if we don't see further slowing down, we could be at the crisis stage" requiring overflow capacity, she said.
Alternate care site
The state health department designated State Fair Park in West Allis, near Milwaukee, as a potential alternate care facility in the spring. The department also said the Alliant Energy Center in Madison could be used the same way, but that plan has not advanced as far and would take more time to set up.
"It is not flip-switch ready," Palm said.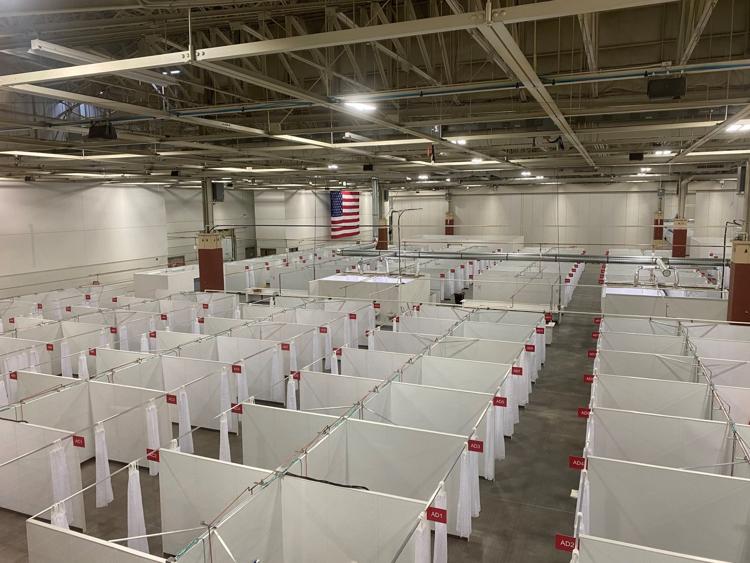 The State Fair Park facility, to open Wednesday at the State Fair Exposition Center after cleaning and other preparations, is not officially a hospital and won't accept walk-in patients. It will be able to take up to 50 patients on the first day, Palm said.
The facility will coordinate with health care systems to admit patients who need care but are not seriously ill, serving as a transitional facility to offer oxygen and medical care, officials said. The goal is to transition COVID-19 patients who are less ill out of hospitals and reserve hospital beds for patients who are more ill and in need of hospital-level care, Evers said.
Of the facility's 530 patient spaces, 296 include in-line oxygen care. Funding for the facility will come from the $445 million surge reserve fund set aside by Evers to ensure the ability of Wisconsin hospital systems and communities to handle a surge of COVID-19 cases.
Patients ages 18-70 who have been in the hospital at least a day or two and can walk on their own or with the assistance of one person will be eligible to be brought to the facility from hospitals by ground ambulance, said Deb Standridge, the facility's CEO.
Care might consist of oxygen and intravenous medications "to ensure they are healthy enough to be discharged home," Standridge said.
Cases, deaths high
The rapid increase in hospitalized patients follows a surge in COVID-19 cases statewide, especially in the Fox Valley and Green Bay areas. The state's daily average of newly confirmed cases more than tripled in the past month, to 2,450 Saturday, when a record 2,892 new cases were reported. The daily average went down to 2,346 Wednesday, when 2,319 new cases were reported.
COVID-19 deaths are also up, to a daily average of 13, tied with the highest since the pandemic began, with the state reporting 18 deaths Tuesday and 16 deaths Wednesday.
Though hospitalizations are at record levels, hospital officials have said they are more prepared for influxes of COVID-19 patients today than they were in April, when less was known about the virus and testing and protective equipment for workers were scarce. Other equipment, such as ventilators, is also more available now.
The biggest concern, Palm said, is having enough staff who are healthy and not exposed to the coronavirus so they can care for patients. Some hospitals are bringing in staff from other states.
Because health care workers can't stay home, everyone else needs to do so as much as possible, said Evers, who also encouraged wearing masks, keeping distance from others and avoiding gatherings.
"All of this is around individual responsibility," he said.
Vos seeks meeting
On Wednesday, Assembly Speaker Robin Vos, R-Rochester, requested a meeting with Evers "as soon as possible" to discuss ways to deal with COVID-19.
Vos' request came a day after Evers announced a new statewide order to limit the size of crowds at indoor establishments including bars and restaurants. The order goes into effect at 8 a.m. Thursday.
Vos, who, along with Senate Majority Leader Scott Fitzgerald, R-Juneau, joined a lawsuit seeking to strike down Evers' latest public health emergency and accompanying mask mandate, said "cooperation and collaboration are essential to fight this pandemic."
"The surge of cases and hospitalizations is real," Vos said in a statement. "We need everyone to work together to contain the virus: follow CDC guidelines, wear a mask, wash your hands, and maintain social distancing."
State Republicans successfully sued to strike down Evers' stay-at-home order in May, though with a different composition of the Wisconsin Supreme Court. While Evers' attorney has said the order limiting large indoor gatherings falls under a state statute not addressed in that Wisconsin Supreme Court ruling, Vos said he was confident that, if challenged, the order would be found invalid.
"With cases once again rising, it's clear the governor's go-it-alone, grab bag approach to responding to the coronavirus has been a failure," Vos said. "We must work together in order to keep our businesses open and our citizens safe."
Vos and Fitzgerald also sent a letter to Palm asking her to submit an emergency rule immediately to the GOP-led Joint Committee for Review of Administrative Rules for the new order.
"On their 175th day of inaction, Republicans chose to send a letter," Evers' spokeswoman Britt Cudaback said in an email. "That says everything Wisconsinites need to know about Republicans' priorities during this pandemic."
The GOP-led Legislature has met only once, in April, to take up legislation in response to COVID-19.
State Journal reporter Mitchell Schmidt contributed to this report.
[Editor's note: This story has been updated to correct the number of patients with confirmed cases of COVID-19 hospitalized Wednesday in Dane County. The final number was 60.]
Concerned about COVID-19?
Sign up now to get the most recent coronavirus headlines and other important local and national news sent to your email inbox daily.