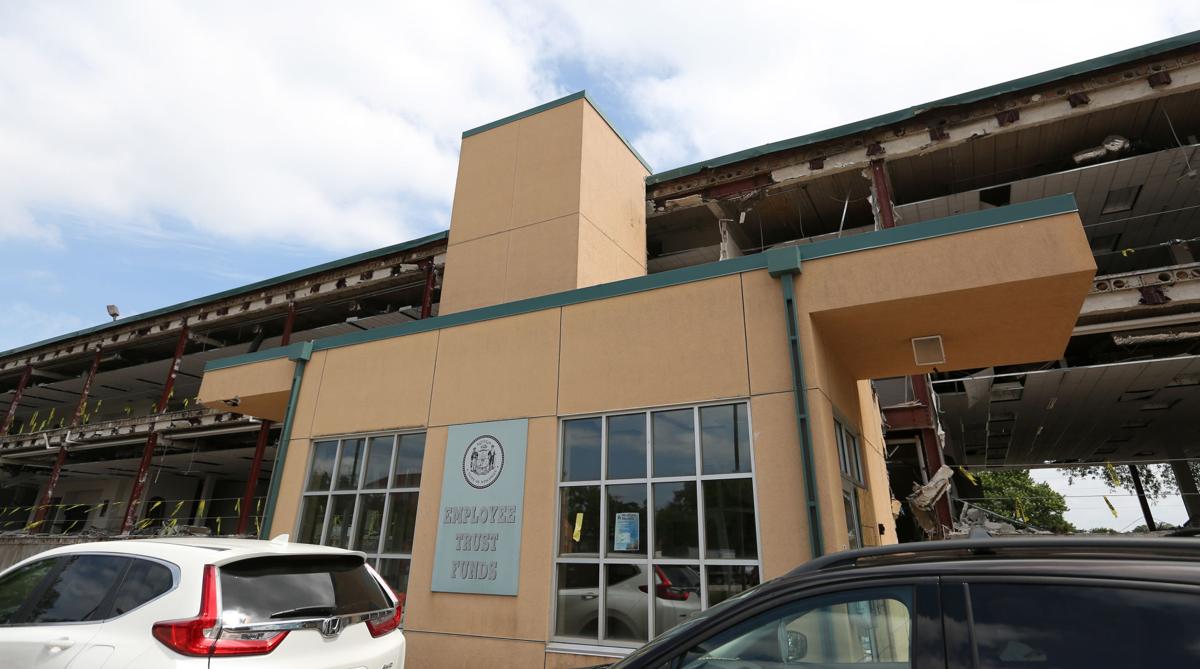 Wisconsin school districts would get health insurance through a state-run program like that for state workers, potentially saving $500 million a year, under a plan in Democratic Gov. Tony Evers' budget and in a similar proposal by an administrator for former Republican Gov. Scott Walker.
A recent report co-authored by J.P. Wieske, former deputy insurance commissioner for Walker, proposes a voluntary version of the program, saying most districts would save money through the switch but some would face higher costs and should be able to keep their current arrangements.
Escalating health insurance costs, coupled with sometimes stagnant salaries, "is really driving some of our best teachers out of the profession," WEAC spokesperson Christina Brey said. "We want to be sure that no matter where in the state a teacher works, they have affordable health care options."
The Wisconsin Association of School Boards is studying the issue, lobbyist Dan Rossmiller said. A state insurance pool could help some districts by eliminating health benefits as a competitive recruitment tool, but other districts might not want to lose that option during an ongoing teacher shortage, he said.
"Some districts are trying to overcome that by offering higher salary," he said. "Others are offering more generous benefits."
WEA Trust, a Madison-based insurance company founded in 1970 by WEAC but not owned by it, is "neutral" about creating a mandatory or voluntary insurance pool for school districts, spokesperson Kyle Humphrey said.
The company insured the vast majority of school districts before Walker's Act 10 in 2011 blocked unions from negotiating over benefits. Today, the company insures about 100 school districts, making up roughly half of its 110,000 members, with state workers accounting for most of the other half through ETF, Humphrey said.
"We've been successful in working in both of those manners," he said.
School districts can already participate in ETF's program for local governments, which is separate from but similar to its state worker program. But only seven do, those in Darlington, Fennimore, Lancaster, Montello, North Cape, White Lake and the Cooperative Educational Service Agency 5 in Portage, according to the Legislative Fiscal Bureau.
Act 10 didn't require school district employees to pay 12% of their health insurance premiums, like state workers do, unless they're insured through ETF. But Walker reduced school funding by an amount he said could be recouped by requiring employees to contribute more to health insurance and pensions.
School employees now pay an average of roughly 12% of their health insurance premiums, with districts picking up about 88%, according to the latest annual report. But some districts cover much less. Others cover the entire amount, which would not be possible within ETF without a change in the law.
Offices of the leaders of the Republican-controlled state Legislature and its Joint Finance Committee, which will soon take up Evers' budget and possibly write its own, didn't respond to requests for comment. A final budget is due July 1.
Mandatory vs. voluntary
Evers' budget includes $500,000 for the Group Insurance Board, which oversees ETF benefits, to conduct an actuarial study assessing potential costs and savings to school districts of requiring them to join an ETF group plan. A task force appointed by the governor would assist his insurance commissioner and ETF secretary in preparing an implementation plan.
It's not clear whether Evers' proposal would create a separate pool for school districts or include them in the local government pool.
The study by Wieske, now with Horizon Government Affairs in Washington, D.C., calls for a separate, voluntary pool for school districts. ETF's local government pool is run by calendar year, not school year, and presents other obstacles to school districts, Wieske said.
According to his study, more than $500 million could be saved in the $2.3 billion spent by taxpayers each year on school district health insurance if districts could join a new ETF pool. But 52 districts would lose money that way, so the overall savings would drop to $238 million if all districts had to participate, the study found.
"I'm a Republican; I tend to not like mandates," Wieske said. "Voluntary is probably the best way to go because there are districts that are saving significant amounts of money and figuring out how to manage it."
A voluntary pool could reduce the wide range of health insurance costs among districts, he said, with some now facing high premiums even if they have high out-of-pocket costs for employees.
"You're seeing wild disparities across the state," Wieske said. "What can we do to provide a better baseline for those school districts that are paying really high rates coupled with high deductibles?"
Savings less with HSA assistance
The Horizon study assumes all districts in the ETF pool would provide a high-deductible health plan qualified to include a health savings account, or HSA, to which districts could contribute. The $500 million in estimated savings is based on no district HSA contributions. If districts contributed to HSAs, the savings would be more like $300 million, Wieske said.
The proposal also assumes ETF would contract with multiple private insurance carriers to cover the state's nearly 80,000 teachers, other district employees and dependents, as it does through the state worker program.
"Hopefully there would be multiple choices," Wieske said. "The result would be problematic if they ended up with only one carrier."
Wieske said he did the study for Madison-based CTA Strategies, run by Andrew Hysell, who declined to say who paid for it. Hysell said he has worked on education policy focusing on rural schools and has raised money from the insurance industry and public education organizations.
Savings by district
According to the study, the Milwaukee School District would save the most, at $23 million with no employer HSA contributions, followed by Green Bay, with $15.1 million, and Fond du Lac, with $8.2 million.
The Madison School District would save $1.9 million, a much lower amount per person, likely because the district already gets a relatively good deal in Dane County's competitive HMO market, Wieske said. The La Crosse district would lose $2.2 million and Kenosha would lose $9.2 million, also because they have relatively low costs now, Wieske said.
Without any employer HSA contributions, the McFarland district would save $434,000, Middleton-Cross Plains would save $1.4 million, Monona Grove would save $964,000, Oregon would save $1.2 million, Sun Prairie would save $2.5 million, Verona would save $388,000 and Waunakee would save $1.2 million, the study says.
With HSA contributions, most of those districts would still save money, though less. But McFarland and Waunakee would lose money, and Madison would lose $1.9 million.
Jina Jonen, human resources director for the Oregon schools, said the district is "always open to investigating new and innovative ways to offer an attractive health insurance plan at a reasonable cost ... In my opinion, the rising cost of health insurance is not sustainable for public school districts."
Trade-offs
UW-Madison business professor Justin Sydnor, who specializes in risk and insurance, said insuring more school districts through ETF could be beneficial but questioned the need for a separate pool.
"The high-level idea of leveraging ETF's expertise at creating a big pooled plan and getting some competition among insurers makes some sense," he said. "But why propose an entirely new program? Why not just work on whatever the issues are that are preventing more school districts from taking advantage of it?"
Sydnor said putting everyone into a high-deductible health plan could have consequences, with studies showing the higher upfront costs for care can cause people with chronic diseases to cut back on preventive services that can save money overall. The plans could be less attractive to older teachers, he said.
"You may get people using health care in less optimal ways," he said. "Moving in this way would make those districts relatively more competitive for younger, healthier teachers than they will be for more experienced teachers."
Under ETF, some teachers might have to switch doctors or hospitals but others could gain provider choices, Sydnor said.
"If you mandated this for all, some are going to be very happy with the change and others likely won't be," he said.