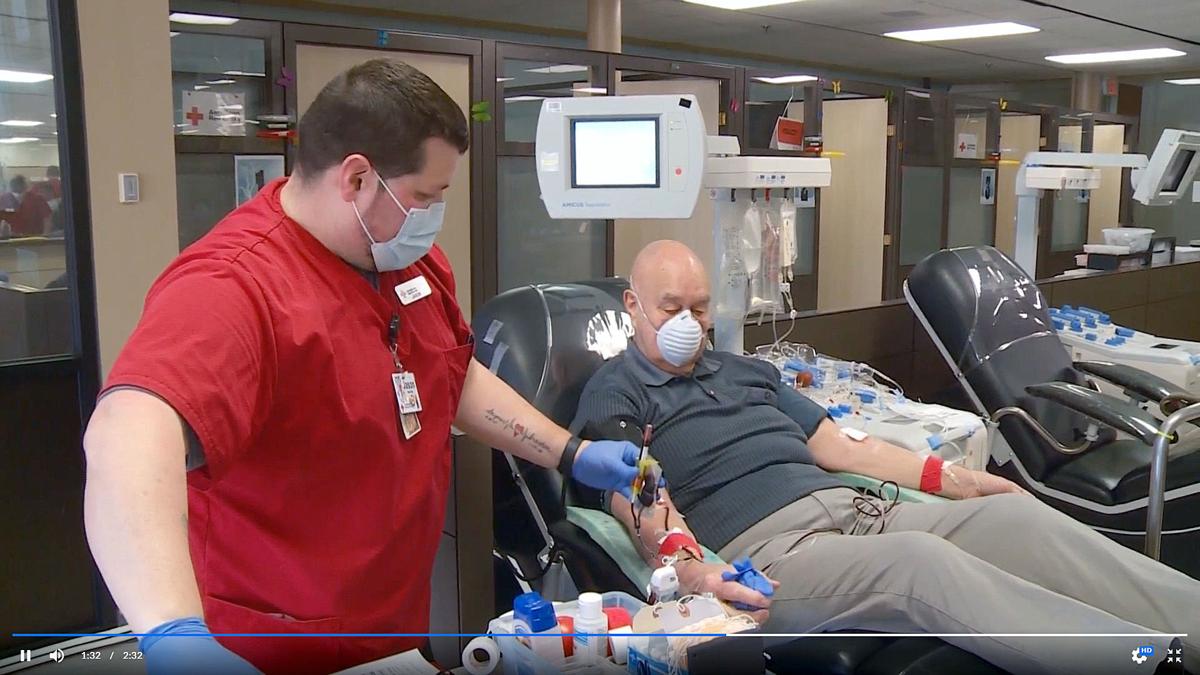 However, some research, including a study last month from a national program run by Mayo Clinic, found patients given plasma with a high concentration of antibodies do better than those who don't get it, especially if treated early in their disease. With coronavirus variants becoming more of a threat, convalescent plasma could get more attention again because it evolves with the pandemic more than drugs, some say.
"When used appropriately, there are many signals of decreased mortality," said Dr. Bill Hartman, an anesthesiologist who is director of UW Health's convalescent plasma program. "But when we try to use it on patients who are quite ill with the hopes that might have a better outcomes, it's not as effective."
As NPR and The New York Times recently reported, trials of convalescent plasma in England, Canada and the U.S. were stopped recently for lack of benefit. The NIH said the treatment was unlikely to help emergency department patients with mild to moderate symptoms in its study.
The FDA, which authorized the treatment for emergency use in August, narrowed the scope in February to apply only to patients early in their disease or who can't make their own antibodies.
Convalescent plasma, an approach used for more than a century on diseases such as the 1918 "Spanish" flu and Ebola, was given to more than 40% of hospitalized COVID-19 patients at the peak of the pandemic nationally and at UW Hospital, Hartman said. Now, it's used on less than 10%, primarily patients who are immune compromised because of organ transplants or chemotherapy, he said.
A study at Johns Hopkins University is evaluating the treatment for COVID-19 patients outside of the hospital, mostly early-stage patients for whom it is thought to have the most potential. No results are available yet.
Convalescent plasma appears to help some patients fight their initial infection, but in those with serious complications an overwhelming immune response needs to be subdued, Hartman said. Doctors now realize that steroids seem to work better for them, he said.
UW patients
About 185 patients at UW Hospital have received convalescent plasma, Hartman said. He said he didn't have outcomes data on them to release, having shared it with the national Mayo program for possible publication.
In a study in June, UW Hospital reported on its first 31 patients — 16 with severe disease, all but one who avoided the need for intensive care and ventilation, and 15 with more serious life-threatening disease, four of whom died.
Leaders of the Mayo group, including a convalescent plasma proponent at Johns Hopkins, this month reported that the dramatic decline in use of the treatment starting late last year may have caused 29,000 excess deaths.
Virus variants
Such antibody drugs may work better than convalescent plasma for some patients, but the growing circulation of more transmissible coronavirus variants could alter the situation, Hartman said. Patients who recently recovered from infection of variant coronaviruses, such as one recently identified in India with a double mutation, are the most rapid source of antibodies to such strains, he said. It will take time for pharmaceutical companies to adapt drugs to such strains, he said.
UW Hospital gave convalescent plasma to its first patient April 12, 2020, with more than 50 Madison-area people who recovered from COVID-19 donating plasma in the first month, Hartman said. Before UW Health handed over plasma collection to the American Red Cross later last spring, the Madison area accounted for a third of the nation's supply, he said.
From April 2020 to this March, the Red Cross collected plasma from more than 3,000 donors in Wisconsin and distributed nearly 800 units to hospitals in the state, said Laura McGuire, a local spokeswoman for the Red Cross.
The donors include nearly 450 UW-Madison students who took part in the Badgers Give Back Blood Drive organized by sophomore Brody Andes.
Even though relatively few COVID-19 patients in Madison or elsewhere are receiving convalescent plasma today, Hartman said the effort has been worthwhile.
"Part of the scientific process is figuring out which group of people it was going to work well in," he said. "We've learned, actually, quite a bit ... I think we gave the best information that we had at the time, and things evolved from there."