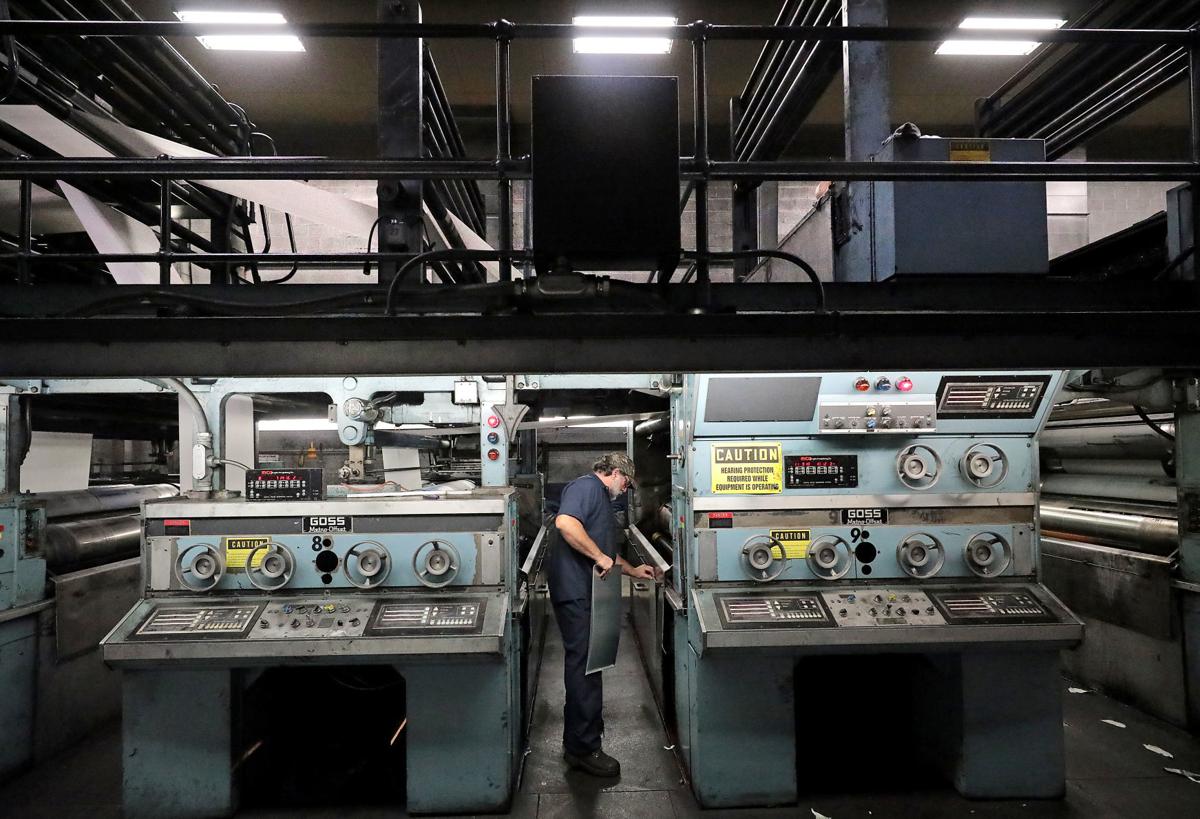 Newspapers are critically important in a crisis. But some people have asked how safe it is to have their Wisconsin State Journal delivered during the COVID-19 coronavirus pandemic.
The risk of contracting the disease by picking up a newspaper is "exceedingly low," said Dr. Nasia Safdar, medical director of infection control at UW Health. Public health authorities tend to be most concerned with the "main routes of transmission," such as respiratory droplets from coughing or sneezing, she said.
"Could there be a secondary route where surfaces get contaminated and people can pick it up? I think that's true for a very short time after somebody has sneezed or coughed on something," Safdar said. "The presence of the virus does not necessarily equate to transmissibility. Outside the body, the virus doesn't stay alive for too long."
The risk of transmission from a newspaper sleeve is also low, she said.
"One can envision a scenario where somebody coughed or sneezed onto a plastic covering and it's the first thing somebody else comes into contact with," she said. "Those cases would be very rare."
Safdar suggested readers concerned about that remove the sleeve and wash their hands. "Then you can feel comfortable reading the paper," she said.
Since newspapers are considered essential businesses under Gov. Tony Evers' "safer at home" order, some have also asked what the State Journal is doing to protect its employees during the public health crisis.
Reporters and editors have been working almost entirely from home. They're conducting interviews on the phone, attending government meetings remotely and communicating with each other via email and messaging apps. The sales team is working remotely as well.
The newspaper's team of photographers has been shooting in the field every day but taking precautions such as keeping their distance from subjects and shooting them outdoors.
A cleaning protocol has been instituted for the Capital Newspapers building at 1901 Fish Hatchery Road, publisher Tom Wiley said. The protocol is especially strict in the production area, where employees must be present to work on the press, package the newspaper and prepare it for carriers.
"In those areas, we have way more robust cleaning and sophisticated social distancing protocols in place," Wiley said. "In the rest of the building — the newsroom, the sales organization, the finance department, the circulation department — for the people who are still coming to work, we have social distancing policies where they're sitting at least 6 feet apart, and meetings are almost exclusively teleconferences or video."
Most of the independent contractors who deliver newspapers to subscribers work alone, Wiley said.
Support Local Now
Social distancing might not be a problem for the newspaper, but the pandemic has forced many businesses to shutter temporarily, which has caused a steep drop in advertising here and around the country.
In response, Capital Newspapers and madison.com have launched a free local business directory — Support Local Now — intended to create a place where consumers can connect with local companies during the COVID-19 public health crisis.
On the site, at go.madison.com/supportlocal, businesses can post their current hours, available specials or deals and other necessary updates. The site is available at no charge due to support from a group of sponsors.
The newspaper has also made all of its coronavirus coverage available for free on its website and implemented tiered membership plans, including discounted digital-only options, to recruit new subscribers.
'Live it locally'
"Local news plays an incredibly important role when we think about things like a pandemic crisis," said Katy Culver, a longtime professor of journalism at UW-Madison. "A lot of us think of us think of it globally as we watch the spread, but we live it locally, and that's where local news organizations are essential sources of information that in some cases will be life saving."
Readers tend to place a great deal of trust in local news sources, especially if they are viewed as engaged in the community, Culver said.
"Now is the time for local news organizations to demonstrate the vital public service they provide," she said. "Of course, that's going to be very difficult for them to do under this tremendous economic pressure."
Concerned about COVID-19?
Sign up now to get the most recent coronavirus headlines and other important local and national news sent to your email inbox daily.