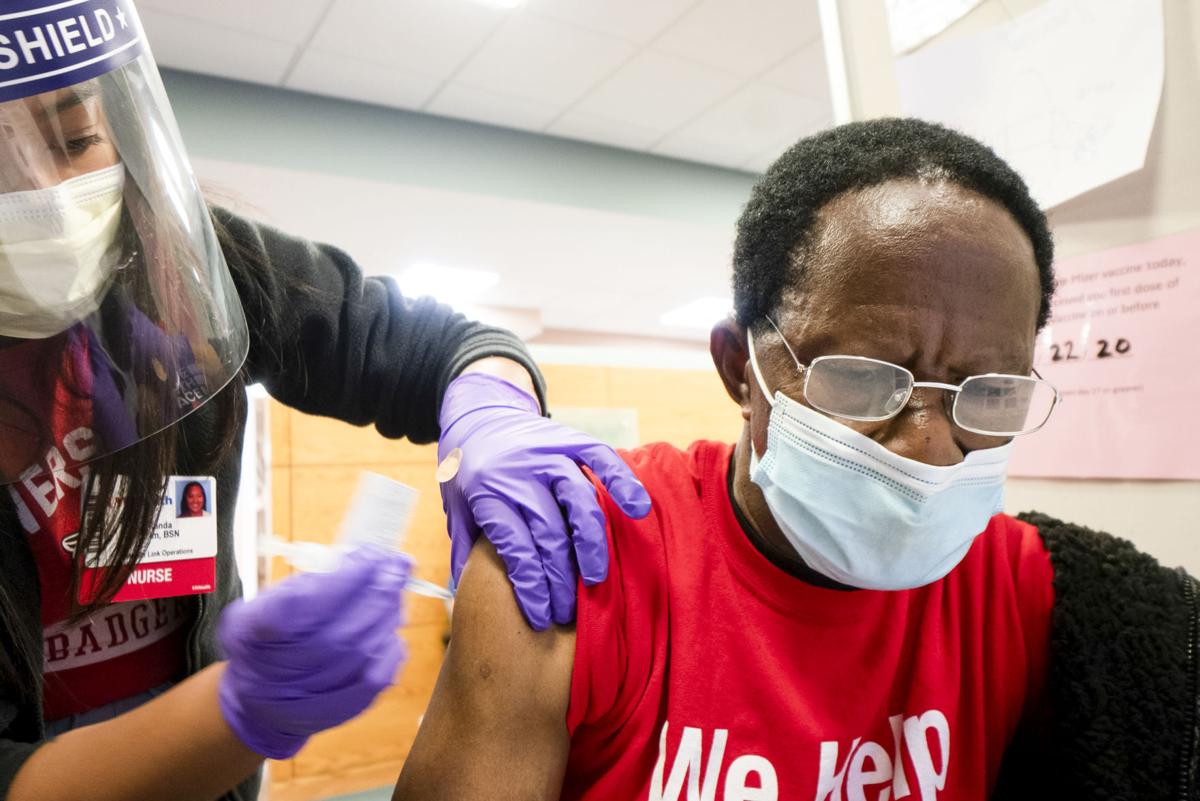 Some 10.4% of white people in Wisconsin have received at least one dose of COVID-19 vaccine, compared with 2.9% of Black residents, according to the first such data available, released Thursday by the state Department of Health Services.
The figures are 2.9% for Hispanics, 4.9% for Asians and 7.3% for American Indians, with race or ethnicity not provided for some people. Similar disparities have been found in other states.
The new data also show Iron County, bordering Michigan's Upper Peninsula, has the largest share of its population vaccinated, with 18.5% of residents receiving at least one dose.
Just 6.3% of residents of Rusk County, in northwestern Wisconsin, have been vaccinated, compared to 13.9% in Dane County. Statewide, the figure is 11.1%.
"We are committed to equitable distribution of the vaccine," said Julie Willems Van Dijk, deputy secretary of the state health department. "We are making intentional decisions to reduce systemic barriers and encourage vaccine uptake in our communities of color."
The steps include prioritizing vaccine orders from tribes, community health clinics and federally qualified health centers, which provide services for socially vulnerable people, Willems Van Dijk said. The state plans to allocate $6 million in grants for vaccine outreach to minorities, and mobile vaccination teams can also close gaps in access, she said.
The first state-run community vaccination clinic will start Tuesday at Blackhawk Technical College in Janesville. Six to 10 more such clinics could be set up, depending on need and vaccine supply, state officials have said.
"We will continue to explore avenues to ensure communities of color will have the opportunity to be vaccinated against COVID-19," the state health department said in a statement.
So far in Wisconsin, groups eligible for COVID-19 vaccine are frontline health care workers, nursing home and assisted-living residents, police officers, firefighters, correctional workers and residents 65 and older.
The racial makeup of those groups may contribute to the vaccination disparities seen so far. Racial breakdowns of some groups were not immediately available, but Willems Van Dijk said health care workers tend to be disproportionately white.
An Associated Press analysis found that in 17 states and two cities that released racial breakdowns through Jan. 25, Black people were immunized at levels lower than their share of the general population.
Meanwhile, UW Health early this week canceled more than 2,400 vaccination appointments set for this week after it received about half the vaccine supply expected from the state, said Dr. Matt Anderson, senior medical director of primary care. The appointments have been rescheduled for the next couple of weeks, he said.
UW Health, which received about 1,170 first doses last week, expected to get about 5,000 this week but received only about 2,340, Anderson said. The organization has asked the state to send more, he said.