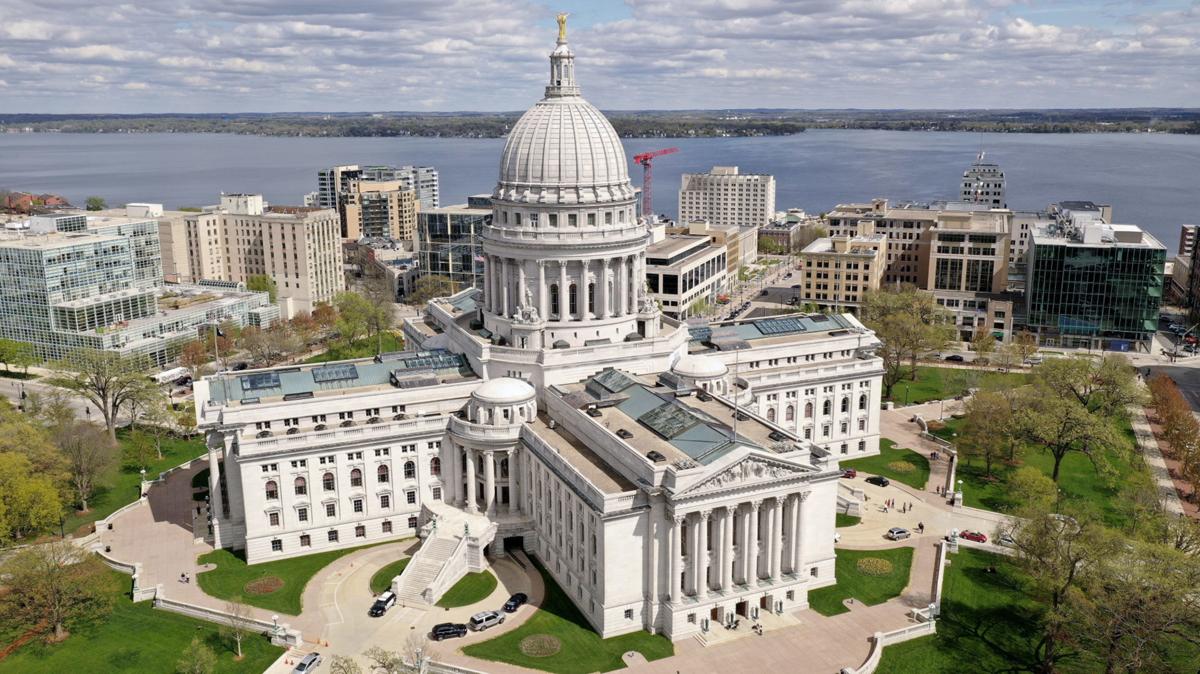 A bill to be voted on by the state Assembly Wednesday, among other abortion measures, would require doctors to exercise the same "skill, care and diligence to preserve the life and health" of babies born alive after abortions or attempted abortions as they would to "any other child born alive at the same gestational age."
Democratic Gov. Tony Evers has said he will veto the bill, whose lead sponsor is Assembly Majority Leader Jim Steineke, R-Kaukauna. President Donald Trump brought national attention to the bill late last month at a rally in Green Bay, saying doctors were "executing" babies who survive abortions, which doctors deny. The measure is similar to a federal bill blocked in the U.S. Senate in February.
Here are some questions and answers about so-called "born-alive abortions":
Q: Under what circumstances might abortions result in live babies?
A: Procedures typically used in elective abortions at clinics, such as injections to stop the heartbeat, suction or instruments and surgery, are generally not survivable, many doctors say. But fetuses might survive, or at least have a heartbeat initially, when labor is induced in hospitals for one of two reasons: the fetus has a lethal condition or the mother's life is at risk.
"These are devastating situations," said Dr. Kathy Hartke, legislative co-chair of the Wisconsin section of the American College of Obstetricians and Gynecologists. "They are women, families, who want their babies."
Dr. Donna Harrison, executive director of the American Association of Prolife Obstetricians and Gynecologists, said babies can survive some injections and surgical techniques used in elective abortions.
How often does this happen?
It appears to be quite rare. From 2003 to 2014, when at least 9.3 million abortions were done nationally, the Centers and Disease Control and Prevention found 143 "deaths involving induced terminations" but said that figure could be an underestimate.
Minnesota, one of a few states that require doctors to report abortions resulting in live babies, reported three cases in 2017 among more than 10,000 abortions. None survived.
Wisconsin doesn't require such reporting. Wisconsin Right to Life, which supports Steineke's bill, said it hasn't heard of any cases in Wisconsin since 1982, when two babies survived abortion attempts in Madison and later died, according to a Wisconsin State Journal report at the time.
The Wisconsin Catholic Conference noted that 52 of 5,640 abortions in the state in 2017 were conducted at more than 20 weeks gestation, according to the state Department of Health Services. "It is these children who are the ones who might survive an attempted abortion," Barbara Sella, the conference's associate director, said this month in testimony supporting the bill.
Didn't Wisconsin pass a law in 2015 banning non-emergency abortions after 20 weeks?
Yes. The law prohibits abortions, including induced labor because of deadly fetal anomalies, at more than 20 weeks after fertilization. That is the same as 22 weeks gestation, which starts from the date of the woman's last period, generally two weeks before she would ovulate, according to Dr. Steven Leuthner, a neonatologist and bioethicist at the Medical College of Wisconsin.
If the mother's life is at risk, abortions can be performed later. Such medical emergencies can include preeclampsia, heart failure and severe hemorrhage, Hartke said.
In that situation, Hartke and Leuthner said, doctors typically induce labor. If that is done at 22 weeks to 24 weeks gestation or so — the earliest a baby might be viable — doctors generally ask parents if they want to try resuscitation or do comfort care, such as wrapping and cuddling the baby. The same choices are offered when a baby is born prematurely at the same stage, Leuthner said. With babies born at later stages, resuscitation is typically done unless other factors suggest it isn't called for.
"You're not delivering to end the baby's life," Leuthner said. "You're delivering because you don't want mom to die, and then you're making a decision on what interventions you want to do for the baby or not, based on the baby's potential outcome."
Harrison said inducing labor or doing a Cesarean section to save the mother's life, while also trying to save the baby, are not considered abortion. The bill would apply to cases in which doctors use injections or surgical procedures to try to end the life of the fetus while trying to save the mother's life, she said.
What fetal diagnoses are considered lethal, and when do pregnant women learn about them?
Deadly fetal abnormalities include a lack of kidneys, certain conditions involving additional chromosomes and anencephaly, or having no brain, Hartke said. Fetuses with such conditions won't survive, regardless of when they're delivered, Leuthner said.
Some of the conditions can be picked up in blood tests or ultrasounds at about 10 to 15 weeks, but others aren't found until a detailed ultrasound is conducted at 19 or 20 weeks, Hartke said.
Before the 2015 law, some hospitals offered induced terminations after 22 weeks gestation for lethal anomalies if women didn't want to continue the pregnancies knowing the babies couldn't survive. Now, the procedures can be performed only before 20 weeks after fertilization. Women desiring later terminations must continue their pregnancies or seek terminations out of state, Hartke and Leuthner said.
When hospitals previously did induced terminations at later stages, comfort care was generally provided because resuscitation was futile, said Dr. Douglas Laube, who provides abortions at Planned Parenthood in Madison and is former chairman of obstetrics and gynecology at UW-Madison. He does abortions at up to 14 weeks at Planned Parenthood, while other providers do them up to 19 weeks.
"Oftentimes the anomalies are so profound, it's impossible to do the life-saving measures one would normally want to do," Laube said. "There's no anatomy there to deal with."
So when could a baby be born alive after an abortion in Wisconsin?
If labor is induced before 20 weeks, or 22 weeks gestation, because of a lethal fetal anomaly, the baby might have a heartbeat and the umbilical cord might be pulsing, but the life isn't considered viable, Hartke said. That is technically a live birth, but the life will typically last only minutes or hours, she said.
With induced terminations at later stages to save the mother's life, a baby might be born alive. Doctors say they offer the same options they do in any birth at the same stage: resuscitation or comfort care.
What would the bill change?
It's not clear. The bill would require doctors to take the same actions with babies born live after abortions as they do with other babies at the same stage, such as those born prematurely. Doctors say they already offer the same options for both kinds of babies.
"I don't think it would really have an impact," Laube said. "It seems to me this is a bill that is a solution in search of a problem."
Harrison said the bill would require doctors to give babies born alive after abortions "stabilization of treatment." It would require resuscitation if the baby is advanced enough — typically 26 weeks or 27 weeks or later — that there's no question resuscitation should be attempted, even if the "mom wants that baby dead," she said.
Hartke said "resuscitation … doing CPR, possibly breaking ribs, bruising, intubating, putting IVs in, drawing labs on an infant who will not survive due to extreme prematurity or a lethal condition would be traumatizing, cruel and harmful."
Note: Hartke, Leuthner and Laube oppose Steineke's bill. Harrison supports it. The Wisconsin State Journal asked Steineke's office and Wisconsin Right to Life for names of Wisconsin doctors who support the bill. The one doctor whose name they provided was not available for an interview.
[Editor's note: This story has been updated to clarify Dr. Donna Harrison's position on induced labor to save a mother's life, while also trying to save the baby. Harrison said she does not consider that to be abortion.]