Opioid overdose deaths dropped in Wisconsin last year for the first time since 2015, with 838 opioid-related deaths in 2018, down 10% from the previous year, state health officials said Wednesday.
"The most recent data on Wisconsin's opioid epidemic is encouraging," Julie Willems Van Dijk, deputy secretary of the state Department of Health Services, said in a statement. "It shows that our collective ongoing efforts to support individuals and communities affected by this public health crisis are working to save lives, but we still have a lot of work to do to end this epidemic."
Before hitting a record 932 opioid deaths in 2017, the state had 850 opioid deaths in 2016 and 613 in 2015.
Of the 838 deaths in 2018, 327 involved heroin, 297 involved prescription opioids and 504 involved synthetic opioids such as fentanyl. The numbers add up to more than 838 because more than one type of opioid can contribute to a death.
Since the start of Wisconsin's opioid addiction epidemic 20 years ago, more than 8,500 residents have died from opioid overdoses.
State spending to address the problem, which mostly relies on federal funds, has gone from $5.1 million in 2016 to $24.7 million this year.
Among the state's new efforts: a Wisconsin Addiction Recovery Helpline, at 211 or (833) 944-4673; $1.3 million to 16 counties, including Dane, to support treatment for inmates leaving jail; and public health alerts issued to counties that see surges in opioid overdoses, similar to warnings for disease outbreaks.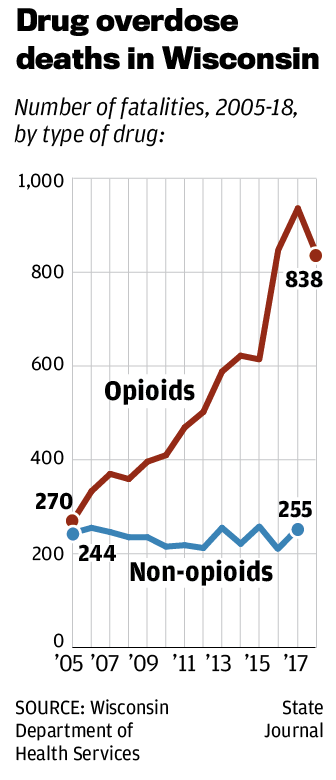 "We need time to get these different programs and services up and running, to get them to the level we intend them to be at," Paul Krupski, the health department's director of opioid initiatives, told the Wisconsin State Journal earlier this year. "The more we have, and the longer these programs are available, we know that's going to make an impact."
In addition, medical guidelines have discouraged doctors and other providers from prescribing opioids as much as before.
The state's Controlled Substances Board referred seven doctors, 16 dentists and four advance practice nurses for investigation by licensing boards after the state identified them as heavy opioid prescribers.
Still, more than 172,000 people continue to misuse opioids, and nearly a quarter of them aren't getting the treatment they need, according to state officials.
On Wednesday, the health department said an estimated 1 in 6 Wisconsin adults were prescribed and used an opioid in the past year. The top reasons for opioid prescriptions were for pain related to surgeries and back pain.
Hospital emergency room visits for opioid-related overdoses in Wisconsin increased from 2014 to 2018 by 64%. Inpatient stays for overdoses during the same period decreased by 15%.
"We are continuing to invest in prevention and harm-reduction programs, expand access to treatment, and support for individuals and families in their journey to long-term recovery through partnerships with tribal governments, other state agencies, county agencies, and community organizations," Krupski said Wednesday in a statement.
Be the first to know
Get local news delivered to your inbox!