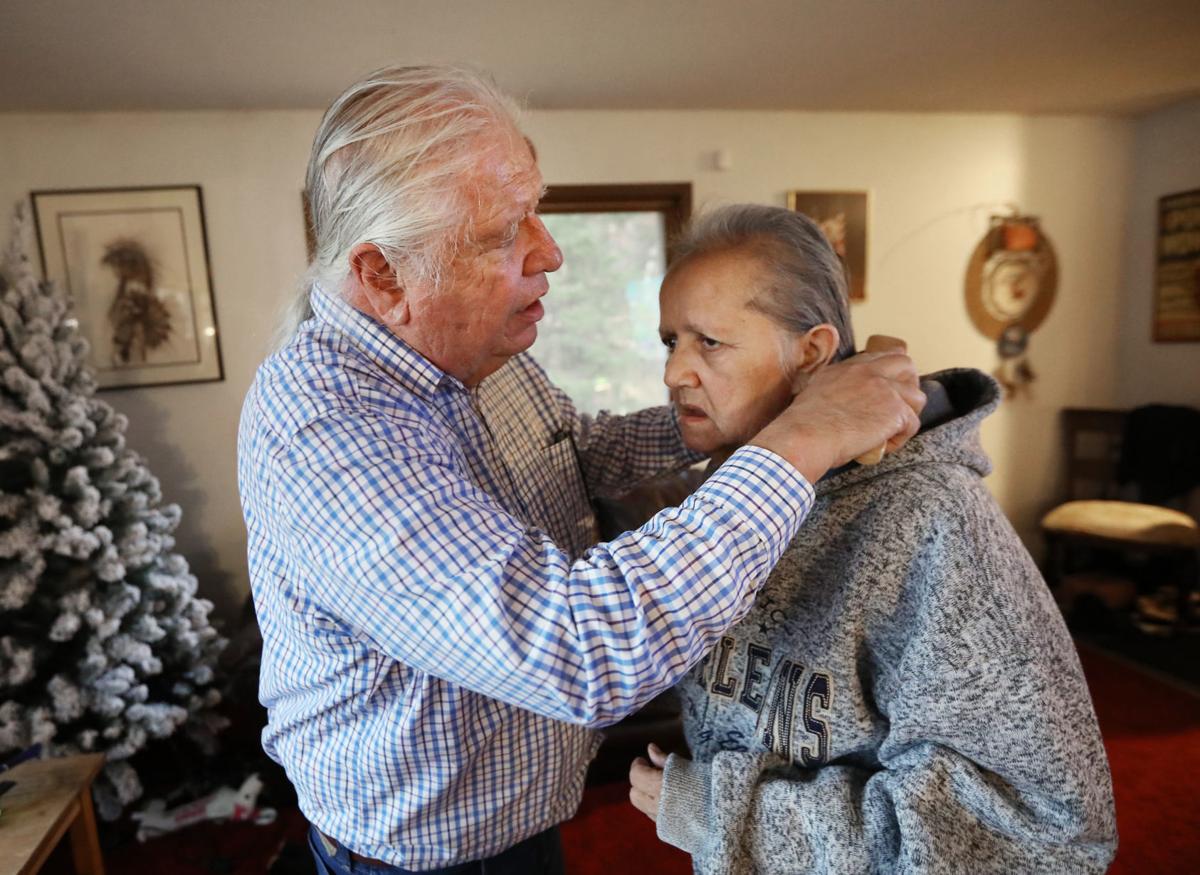 "What are we going to do now?" "Can I go with you?" "You're not going to leave me, are you?"
Bill Cadotte answers his wife's repetitive questions dozens, if not hundreds, of times every day. He knows it's her dementia speaking, not the charming woman he met more than 50 years ago. The outgoing woman who helped him raise their three children on the Lac Courtes Oreilles reservation near Hayward, where the couple continues to live today.
Still, "it really wears on you ... you get stressed out majorly," said Cadotte, 73. "It's constant."
With no adult day care center in his county, he tried to hire caregivers to watch over his wife, Jacqui, 72, at their home. The workers aggravated her too much or quit, he said.
He eventually hired his niece to look after Jacqui on weekdays, while he works as the tribe's purchasing manager. On evenings, nights and weekends, he's her unpaid caregiver.
"We live in a rural community where a lot of services just aren't available," he said. "We do what we have to do."
Having dementia or caring for someone with it is a challenge anywhere. But it can be more of a struggle in rural areas, where services such as adult day care, home care, nursing homes, assisted-living facilities and state-supported dementia care specialists can be hard to come by.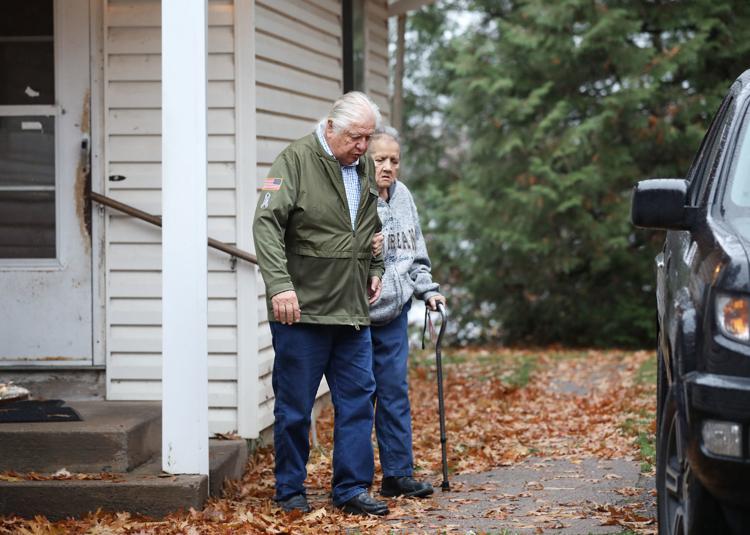 Northern Wisconsin's Vilas County — where almost 31% of residents are 65 or older, almost twice the state average and second highest after neighboring Iron County — had a record of 170 elder neglect or abuse reports last year. About 90% were related to dementia, said county social worker Donna Rosner. Some involved older adults found sitting in their feces.
"People are living alone, maybe with pretty significant dementia, and not getting adequate supervision," Rosner said.
The county — which borders Michigan's Upper Peninsula, with Eagle River as the county seat — has no nursing home, said Sue Richmond, director of the county's Aging and Disability Resource Center, or ADRC. Only two of its six assisted-living facilities are equipped to handle people with advanced dementia, Richmond said.
County workers hand out a list of home care providers to people seeking such care, but it's often not much help. "Most of the agencies don't even return phone calls because they don't have staff to provide the service," Richmond said.
Loving Touch Home Care in Rhinelander, which serves Vilas and other northern counties, is on the list. It has only 20 caregivers, down from 40 two years ago, said general manager Paul McKenzie.
"Because of the economy, a lot of the people who do this kind of work are leaving at a younger age," McKenzie said. "They're moving to bigger, financially stronger communities."
Fishing for solutions
For low-income people with dementia on Medicaid, there's a waiting list for services while Vilas County transitions to the state's Family Care program, said county ADRC specialist Lisa Kraus. Even once people are enrolled, they may not get proper help because paid caregivers are scarce, Kraus said.
"The only alternative is to move to a more urban area where more services are available," she said.
Sara Muhlbauer, CEO of Lakeland Care, one of the managed care companies that oversees Family Care in northern Wisconsin, said it's difficult for providers to have staff located near where all members live. Travel time isn't billable, she said.
But the state lets clients with dementia designate family members or neighbors as caregivers who can be paid, Muhlbauer said. The underused option could appeal to healthy seniors who want to earn some money, she said.
Since 2012, dementia care specialists have been helping people connect to services in parts of the state. Two dozen of the workers are now available in 34 counties and through three tribes. The state budget this year added eight additional positions in counties and one more for a tribe.
In Washburn County, west of Hayward, dementia care specialist Trisha Witham started a "Reelin' in New Memories" program, in which volunteers go fishing with people who have dementia. The group gathers to eat fish together and tell fishing stories.
"At a lot of the homes I was at, I noticed there was a mounted fish on the wall," said Witham, who also works in Barron and Rusk counties.
Vilas County, which doesn't have a dementia care specialist, joined neighboring Oneida County this year in applying for one, Richmond said. Awards are expected next month.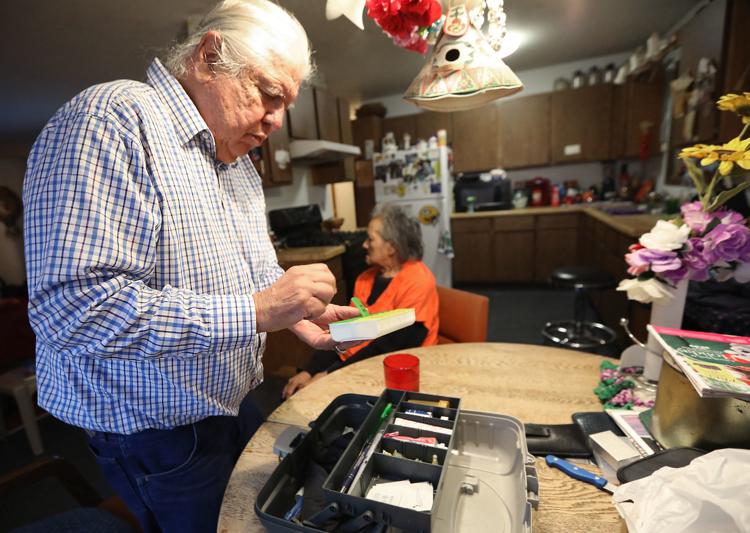 Having more dementia care specialists would help, but the challenges facing northern Wisconsin when it comes to dementia and caregiving are broad and intractable, said state Rep. Beth Meyers, D-Bayfield, who serves on the Assembly's Committee on Aging and Long-Term Care. Solutions involve increasing wages, improving schools and expanding broadband access to retain and attract families, Meyers said.
"We need younger people to either stay in northern Wisconsin or want to live here," she said.
Care far from home
Dementia made Sue Cagle so paranoid early last year that she tried to run away from her husband of nearly 60 years at their home in the Vilas County town of Boulder Junction, said their daughter, Cindy Dunbar.
Cagle, now 78, ended up in the behavioral health unit at Ascension St. Mary's Hospital in Rhinelander. She acted up there, too, believing workers were trying to kill her, Dunbar said.
A judge ordered Cagle to go to Willow Creek Mental Health, a psychiatric hospital in Green Bay, three hours from Boulder Junction. After nearly two months there, staff said she could no longer stay.
Dunbar called 18 facilities in Wisconsin and the Upper Peninsula, taking suggestions from Rosner, the county social worker. None would accept Cagle. They didn't have openings or weren't equipped to handle her severe dementia, Dunbar said.
"You're trying to work with the system, but the system isn't there," she said.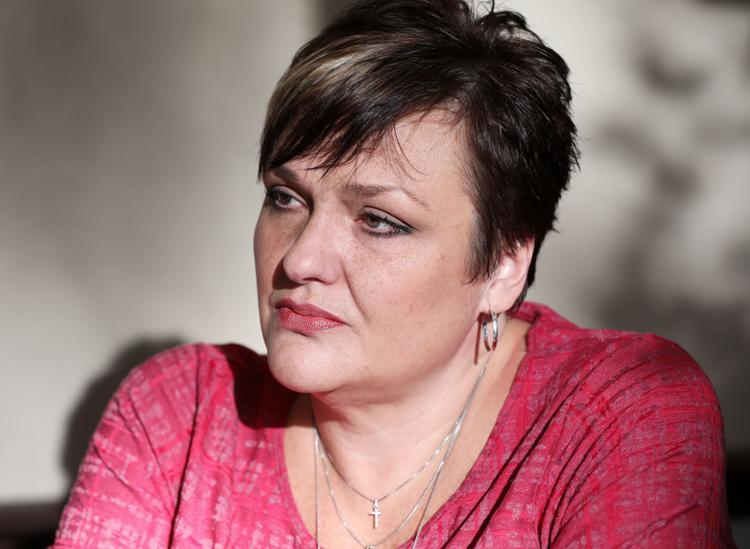 She eventually found an assisted-living facility in Stevens Point, called Sylvan Crossings, that took her mom. But despite the staff's best efforts, Cagle became paranoid again, Dunbar said.
Finally, a year ago, Cagle was sent to Clark County Rehabilitation Center in Owen, between Eau Claire and Wausau. After a doctor changed her medications, she calmed down. "It was like somebody flipped a switch," Dunbar said.
But Don Cagle, 79, grew weary of being far from his wife. He drove two or three times a week to see her, traveling more than four hours round-trip. The couple, together since before they were homecoming king and queen at Lakeland High School in Minocqua, had never been apart for more than a few days, Dunbar said.
In July, Don Cagle had a heart attack, which doctors attributed to stress. That led to a quadruple bypass surgery, during which he had a serious allergic reaction to a drug, resulting in kidney failure. Later, he fell and sustained a concussion. He is now doing rehab in Owen, near his wife.
Dunbar, 50, who lives in Arbor Vitae, near Boulder Junction, visits her mom when she can. But she works full-time and has three stepchildren. She knows it would help her mom to see her more often, but the distance makes it difficult.
"She can only have that in little moments because she's so far away," Dunbar said.
Want to stay at home
Doreen Conner, of Prentice, about 70 miles northwest of Wausau, has an irregular heartbeat. Last month, she fell in her garage and hit her forehead, requiring 14 stitches.
But the 84-year-old is determined to care for her husband of 67 years — Lyle Conner, 88, who has Alzheimer's disease — at home.
"He will not go to a nursing home or any place else unless I can't take care of him anymore," she said.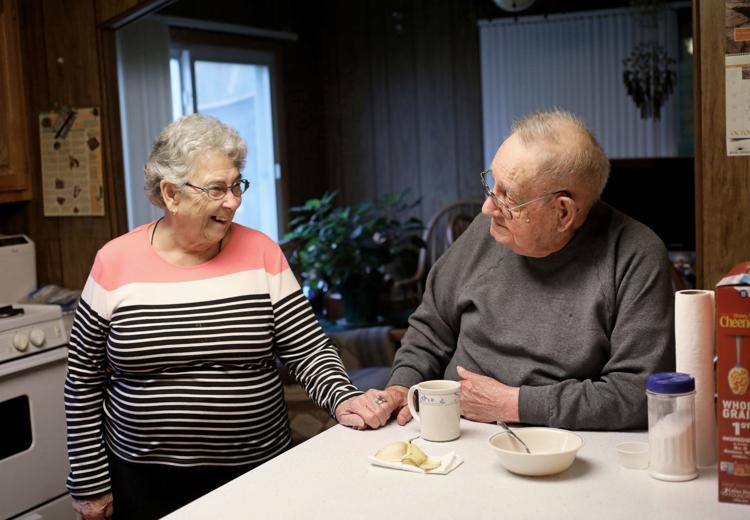 Lyle grew up in Prentice. Doreen was living in Park Falls as a teenager when a friend of hers, and the friend's boyfriend, joined her to go rabbit hunting. They brought Lyle along.
When Lyle was 21 and Doreen was 17, they got married. They have six children, four of whom live nearby, but only one stops by regularly to help because the others think their father should be in a nursing home, Doreen said.
Lyle worked in a hydraulics factory and drove a school bus. Some years after he retired, he was driving back from a funeral near Fond du Lac with Doreen when they ended up in Oshkosh. He started asking questions over and over again. He forgot to pay the bills.
He was diagnosed with Alzheimer's disease eight years ago. Doreen, a former nurse's aide, initially took care of him by herself.
Two years ago, a worker started coming two mornings a week to give Lyle a bath. Now, another person cleans the house once a week. The services are covered by Family Care.
Doreen hopes to start bringing Lyle to a new adult day care center in Phillips, about 20 minutes away, which was approved for Family Care last week. The closest such center has been in Park Falls, which is twice as far away.
Taking Lyle to day care would allow Doreen to go grocery shopping without having to bring him along, which is difficult. Maybe she could even meet a friend for coffee once in a while.
"I don't do that anymore," she said. "That would be kind of nice."
Caregiving toll
Bill Cadotte patiently answers his wife's incessant questions. "We're going to sit here and visit," he will say. "No, I'm not going to leave you."
But the same questions come again. "What are we going to do now?" Jacqui will say. "You're not going to leave me, are you?"
Sometimes Bill escapes to the bathroom and shuts the door. "You just have to have a time out," he said.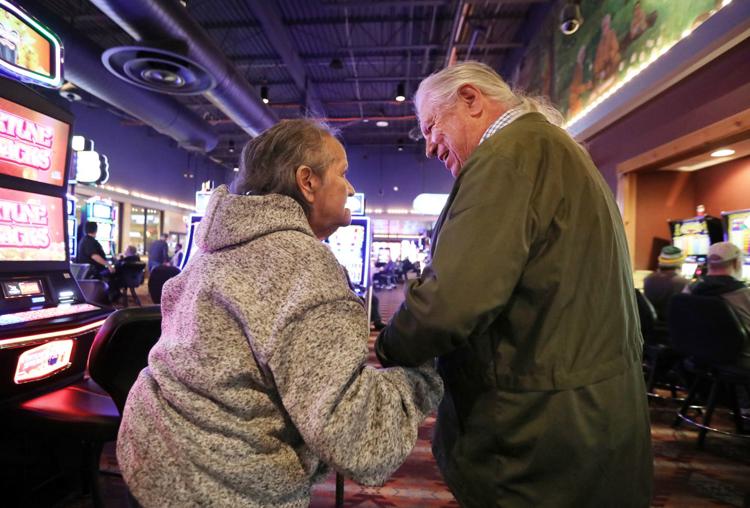 He rarely sleeps through the night because she wakes up and needs her diaper changed. One night, she held up her cane and yelled, "What's this?" Sometimes, she asks who he is.
Randy Cadotte, their son, stayed with his mom last month while his sister joined their dad in Las Vegas, to give him a break.
It was like caring for a toddler, said Randy Cadotte, who has four children, ages 5 to 17. "I'm highly concerned for my dad's health," he said. "I don't want to see him spiral downwards because of the stress he has on a daily basis."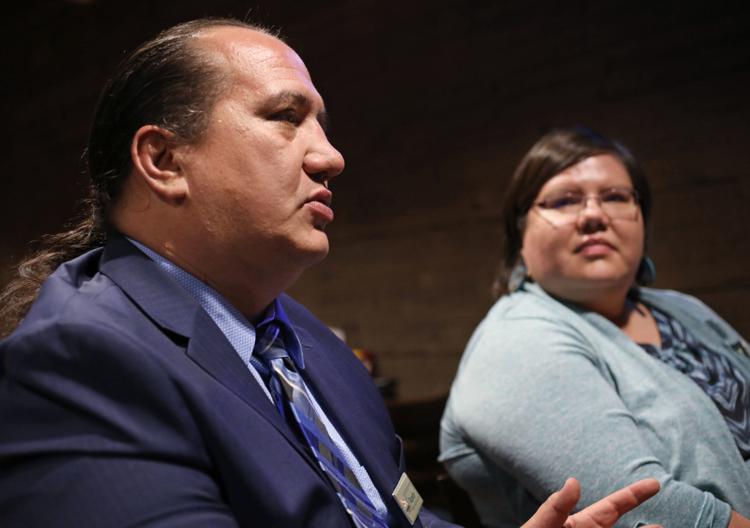 Randy, 43, executive manager of the Lac Courte Oreilles tribe's Sevenwinds Casino, is busy with his job and children. His sister, Wonaquance Cadotte, 38, has two boys, ages 11 and 12, and works for the tribe. Their brother, Reggie Cadotte, 41, a teacher, has five children, ages 2 to 12, and lives near Ashland, more than an hour away.
When Randy, Reggie and Wonaquance were growing up, Jacqui attended their sporting events and volunteered for school committees, Wonaquance said.
"She was always the rock of the family," she said.
Always alert
A few years ago, Jacqui started getting lost while driving. She would confuse her wireless phone for a cell phone. During a memory test in 2016, she wasn't able to fill in the numbers on a diagram of a clock. She was diagnosed with dementia.
The news came as Bill was planning to retire and travel with his wife. In their younger years, they attended pow wows and saw much of the United States. Now, they wanted to visit other countries.
"That dream was basically robbed from us," he said.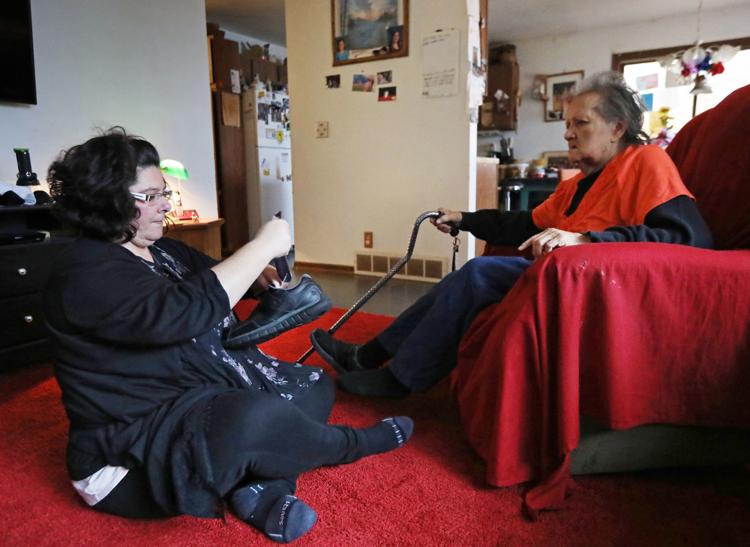 As Jacqui's dementia has progressed, Bill has become vigilant. If he doesn't watch when he doles out her medication, she will hide it. One time at lunch, he looked away, and she started to eat her napkin. She is unsteady on her feet, and he worries she will fall.
"You have to be alert all of the time," he said.
Bill is caught in a fragile situation common among caregivers. Jacqui is so reliant on him for intimate tasks, it's hard to imagine a stranger performing them.
"She's not going to let anybody else take her pants down or change her shirt," he said.
Their niece, Jennifer Cadotte, is a linchpin making it all work for now. But Bill wonders how long the arrangement can last.
"I don't want to take her out of our home unless it gets so bad I can't take care of her," he said. "That's her world."
Martin Schreiber with Sun Prairie mayor
Mary and Don praying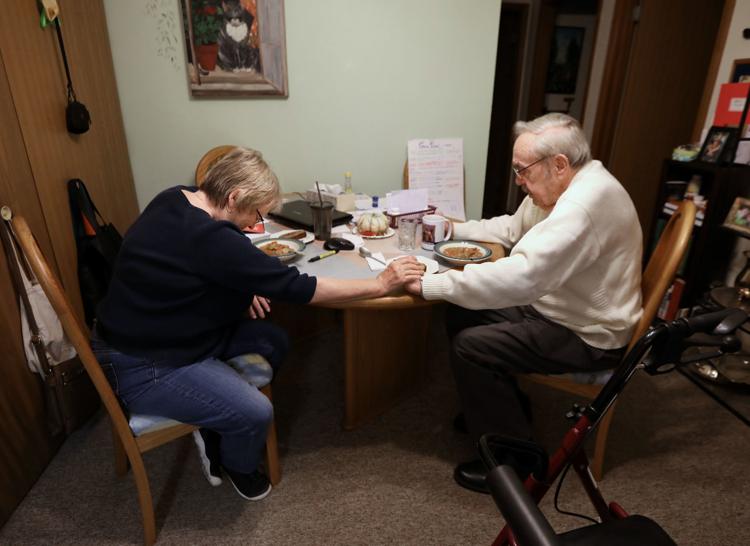 Mary and Don preparing to leave apartment
Mary loading Don's walker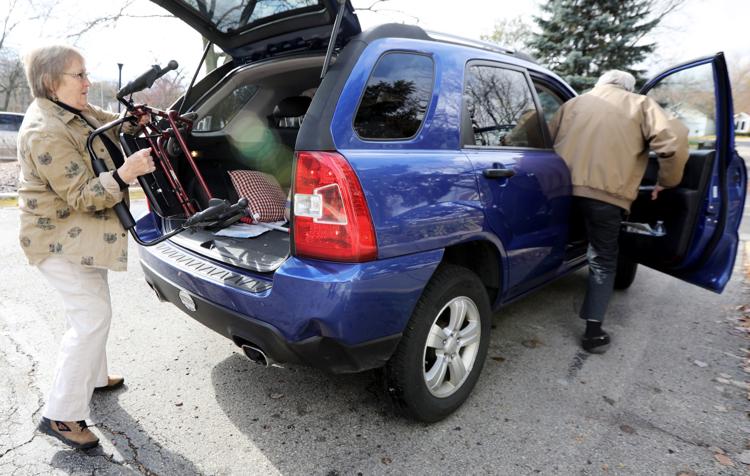 Mary and Don at pumpkin painting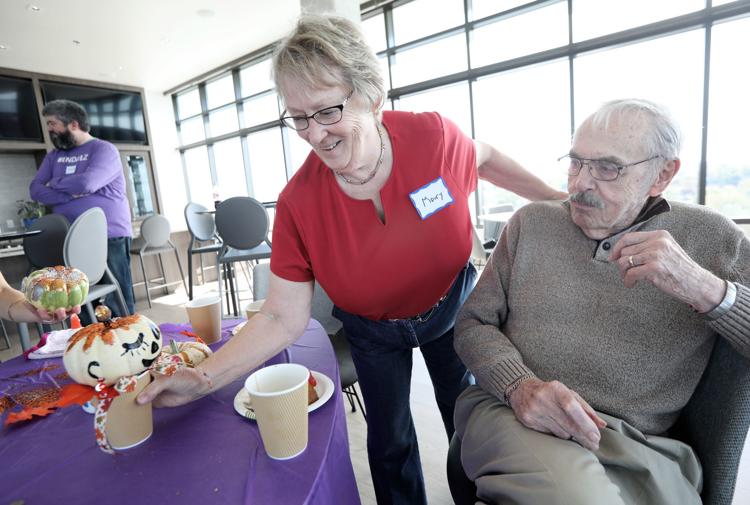 Don's "boys' club"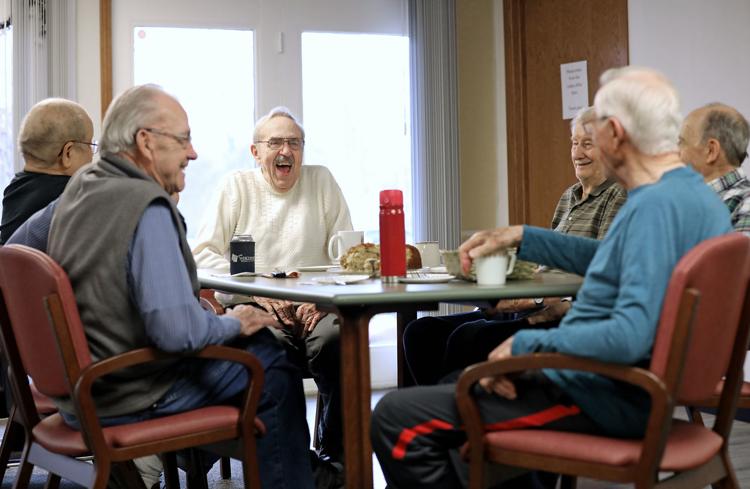 Photo album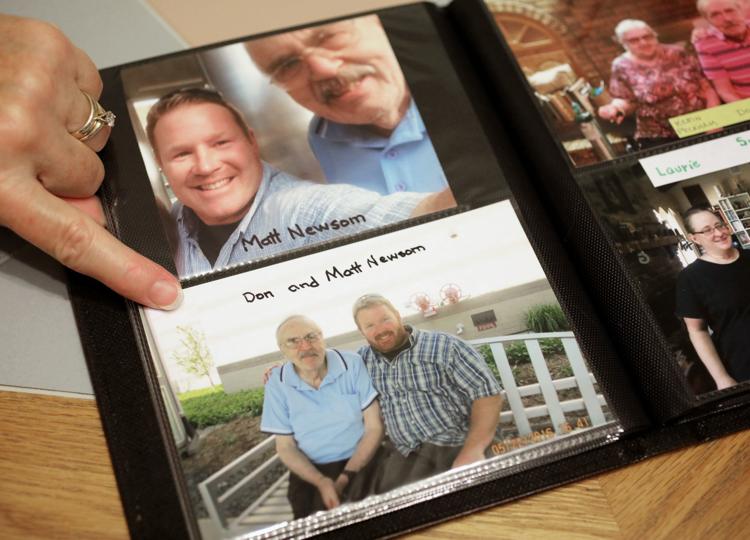 Peter and Cheryl Ziegler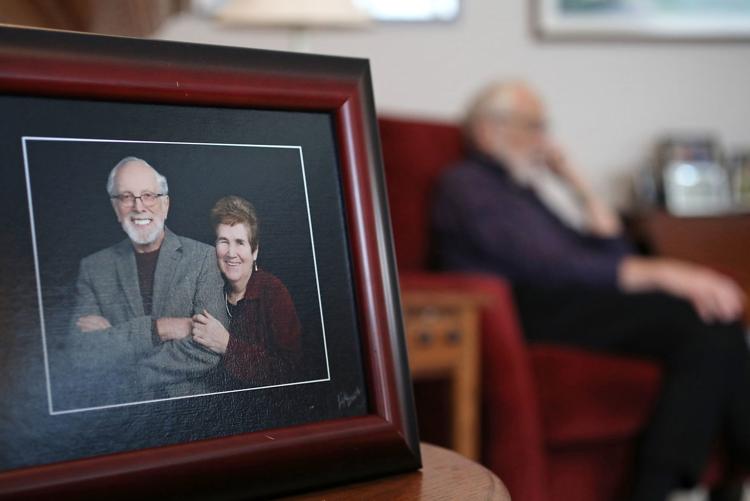 Peter Ziegler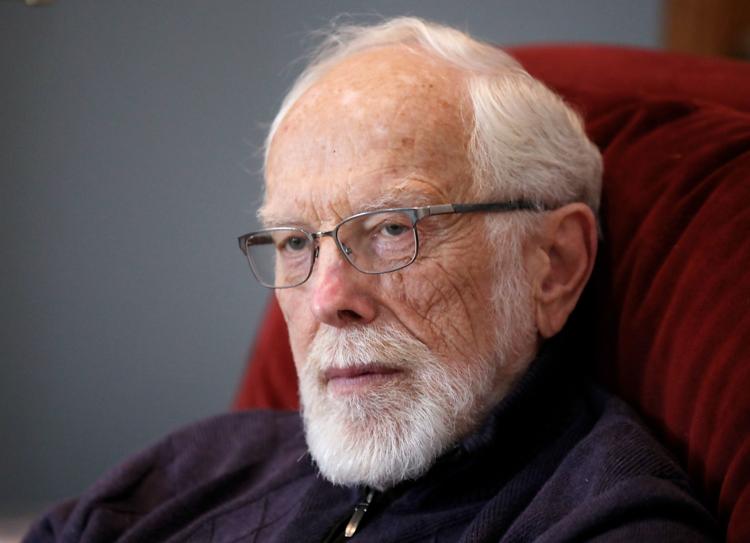 Bill brushing Jacqui's hair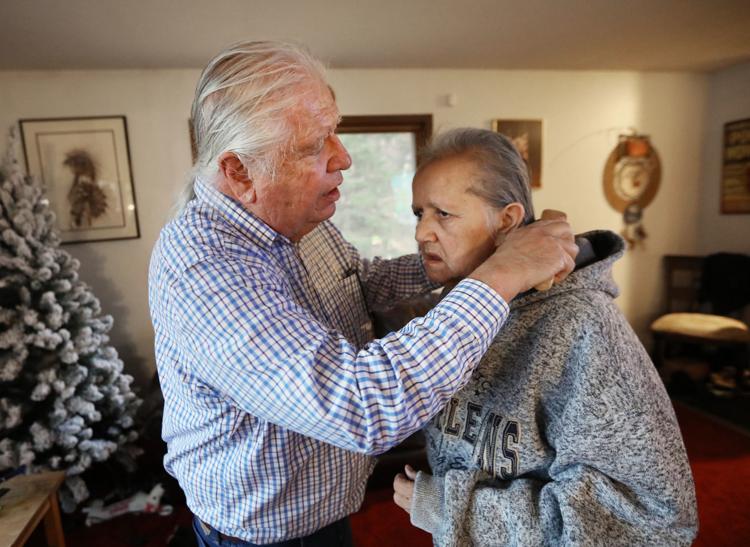 Bill sorting Jacqui's meds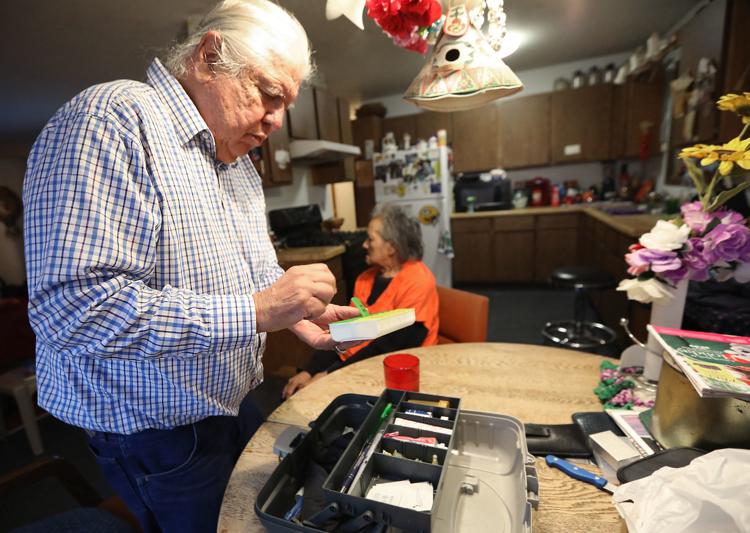 Cindy Dunbar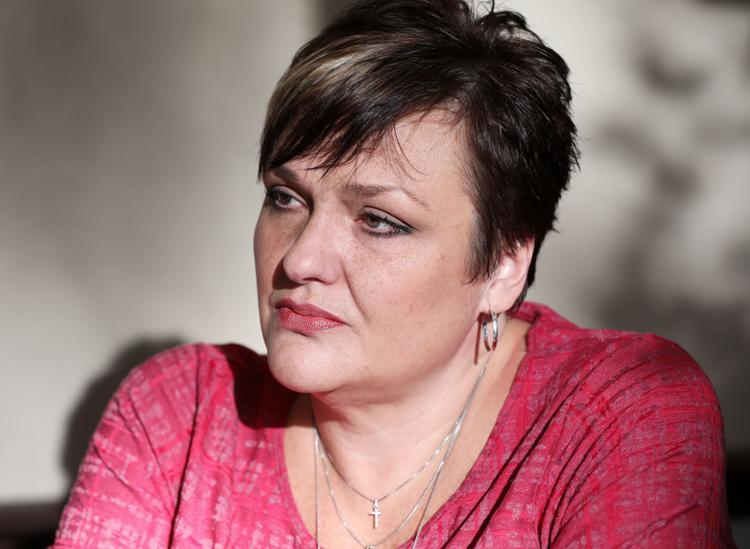 Bill and Jacqui outside of their home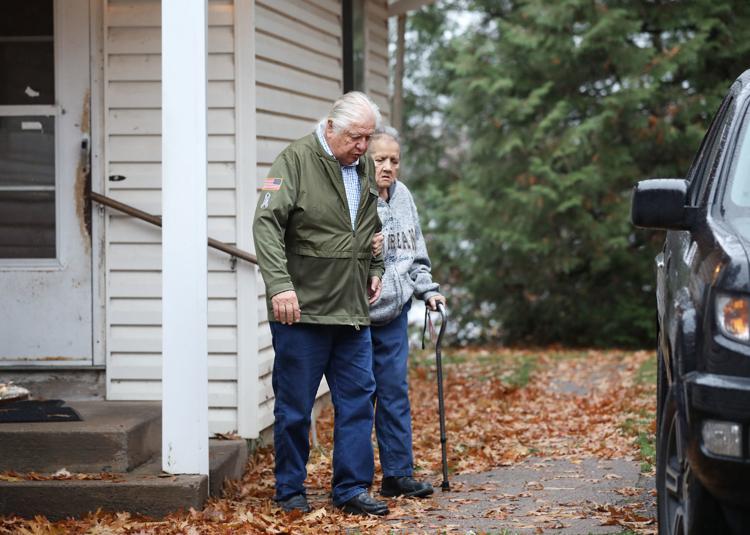 Jacqui and Bill at casino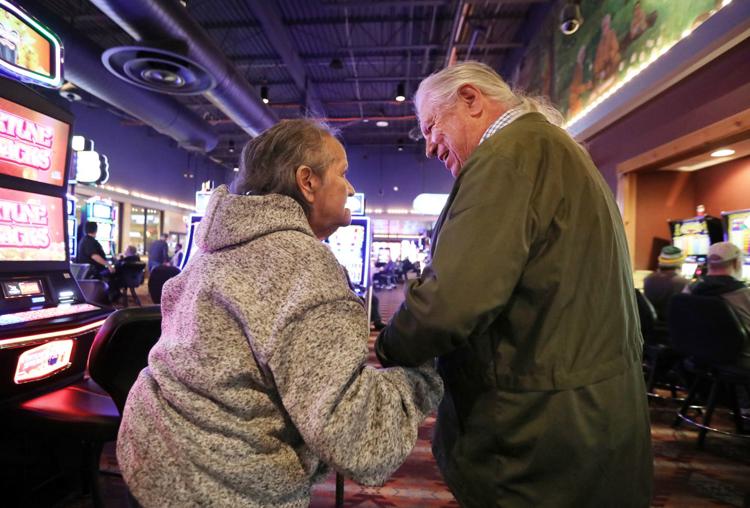 Randy and Wonaquance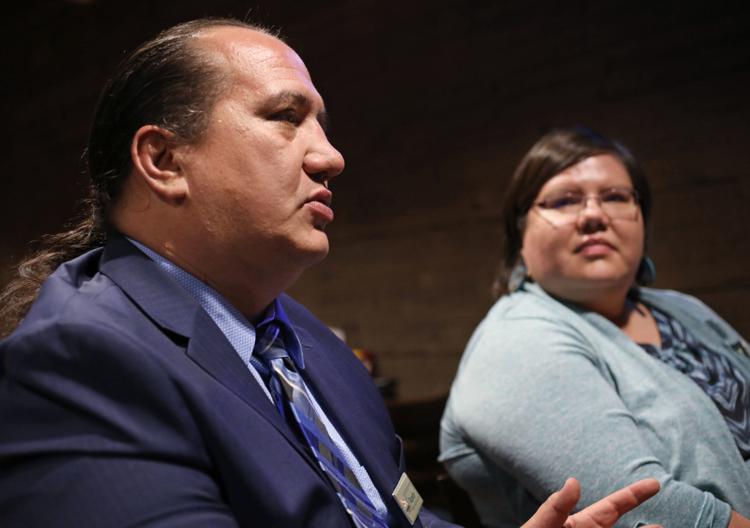 Jennifer and Jacqui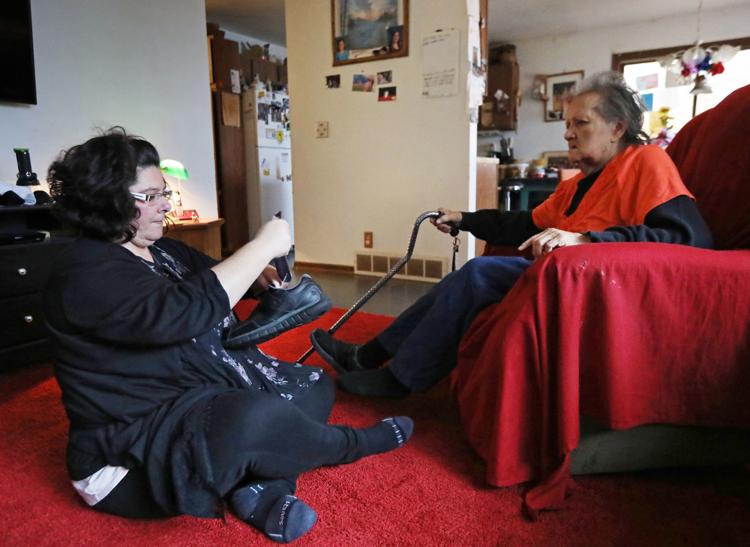 Tammy with Frances in Eagle River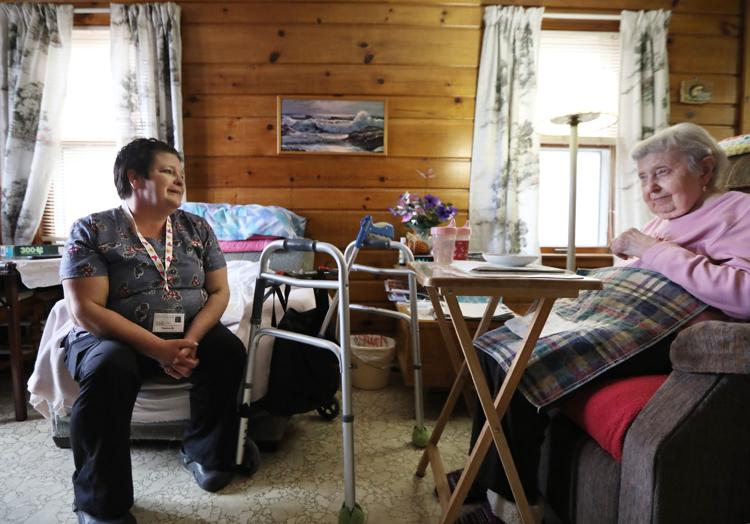 Frances doing exercises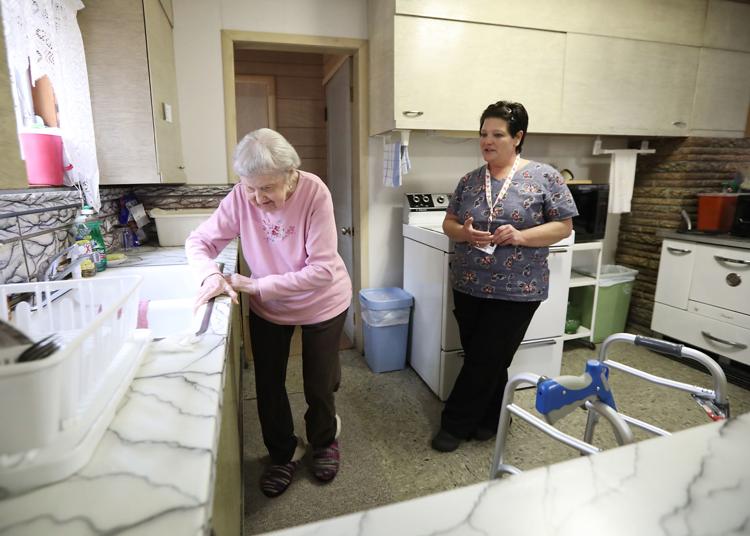 Doreen on phone with Lyle
Doreen and Lyle holding hands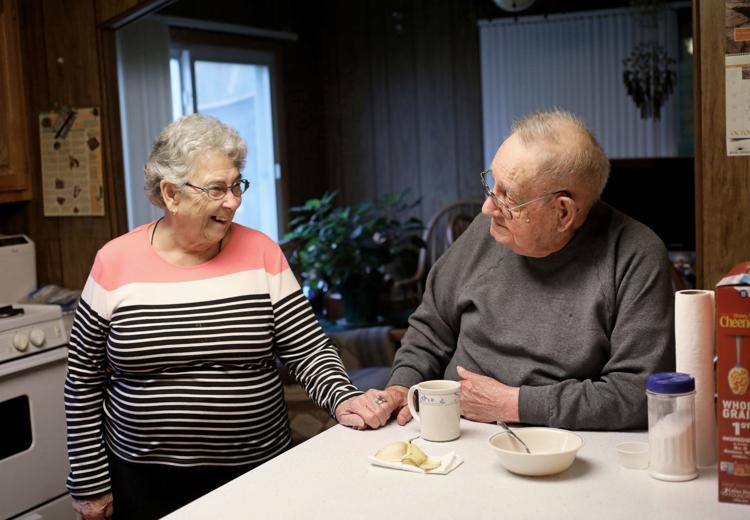 Friendship Village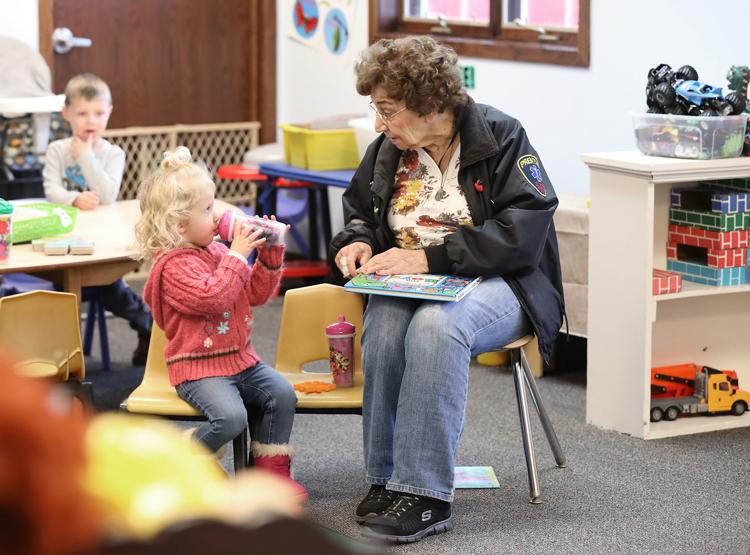 Lori Kiefer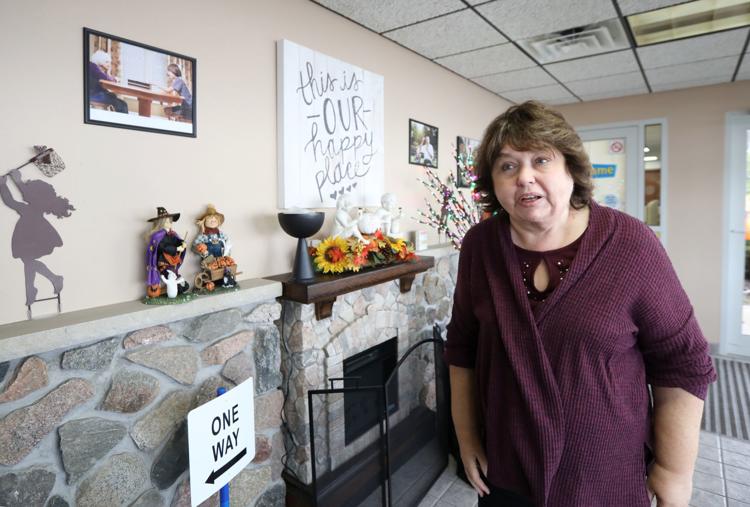 Cyclotron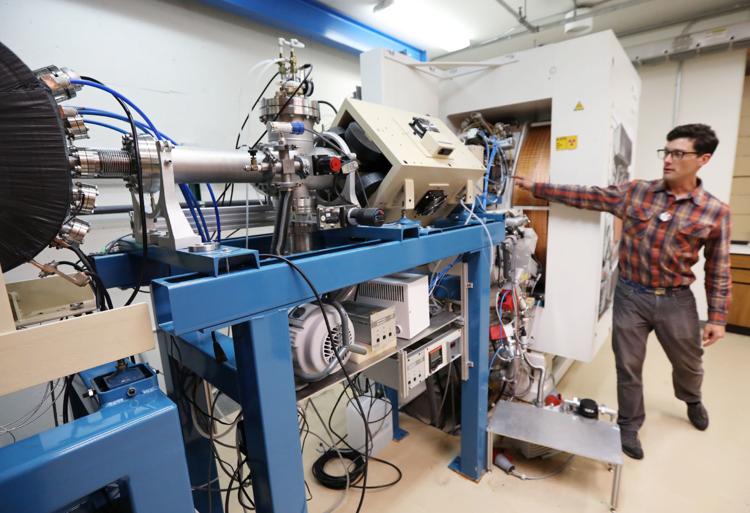 Sara Tirner doing yoga with others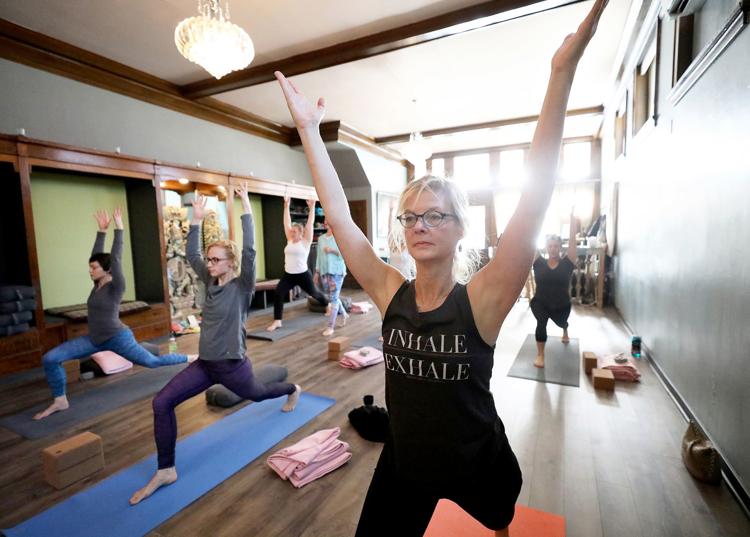 Tirner doing yoga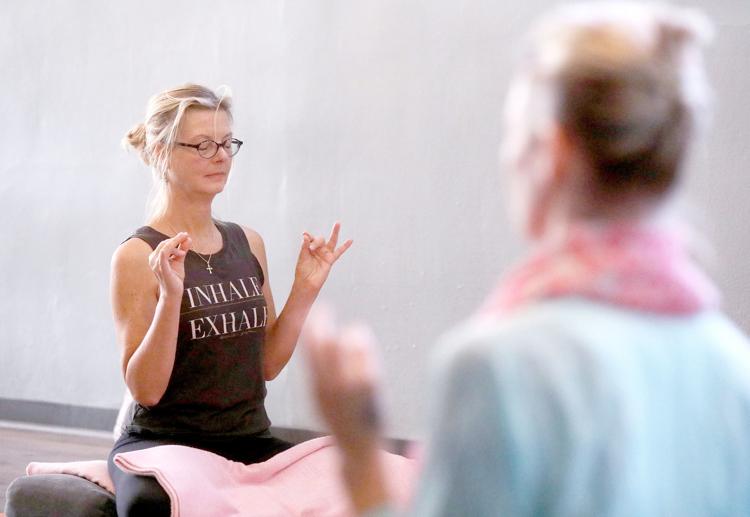 Karen and Barb before PET scan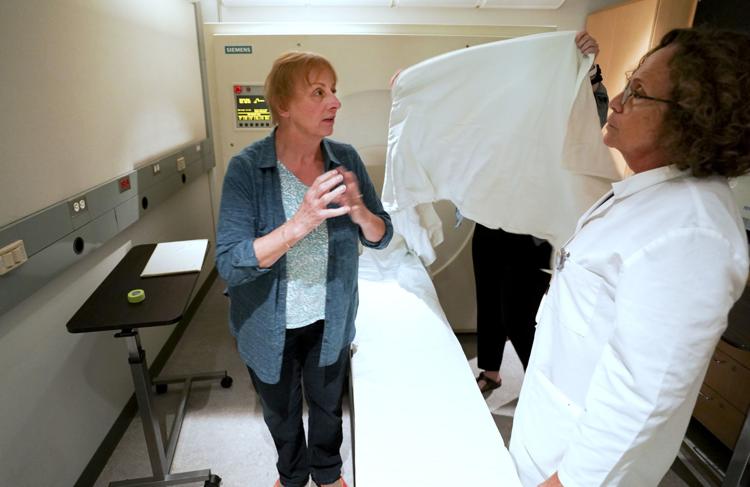 Karen getting PET scan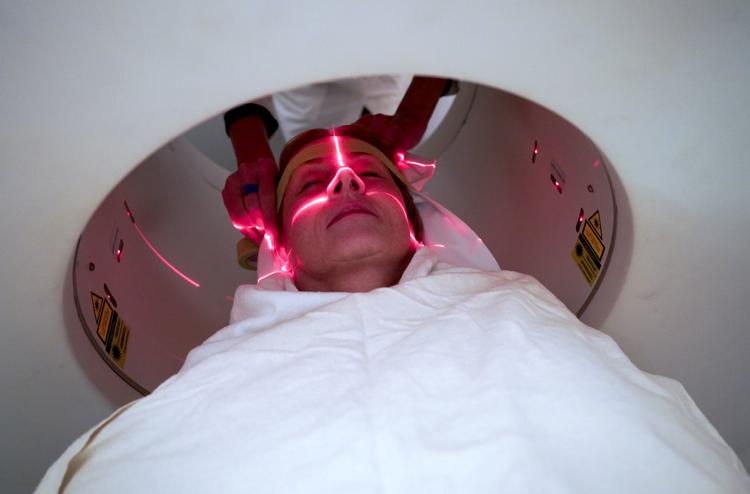 Be the first to know
Get local news delivered to your inbox!