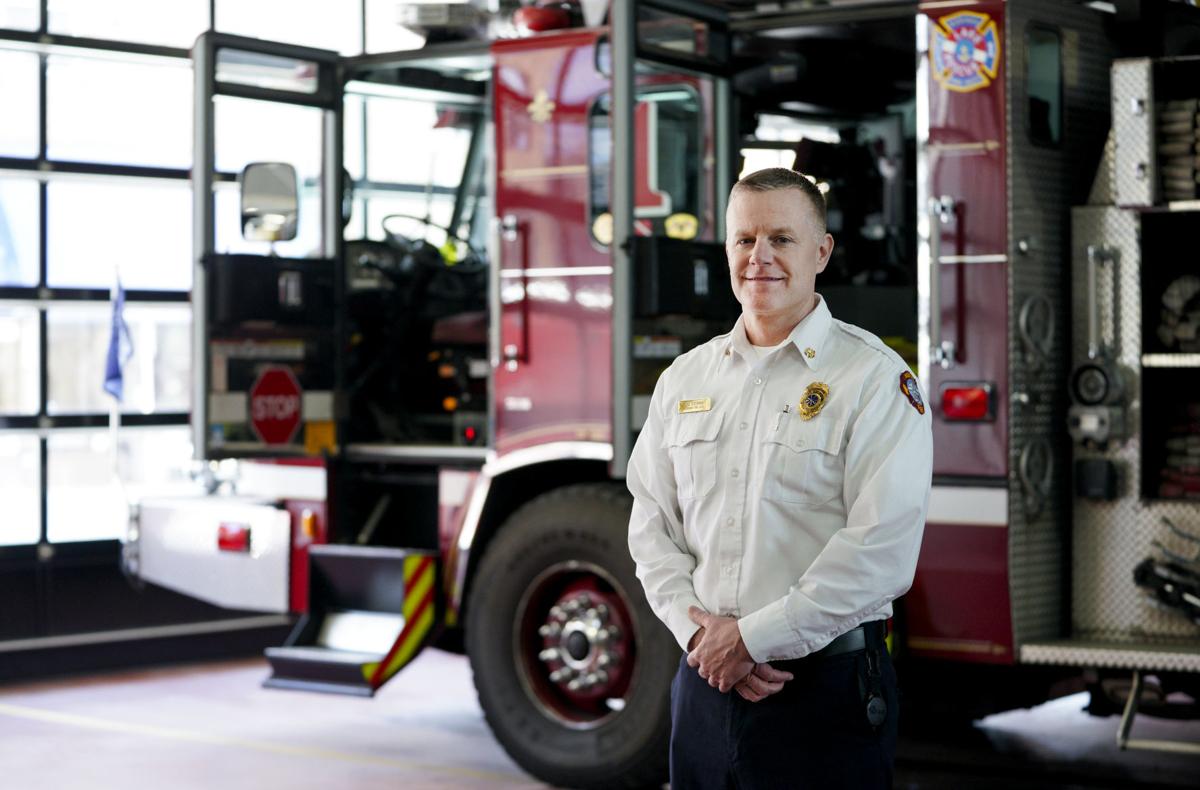 Editor's note: This is part of a continuing series on those whose jobs have been deemed "essential" during the coronavirus outbreak and for whom working "safer at home" is not an option. Suggestions for future profiles can be sent to wsjcity@madison.com.
---
Before the pandemic, Ché Stedman, spent an average work day ensuring the Madison Fire Department Medical Services had the equipment and medications necessary to stock the city's ambulances and sat in on a number of meetings a day to make sure the division was running smoothly.
Now, his day is anything but average as the novel coronavirus took precedent. Often, his focus as the department's assistant chief of medical affairs is obtaining personal protective equipment (PPE) necessary to maintain the health and safety of department employees as they respond to an increasing number of respiratory and medical calls.
"Eighty percent of my time now is dedicated to COVID-19, and the other things have taken a back seat," Stedman said, whether that's obtaining PPE for the division, heading efforts to take care of Dane County's homeless population amid the pandemic or communicating new information from the CDC to department employees.
At the beginning of March, Stedman was worried about access to PPE. Prior to COVID-19, the department had roughly 1,000 N95 masks sitting on a shelf in a storage room. Members of the Madison Fire Department Medical Services often joked about how they would never need the masks. But now they realize 1,000 was not enough.
The fire department has backup PPE, which Stedman called "more extreme," such as hazmat suits and screens that fit on firefighting masks to filter out microbes — held over from the Ebola scare years ago. But, the more extreme equipment takes more time to put on and can be more cumbersome during a job when every moment counts.
"We were never worried about being able to protect our health care workers, but we want to do it in an efficient way," Stedman said. And continuity in the type of PPE used among first responders and health care workers is necessary to maintain that efficiency.
Often, when the Madison Fire Department Emergency Medical crew drops a patient off at the hospital, they also drop off their used PPE and pick up new gloves and N95 face masks to lessen the possibility of COVID-19 transmission to new patients, Stedman said.
General call volume has dropped for Medical Services, which Stedman attributes to the "safer at home" order — fewer people are out and fewer car crashes or other normal emergencies are happening. But the number of medical and respiratory calls for flu-like symptoms has gone up.
"We're able to handle the push of more medical patients with COVID-like symptoms," he said. "We've transported more respiratory patients than we normally would this time of year," but the department is not overwhelmed.
"[Crews] aren't being completely worn out on their shifts, luckily, because we haven't had a surge here in Dane County," he said.
When the pandemic started, Madison Fire EMS crews weren't putting a mask on every patient. But now, everyone gets a mask.
"There's these little incremental changes that you have to make over time and you have to do them at the right time," he said. "You don't want to be reactive, and have a bunch of your people get sick because you didn't tell them to do the right thing at the right time."
Stedman attributes the manageable number of COVID-19 cases in the area to cooperation among city departments, as well as stay-at home orders, which took place early enough in the outbreak to make a difference.
"If you told me three weeks ago that we'd be where we are with as few sick people in Dane County, I wouldn't have believed you," he said.
Concerned about COVID-19?
Sign up now to get the most recent coronavirus headlines and other important local and national news sent to your email inbox daily.