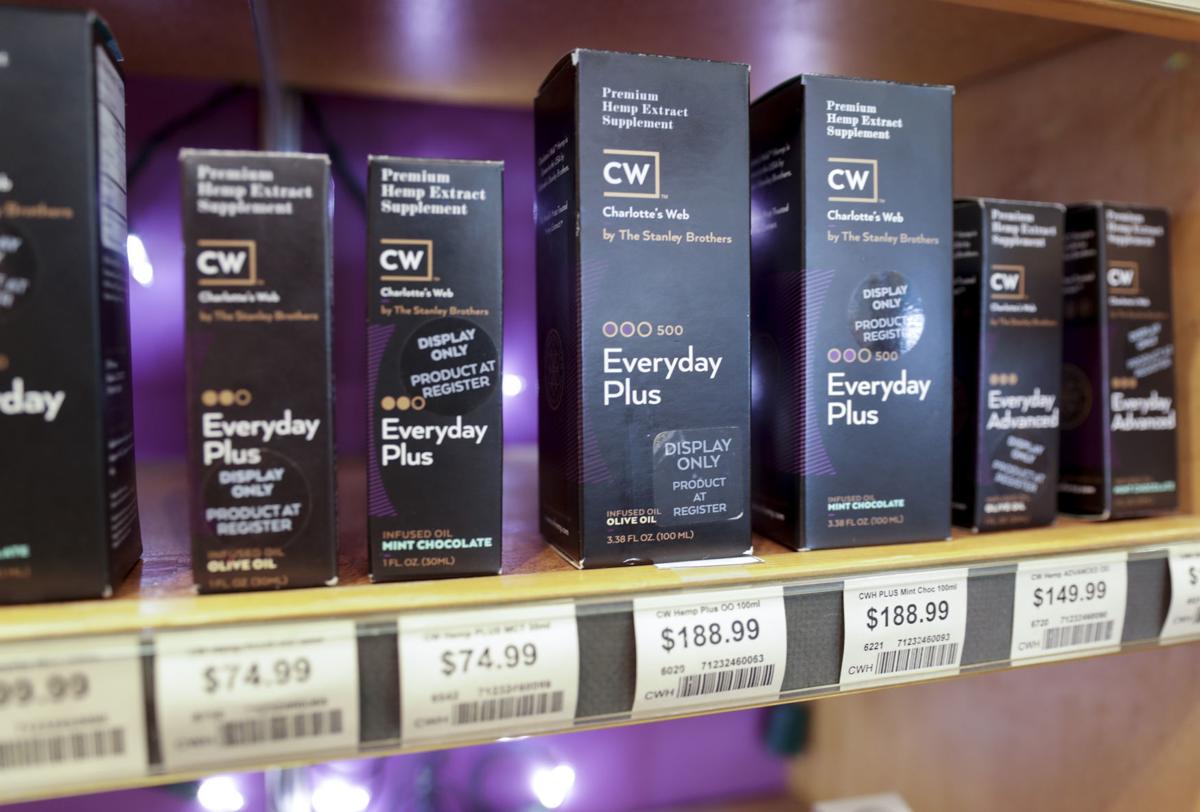 Kiosks selling CBD oil and other hemp products have opened at West Towne and East Towne malls, joining other Madison-area stores that sell the products, which continue to carry some legal ambiguity.
Highly Edibles 608, at West Towne, and 608 Hemp, at East Towne, which opened Saturday, are owned by Mike McGee, a former City Council member from Milwaukee. The kiosks sell CBD oil, water, vaporizers, gummy bears and other products containing cannibidiol, or CBD, an ingredient in hemp and marijuana that doesn't have psychoactive effects but is thought to have medicinal benefits.
"Madison is the perfect place for this," said McGee, who recently opened a store at Mayfair Mall in Wauwatosa and kiosks at Brookfield Square in Brookfield and Fox River Mall in Appleton. "The most health-conscious people live in Madison."
Gov. Scott Walker signed a bill in April 2017 allowing people to possess CBD oil for any medical condition with a doctor's written approval. In November, Walker approved a law allowing farmers to grow hemp for the first time in decades.
This May, however, Attorney General Brad Schimel said hemp farmers couldn't legally process CBD. Later the same month, he said farmers could produce CBD from hemp grown under state law.
But, Schimel said, "rogue producers and retailers will still be subject to prosecution." After the 2018 Farm Bill, which remains before Congress, is approved, "it is likely that our current laws will be changed even further to make industrial hemp's legality clear," he said.
McGee said he got a license to grow hemp and is harvesting his first crop in Milwaukee. The products he sells are made from hemp grown in Colorado and Wisconsin.
If Madison customers show enough interest, McGee might try to open permanent stores at the two malls, he said.
People with pain, stress, anxiety, arthritis and epilepsy have found relief through his products, he said. CBD generally hasn't undergone much scientific research except for studies showing some benefit for epilepsy.
"It's more testimonials, not a lot of clinical research," McGee said. "Some people it isn't helping, and some people it is."
He also sells pet treats containing CBD oil.
Willy Street Co-op has sold CBD and hemp capsules, liquids, lozenges, vape options and topical applications at its three stores for two years, said Abigail Schmick, a health and wellness buyer.
Most people use them for pain and anxiety. "It's definitely a big seller," Schmick said.
Apple Wellness, in Fitchburg and Sun Prairie, has sold CBD products since last year, owner Tim O'Brien said.
After Schimel's initial statement in May implying the products were illegal, "there were a few days where I was very close to pulling out the products," O'Brien said. After Schimel's follow-up statement, he said he felt reassured.
"I believe in this so strongly, it was worth risking it for the sake of the cause," he said.
Be the first to know
Get local news delivered to your inbox!