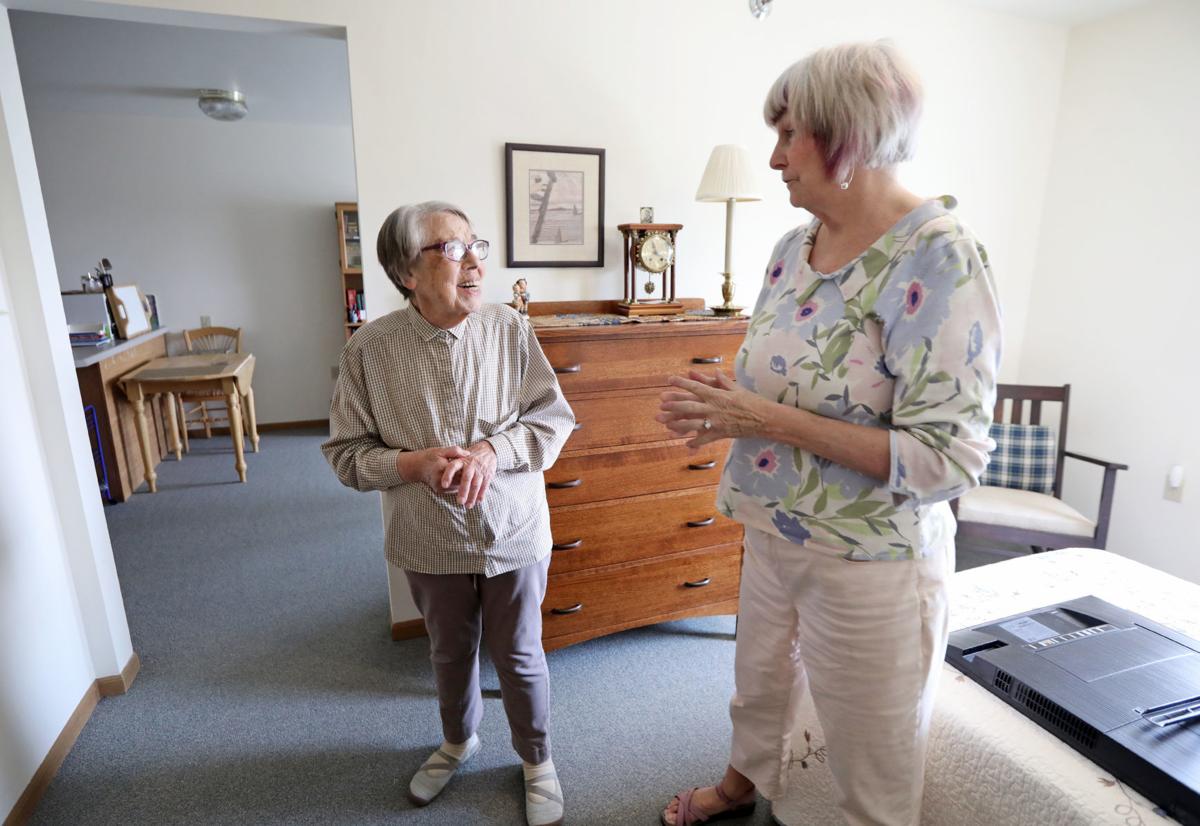 A Middleton assisted living facility evicted an 87-year-old resident last month because she went on Medicaid, even though the facility said it would keep her once she was in the program if she first paid out of pocket for six months, which she did, according to her caretaker.
Jenny Pols' involuntary discharge from Heritage Senior Living is part of what appears to be an increase in assisted living dismissals stemming from low Medicaid reimbursement rates, an elder law attorney said. Facilities verbally pledge to keep residents after they go on Medicaid, but rarely put those promises in writing.
"I've definitely seen this happen a lot more in the last few years," said Julie Short, an elder law attorney in Madison who is not involved in Pols' case. "They admit the person and then it turns out the facility has decided it doesn't want to take the Medicaid rate."
Pols, who received an involuntary discharge notice from Heritage June 25, moved last week to Willow Pointe, an assisted living facility in Verona. The move was disruptive, said Margo Redmond, Pols' caretaker, who said Heritage told Pols and Redmond in November that Pols could stay even after going on Medicaid if she first paid privately for six months.
Redmond called the facility's actions "fraudulent inducement."
"I should have walked, but I had already heard from many people in the aging field that these facilities never put anything like that in writing," she said.
The June 25 notice to Pols from Bobbi Stoltz, executive director of Heritage, said: "We are not required by law to continue residency for any individual once they convert to the Family Care Program and the lower monthly reimbursement rate. Therefore, we are issuing this 30-day Notice of Discharge."
Amanda Runnoe, Heritage's vice president of clinical and quality operations, told the Wisconsin State Journal in a statement that "there was discussion as to our commitment and efforts to retain current residents if and when they must transition to Medicaid reimbursement ... but it was made very clear that we do not and can never make such a guarantee or promise."
Runnoe said it would be "unfair to all parties" to make such a commitment "as no one can predict the level of care needed for a resident as time progresses, nor the related future reimbursement rates for such care and services."
Pols went on Family Care, a state Medicaid program, in early June, after depleting her savings by paying nearly $30,000 to Heritage from December to June, Redmond said.
Heritage on June 25 refunded about $6,000, apparently for Pols' advance payment for June, Redmond said.
Verbal agreements
The Wisconsin Board on Aging and Long Term Care said in 2016 it was experiencing an increase in calls about assisted living admission agreements and unexpected notices to leave.
Problems often arise after changes in a resident's status — such as changes in mental ability or medical needs — the agency said in an advisory at the time.
"When giving tours to potential residents or their families, assisted living owners or managers often give verbal assurances that the setting 'will work with the family' should these occasions arise, but this willingness can change depending on the situation as well as on the staff managing the home at the time," the agency said.
"Such verbal agreements often do not detail the resident's or tenant's financial liability, or other conditions that could make it necessary for the resident or tenant to leave the assisted living community," the agency said. "There may be little that can be done to try to enforce a verbal agreement, should conditions change."
Kim Marheine, the agency's ombudsman services manager, said last week that such complaints have lessened since 2016, perhaps because consumers are paying more attention to written agreements.
"In the vast majority of complaints on this topic, the consumer either didn't read what they were obligating themselves to or didn't get in writing what they thought they were promised verbally," Marheine said.
Most assisted living facilities in Wisconsin accept some residents on Medicaid, but facilities sometimes limit the number of such residents to remain financially viable, said John Sauer, president and CEO of LeadingAge Wisconsin, which represents assisted living facilities and nursing homes. Heritage is not a member of the association.
Facilities typically say residents should have enough money to pay privately for at least two years, Sauer said.
When managed care companies that administer Family Care offer assisted living facilities rates that are too low, the facilities' only recourse is to discharge the residents, Sauer said. Written commitments to keep residents once they go on Medicaid would allow the managed care companies to continually lower rates, he said.
An increase in Medicaid funding for long-term care in the two-year budget approved by the Republican-controlled Legislature last month and signed by Democratic Gov. Tony Evers last week could improve the situation, Sauer said.
"It will lessen the pressure providers have in meeting their expenses under Family Care," he said.
Appeals sometimes successful
Pols, born in the Netherlands, worked in the United States as a nurses' aide at a nursing home run by Redmond's mother and became a family friend.
Pols was living in a Madison apartment two years ago when she was hospitalized for a urinary infection that left her frail and with temporary dementia, Redmond said.
She moved to an independent living facility before transferring late last year to Heritage.
Heritage's executive director at the time said Pols could stay once on Medicaid if she first paid privately for six months, Redmond said. When Redmond asked him to put that in writing, he said he couldn't but shook hands in agreement, she said.
He was replaced in April by Stoltz, who in May said Pols could not stay once she was on Medicaid, Redmond said.
Pols said moving was difficult.
"You have a place and people you know around you, and then you have to leave," she said.
Short, the attorney, said even when facilities ask residents to pay for two years before they'll keep them on Medicaid, they sometimes ask residents to leave once they get on Medicaid.
"If they don't like the rate, they will start the involuntary discharge," Short said.
Appeals of the discharges are sometimes successful, she said. Another strategy, she said, is to wait: Before discharging a resident, a facility must make sure the resident has another place to go. If it's hard to find another facility that will accept Medicaid, the first facility might take Medicaid payments instead of not getting paid at all.
With assisted living becoming more widely used, consumers need to fight for their rights, Redmond said.
"If enough of us say we're walking unless we have something in writing, this will stop," she said.