When Mary Gooze learned her breast cancer had spread to her bones four years ago, she took to the water to raise awareness of metastatic breast cancer and funding for research to cure it.
Through a campaign called One Woman Many Lakes, the 67-year-old retired teacher from the village of Oregon has swum more than 50 miles in 38 lakes, rivers, bays and oceans, including some in other countries. She has raised nearly $700,000, including about $430,000 for the UW Carbone Cancer Center in Madison.
This spring, when Gooze learned her cancer had progressed to her spine, she responded with characteristic courage. She decided to swim in the Wisconsin Triterium Triathlon in Verona this coming Saturday, despite finishing fatigue-inducing radiation treatments just last week.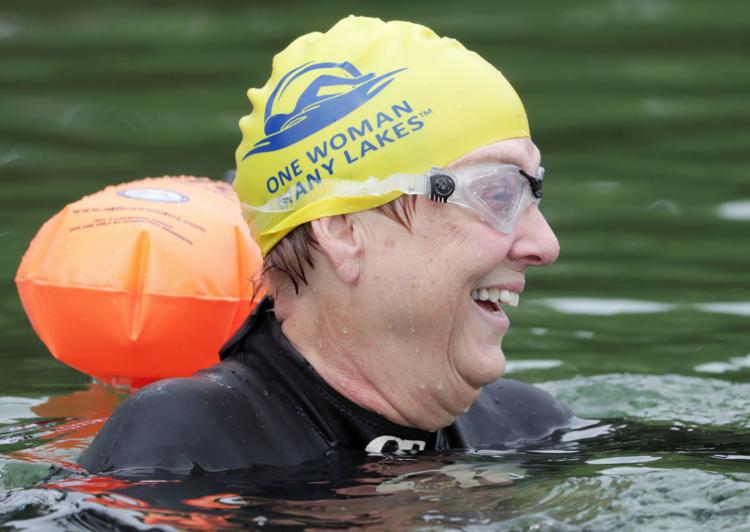 Joining her on a team will be metastatic breast cancer patient Erin Jacobson, 39, who lives near Spring Green and will bike, and their SSM Health oncologist, Dr. Yamil Arbaje, who will run. They're calling their team "Two 'Breast Friends' and the Tumornator."
"I'm sure I'll be a little slower than usual," said Gooze, who did triathlons before her initial breast cancer diagnosis in 2012.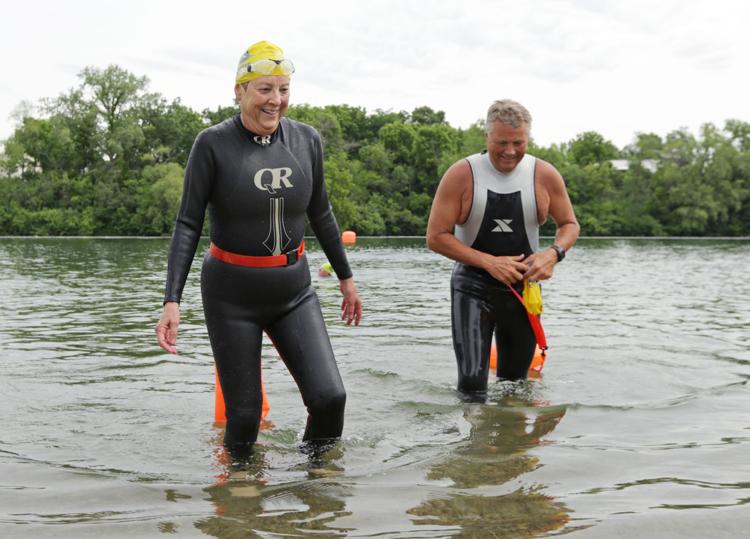 With three adult children, including a daughter, and a 2-year-old granddaughter, she wants to give future patients more of a fighting chance against metastatic breast cancer — for which the average length of survival is three years.
"It's important we keep pushing this forward for the next generation," she said.
Jacobson, who learned she had metastatic breast cancer in 2016, also found out this spring that her cancer had progressed further, and recently finished radiation. An emergency room nurse at Upland Hills Health in Dodgeville and a frequent triathlete, she cancelled longer races this summer because of her medical complications.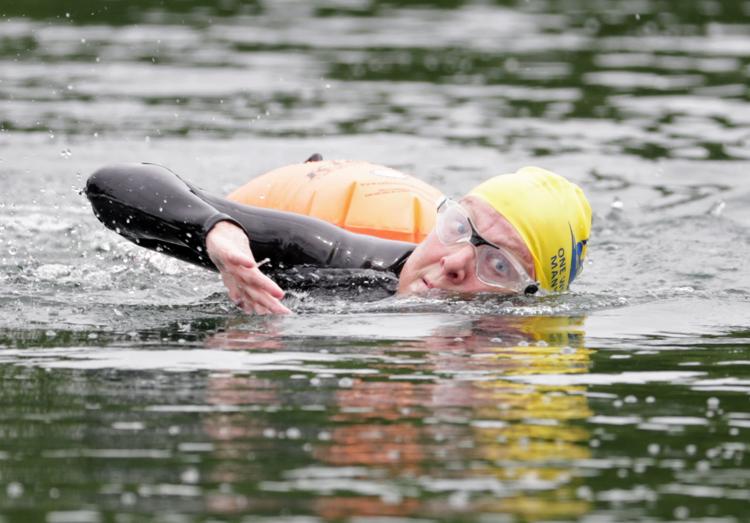 But she still plans to complete the bike portion of the sprint triathlon in Verona, which involves a quarter-mile swim, an 11-mile bike ride and a 5K run.
"It was important for me to do something," Jacobson said. "It keeps me saner, being active."
You have free articles remaining.
Register for more free articles
Stay logged in to skip the surveys
The UW cancer center fund now receiving all of the money raised by Gooze is called More for Stage IV — the stage of breast cancer that is metastatic, meaning it has spread beyond the breast to the bones or organs such as the lungs, liver or brain.
About a quarter of the 250,000 new breast cancer cases in the United States each year become metastatic. There are treatments for such cancers, but the cancers themselves are considered incurable and terminal.
Heidi Dvinge, an assistant professor of biomolecular chemistry at UW-Madison, is among the researchers supported by the fund. She is focusing on variations in estrogen receptors that make breast cancer cells resistant to treatments.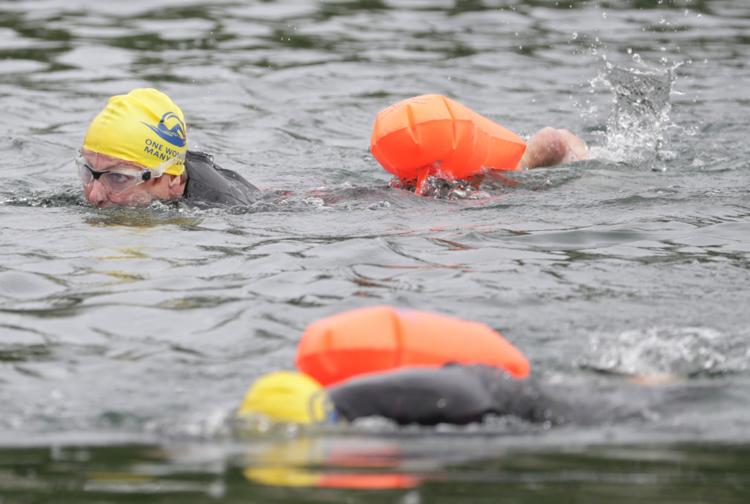 "It's getting harder and harder to get federal money for research," Dvinge said. "Therefore, we are increasingly relying on public efforts like Mary's."
Dr. Joshua Lang, an assistant professor of medicine and oncologist at the university, is looking at using "liquid biopsies" — blood samples from which cancer cells or their DNA can be analyzed — to better understand why metastatic breast cancers develop resistance to therapies.
Seed money from More for Stage IV "allows us to get that data we need to help us get that next (federal) grant," Lang said.
Gooze, who taught sixth grade and fourth grade in Oregon before retiring, has outlived the average survival time for metastatic breast cancer by a year. The disease has spread to her hips, leg and shoulders, in addition to her spine.
She has tried a variety of treatments and is starting on a new drug this week. "There aren't too many treatments left for me," she said.
Her swims have taken her around the country, from North Carolina to Washington state, and to Antarctica, the Bahamas, Ireland and the Galapagos Islands, where in March she swam as sea lions accompanied her.
"It's mostly getting in the water and bringing awareness to people on the shore of what we're doing and why we're doing it," she said.