Charles Beschta developed heartburn, and his breathing became so difficult he had to quit singing in his church choir.
Then he came down with pneumonia. At his welding industry job winding coils, his hands started to lose their grip.
Doctors diagnosed him with systemic scleroderma, an autoimmune disease that hardens skin and tissue of internal organs — in Beschta's case, mainly the lungs and digestive tract.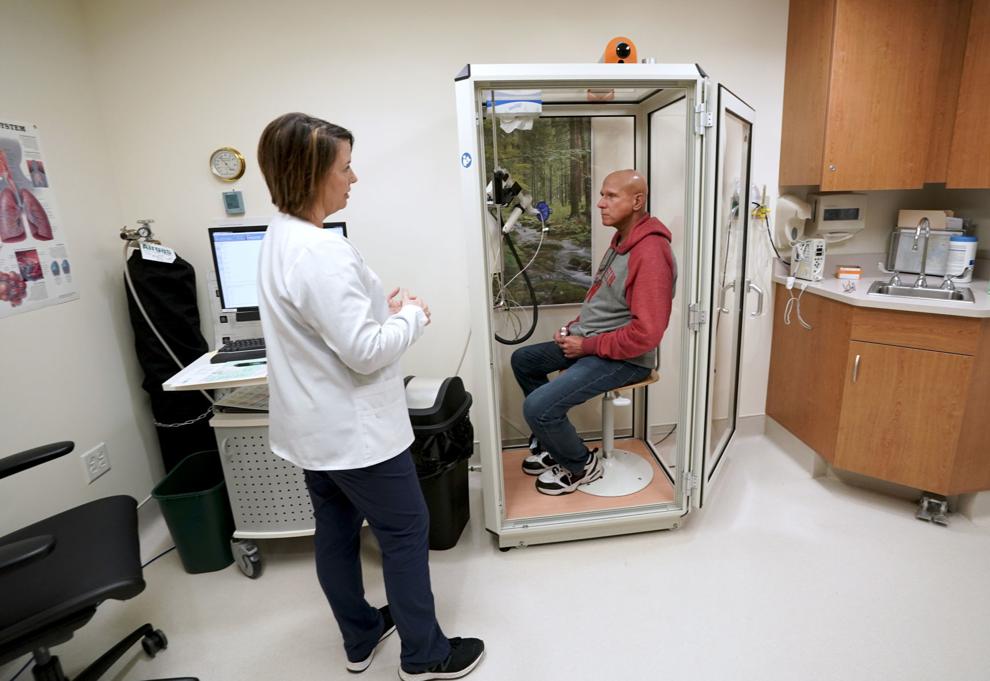 Drugs can help, but there is no cure. With severe cases like Beschta's, about half of patients die within 10 years, said Dr. Kevin McKown, his rheumatologist at UW Health.
McKown offered another treatment: a stem cell transplant, which Beschta received at UW Hospital in early April. He is the first patient to get the procedure for scleroderma at UW, after a national study last year found it worked better than drugs.
"I'm very hopeful that things are going to be better," said Beschta, 55, who lives near Bonduel, between Wausau and Green Bay, during a follow-up visit at the hospital last week. "I pray this is the cure."
Stem cell transplants, also known as bone marrow transplants, are generally used to treat certain cancers. For conditions like scleroderma, in which the body's immune system attacks its own tissues, the goal is to wipe out the faulty immune system and replenish it with a new one.
First, doctors take blood from the patient and isolate stem cells. Then the patient gets chemotherapy and radiation to eradicate the immune system. The stem cells are later infused to grow new immune cells.
In the national study, 79% of severe scleroderma patients who had the transplants were alive without serious complications after four and a half years, compared to 50% treated with drugs.
"There was quick consensus that this ought to be the standard of care," McKown said. For patients like Beschta, "maybe this gives the immune system a chance to reset."
The Medical College of Wisconsin near Milwaukee did one of the transplants in 2010 as part of the study but hasn't done any since, said Dr. Mary Ellen Csuka, a rheumatologist there. The patient is doing well today, Csuka said.
As in the national study, an extra step was taken at UW Hospital to purify Beschta's stem cells. The cells were tagged with magnetic beads and passed through a machine that collected the stem cells and removed others, such as T cells that could cause problems, said Dr. Peiman Hematti, who runs the lab involved.
McKown said it could take two years to assess how well Beschta's transplant is working, but Beschta said last week he is feeling better. "My energy level seems to be getting stronger," he said.
A former Marine who has worked at Miller Electric in Appleton for more than 30 years, Beschta developed acid reflux several years ago. About the same time, his breathing became labored. Diagnosed with asthma, he started using inhalers.
In June 2017, he got pneumonia. Early last year, at UW Hospital, he was diagnosed with severe scleroderma.
The condition caused calcium deposits to form on his skin, on many parts of his body. "It looked like he had ringworm," said his wife, Linda Beschta.
His esophagus became so scarred that he had to have surgery to clear it so he could eat. He had significant digestive discomfort, including frequent bowel movements, forcing him to stop eating fresh vegetables.
At work, he had to wear gloves in order to grip the bobbins around which he winds wire. He became so exhausted, he often took a nap instead of eating during lunch break.
Beschta said he was hesitant at first about undergoing the stem cell transplant, which can be life threatening.
But when he heard about the results of the national study, he felt he had to try it.
"My odds increased dramatically, and for me, that was enough," he said.