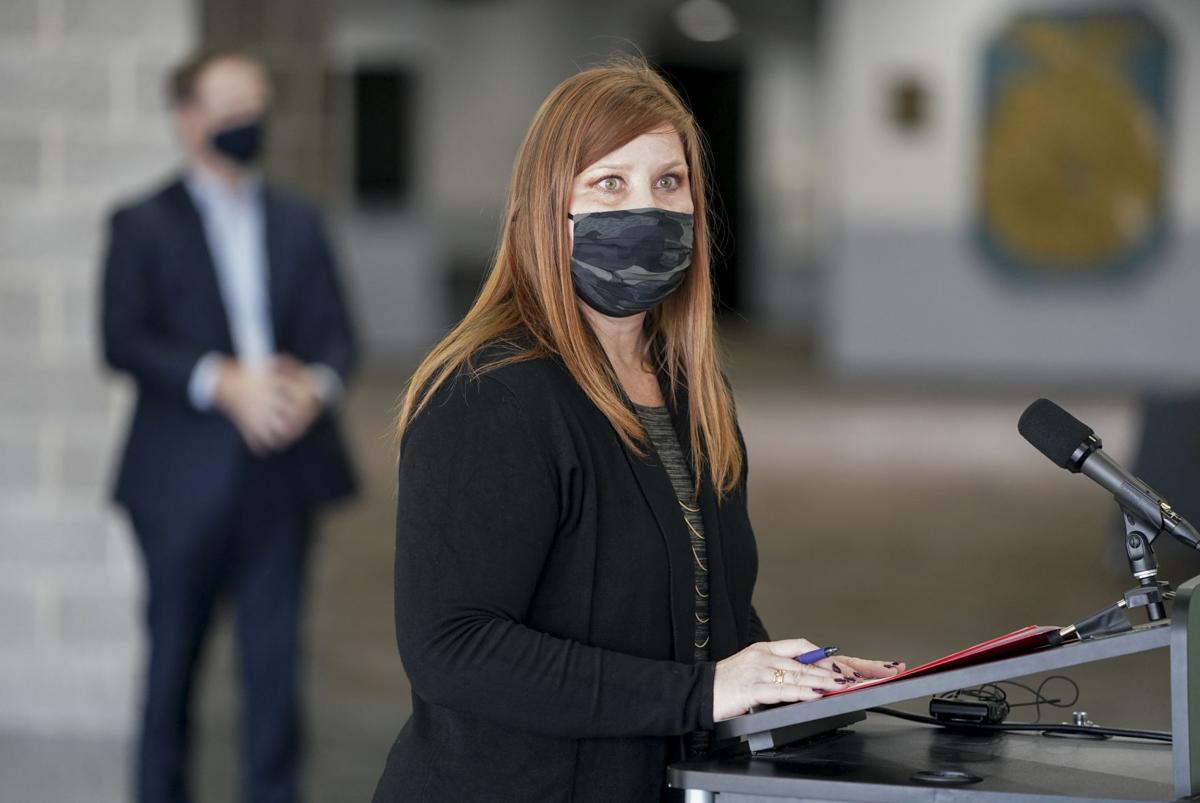 Emails have called her and her staff "Nazis" and "evil." A tweet said they should "watch your backs." Protesters gathered outside her home. Her sons, ages 8 and 14, wonder why she can't spend much time with them.
Janel Heinrich's life as director of Public Health Madison and Dane County has not been easy during the COVID-19 pandemic. But while the job has been demanding in ways she never imagined when she started eight years ago, Heinrich is showing no signs of joining other health officers in Wisconsin and around the country who have resigned or been fired.
"There's no off-switch ... We are more public than we have ever been. We have had to make decisions that impact everyone in ways we've never had to before," said Heinrich, 44. But, "what keeps me going is I love this community. I'm committed to the work, to the health of the community."
Of the nine local public health orders issued since Dane County confirmed the state's first case of COVID-19 on Feb. 5, the most difficult one came Aug. 21, when the department required schools to start grades 3-12 online, Heinrich said.
"I want the kids in school; we all want kids in school," she said. But, "I feel like it was the right decision to support the overall health and well-being of the community."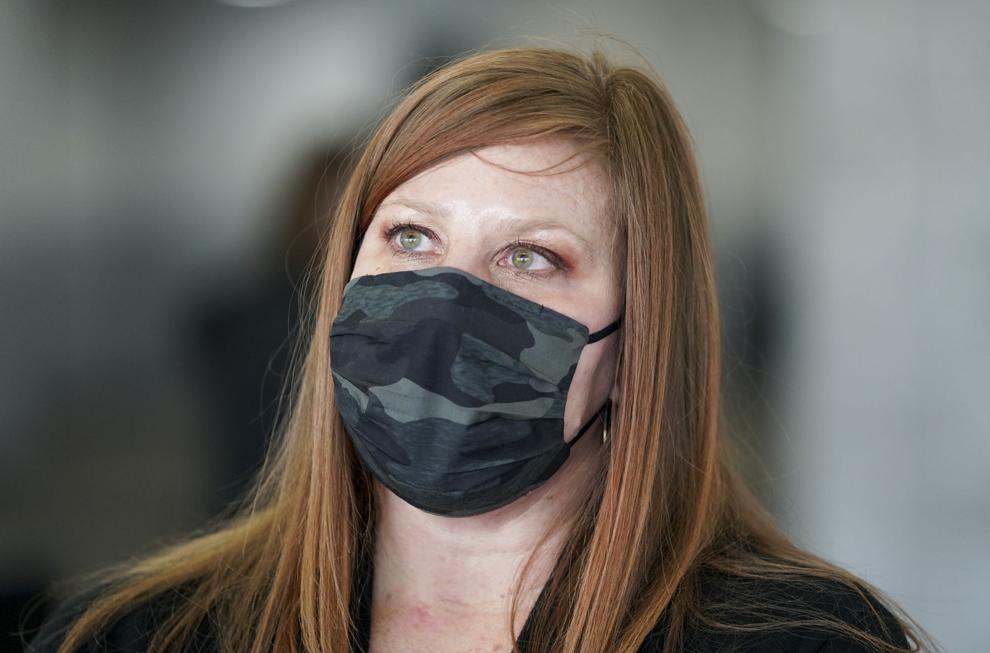 The state Supreme Court temporarily blocked the order on Sept. 10, but the health department continues to recommend online classes for grades 3-12. The Madison School District, where Heinrich's sons are enrolled, has been online for all grades this school year and recently said the arrangement will continue at least until Jan. 22.
Protesters demonstrated against the schools order outside Heinrich's home — a small group, peacefully, as is their right, she said. But the taunting emails take a toll, as does the verbal harassment at least one staff member encountered while wearing a face mask bearing a department logo at a gas station.
"That's hard," Heinrich said. "We're still people, and we're doing a really hard job right now."
Business concerns
"We feel an increasing shift of blame to businesses without data that backs that up," Brandon told the State Journal last month. "We need a roadmap for progress."
He said the health department should release more specific COVID-19 data, on where patients hospitalized in the county come from and about coronavirus clusters, since two or more cases at a workplace could involve employees who have been working separately from home.
Instead of limiting restaurant capacity to 25%, as is required now, before considering a planned jump to 50% if COVID-19 cases decline, the department should look at "microtuning" at 33% or 40%, he said.
But while Brandon said Heinrich's agency has had "messaging stumbles," he blamed city and county leaders for what he said is inadequate consideration of economic stability and consumer confidence when making COVID-19 policies.
"She was hired to protect public health," he said. "Others were elected to balance all that together."
Firings and resignations
In early September, Milwaukee Health Commissioner Jeanette Kowalik resigned to take a job at a health policy think-tank in Washington, D.C. "I was micro-aggressed, man- and 'Karen'-splained beyond belief, and subject to major passive-aggressive outbursts, and plenty of double standards," she wrote in the Daily Beast.
Sauk County Health Officer Tim Lawther resigned in mid-September, saying he had been called a "liar, a communist, a fascist" and more.
"Political gamesmanship" led some county supervisors to "demand retraction of evidence-based public health guidance," Lawther wrote in his resignation letter.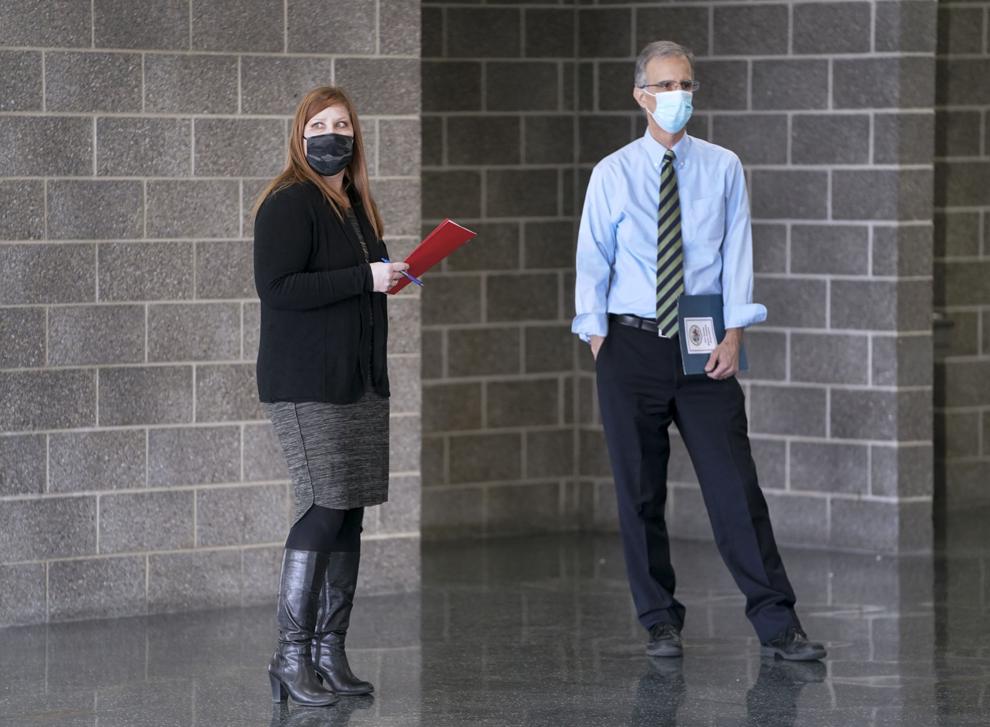 Lafayette County Health Director Elizabeth Townsend was recently fired and Shawano-Menominee County Health Officer Vicki Dantoin resigned, according to media reports. Health officers in the city of Cudahy and the counties of Burnett, Langlade, Polk and Vernon have also departed during COVID-19, said Eric Ostermann, executive director of the Wisconsin Association of Local Health Departments and Boards.
Asked if she has considered quitting, Heinrich said, "I'd be a fool to say ... I haven't had the question. It's human to think, 'Holy cow, this is a place we'd never thought we'd be. There's an incredible amount of pressure. Can I handle it?'"
But she has had "a lot of support" from city, county and local health care leaders, and has never seriously thought of stepping down, she said. Her husband, laid off in April, has been a "rock star," helping at home when she can't.
New demands
Still, Heinrich now oversees 360 employees, up from 155 before COVID-19, with most of the newcomers involved in contact tracing and testing. Animal control, restaurant inspections, immunization clinics, testing for sexually transmitted infections, nutrition programs for women and infants, violence prevention, and efforts to reduce opioid misuse and infant mortality continue, though some services have been reduced.
She hasn't had a full day off during the pandemic, continuing to hold meetings and answer emails on her few attempted vacation days and often working on weekends.
Her sons, especially the younger one, ask why life can't return to normal. "He's the first to say, 'Turn off your phone. How many meetings do you have today?'" Heinrich said.
Some situations have put Heinrich in a particularly hard spot, such as a pointed debate in September between Dane County Executive Joe Parisi and UW-Madison Chancellor Rebecca Blank over how to handle a COVID-19 surge among students.
Parisi urged the university to move all classes online and send students in dorms home. Blank instead quarantined two of the largest dorms and paused in-person instruction for two weeks, which helped reduce cases. Currently, about 30% of classes have some form of in-person instruction.
Heinrich largely avoided the fray, saying in an interview that her authority over a unit of state government is "not clear." Once students returned to campus and coronavirus cases mounted, there was "no good answer" on what to do, she said.
"If I could have waved my magic wand, I would have really liked to not see folks come into dorms in the first place," she said.
As for criticism of her department's shift in September to fining bars and restaurants up to $1,000 for disregarding orders, Heinrich said the previous gentler approach of trying to educate them about compliance was no longer working.
"How long do we talk about the right things to do and how many complaints come in that perhaps are indicating those things aren't happening?" she said.
Pandemic response
Malia Jones, an infectious disease epidemiologist at UW-Madison, became a different type of critic of the health department this summer when she advocated unsuccessfully for an immediate ban on nonessential, high-risk gatherings. That could allow schools to reopen in person more quickly, according to a letter signed by 363 people from Jones, the mother of two elementary students.
Jones said last month she understands why the schools order in August called for online classes and thinks the county's outbreak is still too heavy for in-person classes but hopes that can come soon.
Heinrich and other local health officers are in a difficult position because the federal government, notably the Centers for Disease Control and Prevention, is supposed to lead during a pandemic but hasn't, Jones said. At the state level, Republicans have challenged most orders by Democratic Gov. Tony Evers, overturning some.
"We're really down to making decisions at the local level, which is really hard to do," Jones said. "The fact that (Heinrich) is hanging in there is really to be commended."
Heinrich, who presents a calm, steady demeanor during public appearances, used the passive voice of diplomacy when referring to the politics.
"Science has become questioned," she said. "The foundation of what we do is being questioned."
She said she continues to follow her agency's mission. "We're trying to support keeping people as healthy as possible to the greatest extent possible," she said.
You asked, we answered: 8 key questions about the Wisconsin football team's COVID-19 outbreak
How many Badgers have contracted COVID-19?
As of Nov. 7, the Badgers football program has 30 active cases of COVID-19 — 17 student-athletes and 13 staff members — since Oct. 21.
The program only identified one of those cases, saying head coach Paul Chryst has contracted the virus. Sources told the State Journal that offensive coordinator Joe Rudolph and quarterbacks Graham Mertz (above) and Chase Wolf were among those to test positive.
UW athletic director Barry Alvarez said during a news conference that the program had one positive test in the first few weeks of daily testing. Then one student-athlete tested positive on Wednesday, Oct. 21, followed by 29 more people within the program from Oct. 24-Nov. 7.
Why are the canceled games no contests if the Badgers aren't at "red/red" levels?
Because UW's decision was based on its COVID-19 testing numbers, the games are considered no contests and won't be counted on the team's records.
Big Ten protocols state that games are considered no contests if they're canceled due to a program reaching what has been called "red/red" levels. Those levels are defined as a seven-day rolling average of a team's positivity rate over 5%, and a seven-day rolling average of a team population positivity rate over 7.5%
UW officials have stated that the Badgers are at "orange/red" levels, meaning they have an average team positivity rate between 2-5% and an average team population positivity rate over 7.5%.
Per Big Ten protocols, a program must "proceed with caution and enhance COVID-19 prevention" and "consider viability of continuing with scheduled competition" if it reaches "orange/red" levels. Alvarez said UW decided to pause its team activities and cancel the games to stop the spread of the virus and "get their arms around it."
Will they schedule make-up games?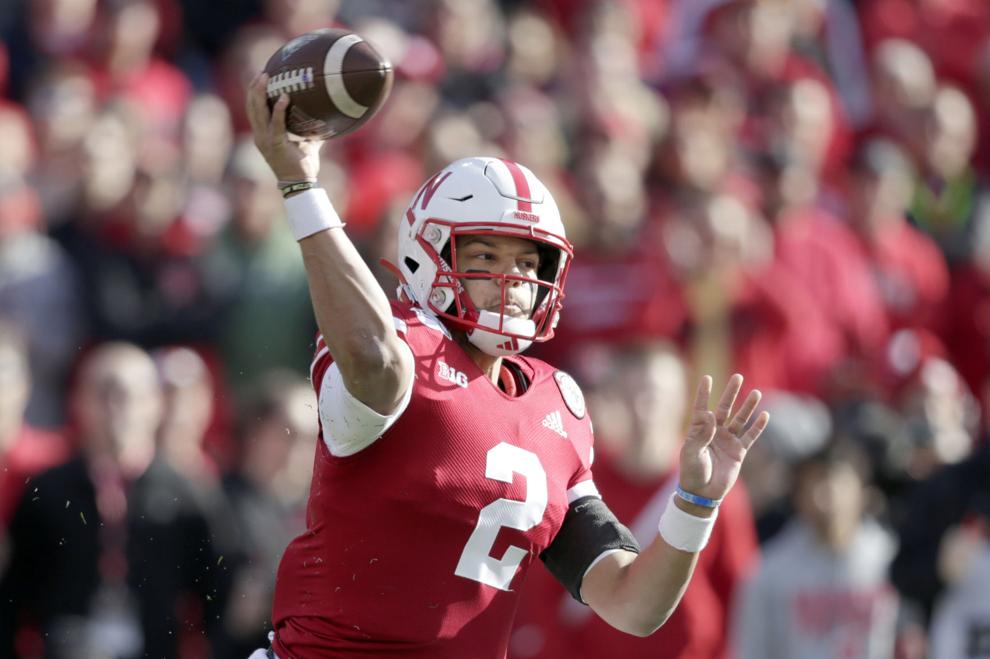 When the Big Ten debuted its truncated schedule calling for nine games in nine weeks, the lack of open dates eliminated chances to reschedule games during the regular-season window. 
The canceled game against Purdue will also not be rescheduled. 
Does Illinois' team have COVID-19 cases after playing the Badgers?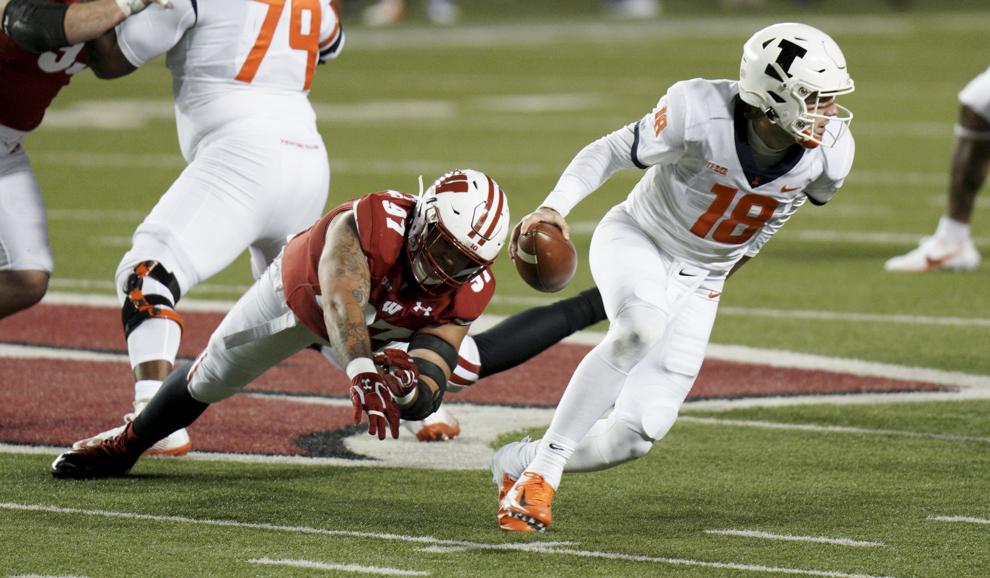 Illinois announced Saturday morning that quarterback Brandon Peters and tight end Griffin Moore tested positive for COVID-19 on Thursday, Oct. 29. Both players will be out of game action for 21 days.
"Contact tracing also sidelined several other players for (Saturday) and next week's game against Minnesota," a release from the program read.    
Will the Badgers play next week?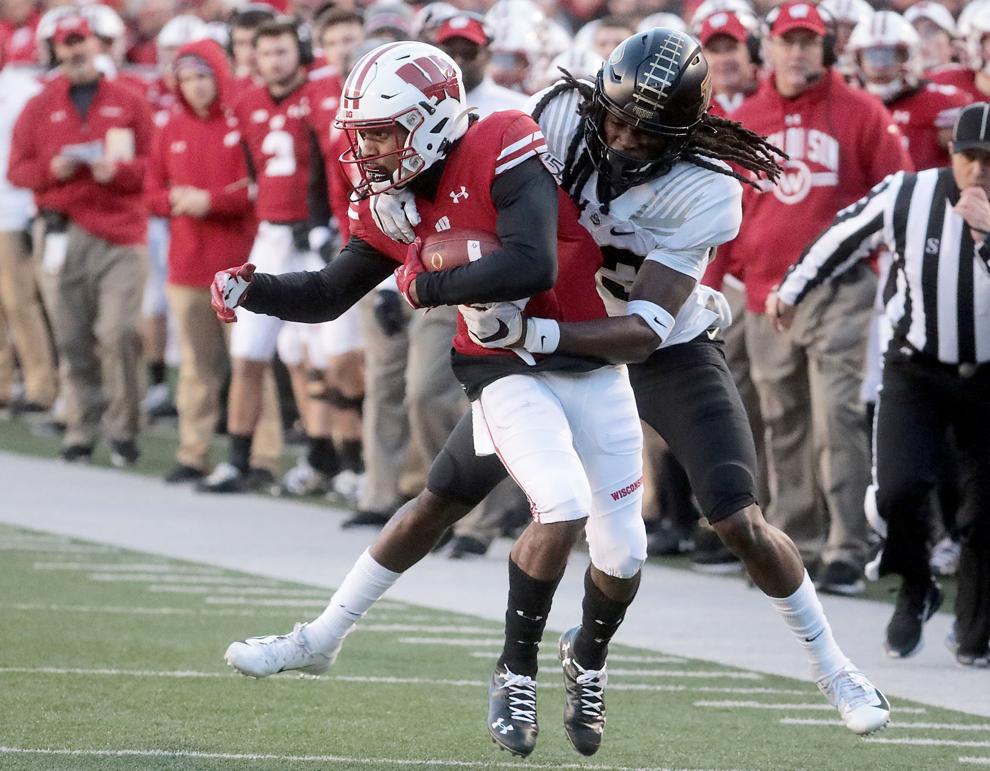 UW is slated to play at Michigan on Nov. 14. If that game will be played is still being decided. 
Why do the players who have contracted the virus have to sit out 21 days?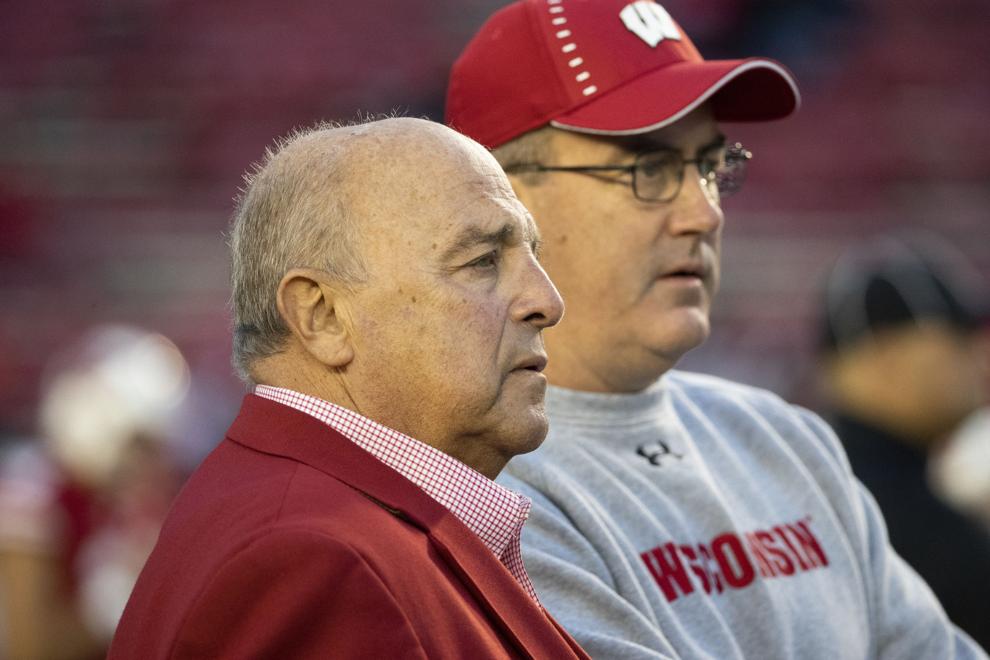 The Big Ten requires that players wait at least 14 days from their initial diagnosis to go through a cardiac screening that can clear them to start working back toward competition. The league also built in seven more days for players to build back toward competition after being cleared in the cardiac testing.
Jim Borchers, the team physician at Ohio State who was co-chair of the Big Ten's return to competition medical subcommittee, said experts told the conference that cardiac testing and evaluation couldn't start until two weeks after diagnosis.
However, this 21-day layoff has come under scrutiny this week.
A report published in the Journal of the American Medical Association found little evidence of myocarditis in COVID-positive college athletes who had mild or no symptoms. The report didn't recommend cardiac testing to the level the Big Ten is conducting.
Alvarez (above) told Sports Illustrated that the Big Ten should "reevaluate" the protocol.
Can the Badgers still make the Big Ten championship game?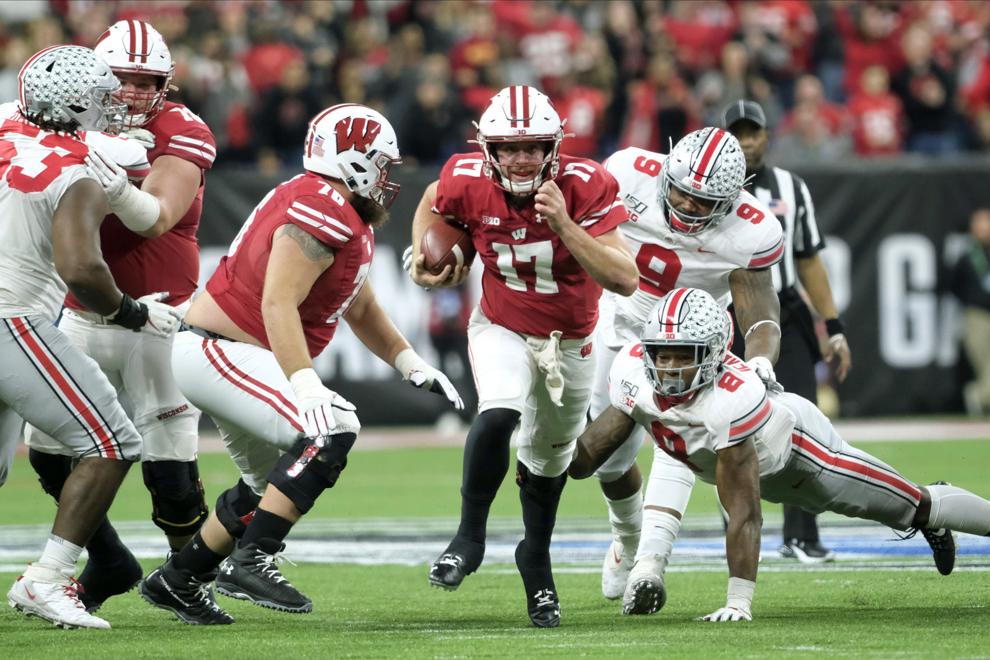 Yes, but they can't miss any more games.
The conference changed its divisional tiebreakers for this season, and those modifications will now be necessary considering at least two teams — UW and Nebraska — won't complete the eight-game regular-season slate.
According to a Big Ten policy put in place this season, "a team must play at least six games to be considered for participation in the championship game. However, if the average number of conference games played by all teams falls below six, then teams must play no less than two fewer conference games than the average number of conference games played by all teams to be considered."
How are the players doing? Are they symptomatic?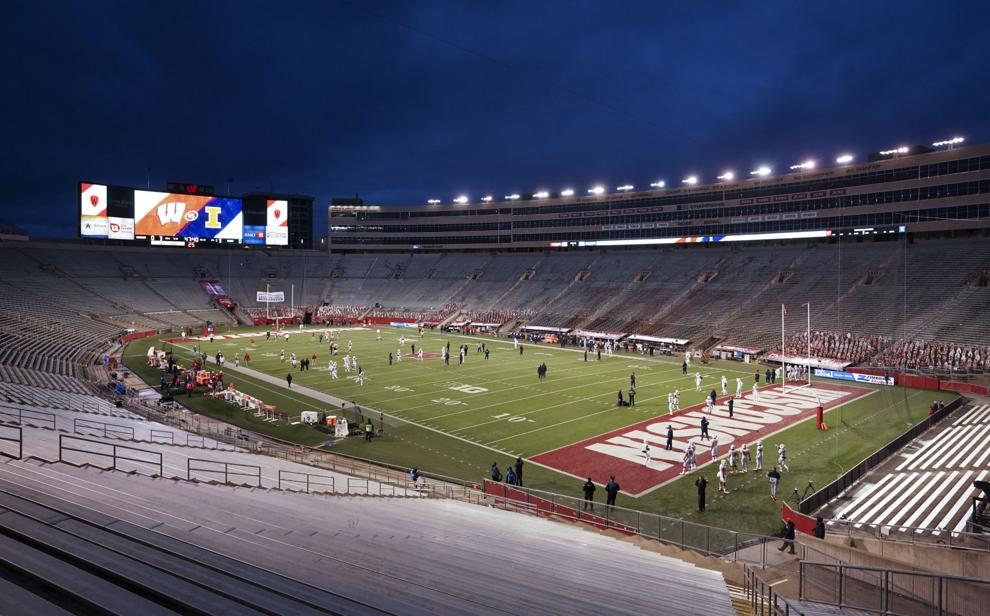 UW is not releasing updates regarding individual players' illness and has not said whether some or all have experienced symptoms of COVID-19. Michael Moll, the program's Chief Infection Officer for the Big Ten, said no players or staff members have had severe symptoms or required hospitalization.
During a Zoom call with reporters, Chryst said he felt fine physically and he completed his isolation period without symptoms. 
In an effort to stop the spread of the virus, players are isolating themselves in their living spaces. UW has secured hotel rooms to separate those who live together.