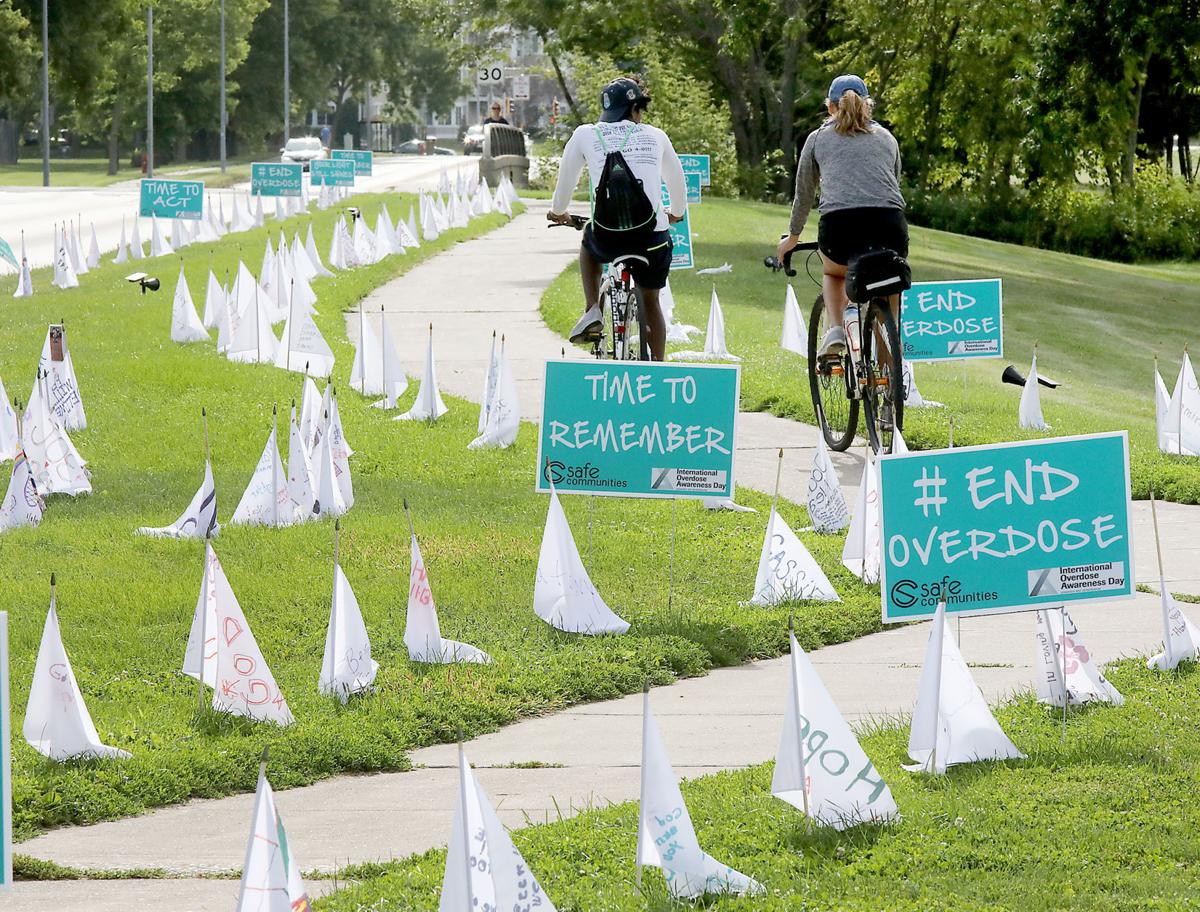 Suicides in Dane County, which were up the first three-quarters of 2020 — possibly because of COVID-19, experts said — declined the rest of the year even as the total remained high among youth and young adults, according to preliminary data.
Opioid overdoses and deaths, also up in Madison for much of last year, ended about average. But statewide there were a record 3,682 opioid overdoses in 2020, up 38% from 2019 and 25% from the previous record in 2017.
"It is hopefully reflecting that people are sort of past the largest part of this crisis emotionally and maybe can see the end in sight a little bit better," said Hannah Flanagan, director of emergency services for Journey Mental Health Center.
Bernie Albright, Madison Addiction Recovery Initiative coordinator for the Madison Police Department, said it's hard to say why opioid overdoses in the city dipped later in the year.
"In my short time in this position, I've learned that long-term trends in overdoses seem to be impossible to explain," Albright said.
The pandemic is far from over. COVID-19 cases and deaths rose in Dane County and Wisconsin late last year, and health officials say prevention measures such as wearing masks, avoiding gatherings and physical distancing will need to continue for months, even as vaccines are being rolled out.
But other factors, such as politics and protests, have also challenged people's mental health, and it's hard to link particular causes to trends like suicide, Flanagan said.
"With the enormity of all of the things that were happening last year, I don't know if it's even possible to figure it out," she said.
Journey resumed in-person meetings with many clients in July, with safety measures, after canceling most meetings starting in March, Flanagan said. That may have helped prevent some deaths.
"Being lonely is not good for your mental health," she said. "People need to feel like they're not alone."
County, city data
Dane County had 62 suicides last year, according to preliminary data gathered by Journey that could go up slightly in coming months, Flanagan said. The total as of early October was 57.
The year-end number is up from the county's official total of 54 in 2019 but down from the annual average in 2015-2019 of 67.
Last January through July, Madison had 27 opioid overdose deaths, a 59% increase from the same period in 2019, according to the Madison Police Department. Opioid overdose calls were up 36%.
But through the end of the year, there were 35 opioid overdose deaths, up from 29 in 2019 but down from 42 in 2018, Albright said. In 2017, there were 34.
There were 227 opioid overdose calls throughout 2020, the lowest of the four-year period for which the department has comparable statistics, Albright said.
State statistics
Emergency departments throughout Wisconsin reported 3,682 suspected opioid overdoses last year, up from 2,674 in 2019 and the previous record of 2,946 in 2017.
The state recorded a preliminary total of 896 opioid overdose deaths for 2020, compared to 916 for 2019 and a record of 932 in 2017, said Jennifer Miller, a spokeswoman for the state Department of Health Services.
The 2020 total will go up, and will likely exceed the total for 2019, once more death investigations are completed in the coming months, Miller said.
Likewise, the state's preliminary total of 746 suicides for 2020 likely will go up. The state had 850 suicides in 2019, down from 886 in 2018 and 915 in 2017.
Fave 5: Reporter David Wahlberg picks his top stories of 2020
My year as the State Journal's health reporter has been consumed by COVID-19. I've covered many coronavirus developments and media briefings, but the stories that stand out most to me are those showing the humanity of the pandemic.
Four of my five picks are about people fighting COVID-19 or those who succumbed to it. The fifth, from that hard-to-recall time of January, looks at new genetic testing and treatment for spinal muscular atrophy, a rare muscle-wasting disease.