Several Madison-area pastors plan to stream services over the internet from churches full of empty pews Sunday, and Madison's Catholic bishop said believers "are permitted to miss Mass on Sundays for the foreseeable future" amid the COVID-19 outbreak.
Underscoring the decision for many churches is the number of older members, who are more likely to suffer serious complications if they contract the virus.
"It's very rare that churches suspend face-to-face worship, but we're looking for other ways to connect," said the Rev. Mark Fowler, lead pastor of Madison's First United Methodist Church. "We're paying attention to the lives of people and want to participate in the best practices of health."
The church opted to live stream this week's service for its parishioners through the church website, an act Fowler called "prudent and wise" considering about half of the congregation's 850 members are elderly or have compromised immune systems.
As of Friday, the church did not plan to cancel services beyond Sunday, Fowler said. But the church has put together a task force of staff and parishioners with medical backgrounds, including an epidemiologist, who will meet on Wednesday to assess whether they'll need to suspend additional Sunday services.
The church also runs a food pantry and homeless shelter, both of which are open for now. But Fowler said the church is looking for better ways to deliver services that will protect the health of those seeking and administering them.
Blackhawk, a part of the Evangelical Free Church of America whose 5,000-member congregation spans three sites across the Madison area, canceled all church-related activities through March 27, including Sunday services.
Instead, services will be streamed the next two Sundays through its website, although Craig Gartland, pastor of adult ministries, acknowledged a number of parishioners don't have access to online streaming services. Volunteers will follow up and check in by phone with congregants without access to the internet, he said, although they plan to comply with assisted living facility guidelines should those facilities decide to suspend non-essential visitors.
Bethel Lutheran Church and Good Shepard Lutheran Church also planned to offer online-only services this Sunday, while Covenant Presbyterian Church canceled all events and services scheduled for Sunday and is exploring ways to connect with its congregation digitally, the Rev. Charlie Berthoud, senior pastor, said.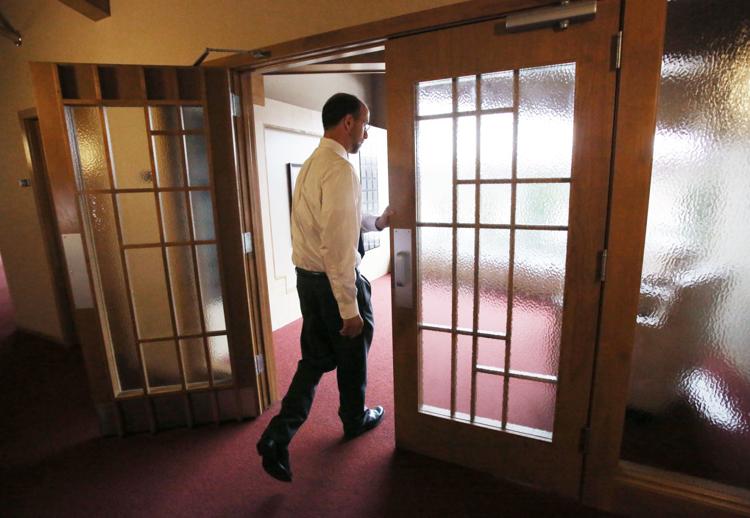 Bethel also manages a food pantry that feeds several thousand people each year as well as a daytime respite service for Madison-area homeless people, the Rev. Mike Brown, lead pastor, said.
In an open letter Friday, Madison Catholic Bishop Donald Hying said he was relieving parishioners of the obligation to attend weekly Mass, especially the elderly and those with compromised immune systems.
"This is not to say that the faithful are prohibited from attending Mass," Hying wrote. "However, it is encouraged that everyone takes seriously this dispensation and take liberal advantage of it, keeping in mind also the recommendation from the Wisconsin Department of Health to avoid large community gatherings — particularly large intergenerational gatherings — at this time."
Clergy from Holy Redeemer Catholic and St. Patrick's Catholic churches will suspend visits to Capitol Lakes, an assisted living community Downtown, to distribute Holy Communion at the request of Capitol Lakes staff but will continue to give Last Rites, Monsignor Kevin Holmes said. The churches will also be suspending in-home visits to parishioners, he said.
It won't be quiet everywhere on Sunday. Mt. Zion Baptist Church on Madison's South Side plans to continue services. But unlike past Sundays, when parishioners would greet one another with hugs and hold hands during services, the Rev. Marcus Allen, senior pastor, said they'll be greeted at the door with a bottle of hand sanitizer and asked to say hello with a smile and a wave instead.
"We're family," Allen said. "Our core value is to love each other and we show that through touching and hugging."
The church is taking other steps to stay safe, Allen said. Each Sunday, members of the church's health ministry will provide an update on the pandemic for the congregation, and the fellowship portion of the service — when parishioners greet and catch up with each other — will be eliminated. There also will be no joining of hands during the closing prayer.
Church staff will disinfect all surfaces inside the church after each service and at regular intervals during the week, he said.
"We'll do the best we can to keep our people encouraged and not to allow fear to control our day to day," Allen said. "Communicating with our members allows them to understand that this, too, shall pass."
---
[Correction: Blackhawk church's denomination was described incorrectly in an earlier version of this story. This version also clarifies that volunteers with Blackhawk will follow up and check in by phone with congregants without access to the internet but are not offering in-home services.]
Concerned about COVID-19?
Sign up now to get the most recent coronavirus headlines and other important local and national news sent to your email inbox daily.