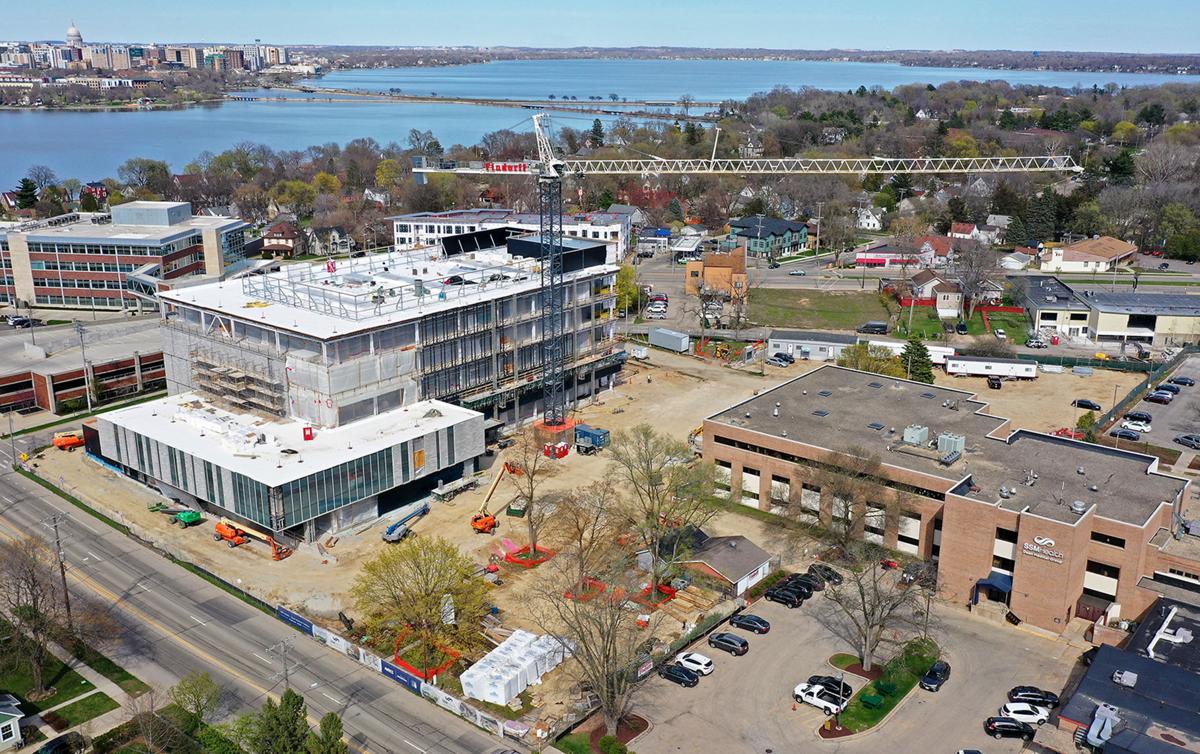 Amid a fast-spreading virus that at times threatened to overwhelm them, health care providers had to quickly retool many of their practices and protocols last year.
Some of those innovations worked so well that hospitals and clinics in the Madison area now expect them to continue after the COVID-19 pandemic passes.
Those include more use of telehealth, less need for office space, new visitor policies, more of a commitment to diversity and equity, and more separation of patients with respiratory symptoms, especially during flu season.
"We don't have people waiting in waiting rooms like we used to," said Dr. Mark Huth, CEO of Group Health Cooperative of South Central Wisconsin. "This idea of sitting shoulder-to-shoulder with a bunch of other people who may have flu, may have coronavirus or may have some other infection ... I can see that going away."
Health organizations have seen an increase in telehealth, including video or phone visits and MyChart exchanges between patients and providers. At SSM Health, where telehealth accounted for less than 1% of visits before the pandemic, virtual care shot up to 60% last spring before declining to about 16% this spring, a level that is expected to continue, said Margo Francisco, regional vice president of strategy and business development.
At UW Health, telehealth was "very minimal" before the pandemic but accounted for the "vast majority" of visits last March and April, said Dr. Pete Newcomer, chief medical officer. It has settled at about 30% of visits, an amount he expects to remain.
For some specialties, such as dermatology, telehealth hasn't worked as well as expected, Newcomer said. "Sometimes you just need to see that lesion in person," he said.
About 20% of visits at Group Health are now virtual, roughly double the level before the pandemic, Huth said.
The need for office space at the health systems may decline as some workers not involved in direct patient care continue working remotely, the administrators said. Some are looking at "hoteling" cubicles, assigning them to different employees on different days.
At Meriter, where CEO Sue Erickson said a "free-flow" of visitors was allowed before the pandemic, a check-in process started last spring. That, along with monitoring of where visitors go and for how long, will continue. "It has served us well to have a little bit more control on the environment," she said.
Racial disparities
Racial and ethnic disparities highlighted by the pandemic will become an increased focus in health care, the administrators said. SSM Health's Francisco and Meriter's Wetzel said the systems will do more to address societal factors that influence people's health, such as the availability of food, transportation and safe places to walk or exercise.
At UW Health, CEO Dr. Alan Kaplan said diversity, equity and inclusion have been elevated to a core part of its strategic plan. Staff education has focused on systemic racism, and COVID-19 vaccination efforts have been directed at communities of color, he said.
"It's going to take an effort that needs to be sustained to fight it," Kaplan said.
The health systems plan to continue separating patients with respiratory symptoms more than they used to, or at least require them to wear face masks. During the height of the pandemic, some sent those with such symptoms to one particular clinic or through different doors at regular clinics. Some escorted such patients from their cars directly to exam rooms.
"Now we have a trained society that understands, because of COVID, that maybe we'll treat infections differently," Kaplan said.
ER use down
Most health systems took a financial hit from the pandemic, with elective medical procedures halted last spring, some types of patient visits still down and additional costs such as more protective equipment for workers. But federal aid, investment gains and an anticipated uptick in routine care once more people are vaccinated has led the health care organizations to continue significant projects, including SSM Health's $75 million clinic going up on Fish Hatchery Road and UW Health's plan for a $348 million clinic on the Far East Side.
SSM Health of Wisconsin had operating income of $9.6 million last year, down from $54.3 million in 2019, Francisco said. The system includes St. Mary's Hospital in Madison, St. Mary's Hospital in Janesville and St. Clare Hospital in Baraboo, many Dean Medical Group clinics, Monroe Clinic and Agnesian HealthCare in Fond du Lac, along with several nursing homes.
Last year's operating margin was well below the 2.6% margin in 2019 and the typical range of 2% to 3.5%, said Francisco, who declined to provide a percentage. The $9.6 million gain includes $54 million in federal CARES Act money but doesn't include about $6.1 million in investment income, she said.
A decrease in services such as colonoscopies, hip replacements and mammograms may turn around after more patients are immunized, but administrators wonder if a 20% drop in emergency room visits might continue, Francisco said.
"Did we really change people's behavior during the pandemic, so (the ER is) not being used as the primary care provider anymore?" she asked.
'Very good position'
The operating margin for fiscal 2020, which ended June 30, was 1.1%, down from 3.1% in fiscal 2019 and 3.8% in fiscal 2018. That doesn't include $68.5 million UW Health received in CARES Act money, which would put last year's operating margin above 3%, Kaplan said.
This year's margin, ending this June 30, should be about 2%, Kaplan said. With investments included, the total margin was 5.8% in fiscal 2020 and is higher than that so far this year.
"We are sitting in a very good position if you include equities, investments," he said.
That financial stability led Kaplan in January to confirm that a plan has resumed to build a six-story clinic next to UW Health's hospital at the American Center, a project announced in 2018 but put on hold last year because of the pandemic. Design work is expected to pick up again in July, with construction starting in March 2022 and the building opening in fall 2024.
UW Health clinics in Cottage Grove and Fitchburg, which were consolidated during the pandemic at clinics in Monona and Madison, respectively, reopened in April. Clinics in Cross Plains and Sun Prairie, which were consolidated in Mount Horeb and DeForest, respectively, are scheduled to reopen in May.
Meriter births steady
At UnityPoint Health-Meriter, the financial impact of the pandemic wasn't as strong, Erickson said. That's largely because about half of Meriter's business involves delivering and caring for babies, which continued at roughly the same level, she said.
Meriter, which budgeted for a 2.8% operating margin in 2020, had a 4.1% margin, or $20 million, including $13.5 million in CARES Act money and $2.9 million in savings from staff cost reductions, Erickson said. Including investments, the gain was $67.8 million.
The hospital expects to have a negative operating margin this year, Erickson said. Routine care is down and most non-obstetrics patients in the hospital have complex conditions such as lung or kidney disease, for which payments are lower than for surgical patients, she said.
Loss less than 2019
Group Health lost about $1 million last year in operating income — which includes receiving about $180,000 from the CARES Act — but made about $2.5 million in investments, for a total gain of about $1.3 million, Huth said. That amounts to an operating margin of -0.25% and a total margin of 0.31%.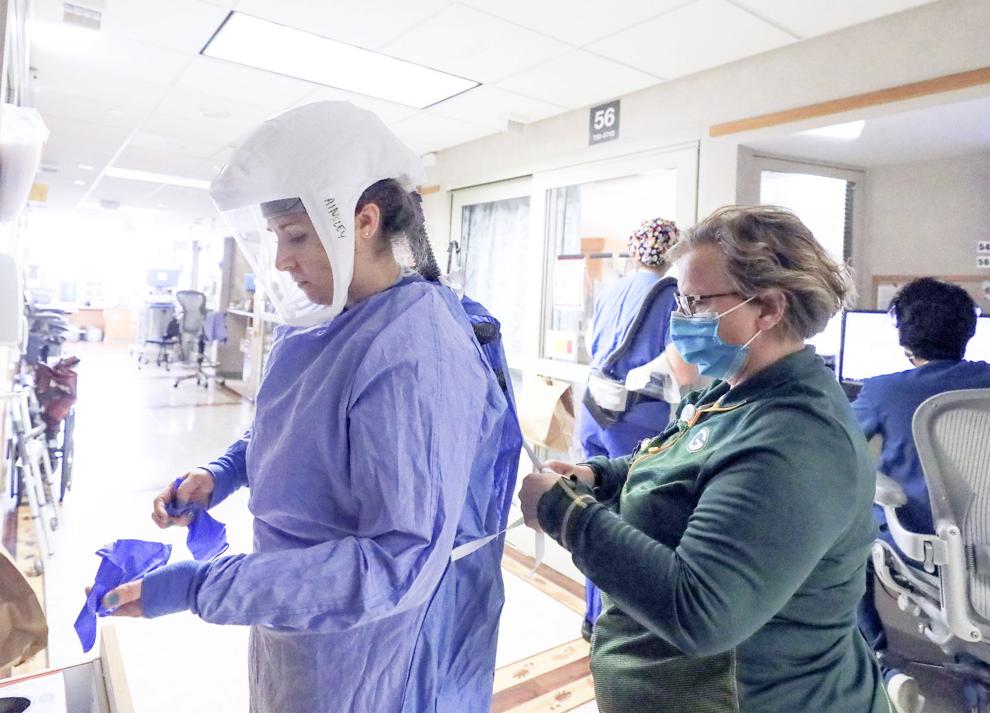 The financial picture was better than in 2019, when the HMO lost $7.5 million — or $2 million, including investments — largely due to several high-cost cases such as transplants, Huth said.
With capitated monthly payments coming from members, and with only outpatient clinics and no inpatient services, Group Health wasn't affected in the same way by the pandemic as hospital systems, he said. But the HMO stopped massage therapy and acupuncture services last spring and faced increased costs for protective equipment and patient screening, he said.