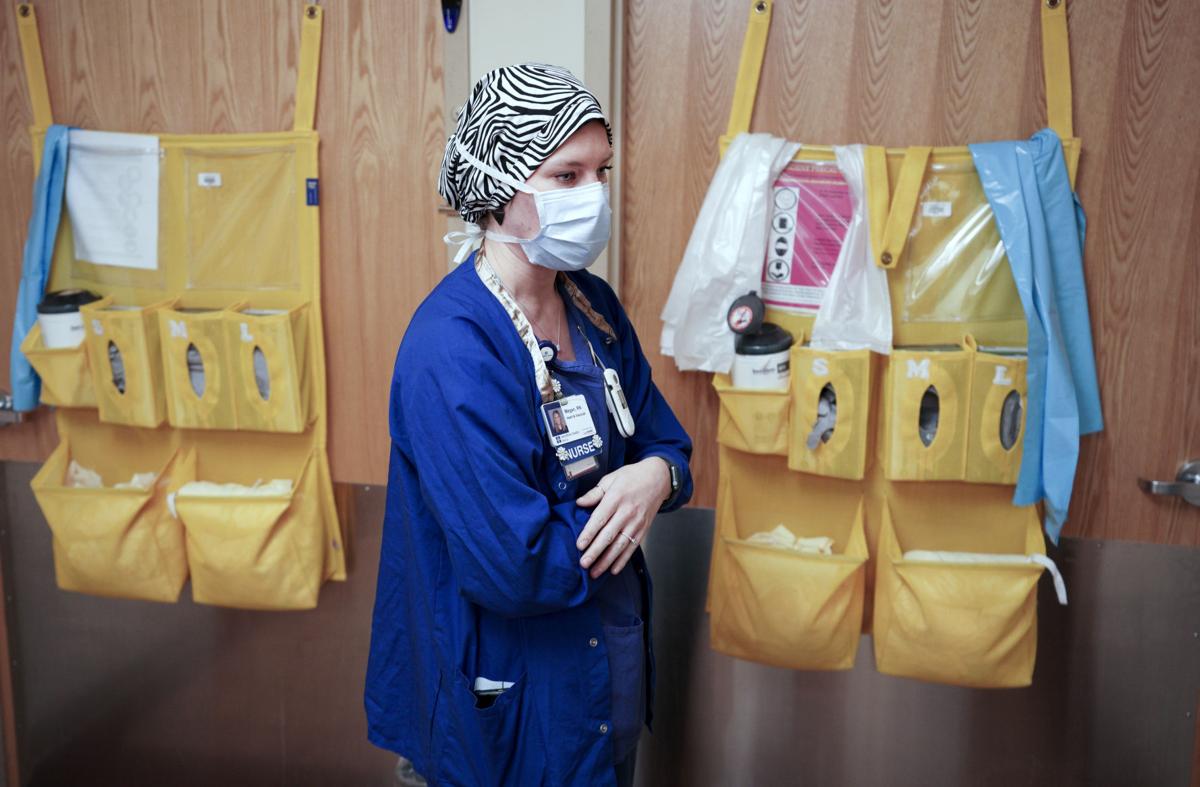 After nine months of caring for people with COVID-19, often on overtime, UnityPoint Health-Meriter nurse Megan Mandt paused this week, on the day her third coronavirus patient died, to contemplate the risks and rewards.
"Right now, knowing what we're going through, I probably wouldn't have gone to nursing school," said Mandt, 26, who has worked as a nurse for three years. "But being here and seeing the impact I do have on my patients, and the support of my co-workers, I definitely feel like this is where I belong and nursing is my calling."
The likely arrival this month of COVID-19 vaccines, for which initial limited doses will be given to health care workers like Mandt, is offering hope the pandemic may be tamed by the middle of next year. But while daily cases have dropped in Wisconsin since mid-November and hospitalizations have declined from record levels, hospital staff still face significant physical and emotional strain.
Dane County had 145 patients with COVID-19 in hospitals as of Thursday, down from a peak of 179 on Nov. 18 but still at a level unheard of six weeks ago. Of those patients, 41 were in intensive care, down from 49 on Nov. 20 but double the level from mid-October.
"We are getting tired," said Dr. Kristin O'Dell, medical director for Meriter's 40 hospitalists, doctors who specialize in caring for hospitalized patients. With coronavirus patients unable to have loved ones visit unless the patients are about to die, "there is a significant emotional toll," O'Dell said.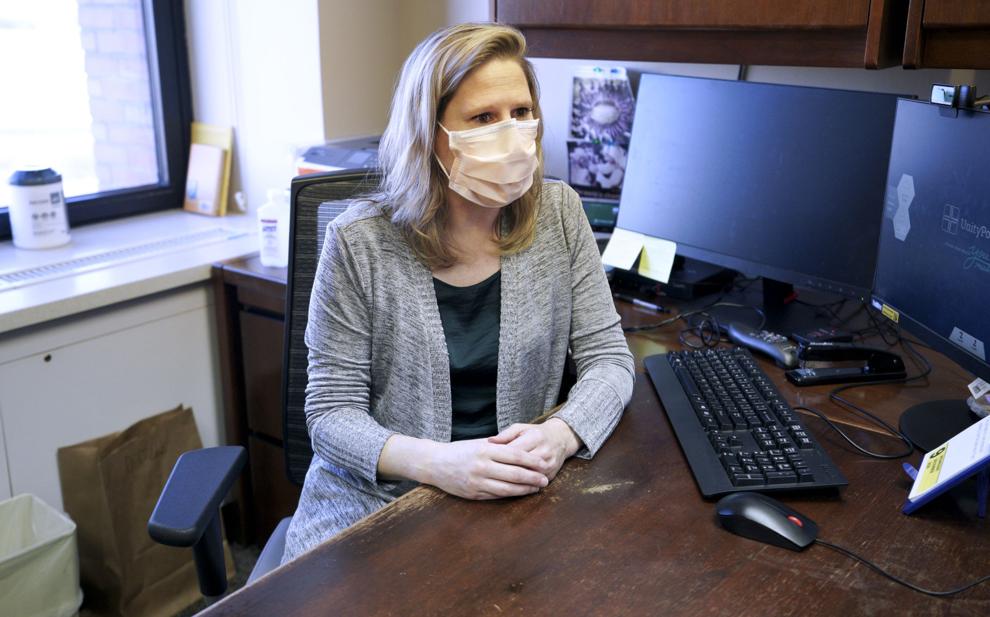 Fifteen hospitalists see Meriter's COVID-19 patients day and night on a rotating basis. The service recently asked clinic-based doctors and those who normally treat cancer and blood disorders to help out.
O'Dell implored the public to do its part. "The fight is not only within these walls," she said. "The fight is outside, where we start with the prevention, the masking, the social distancing. We ask people to join in that fight."
9.5 hours, no break
On Wednesday, when a Wisconsin State Journal reporter and photographer visited Meriter's COVID-19 unit, the hospital had 64 coronavirus patients, including 16 in the intensive care unit — most on ventilators — on the seventh floor. An intermediate care unit, where patients need significant oxygen support but not ventilators, had 22 patients on the 11th floor. General care patients requiring less assistance are on the sixth floor.
The growing demand for care led Meriter last month to prepare a fourth area for COVID-19 patients, on the eighth floor, if needed.
Mandt works mainly in the intermediate care unit, known as the IMC, part of what she and other nurses call "COVID-land."
She typically cares for three patients, giving medications, checking vital signs, turning them to prevent bed sores, bathing them, helping them go the bathroom and cleaning up if they can't make it out of bed. To limit other workers' exposure to COVID-19 patients, Mandt and other nurses also feed patients, tidy up their rooms and sometimes adjust oxygen levels.
"You're in there for over an hour and you come out just exhausted," she said. "One day I didn't take my (N-95) mask off for nine-and-a-half hours. I hadn't gone to the bathroom. I hadn't drunk anything. I hadn't taken my lunch."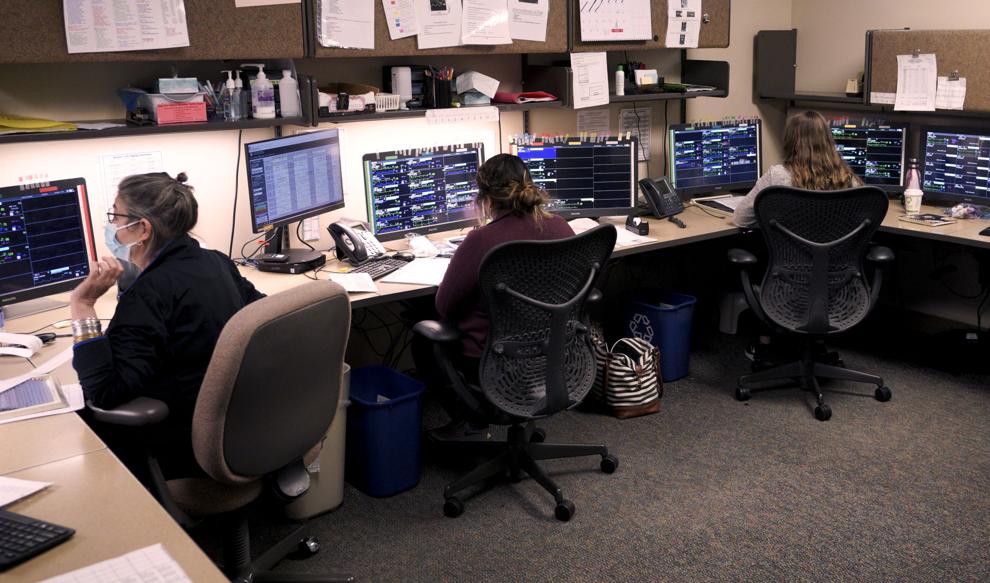 With many patients on breathing machines called BiPAPs and some receiving treatments such as dialysis for kidney failure, equipment can pile up. "It's like you're in the Olympics trying to get over everything to even just get to the bedside and do what you need to do," Mandt said.
She wears an N-95 mask, a face shield, a gown and gloves each time she enters a patient's room, and changes gowns and gloves and cleans the face shield afterward. The N-95 is used for up to three shifts unless it's soiled or too sweaty to seal around the nose.
Some weeks, Mandt works four 12-hour shifts and another shift lasting eight hours. "My fiancé is not happy when I come home during those stretches," she said. "But I know we need it."
'Not getting better'
In Meriter's ICU Wednesday, Jenna Andress was one of three respiratory therapists who help patients who have difficulty breathing, the main problem with the coronavirus. She adjusts nasal oxygen tubes, BiPAPs or ventilators, and gives aerosolized medications to ease respiratory distress, as she did before the pandemic for people with asthma or a lung condition called COPD.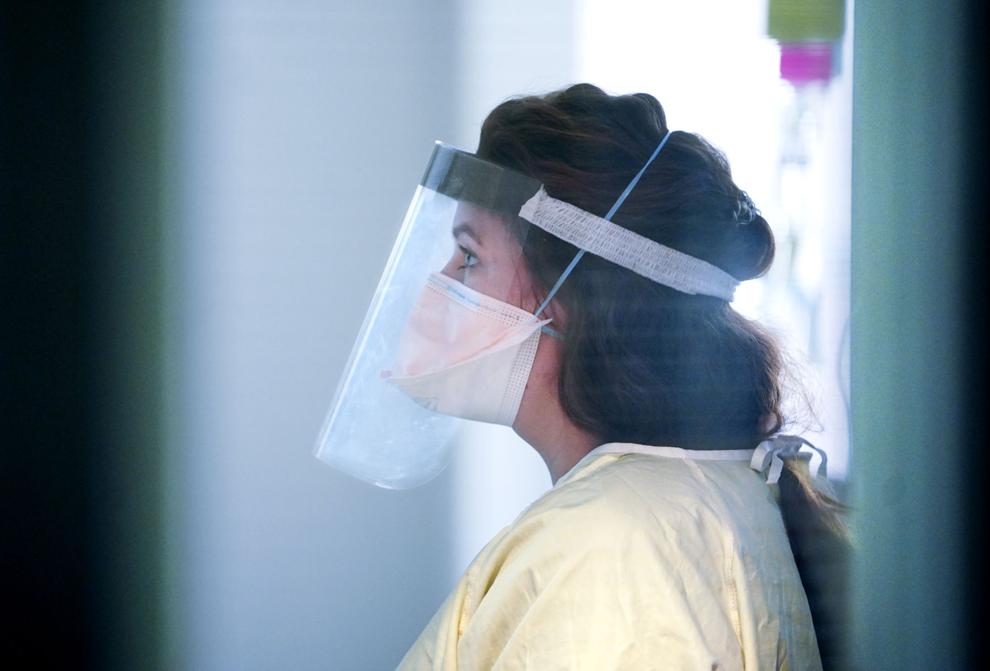 Unlike patients with the other conditions, many of those with COVID-19 don't improve.
"We're throwing everything at them that we know to do," Andress said. "We're just not getting the results. They're just not getting better."
With many patients on ventilators for a month or longer, which can cause permanent damage to the windpipe, staff have started to perform tracheotomies — creating an opening in the neck to place the ventilator tube instead of going down the throat.
Many of the patients are paralyzed with medication to let the ventilators do all of their breathing and placed on their stomachs so fluid doesn't pool and the heart doesn't push on the lungs.
Andress, 30, became a respiratory therapist more than three years ago after getting to know many respiratory therapists while she was hospitalized several times for asthma as a child. Giving back is meaningful, she said, but too many of her COVID-19 patients have died.
"Lots of times you see these patients before they're (put on ventilators), and you know their personalities," she said. "Then you watch them slowly, slowly deteriorate. It's unbelievably sad."
Kindness in the eyes
For O'Dell, who has also cared for COVID-19 patients since March, the isolation patients face is a big challenge. She tries to connect them with loved ones by phone or video when possible, but much of their human connection comes from providers like her, cloaked in protective gear.
"Often all they can see are the eyes, and the kindness of that," she said.
She worries that the worst isn't over, that winter could bring more of a surge. Even for COVID-19 patients who make it out of the hospital, she wonders how many will continue experiencing brain fog, fatigue and other possible long-term complications.
Andress said the psychological impact on her and other health care workers is only starting to emerge. For now, they're plodding along, doing their jobs as necessary. Someday, she said, reflection will reveal the inner scars.
"When this is all over, we are going to need to talk to people about what actually happened here," she said, "what we went through and how to process all of that."