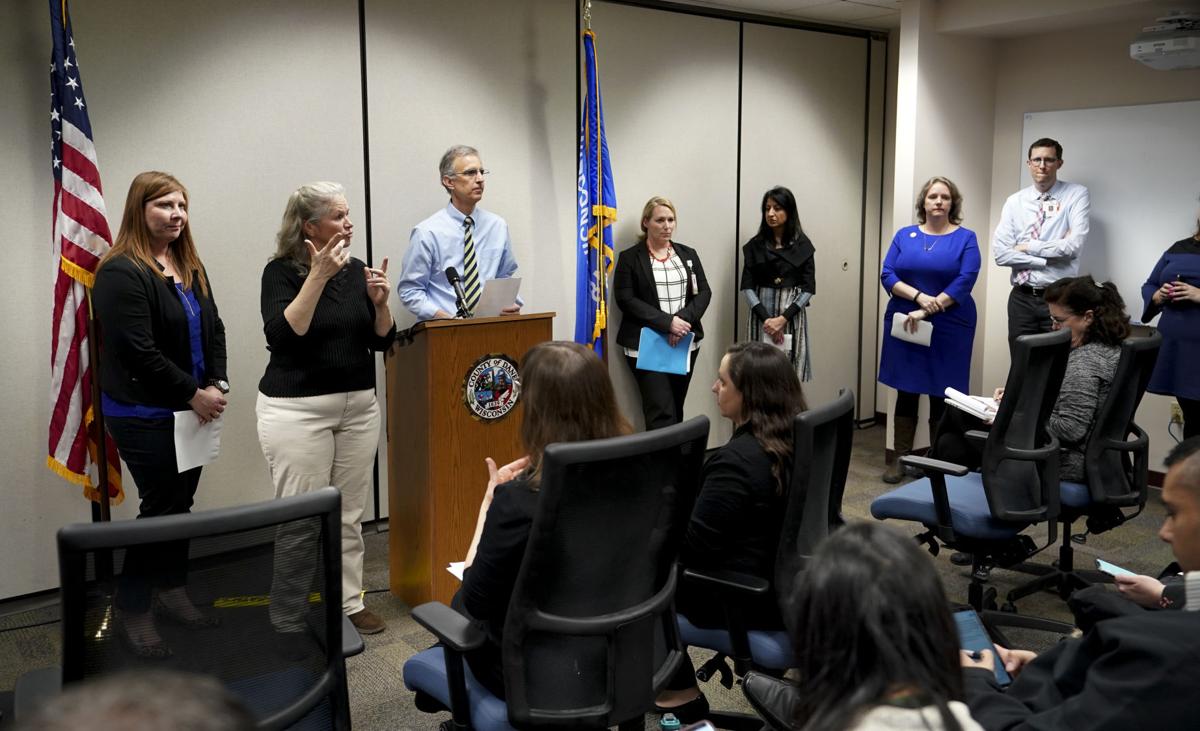 Hospitals are gearing up for a potential surge of COVID-19 coronavirus cases, while state and local governments, schools and even courts are scaling back non-essential operations to reduce exposure to the virus that has now been declared a pandemic.
The preparation across multiple fronts comes as Wisconsin confirmed three new cases of COVID-19, one in Waukesha County and two in Fond du Lac County, bringing to six the number of cases in the state so far.
"Families should prepare for possible school closings and should make a plan for where the kids are going to go if child care centers and after-school programs are closed," Madison Mayor Satya Rhodes-Conway said Wednesday.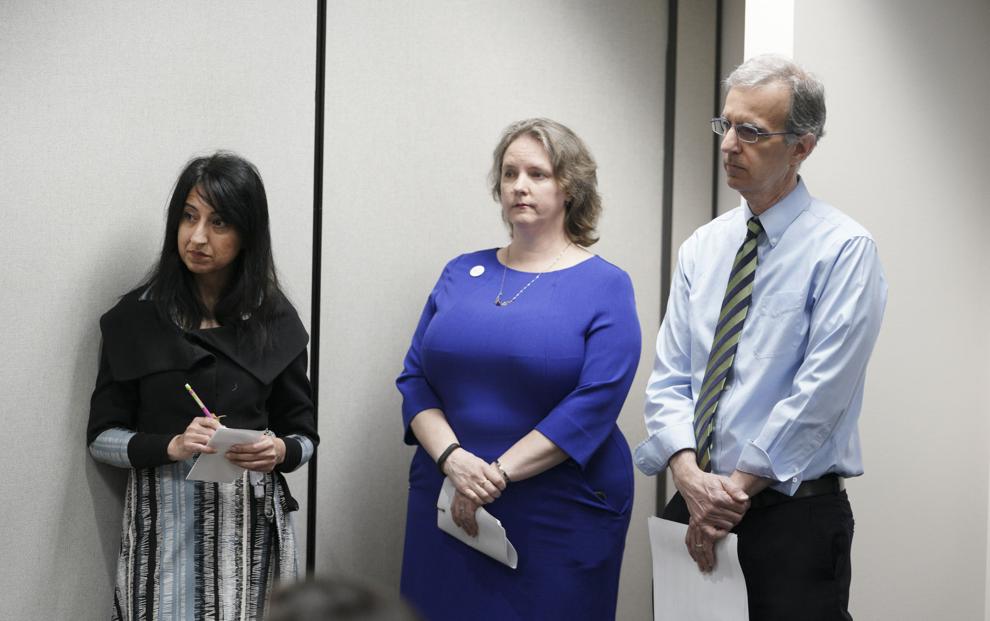 While schools have closed in other areas of the country hit harder by the new coronavirus, Madison School District spokesman Tim LeMonds said there are no current plans to close schools here.
Instead, the district plans to close specific schools only if a student or staff member in that building is confirmed to have COVID-19, LeMonds said, citing guidance the district received from Public Health Madison and Dane County.
"Even though something isn't the case today, we certainly need to be ready for what this situation brings tomorrow," he said.
District staff are also discussing the possibility of online instruction, similar to plans UW-Madison and other colleges and universities announced Wednesday.
The district has already imposed a ban on out-of-state travel and a cessation of district-sponsored events through the end of the school year. That includes out-of-state conferences for teachers and also means 11 student group trips or sports competitions outside of Wisconsin have been canceled, LeMonds said.
The district is also considering whether to postpone or cancel upcoming district-sponsored large gatherings, such as sporting events this weekend, he said. The status of events later this spring, such as prom and graduation ceremonies, will be decided later, LeMonds said.
Dane County Executive Joe Parisi said local officials are setting up an an emergency command center to respond to the outbreak and plan to limit non-essential services. "We need to protect our ability to respond," he said.
Many local governments, businesses and other organizations have already urged — or ordered — employees to work from home, canceled conferences and banned most travel. Earlier this week, Dane County announced county employees who travel to states with more than 10 cases of the new coronavirus must stay away from their workplaces for 14 days after they return.
President Donald Trump's campaign said it will reschedule the Catholics for Trump event that had been slated for March 19 in Milwaukee.
Courts on hold
Officials are also considering limiting the number of trials and other hearings held at the Dane County Courthouse in coming weeks in a plan expected to be announced Thursday.
Circuit Judge William Hanrahan, chief judge for the state judicial district that includes Dane County, said in an email Wednesday that the plan would prioritize cases currently scheduled, with time-sensitive cases being given priority over cases that can wait.
Priority cases, he said, would include certain juvenile court hearings, mental commitment hearings, and criminal case hearings and trials in which a defendant is currently in custody, among others.
The outline of the plan was established Wednesday at a meeting of all 17 of the county's judges. The plan will remain in effect until at least April 17, when it will be reviewed, Hanrahan wrote.
"In the view of the committee, it was not appropriate to summon a couple of hundred potential jurors and have them sitting together downstairs waiting to be selected for non-time-sensitive jury trials," Hanrahan wrote. When possible, routine hearings will be conducted by telephone or video conference, he wrote.
In an indication of further disruptions, Rhodes-Conway urged residents to vote early in the April 7 spring election and presidential primary or through an absentee ballot if possible. She said elections officials are looking at moving polling places from high-risk locations such as nursing homes.
"We are no longer solely focused on the individual cases here in Dane County," she said. "We are focused on protecting our entire community."
Three new cases
One of the new cases announced Wednesday involves a person in Waukesha County who tested positive after traveling in the United States and abroad, according to the state Department of Health Services. The two cases from Fond du Lac County also involved patients who had traveled recently, one in the U.S. and the other internationally, DHS said.
One of those patients has been hospitalized, while the other is in isolation at home.
The department on Wednesday also issued new guidance for travelers who have recently been on a cruise in Egypt, although it was not clear whether there was a connection with the new cases.
Under the new advisory, anyone who has been on a cruise to Egypt should quarantine at home immediately. Those who have symptoms like fever or respiratory illness should call their health care provider to be tested. Even those who don't have symptoms but have been on such a cruise should call their local health department, DHS said.
Meanwhile, Milwaukee Mayor Tom Barrett asked Gov. Tony Evers to declare an emergency to free up resources to respond to the virus.
"This is a preparedness measure," Barrett said. "We don't know what's going to come next, but we want to make sure we're prepared."
Evers set a news conference for Thursday at the state's emergency response center.
'Will happen here'
Dane County has had two of Wisconsin's six confirmed cases of COVID-19, but the new coronavirus is not believed to be spreading here in the community yet, said Janel Heinrich, director of Public Health Madison and Dane County.
However, "it's likely that it will happen here," Heinrich said.
She and other officials said everyone should avoid unnecessary travel to places with widespread COVID-19 and frequently wash their hands, avoid touching their faces, stop shaking hands with others, cover coughs and sneezes, routinely clean surfaces and stay home if ill.
People 60 and over, those with underlying health conditions and pregnant women should try to stay away from large gatherings, Heinrich said.
Dr. Nasia Safdar, medical director of infection control at UW Health, said if hospitals share masks and equipment and add more isolation rooms, "I think that we could manage" the outbreak.
But "if there was a true surge of large numbers of patients that required ventilator support or that required ICU care, no one entity can claim that we are fully prepared," Safdar said.
As a precaution, UW Health on Wednesday announced new visitor guidelines, saying only one visitor per patient will be allowed at UW Hospital and two primary support persons at American Family Children's Hospital.
Dr. Amy Franta, vice president of medical affairs at SSM Health St. Mary's Hospital, said people with fever and cough who might have COVID-19 should call ahead to clinics or emergency rooms before showing up. That's what a recently diagnosed person did, allowing staff to direct the person to an alternative entrance, avoid a common waiting room and get health care workers protective gear.
State Journal reporters David Wahlberg, Logan Wroge, Ed Treleven and Shanzeh Ahmad, and The Associated Press contributed to this report.
Editor's note: This story has corrected the title of Milwaukee Mayor Tom Barrett.