The Rev. Melva Bishop-Hewing, a chaplain at SSM Health St. Mary's Hospital, checked on Victoria Hagedorn, 17 — who gave birth to a girl prematurely, at 24 weeks — and asked how the new mother was doing.
Hagedorn said she was OK, given the circumstances, then turned to her boyfriend, the baby's father, Nate Byrne. "If he wasn't here, I'd go insane," she said.
Without missing a beat, Bishop-Hewing asked Byrne, 18, if he was relying on his parents for emotional support — including his mother, Amanda Byrne, also in the hospital room. "If (Hagedorn) is leaning on your shoulder, you need somebody's shoulders to lean on," Bishop-Hewing said, her voice a gentle whisper.
"Thank you for saying that," Amanda Byrne said. "He has always been pretty stoic."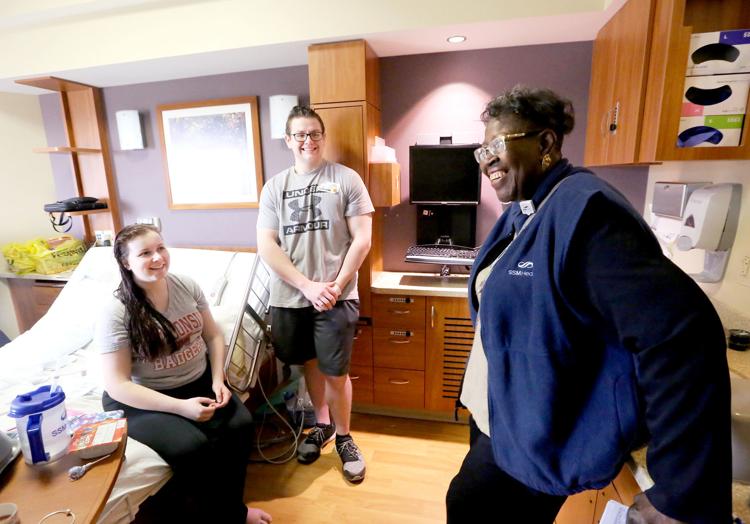 Whether it's welcoming a new life, preparing for a life to end or dealing with the anguish or uncertainty of injury, surgery or disease, patients and families often turn to hospital chaplains for help with their mind, body and spirit.
Despite a national decline in church attendance, or perhaps because of it, hospital chaplain programs are on the rise. More than 65 percent of hospitals in the U.S. had chaplains in 2016, up from 53 percent in 2002, according to the American Hospital Association.
Madison's four main hospitals have had chaplains for years. Religious leaders trained to work with people from any faith or with no particular belief, hospital chaplains pray with patients, perform rituals, discuss end-of-life decisions and simply listen to concerns.
"We are a safe, non-judgmental, meet-you-where-you-are, extra layer of support," said the Rev. Kendra McIntosh, chaplain supervisor at UW Hospital. "We don't have an agenda. Our agenda is whatever the patient identifies as their need."
The Rev. Victoria Fishel, lead clinical chaplain at Madison's Veterans Hospital, said hospital chaplains are not out to convert people, despite that common misperception.
"Proselytizing is not part of what we do," Fishel said. "We listen to patients as they share whatever is on their mind."
UnityPoint Health-Meriter runs one of nine chaplain training programs in Wisconsin through APCE, a national agency recognized by the U.S. Department of Education. Other programs are at Aurora Health Care in Milwaukee, Gundersen Health System in La Crosse, Mayo Clinic Health System in Eau Claire and nursing homes in Merrill, Milwaukee, Oshkosh and Wauwatosa.
At Meriter, about a dozen interns, residents and fellows train with staff chaplain educators to learn how to cater to patients with a wide range of backgrounds and needs.
"We are trained to meet people at a very human-nature level," said the Rev. Charles Orme-Rogers, Meriter's senior staff chaplain. "We try to connect with them by just showing up and being present, but also providing empathy and compassion."
Street clothes
At St. Mary's, Bishop-Hewing is one of six core chaplains. She is Baptist, one is Unitarian, two are Lutheran and two are Catholic.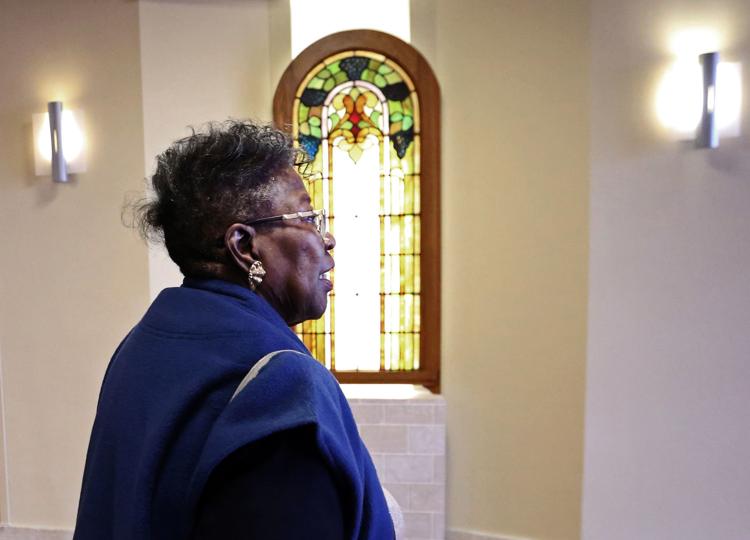 Other chaplains are on call at night, including a Buddhist and a Methodist. Community leaders from other faiths, including Judaism, Islam, Hindu and Jehovah's Witness, are brought in as needed.
Like at the other hospitals, most chaplains at St. Mary's wear street clothes and blend in with other support staff.
"I'm the only one that's kind of a dead giveaway because of the collar," said the Rev. Pat Norris, a Catholic priest.
St. Mary's chaplains see every hospitalized patient within 48 hours unless the patient declines. Each chaplain covers certain clinical areas, with one overseeing cancer, respiratory illness and intensive care, and another handling orthopedics and general surgery.
Bishop-Hewing is responsible for psychiatry and the women and children units.
During her visit with Hagedorn last month, the two discussed the Milton teen's premature daughter, Elyse, who weighed 1 pound 3 ounces at birth March 9 and is in the neonatal intensive care unit.
"It was definitely a blessing, though not necessarily the way we wanted it to go," Hagedorn said of the premature delivery.
Elyse will be bigger and healthier when Hagedorn takes her home, Bishop-Hewing assured her.
"That's the miracle," the chaplain said.
You have free articles remaining.
Register for more free articles
Stay logged in to skip the surveys
Moral injury
Fishel, who is from the Disciples of Christ church, a Protestant denomination, is one of three staff chaplains at the VA hospital. One is from the Evangelical Free Church of America, and the other is non-denominational.
In addition to seeing many hospice and palliative care patients, Fishel helps veterans struggling with addiction, mental illness and the repercussions of "moral injury" — doing or seeing something against their nature, such as killing or handling dead bodies.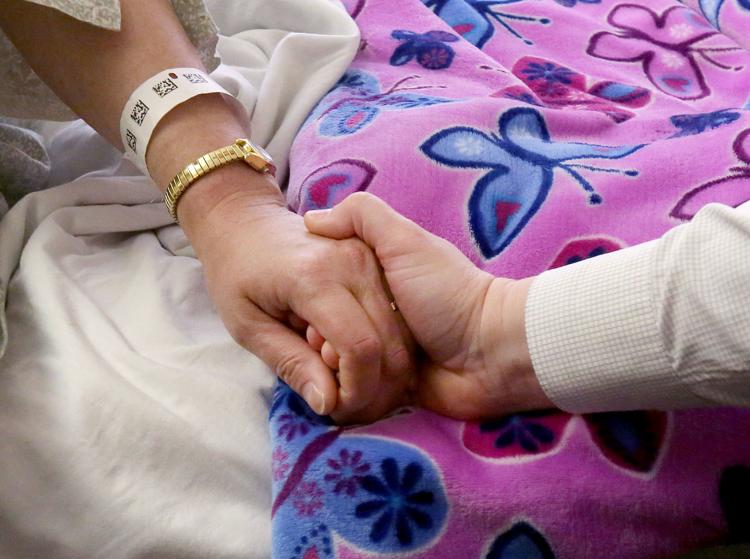 She recalled a 97-year-old man who was dying after experiencing a moral injury during World War II, the details of which he had not shared with anyone, fearing he would be judged.
In his final days, he described the difficult episode to her.
"He was able to express it, get it off his chest, and then we were able to move forward with restoration," Fishel said.
Orme-Rogers, at Meriter, is an Episcopal priest. The other staff chaplain at the hospital is an Orthodox Jew. More than two dozen other chaplains rotate night shifts.
The chaplains in training at Meriter represent a broad spectrum of backgrounds, including Anglican, Reformed Church of America and Zen Buddhism.
Meriter's chaplains and trainees mostly respond to patient requests or staff referrals for pastoral care, and rarely do cold calls, Orme-Rogers said.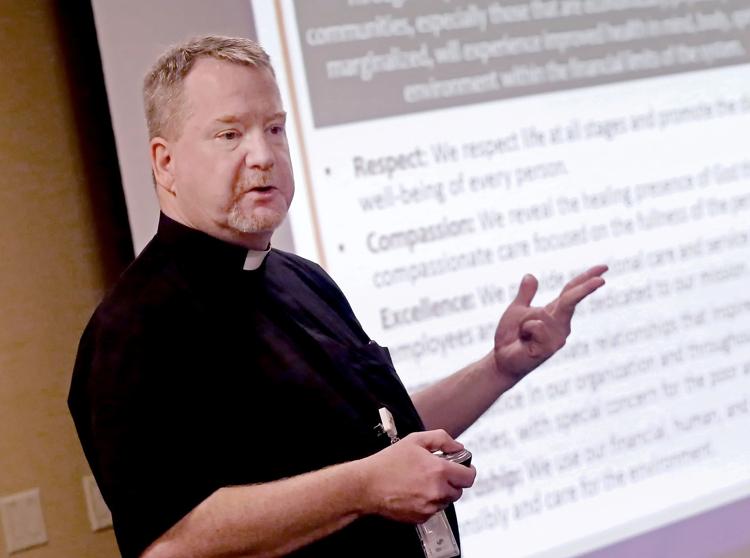 Much of the work involves chronic illness and dying, which can be emotionally difficult, he said. But helping people find strength through struggle can be uplifting.
"It's an honor to work with patients and families in these situations," he said.
A prayer for healing
McIntosh, at UW Health, is also Episcopalian. Three other staff chaplains at UW are Catholic, Lutheran and United Methodist.
Among 11 night chaplains at UW are people from the Eastern Orthodox Church and Vineyard, which is non-denominational. Doctors who are Muslim and Native American help bring in spiritual leaders from those groups when needed, and Amish, Hmong, Jehovah's Witness and Jewish clergy are also available, McIntosh said.
McIntosh, who was a parish priest in New York City for eight years, said being a hospital chaplain gives her more of a chance to make a difference in people's lives at challenging yet revealing times.
"I get to learn some of those lessons that happen in those fertile times, without having it being my family, my loved ones, experiencing that," she said. "There are no guarantees for any of us. Tomorrow is not a guarantee. This evening is not a guarantee."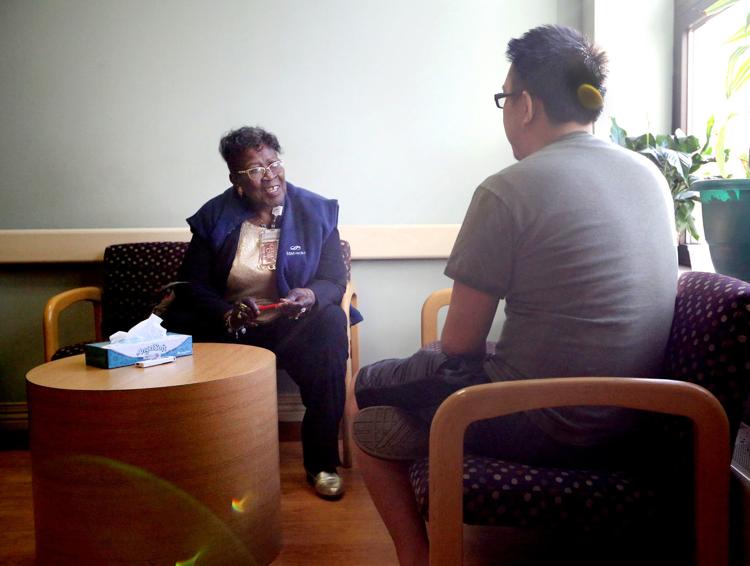 One day last month, she visited with Laura Brockner, of Beloit, who was recovering from chemotherapy and a bone marrow transplant for acute myeloid leukemia.
The two talked about Brockner's father, who died in February, and her son, who is getting married in June.
Brockner, 57, said she wants to get back to singing oldies, country and gospel, which she does with a friend at assisted-living facilities and nursing homes. But her blood cell counts weren't doing as well as hoped following her transplant, which left her discouraged.
McIntosh took her hand and offered a prayer.
"God, we know that, whatever we're up against, you are right here with us," McIntosh said. She added a request "for healing, in body, mind and spirit, for counts that are supposed to increase to increase, and the counts that aren't supposed to, for them not to."
Brockner said she has talked to McIntosh several times during three hospital stays in the past two years.
"You've got to have a positive attitude," she said. "Sometimes, when it's not there, you need a little boost."