Five pregnant women sat in a circle and passed around birth control devices: condoms, the pill, an implant, a shot, a diaphragm, a vaginal ring and two types of intrauterine devices, or IUDs.
One said the shot gave her heavy periods, though she might try it again. Another said getting an IUD felt "like a bee sting" but later she felt no discomfort.
Emily Beaman, a certified nurse midwife leading the group, encouraged the women to consider which method they might use after delivering their babies.
"It's a good time to start thinking about it now," Beaman said.
The women, most in the early third trimester of their pregnancies, are part of Centering Pregnancy, a UW Health program that replaces individual prenatal care with a series of group visits.
In each of 10 two-hour sessions beginning at roughly the 16th week of pregnancy, each developing baby's heartbeat is checked and their size is measured. Then the women learn about healthy pregnancies together and become a support group.
"To go through the same symptoms, aches and pains with everybody settles you down," said Cindy Zelaya, of Oregon, a participant who is expecting her first child in March.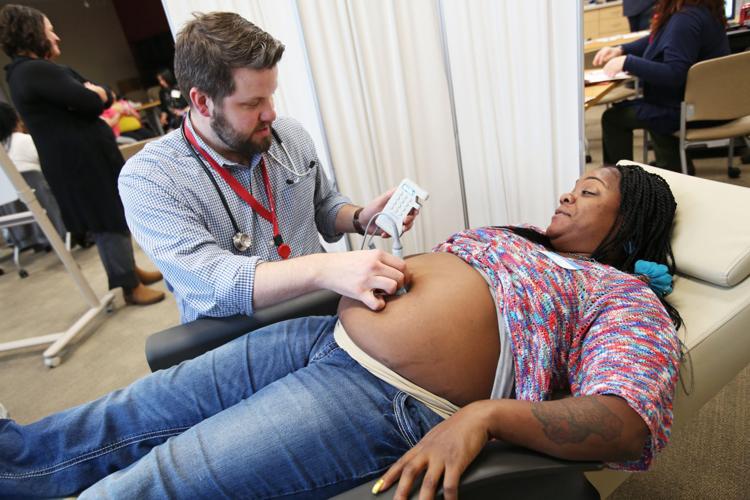 The approach, supported by the March of Dimes, started nationally two decades ago and at UW Health last year. Five clinics in Southeast Wisconsin offer the program but no other place in Wisconsin does.
Access Community Health Centers in Madison offers another kind of group prenatal care, however, and Dean Clinic offers group prenatal classes.
Centering Pregnancy — which includes 13 key elements, such as sitting in a circle and doing individual health assessments in the same space as group sessions — can reduce preterm birth rates by a third, studies have found.
Some preterm births have resulted in infant deaths in Dane County in recent years, especially among black babies. Preventing early births and closing the black-white infant mortality gap is a major focus of local health officials.
Centering Pregnancy could be part of the solution, said Dr. Cynthie Anderson, an obstetrician/gynecologist at UW Health.
It's not clear how the model reduces preterm births, but it could be because the communal experience decreases anxiety and encourages women to ask any question they want, Anderson said.
"Typically prenatal visits are very brief, with limited time for health education, nutrition education and breastfeeding education," she said. With the shared sessions, "you have extra time to have a really dynamic group discussion."
Since UW Health started Centering Pregnancy in May 2014, about 40 percent of eligible women have participated, nearly half of them white, a quarter black and a fifth Latina.
During a meeting in early December of UW Health's 11th Centering Pregnancy group, five women gathered, along with loved ones and health care providers, at the UW Health Arboretum Clinic and discussed two topics: birth control and domestic violence.
Beaman described how one of the IUDs the group passed around lasts five years and the other 10 years. Later, she explained that women who want to have a baby can remove the devices at any time.
"Oh, OK," one of the women said.
Dr. Bret Valentine, a family medicine resident, or doctor-in-training, helped lead the session. He said the birth control implant, called Nexplanon, works well but isn't as effective as an IUD.
"We know IUDs are the most effective form of birth control," he said.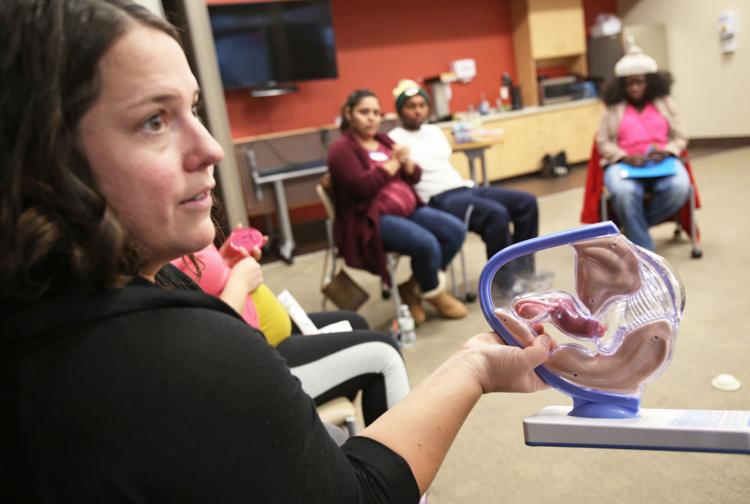 The birth control discussion led to other topics. One woman asked how long women should wait after childbirth before having sex. Another asked when exercise could resume.
About six weeks for both, Beaman and Valentine said. Beaman said women should try to do as little of any activity as possible the first two weeks.
"Your body really needs time to heal," she said.
To generate discussion about domestic violence, the leaders had women read aloud statements on prepared cards. The rest of the group voted on whether the statements were true or false.
One card said more than 3 million women are abused by their partners each year. True, the leaders and others agreed.
Abusive relationships are always abusive, another card said. The consensus: False.
One woman talked about enduring abuse but having mixed feelings because she didn't want her partner to get in trouble with authorities.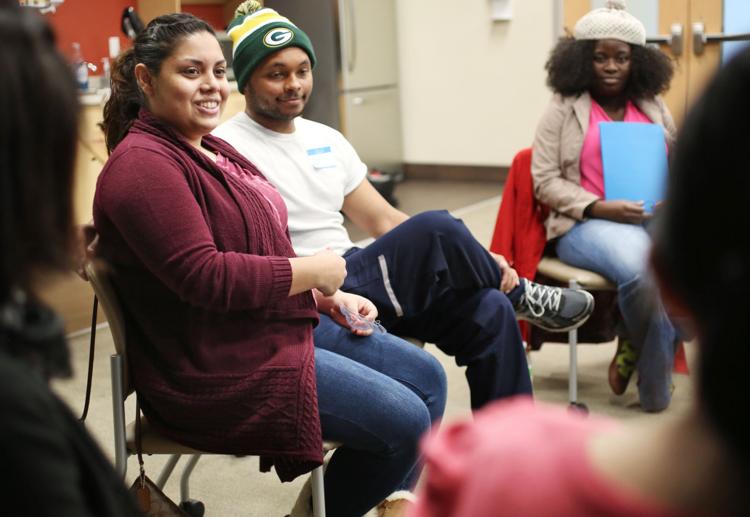 Counselors are available to help with such situations, which can be difficult to navigate, Beaman said. "Just because you're being abused by somebody doesn't mean you don't love them," she said.
Leaders handed out lipstick cases containing a piece of paper with names and numbers of places that help women experiencing abuse.
Elvia Hernandez, one of the participants, has an 11-year-old son and is expecting another boy in February. Even though she has had experience with pregnancy and childbirth, she said she is learning a lot from the sessions, such as how to cradle and feed a baby at the same time.
When her son was born, she lived in Mexico, where her mother was available to help. Now she is in Madison, where she has lived for seven years, without her mother.
"I feel alone and am not sure what to do," Hernandez said through an interpreter. "I forgot how to take care of a baby."
[Editor's note: This story has been updated to reflect a correction. The original story misstated Dr. Bret Valentine's medical specialty. He is a family medicine resident.]