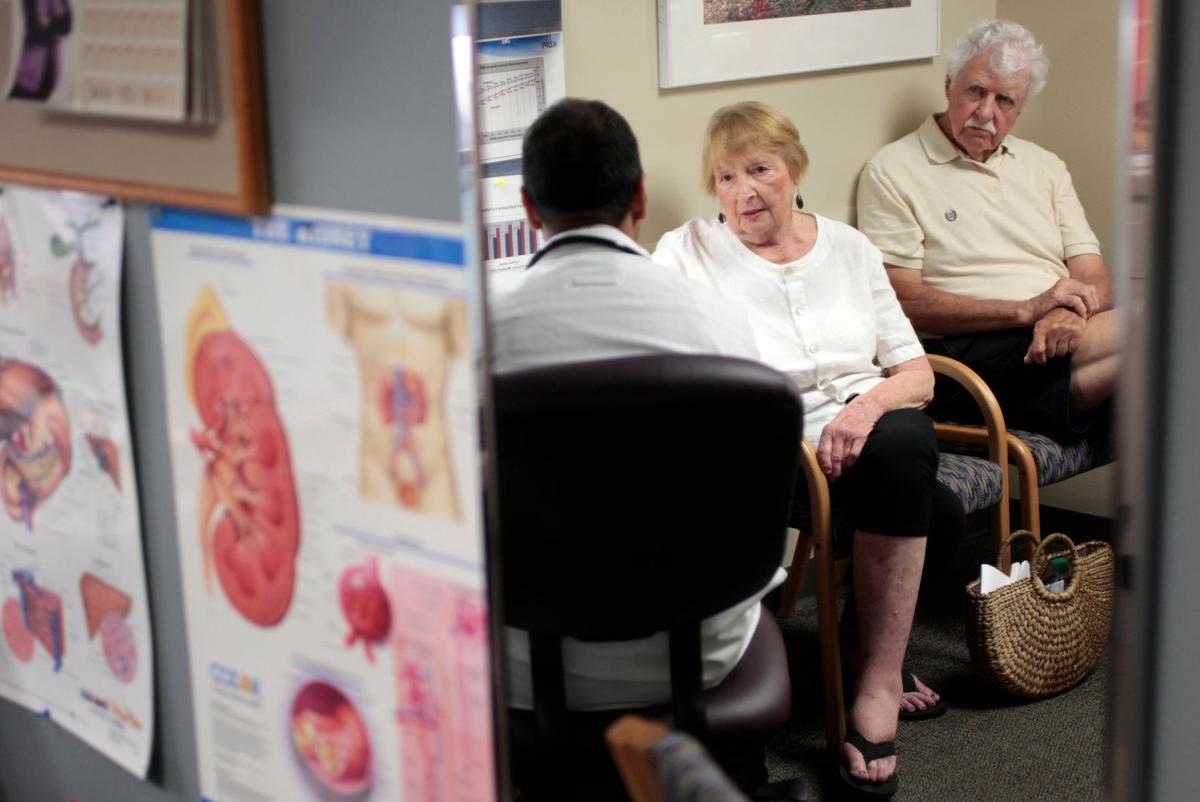 In yoga class, Kathy Hart heard about a 7-year-old boy who needed a kidney. She thought of her brother, who died young from a rare disease, and decided to donate a kidney to the boy — or anyone.
Peggy Hansmann's kidney disorder made her ankles swell and left the special education teacher so tired she had to nap to make it through the day.
Lynn Johnson offered a kidney to his wife, Hansmann's sister, who has the same disorder. When a better match came along for his wife, Johnson — who was not a match for Hansmann — said he would donate to a stranger if it would help Hansmann get a transplant.
Mitzi Neyens, 77, figured she was too old to get a kidney. But the kidney dysfunction she had lived with for 30 years was getting worse, and she wasn't ready to give up.
Early this year, Hart, Hansmann, Johnson and Neyens became part of the nation's largest kidney transplant chain. Such chains, which started eight years ago, connect people who need kidneys and their willing but mismatched donors with other incompatible pairs to find suitable donors for all recipients involved.
The four participants, from Wisconsin and Minnesota, were links in a chain that included 70 people in 35 transplants at 25 hospitals in 15 states and the District of Columbia over three and a half months. Organized by the National Kidney Registry, the chain started and ended at UW Hospital, looping through Madison once in between.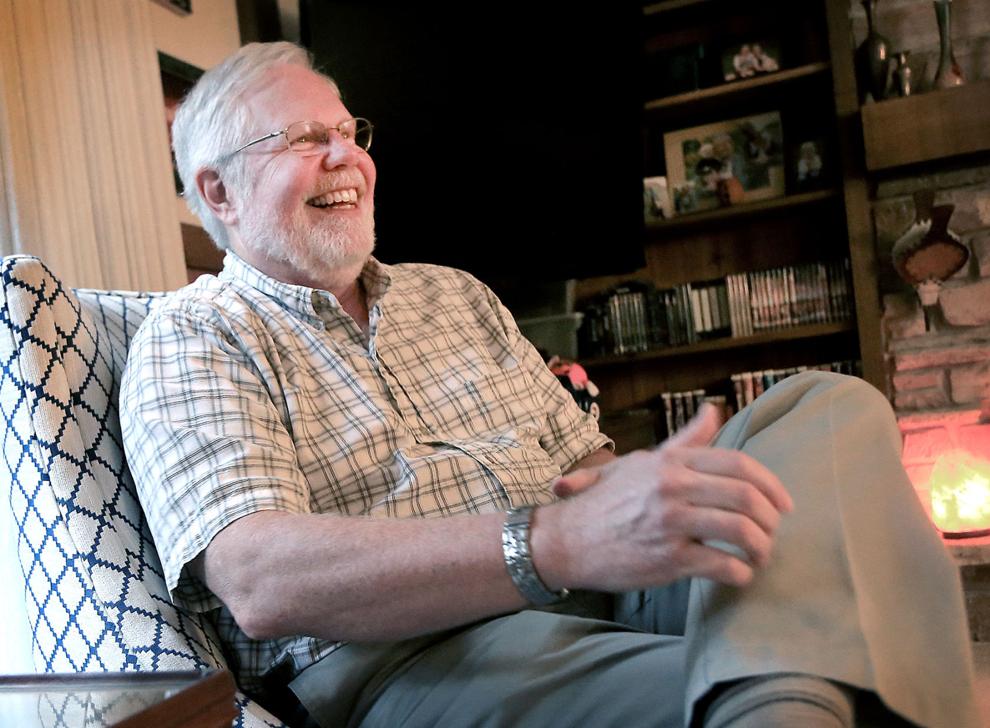 Transplant chains, which rely on goodwill, computer technology and coordination by medical staff around the country, have transformed kidney transplants and living donation by greatly increasing the odds that patients can find matching donors.
"It's among the biggest breakthroughs in organ transplantation since the turn of this new century," said Dr. Dixon Kaufman, transplant chairman at UW Hospital, which joined the National Kidney Registry four years ago.
UW Hospital has performed 79 transplants through the registry, including 17 within the past 12 months — the fifth most of 51 centers involved during that period.
Froedtert Hospital and Aurora St. Luke's Medical Center in Milwaukee also participate.
Garet Hil, a software entrepreneur, founded the National Kidney Registry, based in Babylon, New York, in 2007. He, his wife and other family members were not suitable donors for their daughter, who needed a kidney and eventually got one.
Hil developed computer programs that can sort through millions of donor-recipient configurations to solve a problem that continues to challenge medical science: clashes between the blood types or immune systems of people who need kidneys and those who want to donate to them.
The registry, through its large pool of donors and recipients, has facilitated nearly 300 chains and 1,500 transplants.
"It would take a person a lifetime to do a match run that takes our computers 30 seconds," Hil said. Transplant chains "have eliminated the barrier of incompatibility," he said.
It's not as easy as it sounds.
Donors or recipients can suddenly become ill, postponing surgeries. Donors occasionally drop out at the last minute, causing chains to fall apart. Immune systems can change, unraveling donor and recipient pairings.
Kidneys are generally shipped on commercial flights, which can be delayed. Once kidneys arrive at transplant centers, surgeons can decline them if they notice irregularities.
"You can be at the 1-yard line and get tackled," said Karen Miller, a UW Hospital transplant coordinator. "There are always bumps on the road."
The Alliance for Paired Donation, in Toledo, Ohio, has put together more than 30 transplant chains, said Dr. Michael Rees, medical director. The organization focuses more on hard-to-match patients than the registry does, Rees said.
The United Network for Organ Sharing, a nonprofit that runs the nation's transplant system, also does transplant chains.
Each chain begins with a special kind of donor — someone willing to give to anyone even without having a friend or loved one needing a kidney in return. They are called Good Samaritan donors.
Interactive: Record-setting transplant chain
Kidney patients might have friends or loved ones willing to donate a kidney, but they don't match. Transplant chains let patients find strangers to give them kidneys in return for their friends or loved ones donating to someone else. The exchanges can last for months. UW Hospital had an integral role in the largest-ever kidney transplant chain this year.
Sharing good health, despite fear of doctors
Hart was the Good Samaritan donor who set everything in motion for the record-setting chain this January through March.
A family law attorney from Stillwater, Minnesota, Hart said she is usually leery about going to the doctor, making it all the more surprising she was willing to undergo major surgery to assist a stranger.
She is a "horrible patient" who ignores medical advice and puts off vaccinations, she said. She volunteers and gives to charity but has never donated blood.
"I hate going to the doctor," said Hart, 48. "Needles really creep me out."
But when she heard three years ago about the 7-year-old boy who needed a kidney, she felt compelled to help. Her younger brother died at 17 from neurofibromatosis, which causes tumors to grow along nerves. He had seizures, learning disabilities and a disfigured spine.
"If I'm lucky enough to have good health, I'm going to share that if I can," Hart said.
Without telling the boy's family, she was tested to see if she was a match. She wasn't, but she had learned about living donor exchanges and was hooked.
"I told them right from the start, if I am eligible to donate, I would do that for anyone," she said. "Why wouldn't I?"
Hansmann, 57, of Plymouth, near Sheboygan, received Hart's kidney. The surgery was performed at UW Hospital Jan. 6, the same day as Hart's donation procedure at the University of Minnesota in Minneapolis.
It was the first transplant in the chain.
Hansmann has polycystic kidney disease, an inherited disorder that causes cysts to grow on kidneys and impede their function.
Her father had the condition and died at age 59. A sister died from it at 42. Three of Hansmann's five remaining siblings have it.
When Hansmann entered her 50s, the disease got worse, leaving her exhausted most days. She kept teaching at Howard's Grove Middle School but could do little else.
"You're always tired," she said. "You're uncomfortable in the mid-section, so you don't want to eat."
Last year, doctors said she needed dialysis or a transplant.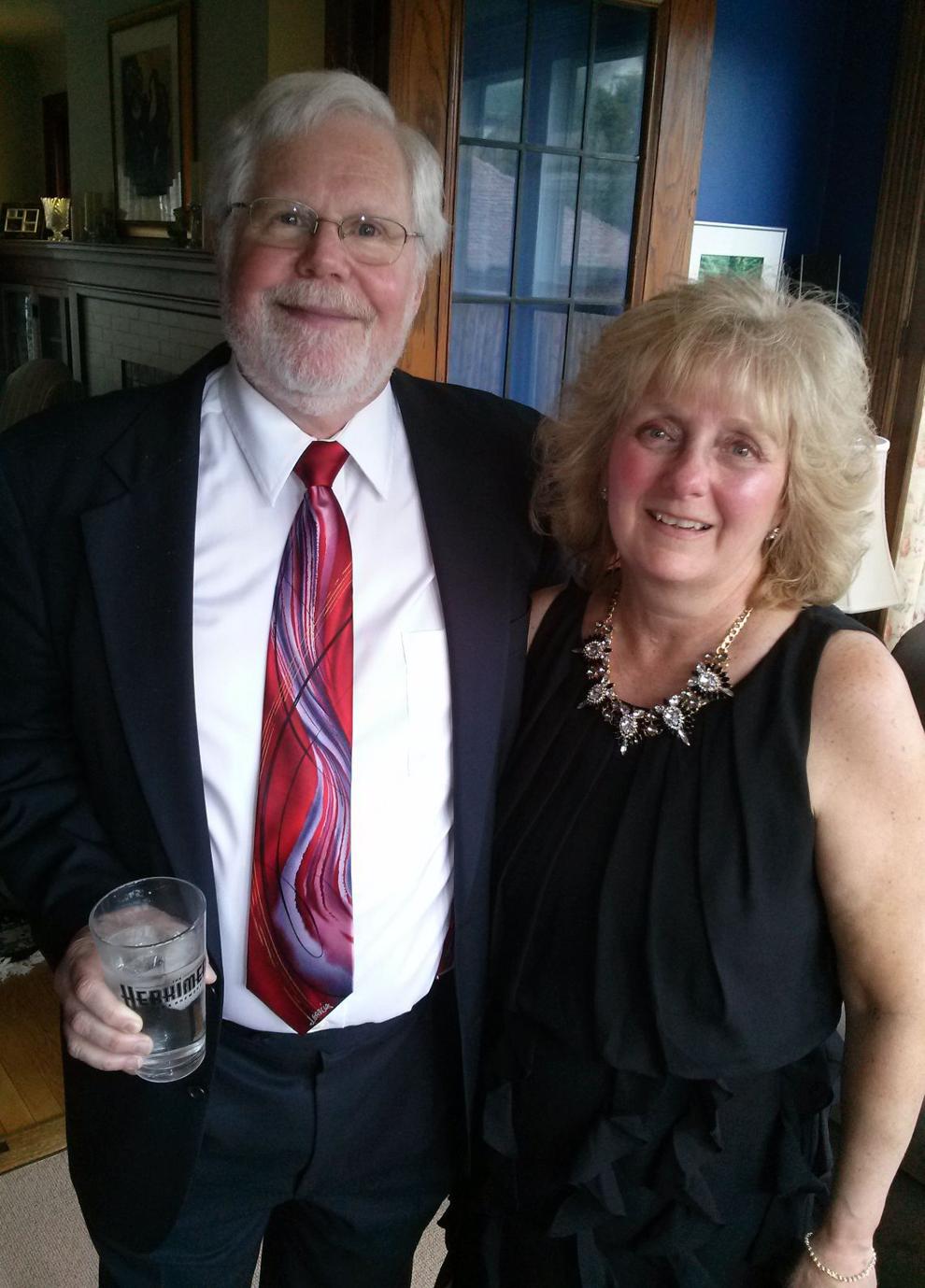 Exchange becomes a chain
Five years earlier, Johnson said he would give a kidney to his wife, Judy, 61, Hansmann's sister, whose kidneys were failing from polycystic kidney disease.
Another sister of Hansmann and Judy Johnson — Diane Kretsch, 62, of Shorewood, who doesn't have the condition — donated instead in 2010.
Johnson wasn't a match for Hansmann but realized he could still help her.
"I volunteered to donate for Peggy, not to her," said Johnson, 64, of Middleton, an electrical engineer.
He and Hansmann signed up to do an exchange with another incompatible pair. Soon they learned it might become a three-way swap.
"Then it just kept going and going and going," Johnson said.
After Johnson's donation at UW Hospital on Jan. 6, his kidney was transplanted into a man in Pittsburgh, the second transplant in the chain.
The eighth recipient, Nick Nied, 30, and the ninth donor, Kyle Nied, 25 — brothers from Vernon Hills, Illinois — had their surgeries performed at UW Hospital on Jan. 8.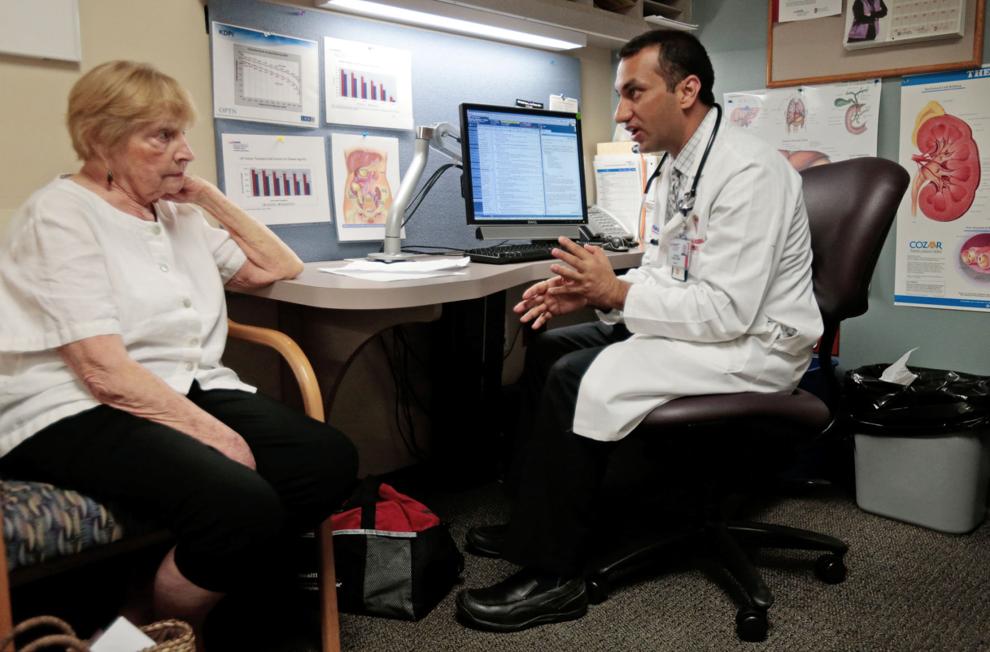 Running out of options
It wasn't until March 26 that Neyens, of Wausau, received her kidney at UW Hospital during the last transplant in the chain.
Neyens' kidneys started failing when she was 47. The condition was manageable until two years ago, when blood tests showed the problem was getting worse. Soon Neyens became so tired she couldn't cook, clean or work in the garden.
"The only thing I could do was knit," she said.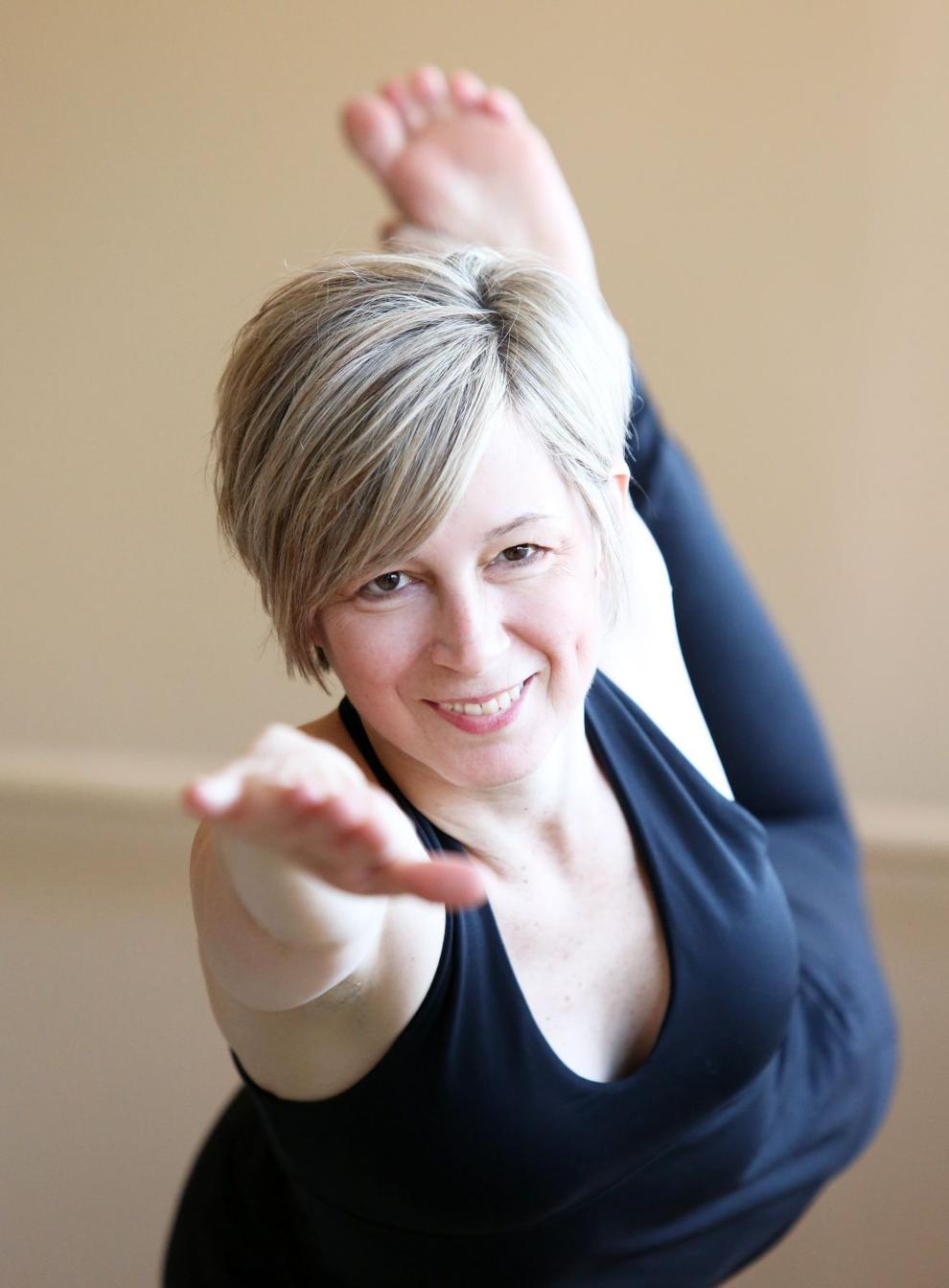 She knew that patients age 70 and older typically have a hard time getting a deceased donor kidney. Half a dozen family members and friends were tested to be living donors but none matched.
Then Megan O'Leary, a friend's daughter from De Pere, near Green Bay, offered to donate a kidney to anyone if it meant Neyens could get one.
O'Leary, 51, donated to a man in Pennsylvania in August 2014 in a three-transplant chain, helping secure Neyens' place at the end of the 35-transplant chain.
All six donors and recipients in the Madison links of the record-setting chain said they feel well and are happy they were part of history.
Hansmann summed up her gratitude to Hart in a letter.
"Your love and generosity to give a person you do not even know a second chance at life is truly a miracle," Hansmann wrote.
Hart thinks of her Good Samaritan donation in a spiritual way. She doesn't belong to a church but said giving her kidney to a stranger was about connecting with something greater.
"Our actions, big and small, have an impact far greater than we ever understand," Hart said. "It happens on a smaller scale every day."