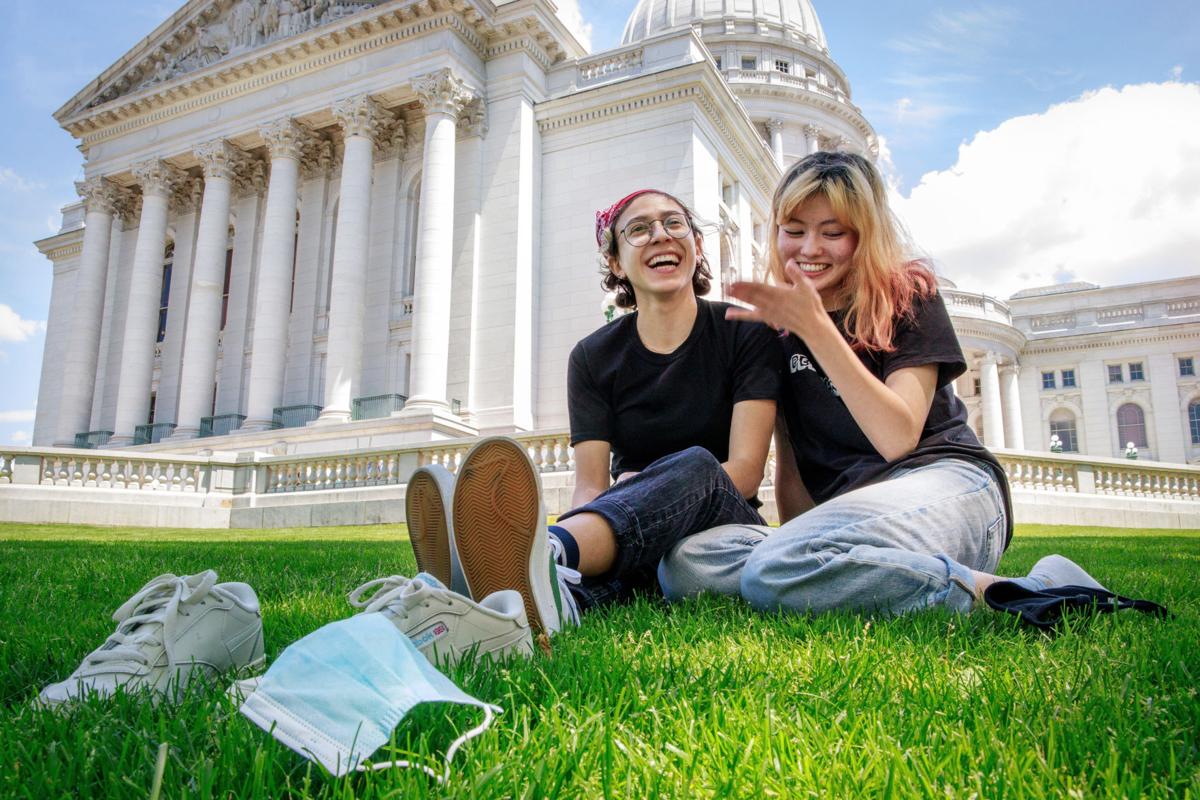 Dane County residents could cast aside their face masks and gather without limits Wednesday after nearly 15 months of COVID-19 restrictions. But experts said that while the pandemic has clearly eased up here and around the country, the threat is not over.
"The 'officially over' likely will be when the world sees a decline like the U.S. has seen," said Dr. Nasia Safdar, medical director for infection control at UW Health. "That isn't likely anytime soon."
Coronavirus cases, hospitalizations and deaths have declined dramatically in the county, Wisconsin and the U.S., with the county now seeing fewer than 20 new cases a day, down from the peak daily average of nearly 500 cases in mid-November. Some 76% of residents 12 and older have had at least one dose of COVID-19 vaccine, with the county having one of the highest vaccination rates in the country.
"Vaccine is supporting the case levels to continue to get lower every day," said Janel Heinrich, director of Public Health Madison and Dane County. "I think the hard work of not letting (cases) go rampant by wearing our masks and being physically distanced got us to a place where that vaccine coverage could take root quickly and we could see the results of it."
Statewide COVID-19 restrictions were implemented in mid-March of 2020 but struck down by the state Supreme Court two months later, prompting the city-county health department to issue the first of its 16 orders involving masks, business operations and indoor and outdoor gatherings.
With the expiration of the department's latest mask requirements and gathering limits Wednesday, most regular activities can resume. However, some businesses and other entities are continuing to require masks, and people not fully vaccinated are asked to keep wearing them indoors.
Amy Moore, owner of Little Luxuries gift shop on State Street, said she decided to keep the mask mandate for her store because it's "a small space" where social distancing is challenging, and the store often gets visitors from throughout the country.
Moore said the store is taking on more responsibility to require masks without the countywide mandate to lean on, but said her store hasn't been getting much pushback aside from a few "disgruntled customers." She said Little Luxuries got a positive response from customers on social media when it announced the mandate will stay.
"We're going to stick with it for now," she said.
Michelle Wickman, a worker at Community Pharmacy, said staff decided that workers in the store will still wear masks, but face coverings will no longer be required for customers.
She said "it's been rough" to enforce the mandate, even when it was a county rule. Wickman said staff may put up a sign saying that masks are "suggested."
"We thought we would see how it goes," Wickman said.
If customers are unhappy with the mandate being lifted, Wickman said the store may open special hours for those who would be more comfortable if everyone were still masked.
Bailey Link, manager at Grace Coffee Co., said masks are required for staff and unvaccinated customers, but those who are vaccinated can ditch the coverings. She said the store may ask people to show their vaccination cards but hasn't had to do that so far.
Curtis Diller, owner of Kilwins chocolate shop on State Street, ripped down his sign that mandated masks early Wednesday afternoon. He said even though his staff are vaccinated, all will still wear masks "out of kindness to others." But he said he'll no longer ask customers to wear them.
So what now?
Some wondered whether the sight of staff still wearing masks will dissuade others who oppose masks on political grounds from entering their establishments.
"Do masks hurt business?" Diller said. "There are people who are going to keep walking."
Wickman said the staff at Community Pharmacy were also concerned that "maintaining mask-wearing might negatively impact the bottom line." But she said it could just as easily have the opposite effect.
"I really respect business owners maintaining a mandate," Wickman said. "We all just have to get along and be nice in the world."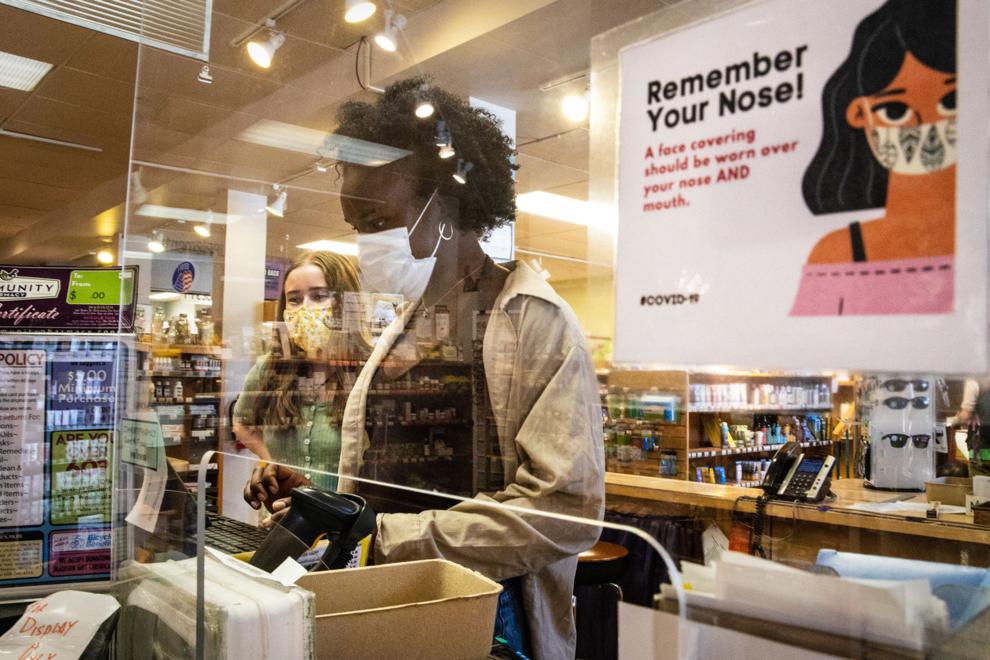 Stacey Scannell, owner of the Soap Opera, said her customers have expressed appreciation for her keeping a mask mandate in place. She said she wants to keep the children who come to her store as safe as possible until vaccines become available to them.
"There's also those that can't be vaccinated for one reason or another, and they are my customers too," Scannell said. "I just want to make sure that they feel comfortable."
Ian's Pizza kitchen manager Russell St. John said many of his employees have children who can't get vaccinated yet. Ian's is still requiring masks for employees and customers but has relaxed its policy and won't be as strict with enforcement. St. John said he hopes people will continue to wear them.
"We're not quite out of the woods yet," he said.
'A lot to tackle'
Caitlin Suemnicht, Food Fight's chief executive officer, said the Madison restaurant group is requiring that unvaccinated customers wear a mask in the restaurants. She said the company is also encouraging fully vaccinated customers to continue to wear a mask, but it's no longer required.
Employees, however, will continue to wear masks regardless of their vaccination status, at least for two more weeks until the company makes a final decision.
"There was just a lot to tackle all at once," Suemnicht said, noting the company first wanted to figure out how to handle customers at an increased capacity.
Food Fight, which operates 19 restaurants, most of which are back operating, is still spreading out its tables, Suemnicht said, while customers who are waiting for a table are being asked to wait outside.
"We don't want to overwhelm employees or customers with suddenly going back to the way things were," she said.
Suemnicht said she expects a tough summer as the company figures out what the masking rules should be, and how much space to put between the tables.
"I think there'll be a learning curve," she said. "It's kind of the pandemic in reverse. Now we have more customers than we're used to and a little fewer employees. I'm sure that we'll get a couple of bumps along the road, but I think by the time summer is all finished up, I hope we're back to normal."
'Uptick' expected
People in the Madison area can expect a relatively normal summer with little danger of serious COVID-19 outbreaks, health experts say. But unvaccinated people still pose a risk, upticks are expected in the fall, and significant spread of the coronavirus in India, parts of South America and elsewhere continue to be a hazard, given global travel.
"We are controlling the pandemic through vaccination and taking precautions," said Ajay Sethi, an infectious disease epidemiologist at UW-Madison. "But we do live in a global society, and we still have countries experiencing epidemics and certainly vulnerable to them in the future. The pandemic can't be over until everybody's safe."
With 59.6% of residents fully vaccinated, Dane County has the second-highest vaccination rate in the U.S. among counties with 300,000 or more people, after San Francisco County in California, according to the Centers for Disease Control and Prevention. With 68.8% of residents 12 and older fully vaccinated, the county is also No. 2 in that category among large counties, after Montgomery County, Maryland.
Dane County is No. 1 among people 65 and older, with 95.9% of seniors fully vaccinated, according to CDC data updated Tuesday.
Given the county's robust vaccination rate, "we're not going to experience a surge like we had before," Sethi said. "But an uptick at some point is expected. People are predicting a fall surge when activities move back indoors."
A new normal?
Safdar said the coronavirus may become like influenza, with some background transmission throughout the year and more activity in colder months.
"It might get worse during the fall season when most viruses get worse," she said. "We will live with it, with vaccine boosters as necessary."
For now, staff and visitors at hospitals, including UW, Meriter and St. Mary's, will be required to keep wearing masks. Because of vulnerable patients such as those with cancer or organ transplants, "It's not something that we're very keen to lift," Safdar said.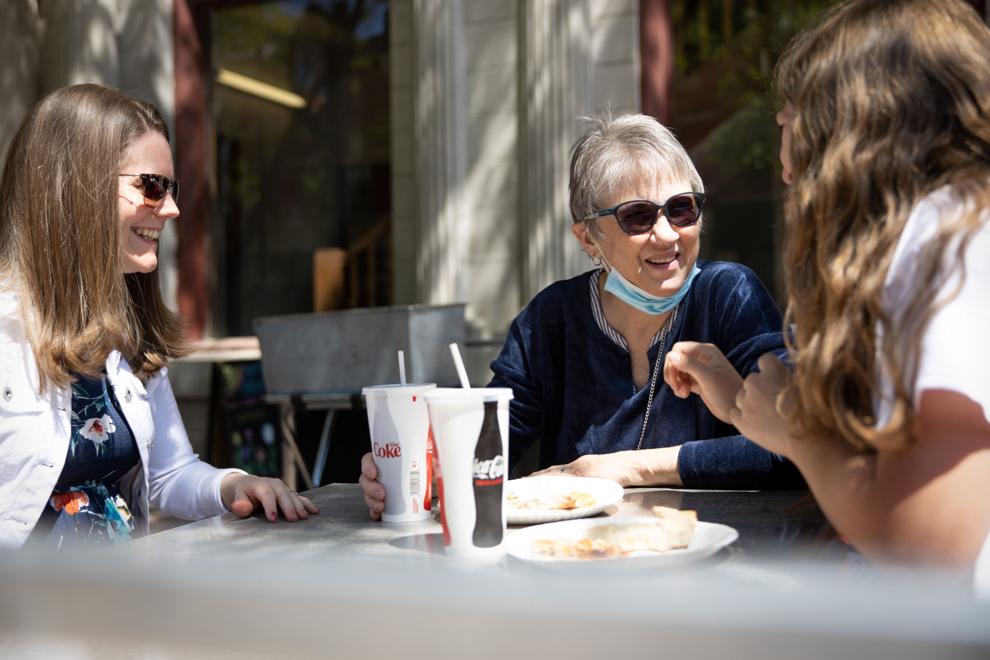 However, in another sign of the dwindling outbreak locally, COVID-19 testing and vaccination at the Alliant Energy Center will end June 26. Both services will continue at smaller Public Health Madison and Dane County sites, as well as at medical clinics and pharmacies, Heinrich said.
The city-county department, which had the equivalent of 160 full-time employees before the pandemic, was up to 350 in December, with many temporary workers hired to do contact tracing. The total is now just below 300, with some permanent staff having returned to their regular jobs, Heinrich said.
"We expect that there will be some surges," she said. "To the extent that we would need to issue orders again, I hope not. We have such high vaccine coverage in Dane County, but we know we're not an island."
Young at risk
With children younger than 12 still not eligible to be vaccinated, and some others not immunized, the pandemic "is emphatically not over, even in Dane County," said Richard Keller, a UW-Madison professor of the history of medicine.
"That's a population where we could see the emergence of new variants, as they remain unvaccinated, as schools reopen, as mask restrictions are lifted," he said.
That point was underscored on Tuesday after Kromrey Middle School in the Middleton-Cross Plains School District confirmed two cases of COVID-19 at the school, sending 70 children home to quarantine for the remainder of the school year, which ends Friday.
The Madison School District had 251 cases across a district of approximately 27,000 students, despite mitigation efforts such as mask requirements and social distancing over the course of the 2020-21 school year. Those cases led to 1,335 instances of quarantine.
Safdar said that with most people vaccinated in Dane County, coronavirus cases that do occur are unlikely to cause much serious disease. Most serious cases will appear in those who haven't been immunized, as is the case for flu, measles and other contagious viruses.
"People who choose not to get vaccinated often bear the brunt of these outbreaks," she said.