Two COVID-19 patients at UW Hospital were treated Sunday with antibodies from at least one local donor who recovered from the disease, the first such treatment for the new coronavirus in Madison in a nationwide study of a technique that has been around for more than a century.
"We've given these patients an immunity boost to fight this virus," said Dr. William Hartman, a UW Health anesthesiologist heading up UW Hospital's study using what's called convalescent plasma to fight COVID-19.
Hartman declined Monday to say how the two patients treated were doing and said more will be treated this week. As of Monday, about a dozen people who have recovered from COVID-19 have donated plasma through the American Red Cross in Madison for use in treating patients at UW Hospital, he said.
The treated patients' "bodies still have to fight off the infection with this boost, and they still have to recover from the disease," Hartman said. "It's hard to determine when we'll know the effectiveness of the treatment — if it's going to be one day, three days, five days."

Gary Dalgaard, 75, of Sun Prairie, became the first local plasma donor in the effort Friday after he was one of the first patients in Dane County to be diagnosed with COVID-19 in early March. His wife, Gretchann, also had COVID-19 and plans to donate plasma but must wait a few days because her symptoms lasted longer.
"We've been sitting on our hands, watching all of the wonderful things that the medical professionals are doing ... feeling helpless because we don't have those kinds of skills," said Dalgaard, a retired heavy manufacturing worker. "This is something we could do to help."
Dalgaard believes his wife, who got sick a couple of days before he did, contacted COVID-19 from a friend who had traveled to Seattle in the early weeks of the U.S. outbreak.
Gretchann, 75, who has asthma, developed a fever, headache and bad cough. Gary had fatigue, a fever and the "runniest nose in the world," he said.
"But we were both very fortunate; neither one of us had serious symptoms," he said. "It was a like a really bad cold."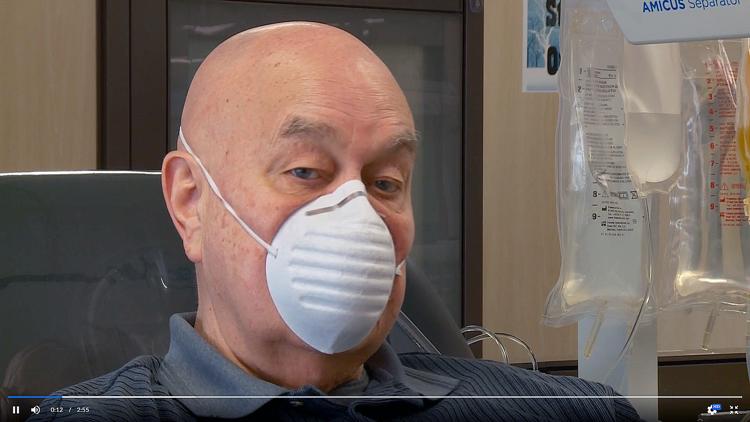 Each plasma donor can help treat two or three patients, Hartman said. The plasma donors are screened for other infections, as regular blood donors are, and their blood types must match the plasma recipients.
"It's nice to feel like we can play some small role," said Dalgaard, who has donated blood for the past 40 years ago.
Wisconsin on Monday reported 3,428 cases of COVID-19, including 993 hospitalizations and 154 deaths. Dane County reported 342 cases and 12 deaths.
National study
Some antiviral medications are showing promise against COVID-19, but no drug is approved for the disease and it could be at least a year to 18 months before a vaccine might be ready. In the meantime, antibodies from recovered donors could help some patients, though the approach is also largely unproven against the new coronavirus.
UW Health is part a national consortium led by Mayo Clinic that includes more than 40 institutions investigating the use of convalescent plasma for COVID-19. Plasma is the liquid portion of blood that contains antibodies to fight an infection.
Convalescent plasma has been used for more than 100 years to treat conditions such as diphtheria, influenza, Ebola and coronaviruses known as SARS and MERS, Hartman said.
"While we are hopeful that it will provide similar benefits for patients who are sick with COVID-19, we just don't know the answer yet," he said.
Limited data published by doctors in China suggested convalescent plasma has the potential to reduce the severity or length of illness from COVID-19.
For the UW Hospital study, Exact Sciences is providing COVID-19 tests used on plasma donors, and the Red Cross is extracting, processing and delivering the plasma to UW Hospital. Green Cab and Zerology are providing free transportation for testing and plasma donation.
As more patients recover from COVID-19 in Wisconsin, more people will become eligible to participate. Potential donors must have a confirmed diagnosis of COVID-19 and be symptom free for at least 14 days. Most must be tested again to confirm they are negative for COVID-19.
A city changed: See photos of Madison before and after COVID-19
As social distancing progressed into an official order to stay in our homes, Madison has started to look more like an empty shell rather than the vibrant city we know. State Journal photographers have been capturing images of a community changed by the COVID-19 pandemic, and we have paired them here with photos from our more communal past.
Concerned about COVID-19?
Sign up now to get the most recent coronavirus headlines and other important local and national news sent to your email inbox daily.