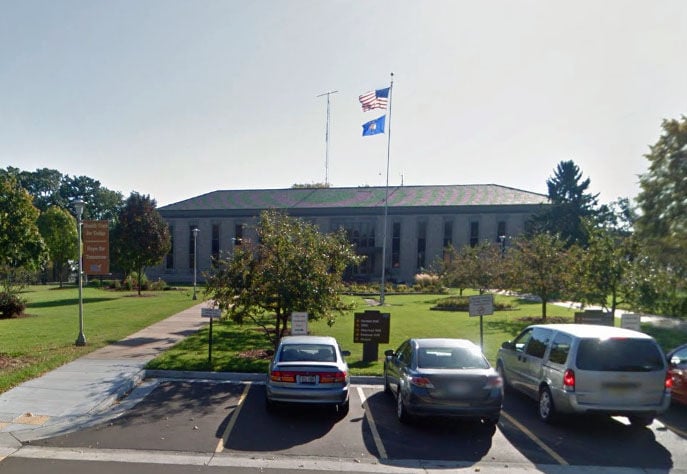 Winnebago Mental Health Institute in Oshkosh, where Madison-area police have taken many mentally ill patients in recent years, has received an immediate jeopardy citation and could lose its Medicare contract for being out of compliance with federal rules, regulators say.
The state-run facility housed two adolescent patients with adults without proper supervision, leading to the immediate jeopardy citation in February, according to a federal inspection report.
Inspectors issued 48 citations to Winnebago in December and February for a variety of problems, including noncompliance with five Medicare rules. The violations involve improper patient care, inadequate nursing staff, poor oversight of medical staff, an unsafe physical environment and other concerns.
After a patient fell and hit his head, it took more than 14 hours before he was sent to an emergency room, where he needed surgery for a brain bleed.
Before another patient was discharged, he told a nurse he would jump out of his father's vehicle on the way home. After his father picked him up, the patient ran onto a highway. He was readmitted.
"We have determined that the deficiencies are significant and limit your psychiatric hospital's capacity to render adequate care and ensure the health and safety of your patients," said an April 9 letter from the federal Centers for Medicare and Medicaid Services, or CMS.
The facility's Medicare contract will be terminated in July if the problems aren't fixed, the letter said. Another inspection will be done before then to see if the problems remain, CMS spokeswoman Elizabeth Schinderle said.
Jennifer Miller, spokeswoman for the state Department of Health Services, said Winnebago welcomes outside reviews. "These reviews assist management and staff in identifying areas of opportunity as part of the hospital's continuous cycle of quality improvement," she said.
Miller said the "medical staff is highly experienced in the treatment of people facing complex mental health issues, and they make difficult decisions every day, based on the information available."
Option from Mendota
The violations at Winnebago come as police in Dane County and nearby counties have been taking many non-criminal but dangerous mentally ill patients there since 2014, when the state health department stopped accepting such patients at Mendota Mental Health Institute in Madison. Mendota is now primarily reserved for criminal cases.
Police, local officials and mental health advocates have complained about having to transport the patients nearly two hours away to Winnebago.
Miramont Behavioral Health, a planned private psychiatric hospital in Middleton, could accept many of the patients, according to the head of the company developing the hospital. The 72-bed hospital is expected to open next year.
The State Journal obtained Dec. 14 and Feb. 28 inspection reports from CMS for Winnebago, which is licensed for 330 beds and currently operates 184 beds. No citations were issued for Mendota last year or this year, Schinderle said.
In December, inspectors visited Winnebago to investigate three complaints, which were substantiated.
The inspection resulted in nine citations, many of them involving a patient with paranoid schizophrenia who repeatedly fell on purpose in an attempt to harm himself.
12 hours on floor
At 10 a.m. Oct. 15, the patient was seen hitting his head on the floor. Afterward, he lay unresponsive in a day room for about 12 hours, including at least two hours after urinating on himself and not being cleaned up, before nurses returned him to his room, inspectors said.
A doctor working at Winnebago temporarily assessed the patient twice that day and said there were no concerns, including no brain bleed. Nurses said they didn't move or change him earlier because of short staffing, though a nursing supervisor told inspectors other nurses were available to help.
After "neurochecks" were done on the patient at 11:10 p.m., and another doctor on call said he should go to the ER, he was taken there at 12:30 a.m. the next day.
The report says nothing about the patient's condition after surgery for his brain bleed.
"There was no evidence that precautions were effective in preventing (the patient's) intentional falls, or that the precautions were modified in response to the continued behavior," the Dec. 14 report says.
The patient who ran onto the highway was admitted to Winnebago for attempted suicide in September.
Just before he was discharged the same month, he tested positive in a suicide screening and said he planned to jump from his father's vehicle.
When he and his father stopped to get gas, the patient ran onto a highway before being restrained by the father and others, and returned to Winnebago.
"Is this the first time someone has been sent home with a positive (suicide screening) on the day of discharge? No, we do it all the time," the doctor who approved the patient's discharge told inspectors.
"If I had to do the whole thing over again, the only thing I would have done differently is to tell them to have two people in the car driving home," the doctor said.
More citations
A follow-up inspection in February led to 39 citations. Many of them involved improper patient evaluations and treatment plans or safety code violations such as inadequate sprinkler systems, unchecked fire alarms and unsanitary cooking equipment.
Some of the citations were related to the adolescent patients, ages 15 and 16, who were housed on adult units without one-on-one staff supervision. Also, the patients' "plan of care did not contain the evaluation of the risks and state how any physical, mental, and sexual risks are being addressed," according to the Feb. 28 report.
Winnebago staff responded to the immediate jeopardy violation — the highest level of citation possible — by moving the patients to private rooms with one-on-one supervision, the report said. No specific harm to the patients was noted.
In another citation, inspectors said there weren't enough nurses on locked units at night to provide one-on-one supervision required for some patients.
The director of nursing said there were "not enough (nurse) positions allocated" to provide more robust scheduling.
Miller, from the state health department, said Winnebago has been authorized to hire additional staff "to ensure staffing patterns meet or exceed standards at all times on all shifts."